Apple's iOS operating system has come a long way since it first released in 2007. Over the years, every new version has introduced groundbreaking features and improvements. From the introduction of the App Store in iPhone OS 2 to the addition of 5G connectivity in iOS 14, the history of iOS is packed with some remarkable stories.
In this editorial, we will take a trip down memory lane and explore Apple's iOS versions, from the first-ever iPhone OS to the latest iOS 17. We will delve into the key features and improvements that each version brought to the table, highlighting the significant milestones in the evolution of the iOS operating system.
iOS 17
iOS 17 is announced on June WWDC 2023. The focus of iOS 17 was redesigning and upgrading the system apps and features. The Message, FaceTime, and Phone apps got several enhancements. Besides, Apple worked on connectivity by introducing NameDrop and FaceTime on Apple TV.
The most highlighted features of iOS 17:
Personalized Contact Posters
Live Voicemail
Video voicemail and Reactions on FaceTime
Search Filter, Catch up arrow, Swipe to reply, Transcription of voice messages, Check-in features in Messages app
Live Stickers
StandBy feature
Share contact card using NameDrop
Journal app
Mindfulness feature on Health app
Create Profiles on Safari
Collaborated playlist on CarPlay
Upgraded Autocorrect and Dictation abilities
iOS 16 – September 12, 2022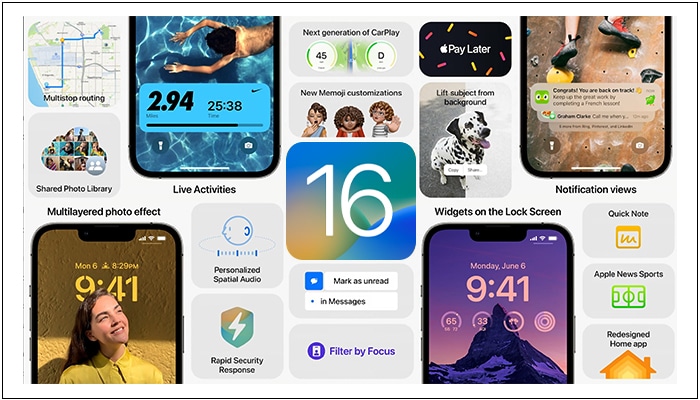 iOS 16 was announced at the WWDC event in June 2022 and released in September 2022.
The most noticeable upgrade in iOS 16 was the supported features for Dynamic Island for iPhone 14 Pro models. It made the new notch design more fun by displaying animated notifications and offering controls around the camera.
Also, Crash Detection, Always On display, Emergency SOS via Satellite, etc., are exclusive features of the iPhone 14 series supported with iOS 16.
Customizable Lock Screen
Live Activities
Better Focus Filters
New Message features
Redesigned Apple Maps
Apple Pay Later
Apple Order Tracking
iCloud Shared Photo Library
Live Texts on videos
Passkeys
Safety Check function
Improvements to Spatial Audio
Voice Isolation in phone calls
Apple Music Sing karaoke
iOS 15 – September 24, 2021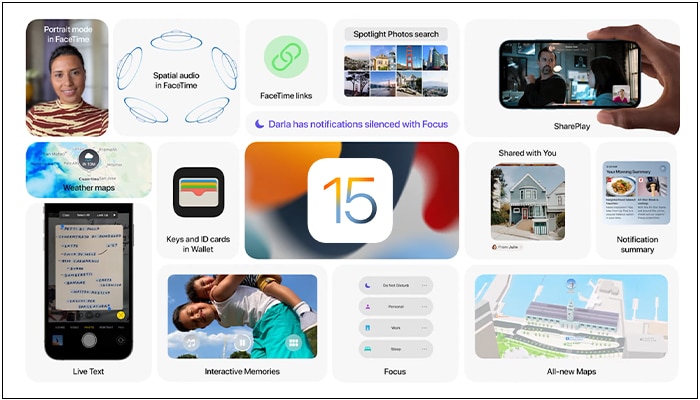 Unlike iOS 16, the iOS 15 update was more focused on software bug fixes, system improvements, and polishing features of built-in apps.
Additionally, the pandemic era influenced the feature upgrades. Apple worked on increasing security and privacy, preventing ad tracking, and improving Siri, Camera, FaceTime, Messages, etc.
As of writing, iOS 15 is supported on iPhone 6S series and later and the iPod touch 7 Gen.
New FaceTime features – Spatial audio, SharePlay, FaceTime Link, Mic modes, Portrait modes, etc.
iMessage Share with you
Better Focus Filters with Notification Summary, Signal your status, etc.
Live Text and Memory features in the Photos app
Advanced Spotlight search
App Privacy Report
Mail Privacy Protection
On-device Siri
Digital Legacy program
Redesigned Safari tabs
Detailed Maps
Improved Health and Wallet app
iOS 14 – September 17, 2020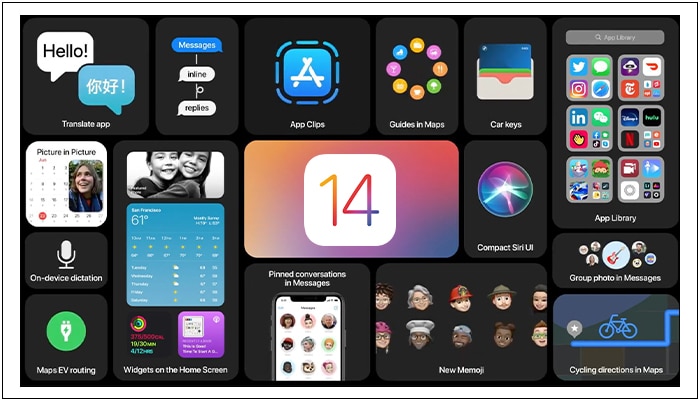 iOS 14 version lists similar system improvements very much like iOS 15. There were no significant changes. Apple added a few enhancements like privacy controls, Home Screen widgets, customization options, etc.
Widgets on the Home Screen
App Library
Improved call notifications
Picture in Picture Mode
Redesigned Siri
Translation, Password monitoring, and Website Privacy Report in Safari
Pinned Conversations and improved group texting in Messages
New Memoji Styles and Stickers
Cycling directions and Electric vehicle routing in Maps
Translate app
App Clips
iOS 13 – September 19, 2019
Before iOS 13, iPad also ran iOS. But Apple took a big step by introducing a new iPadOS to make the iPad more productive and a possible laptop replacement. Since then, iOS and iPad OS have always been rolled out simultaneously.
The most visible new feature was the Dark Mode. Additionally, iOS 13 improved essential functions, like a faster app start, Face ID, Portrait Lightning, redesigned pre-installed apps, etc.
System-wide Dark Mode
30% faster Face ID unlocking
Revamped Apple Maps
Smarter HomeKit
Sign In With Apple user account
New privacy and security options
Portrait Lighting effects
New, improved Siri voice
Overhauled system apps like Photos, Mail, Reminders, and Notes
iOS 12 – September 17, 2018
The 12th iteration of the iPhone software had just a few new additions. Primarily, it improved regularly used functionality for providing a better user experience. Apple introduced Siri Shortcuts, ARKit 2, Screen Time tracking, etc.
Key features of iOS 12:
Grouped Notifications
ARKit 2 for enhanced Augmented Reality
Siri improvements
iOS 11 – September 19, 2017
iOS 11 got special features to support the iPod touch, iPad, Apple Watch, and Apple TV.
Therefore, its primary features included more iPad-specific features like split-screen apps, drag-and-drop functionality, a file browser app, and support for Apple Pencil handwriting, etc.
Key features of iOS 11:
iPad functions
AirPlay 2
Support for Augmented Reality
iOS 10 – September 13, 2016
The release of iOS 10 was a watershed moment for the Apple ecosystem. It offered several APIs to integrate third-party solutions into the system apps. Thus, iPhone got a boost of interoperability and customization in its UI and applications. Also, Siri became more accessible to third-party apps. The best part was Apple allowed users to uninstall built-in apps.
Key features of iOS 10:
Embedded ​iMessage apps
Split Control Center into multiple panels
Integration of Siri with third-party apps
Smarter QuickType keyboard
3D touch displayed widgets
iOS 9 – September 16, 2015
iOS 9 prioritized building a solid base for the operating system to improve the speed, responsiveness, stability, and performance of older devices. After significant modifications to iOS's design and technological base, users started to feel that iOS was no longer the reliable, trustworthy, and competent it previously was.
So, Apple decided to work on strengthening the OS's basis rather than introducing new features, laying the framework for the larger enhancements in the next iOS updates. To get a public reaction and acceptance, iOS got the Public Beta feature. So, before the actual release of the upcoming iOS version update, people can get a taste of it.
Key features of iOS 9:
iOS 8 – September 17, 2014
In iOS history, iOS 8 was a significant update as it introduced the contactless payment system named Apple Pay and the Apple Music subscription service. Also, it polished the iCloud features for more reliable and consistent performance. The most useful feature unveiled was the Handoff feature to seamlessly switch between Apple devices.
Apple walked in for a Dropbox-like iCloud Drive with the addition of iCloud Picture Library, and iCloud Music Library. To save subscription costs, Apple offered Family Sharing to enjoy content individually with a single subscription. Moreover, the HealthKit and HomeKit features focused on users' daily living.
Key features of iOS 8:
Apple Music
Apple Pay
iCloud Drive
Handoff
Spotlight Suggestions
QuickType in keyboard
HomeKit and HealthKit
Extensibility framework for third-party extensions
iOS 7 – September 18, 2013
iOS 7 was a troublesome update, and users were dissatisfied as things didn't operate as expected. It included a significant redesign of the user interface in the update and opted for a flat look. But some users found it difficult to read because of the tiny, thin letters, and others experienced motion sickness because of the constant animations.
Besides, Apple provided quick access to the most used features with Control Center and launched AirDrop, Activation Lock, and CarPlay. Additionally, Siri got new voices and a redesigned look.
Key features of iOS 8:
Activation Lock
AirDrop
CarPlay
Thumbnails in App Switcher
Improved Notification Center
Smarter Siri
Touch ID
iOS 6 – September 19, 2012
In the history of iOS versions, iOS version 6 saw the most controversies because of Apple's escalating rivalry with Google. Although the newly launched Siri was a real breakthrough technology, issues with it resulted in significant revisions.
Besides, from iPhone OS version 1.0, Google has included the Maps and YouTube applications pre-installed. But this time Apple replaced Google Maps with a new Apple Maps. But it was not up to the mark because of glitches, inaccurate instructions, and issues with other functionalities.
Sidelining the flaws, iOS 6 got a Podcast app, more capable Siri, a Panoramic mode in Camera, and access to make FaceTime calls over cellular data.
Key features of iOS 6:
Apple Maps
Passbook (now Wallet)
New features in Siri like launching apps
Panoramic photos
FaceTime over cellular data
iOS 5 – October 12, 2011
iOS 5 was a turning point for Apple as it introduced crucial new features like Siri, iCloud, wireless iPhone activation, and Wi-Fi iTunes syncing. Users could download and install software updates on their iPhones without a computer. Besides, for better user experience and accessibility, iPhone got Notification Center and iMessage.
Key features of iOS 5:
Siri
iCloud
Notification Center
Redesigned Reminders and Newsstand apps
Wireless syncing and activation
iOS 4 – June 22, 2010
With iOS 4, the futuristic iOS started to take form as Apple tagged the "iPhone OS" as "iOS" for the first time. Many revisions to this version included features like FaceTime, multitasking, iBooks, Game Center, arranging programs into folders, custom wallpapers, Personal Hotspot, AirPlay, and AirPrint.
Moreover, Apple included Bing as a search engine for Safari and allowed users to merge multiple email accounts in one inbox. It was the first iteration of iOS to stop supporting all iOS devices. It was incompatible with the first-generation iPod touch or the iPhone.
Key features of iOS 4:
Multitasking
AirPlay
AirPrint
iBooks
System-wide spell checking
5x digital zoom
iPhone OS 3 (iOS 3) – June 17, 2009
iOS 3 was the first operating system for the iPad and came out of the box with the iPhone 3GS without any charge. Users were able to copy and paste text system-wide. Besides, Spotlight search, MMS support in the Messages app, and the capability to shoot films using the Camera app are just a few of the new features it included.
Key features of iOS 3;
iPhone OS 2 (iOS 2) – July 11, 2008
iPhone OS 2 was meant for iPhone 3G model, which included support for the 3G network. As iPhone became a big hit, app developers tried to jailbreak iPhone to install third-party apps. So, Apple introduced development tools like APIs and SDKs for software companies to launch apps in App Store to prevent installing apps from the web.
During its debut, the App Store had around 500 applications. Besides, Podcast support, walking, and public transportation instructions in Maps, iTunes Genuine playlist, and enhancements to Mail, Calculator, and Contacts using Microsoft Exchange support were other significant additions to iPhone OS 2.
Key features of iOS 2:
App Store​
Developer APIs and SDKs
Support for Microsoft ActiveSync and Microsoft Exchange
Improved Maps app​
iPhone OS 1 (iOS 1) – June 29, 2007
iOS debuted with the first iPhone in June 2007. Nevertheless, it was mostly powered by OS X, the Mac software. It had core iOS UI, iTunes integration, Multi-touch gestures, Mobile Safari, iPod, Visual Voicemail, and Maps, which emerged as advanced smartphones at that time.
But it lacked support for actual third-party applications and came with basic pre-installed apps like Calendar, Pictures, Camera, Notes, Mail, and Phone.
Key features of iOS 1:
Visual Voicemail​
Multitouch interface
Calculator
Calendar
Camera
Clock
iPod
iTunes
Mail
Maps
Music (iPod Touch)
Notes
Phone
Photos
Safari
Settings
Stocks
Text
Videos (iPod Touch)
Weather
YouTube
What to expect from iOS 17?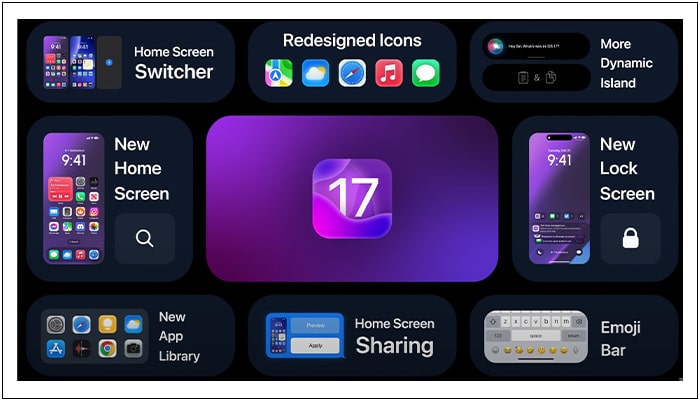 As you go through the Apple iOS version update history, you may see how far Apple has come to provide the most advanced technologies as a new feature in each update. So, you must be now excited to know what is coming to the iOS update.
The new update, which is set to be rolled out at WWDC 2023 on June 5, may get features like call recording, Lock Screen widgets, Split Screen, dual apps, third-party App Store, etc. To find out more, go through our article on iOS 17 rumors and expectations.
Long live iOS!
Apple's iOS has evolved significantly over the years, from its humble beginnings in iPhone OS 1 to the latest iOS 16. With each new version, Apple has introduced innovative features and improvements that have transformed the way we use our iPhones and has continuously pushed the boundaries of what is possible in mobile technology.
With Apple's commitment to innovation, it's safe to say that the best is yet to come for iOS users. So, let's eagerly await the next chapter in Apple's iOS journey and continue to be amazed by the remarkable advancements in this revolutionary operating system.
Explore more…
Ava is an enthusiastic consumer tech writer coming from a technical background. She loves to explore and research new Apple products & accessories and help readers easily decode the tech. Along with studying, her weekend plan includes binge-watching anime.