Since the introduction of the iPhone and iPad, I have been using Spotlight Search to jump to any app, setting, or feature of my iPhone. When it comes to starting any task, my go-to place on an iPhone has always been Spotlight Search. There's no turning back once you get used to the Spotlight Search feature on your iPhone.
With the new iOS 16, Apple has further improved the Search feature on the iPhone and iPad. Do you want to make the most of the Spotlight feature on iPhones and iPad? Read on to find out!
How to enable or disable Spotlight Search on iPhone
Out of the box, the iPhone comes with Spotlight Search turned on. You can swipe down on your Home Screen to access it. With iOS 16, you can also swipe left on the Home Screen and visit the Spotlight Search in the Today view.
For some reason, Apple doesn't allow you to disable Spotlight Search altogether. However, you can remove Siri's suggestions from the Search. Here's how:
Open iPhone Settings.
Scroll down until you see Siri & Search.
Under BEFORE SEARCHING, toggle Show Suggestions on or off.
Under CONTENT FROM APPLE, toggle Show in Spotlight on or off.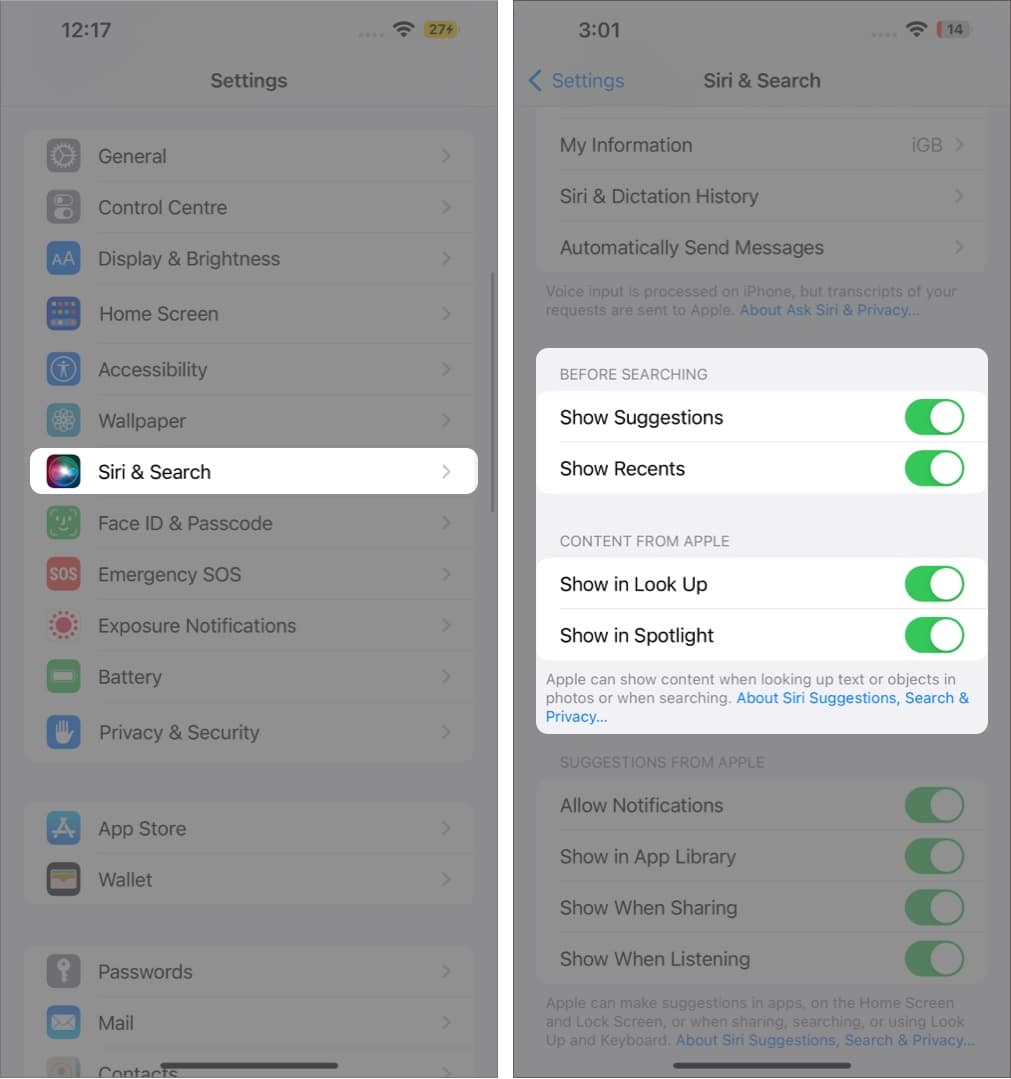 What can you do with Spotlight on your iPhone and iPad?
While Spotlight has always been so useful, Apple has gone ahead and improved the use cases of the feature by adding some new features in iOS 16.
Ability to perform an image search throughout apps.
Perform useful quick actions.
Better rich results.
Start Live Activities.
Siri's Suggestions are better.
While these new features are useful, here are the ways to use them, along with other existing features, in the Spotlight Search.
1. Install, move, and delete apps directly from Spotlight
Downloading the apps has never been easier. You can get an option to download the app directly from Spotlight Search if you don't have the app on your iPhone. This feature was introduced and polished in iOS 16 to support better app searches and recommendations.
Before iOS 15, adding an app to Home Screen was impossible. Now, you can drag the app from Spotlight Search directly to the Home Screen without going to the App Library. Similarly, you can directly uninstall apps from Spotlight Search.
2. Search text within photos
The best feature I felt of the Spotlight Search is its ability to search text within photos using Live Text. This feature extracts the text from your photos and helps you copy, paste, and take action based on the text present in the photo.
Spotlight Search indexes the whole of the text in your photos. Using this, you can directly search within photos from Spotlight Search. Let's say you want to search for a photo but don't remember when you took the photo. You remember some words mentioned in the photo, though.
Open Spotlight Search and directly type in the words you remember, and voila! Spotlight Search presents you with the same photo. This comes in handy in tons of situations.
3. Search from iPhone's Home Screen
While my thirst for big-screen iPhones is not going away, Apple has added a Spotlight Search bar at the bottom of the screen that helps us use iPhones with one hand. While it was easy to swipe down anywhere on the screen to access Spotlight Search, now it's easier to access it with a simple thumb tap.
4. More options for contacts
The contact screen has gotten a major refresh with iOS 16. It provides contextual results like your last call or message to a particular contact and shows actions from other apps.
Now, you'll get a direct option to contact the person through other apps — like sending a message on WhatsApp. Spotlight Search even shows the photos of the person, if any, on your iPhone. Now, you can use Apple Pay to directly pay the contact from Spotlight Search.
5. Quickly search for movies and TV shows
Movies and TV Shows results have gotten richer in iOS 16. Instead of Googling the TV show you want to watch and then searching the streaming service, you can directly search for the show in Spotlight Search. The Search will take you to the streaming service's page.
The search results also provide you with Rotten Tomatoes and IMDb ratings. Along with the results about TV shows and movies, you can dive into the search results for the cast and other crew members.
6. Ability to perform an image search throughout apps
Thanks to the native Bionic chip, users can now search for images and be directed to an app that contains the subject. In most cases, Spotlight uses information from images in Messages, Notes, and Files to enable searching by locations, people, scenes, or even object images, like text, a dog, or a car.
7. Access App Clips from search results
The Spotlight Search on iPhone shows actions for the businesses on Maps results. In addition to making a call, getting directions, and checking the timings, if a business supports App Clips, you can now get an option to install the App Clip for that business from the Spotlight Search Map results.
For example, from a search, you may be prompted to pull up a restaurant's menu, book a table, make appointments, order takeout, join a waitlist, see showtimes, pay for parking, check prices, and more.
8. Find a location, calendar event, files, and more
Since Spotlight Search is integrated into every section of the iOS ecosystem, it makes the whole system searchable. Spotlight Search in iOS 16 works a lot like Mac's Spotlight, and it makes Spotlight Search the 'Google' of your phone.
You can look for documents in the Files app, search for a text message in the Search bar, check your calendar, and do more with Spotlight.
9. Perform useful quick actions
Spotlight can now be used to perform quick actions on the iPhone. It can quickly start the timers, trigger the focus mode, Shazam a song, or even trigger any onboard shortcuts. With this, Apple has made looking for actions easier than one can imagine.
These tasks can be performed with a few taps – as easy as it gets. It makes performing actions easier and quicker. One more functionality that is there with the new iOS 16 is you can search the app name that has assigned shortcuts to it, and your results will show all of those app-related results.
10. Start Live Activities from Spotlight Search
Start Live Activities like tracking a sports game from a Spotlight result! You read that right. You can know the score of your favorite game that is happening live on the go; just type in the name of the game or league, and you will get the results. These scores are also refreshed in real-time, so you don't miss out on any updates.
How to hide Siri Suggestions and recent searches in Spotlight
Open iPhone Settings.
Scroll down until you see Siri & Search.
Under BEFORE SEARCHING, toggle Show Suggestions and Show Recents off.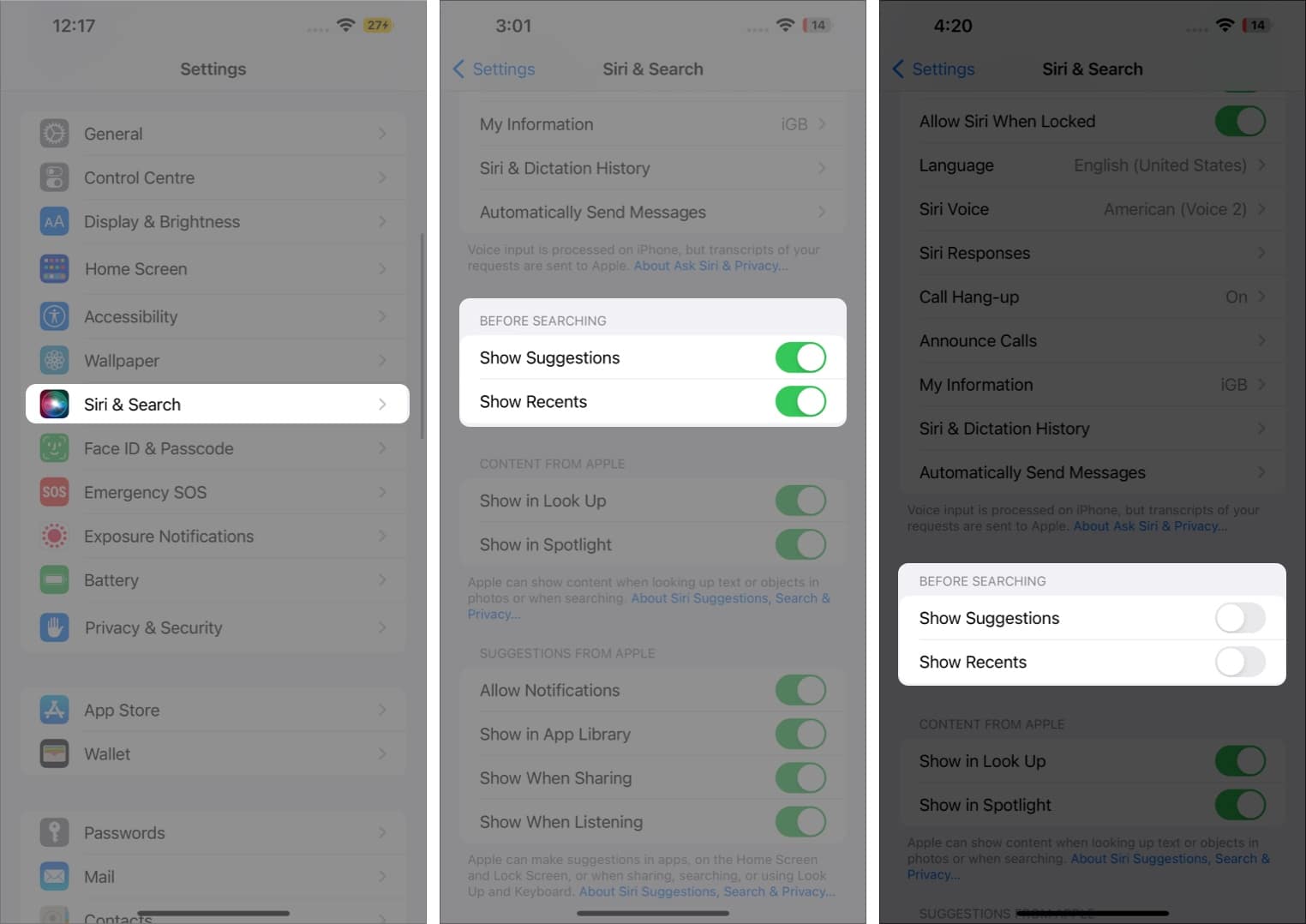 Apple doesn't allow you to delete Spotlight Search history. If you searched for something that took you to Safari, you'd have to remove the search from Google. Here's how to delete Google Search and other activity on your iPhone.
Conclusion
Apple has certainly taken a big step with Spotlight Search in iOS 16. Features like Live Text are a big step in making Spotlight Search more usable, and I'm sure once you start using the new Spotlight Search, you'll be amazed by its capabilities.
Have you got another Spotlight Search tip for us? Let us know in the comments section down below!
You may also like: