Apple Watch is one of the best-selling smartwatches out there. It even beat the Swiss watch industry, which indicates its spectacular success. And rightly so, it has helped and touched so many lives in just eight years of evolution.
Taking yet another leap, the 2023 Apple Watch, i.e., Apple Watch Ultra 2 and Apple Watch Series 9, are jetting off (both literally and laterally) to help, inspire, and save lives.
This is especially interesting given that the Apple Watch did not immediately see success. It hardly had any takers when it was initially launched in 2015. What changed in half a decade to make it a must-have wearable? Let's find out by looking at a brief history of Apple Watch models.
Evolution of the Apple Watch
The Apple Watch was the first new product line launched by Tim Cook. When he unveiled it in April 2015, it ushered in a new era for the tech behemoth as it entered the then-fledgling smartwatch/wearables market.
The purpose of the Apple Watch was to help free people from their iPhones while still giving them a way to stay connected to the important stuff they need in this digital age. It was poised to be a device that couldn't be used for hours like smartphones.
Instead, it would filter out the noise and only serve essential information. This was a revolutionary step forward because Apple had, till then, spent three decades pioneering devices that held our attention for as long as possible.
Therefore, right from the outset, the Apple Watch was conceptualized as a device that would help us stay connected in less invasive ways than our smartphones. Since then, each iteration has increased the focus on improving health and wellness. Let's look at the changes over the years:
2015: Apple Watch Series 1 – A game-changer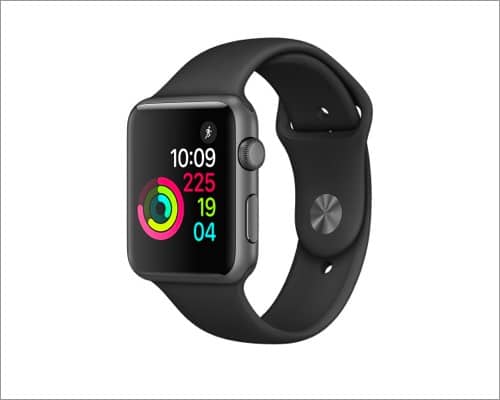 The Apple Watch broke away from the company's usual practice of offering a narrow range of product options. Instead, the first Apple Watch had three variants: Sport, Watch, and Edition.
Although the aluminum $349 Sport performed precisely the same functions as the premium $17,000 Edition made of 18-carat gold, they were very different products targeted at distinct users.
Apple took cues from the watch industry to offer personalization and options for various tastes and budgets. Thus, it offered different sizes, materials, bands, and internal customization through watch faces and complications.
Fun fact: If you've ever wondered why the widgets on the Apple Watch are called "complications," it's a term used in high-end watchmaking that refers to the functions a watch performs beyond telling the hour and minute.
All three variants came in 38mm and 42mm sizes with Bluetooth and Wi-Fi capabilities. Features included a digital crown, digital touch, force touch, multi-touch, and a side button. It also had a heart rate sensor and was, of course, designed to integrate with iOS.
The other features were either Apple-specific, such as Siri, FaceTime, etc., or specially designed for functionality. The latter included an email reader (Read Mail), a GPS-directed travel buddy (Transit), and health and fitness trackers.
However, these features could consume the watch's battery quickly, defeating the purpose. Although it was possible to set the Apple Watch to basic watch mode when charging, it interrupted your fitness tracking, disrupting the user experience.
Another issue with the Apple Watch that prevails to date is its dependence on maintaining a reliable connection with the paired iPhone. This led to the assumption that the watch was an unnecessary extra device if you had to carry your iPhone around with you anyway.
2016: Apple Watch Series 2 – Hello, GPS!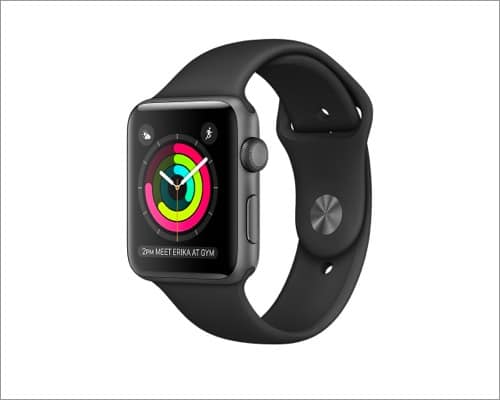 The 2016 version of the Apple Watch came with some key improvements. Perhaps the most important was the addition of GPS, which means you could use it for navigation even when you didn't have your iPhone.
While the fitness tracking features remained the same, the second-generation Apple Watch was also water-resistant up to 50 meters, so you could wear it while swimming. It also had a brighter display and a faster processor. Unfortunately, the short battery life prevailed.
2017: Apple Watch Series 3 – Third time's a charm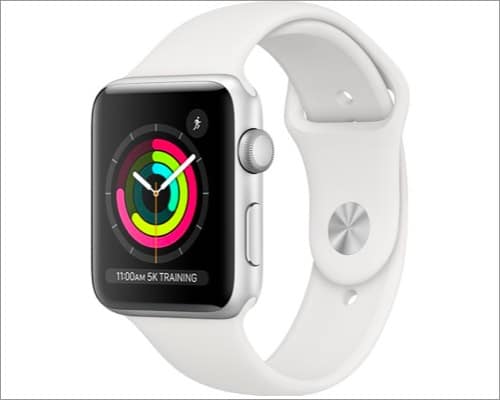 2017 was the year that Apple Watch finally took off in popularity and cemented its place as more than just an iPhone add-on. The Series 3 is the oldest Apple Watch (still in production in 2021 and available at various price points).
It was a considerable step forward from the Series 2 with the faster Apple S3 processor, updated Bluetooth connectivity, more RAM, and a Siri that can speak (like on the iPhone), not just respond to commands.
Moreover, it comes in two models, one with GPS and cellular and one with GPS. Both have a barometric altimeter to provide even greater navigation capabilities. The cellular version can also make phone calls if the watch is on the same phone plan as an iPhone.
2018: Apple Watch Series 4 – Winning hearts
September 2018 gave us the Apple Watch Series 4 in various styles with different materials, straps, and sizes. For instance, you could get a 40mm gray aluminum case with a matching strap or opt for something bigger and brighter with a 44mm gold case and pink strap.
In addition to the customizable exterior, you would get a powerful 64-bit Dual-Core processor chip inside. This significantly upped the speed and smoothness of the watchOS, making it capable of running more sophisticated apps. This improved functionality furthered the Apple Watch's position as a necessary device rather than just a superfluous accessory.
Other improvements in the Apple Watch 4 included better Bluetooth, enhanced movement and location meters (including a gyroscope, accelerometer, and altimeter), and more advanced health and fitness tracking. It introduced fall detection, a potentially life-saving function for older adults.
The highlight was the heart-monitoring tech, which included electrocardiogram testing, called ECG. Typically, such electrocardiograms are done in hospitals using a ten-pad electrical node. The Apple Watch achieves it using a single-lead node, offering critical health data.
This ECG app has also been supported, albeit not endorsed, by the American Heart Association because it can potentially speed up diagnosing and treating heart conditions and forewarn cardiac emergencies.
2019: Apple Watch Series 5 – Always-on display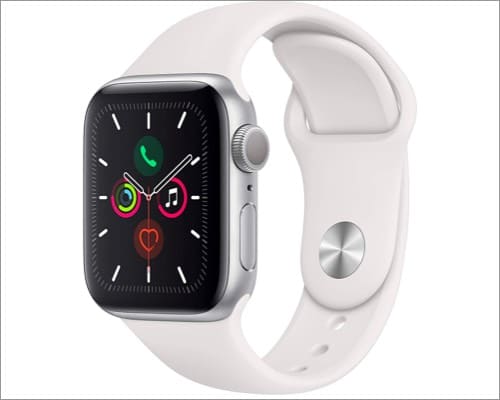 The highlight of the Apple Watch Series 5 was its always-on display. It didn't have any other significant changes. The always-on display allowed you to flaunt the watch face and complications you customized. Although the battery life was an issue, it could be conserved because the display would automatically tune down to an ambient setting when you weren't looking at it.
Available in two sizes, 40 mm and 44 mm, ceramic and titanium cases were new additions to the aluminum and stainless steel options.
2020: Apple Watch Series 6 – Health takes center stage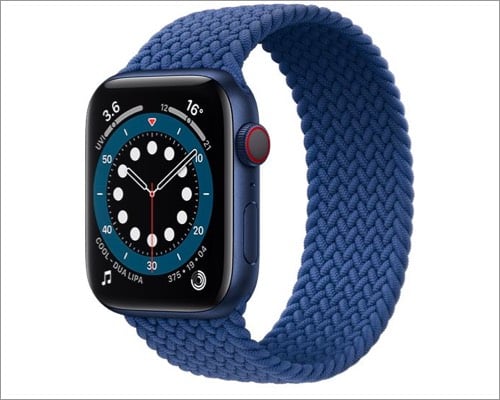 The latest Apple Watch, Series 6, is the ultimate smartwatch for a healthy life. It's available in stainless steel, titanium, and 100% recycled aluminum with an always-on retina display. It's water-resistant up to 165 feet and includes a blood oxygen monitor.
Apple Watch SE – Pocket-friendly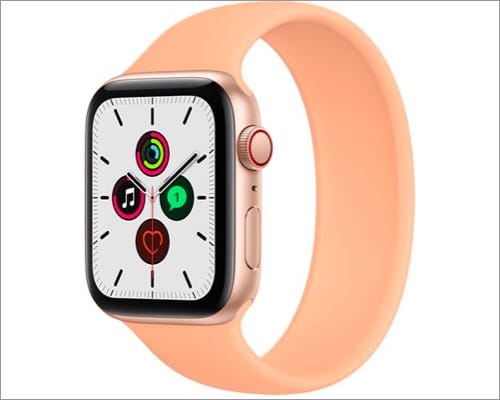 The Apple Watch SE, launched alongside the Apple Watch Series 6, boasted similar features at an affordable price. It's equipped with an S5 chipset, whereas the Series 6 comes with the latest S6 chipset.
Apart from this, it misses out on the always-on display, ECG, and blood oxygen monitor. But this does not stop it from being one of the best wearables you can get, especially for fitness tracking. Further, the single-loop silicon or braided yarn bands add a contemporary look.
2021: Apple Watch Series 7 – Bigger and brighter display
Released in September 2021, the Series 7 got a crispy edge-to-edge display. The 41mm and 45mm displays boasted 40% smaller in size, increasing the visible screen by 20%. Moreover, it's 70% brighter when in always-on mode. Thanks to the increased real estate, we got features like:
A full-sized QWERTY on-screen keyboard
The calculator now has larger buttons
Text messages display
Furthermore, Apple made this model more robust and dust-resistant with IP6X certification. Along with that, the model comes with three different build materials such as aluminum, stainless steel, and titanium.
Apple has used a new S7 SiP processor and the same core CPU as Series 6. Therefore, the display capabilities, fall detection, and other features are enhanced to the next level. Also, you will see an optimized battery with 33% quicker charging. Hence, the Apple Watch can track eight hours of sleep with just eight minutes of charging and reach 80% within 45 minutes.
2022: Apple Watch Series 8 – Not bigger, but certainly better
The Apple Watch Series 8 launched on September 7, 2022, with many new features. The new temperature sensor in the Apple Watch Series 8 takes a vow to improve women's health. According to Apple, sensors on the watch's bottom and just under the touchscreen can detect temperature changes as little as 0.1 degrees Celsius every 5 seconds.
Along with that, the advanced cycle tracking feature provides nearly accurate ovulation estimations. Therefore, the new automated retroactive ovulation alerts will be helpful for couples in family planning. Changes to the cycle tracking app in WatchOS 9 and iOS 16 will also alert users to irregular menstrual cycles.
Apple highlighted that all of the data is end-to-end encrypted. Another new feature of the Apple Watch Series 8 is crash detection. Apple has added two new motion sensors: accelerometers and gyroscopes, to determine whether you've been in a severe vehicle accident. It can gauge the force of any vehicle's frontal, side, rear, and roll-over collision. And all crash detection data will be stored only on your watch.
Apple Watch is also adopting advanced Low Power Mode. It will disable features like the always-on display and only allow emergency services and other essential functions. So, overall, the battery life will be extended by up to 36 hours. On Series 4 and subsequent Watches, the mode will be accessible in Watch OS 9.
The price of a Series 8 Watch, which comes in a wide variety of new hues and bands, is $399 for regular Wi-Fi and $499 for cellular plus Wi-Fi.
Apple Watch SE 2 – More features at a budget
The second-generation Apple Watch SE provides all essential Apple Watch functionality at a lower cost. Apple has developed a new nylon composite material to match the rear cover's color: Midnight, Starlight, and Silver. The S8 processor and motion sensors, like the Apple Watch Series 8, will make the Apple Watch SE 2 20% quicker and include crash detection functionality.
The SE 2 will also allow international roaming by linking up with an iPhone's roaming plan. The original SE 2's usual features, including the Retina OLED display, optical heart rate sensor, fall detection, emergency SOS, and 50-meter water resistance, are still present.
Parents who want a means to contact school-aged kids without committing to an iPhone often choose the SE's cellular version. Apple revealed that the new SE would have the Family Setup feature. So, you can connect multiple Apple Watches with your iPhone. The SE 2's screen is 30% bigger than the Series 3's.
The new SE will be $30 less expensive than the original SE at $249 for the GPS variant and $299 for the cellular one.
Apple Watch Ultra – The ultimate fitness tracker
The ultimate rugged high-end Apple Watch Ultra has started a new era in the Apple Watch's history. The watch debuts a unique style with a larger display and 49mm titanium casing, specially made for outdoor activities and exploration. The display is 2,000 nits bright and sapphire crystal for more visibility.
For outdoor sportsmen, the buttons and crowns must function with gloves. So, Apple has updated the digital crown with night mode and added a new Action button on the side with multiple functionalities. Besides, It offers up to 36 hours of standard battery life.
Also, the upcoming battery optimization will extend the battery by over 60 hours with GPS and heart rate monitoring. Apple has enhanced the dual GPS with a brand-new L1+L5 frequency. Additionally, you can use the WayFinder feature to start a trackback route and alert others using the 86-decibel Siren.
Besides on-ground adventures and sports, Apple Watch Ultra is also equipped for scuba diving. It features WR 100 water resistance and EN 13319 certification. When underwater, a new depth app called Oceanic+ immediately displays the time, depth, and temperature. The best part is all the diving data will be stored for future reference.
You will get three new band options along with all the existing features: Alpine, Trail, and Ocean. They are made to withstand "extended runs, harsh falls, and rippling currents" and are tailored to various settings. The Apple Watch Ultra starts at $799.
2023: Apple Watch Series 9 – Smarter, Brighter, Mightier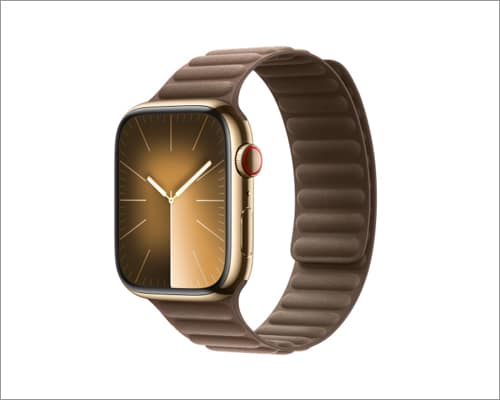 Apple Watch Series 9 launched on September 12, 2023, with the next generation S9 SiP, making it the most potent in history. It has a new dual-core CPU housing 5.6 billion transistors. So, it's 60% faster compared to the Series 8. Also, the new four-core Neural Engine processes machine learning tasks 2x quickly.
And this advancement made possible a new Double Tap gesture to control the watch with one hand only. In terms of display, the size is the same, 1.9 inches; only the screen is 2000 nits brighter, two times more than before. So you can easily read the display outside in the sun. Additionally, the display can dim to just 1 nit, ideal for low-light settings like a movie theater.
Moreover, Apple has upgraded Siri to process requests quicker and more securely only on your device. You can ask Siri about your health information and dictate to record your health details. Additionally, Siri's dictation is up to 25% more accurate.
Besides, thanks to the second-generation Ultra Wideband processor, you can integrate your Apple Watch with HomePod and control it. Also, it brought another great feature: Precision Finding. Series 9 watch can navigate you in the direction of your iPhone's location. And when you draw near, haptic stimulation, an auditory chirp, and a visual cue assist you in finding it.
Overall, the Apple Watch Series 9 brings more convenience for daily activities, especially with the incredible watchOS 10. The best thing is that the Apple Watch Series 9 comes with the first carbon-neutral watch case and band set. The price of Series 9 is the same as Series 8: $399 for GPS and $499 for GPS+cellular. However, if you choose a stainless steel watchcase, the price goes up to $699.
Apple Watch Ultra 2 – The rugged boss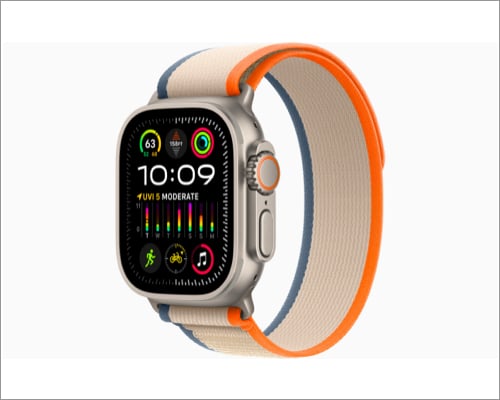 With the Apple Watch Ultra, we have already witnessed the highest capabilities a smartwatch can reach. And this year, Apple pushed its advancements. Apple Watch Ultra 2 is powered by the brand-new S9 SiP, supporting Double Tap gesture. While the design and build are the same, the display is 3000 nits brighter.
Also, Night Mode now turns on automatically in the dark. Additionally, a brand-new watch face displays dynamic information along the borders, such as altitude, depth, or seconds. Additionally, its watch case is more rigid compared to the Watch Ultra and has MIL-STD 810H certification, 100m water resistance, and IP6X dust resistance.
Besides, you will get up to 72 hours of battery life with the Low Power mode. Also, sports enthusiasts can take advantage of Ultra 2's enhanced activity tracking and precise dual-frequency GPS. You can connect to cycling gear like power meters and monitor your cycling sessions as a Live Activity on your iPhone.
Moreover, Apple has tested this rugged watch in -20° C to 55° C temperature and 0 -500m to 9000m altitude to withstand the harshest environment. Similar to Series 9, you may select a carbon-neutral case and band set. The price of the Apple Watch Ultra 2 is the same: $799.
You don't need it, but you want it!
Apple Watch's success over the past eight years has quashed all doubts about its inherent utility. But it's fair to say that it's not a piece of tech anyone needs. However, like other Apple products, it lures you with its superior experience.
Most, if not all, tech lovers and Apple users covet this product for the way it enhances your lifestyle while reducing your dependence on your iPhone when out and about. Also, it became the first carbon-neutral Apple device with zero environmental impact, leading Apple's 2030 goal.
One of the most beloved features is the haptic touch, which uses gentle taps and vibrations on your wrist to keep you informed about everything from incoming calls and messages to reminders, health alerts, and more. Besides, the Double Tap gesture allows you to control your watch with one hand only.
Moreover, aesthetics have a lot to do with the appeal. Even in 2015, the Apple Watch was miles ahead of similar wearables. Further, the interchangeable watch band system and internal customization make it a personal device.
What's more? There have been several instances when the Apple Watch has saved people's lives thanks to its high-tech health features.
What's next for the Apple Watch?
Apple did not invent the smartwatch, yet it has become synonymous with the device in eight short years. That goes to show how game-changing the Apple Watch has been.
Although the first generation did not see instant success, it paved the way for the current iteration, which is faster, slimmer, brighter, and smarter. Moreover, the watch is Apple's contribution to healthcare, the environment, and sports enthusiasm.
For the subsequent iterations, Apple has patented a technology to include light sensors behind the Apple Watch display. So, the watch face is expected to match your outfit's color automatically. Also, it's strongly rumored that the Apple Watch 2026 may come with an advanced micro-LED display. Therefore, it will be big in the upcoming years; let's wait and watch!
Time flies!
So, while there's plenty of competition in the sector, the Apple Watch stands in a league of its own thanks to deep integration with iOS and features that are difficult to beat. Little is known about what the next Apple Watch might bring, but it's sure to lead the way when it comes to helping you take charge of your health, fitness, and overall life right from your wrist.
The watch has become a value-added extension of your primary device that strikes the sweet balance between keeping you connected and helping you focus on what's most important. This is bound to keep attracting iPhone users as the watch gets even more sophisticated in the future.
You might also like:
Readers like you help support iGeeksBlog. When you make a purchase using links on our site, we may earn an affiliate commission. Read more.
Ava is an enthusiastic consumer tech writer coming from a technical background. She loves to explore and research new Apple products & accessories and help readers easily decode the tech. Along with studying, her weekend plan includes binge-watching anime.