It's been over a decade since the launch of the most iconic smartphone that changed the world and transformed all our lives. As the latest iPhone 12 series takes the world by storm, it's interesting to go back in time and unpack the very first iPhone and its history. Let's rediscover what it had to offer and how it kicked off a technology revolution.
Transforming the World with Touch
In 2003, Apple was working on new input methods for the Mac with the aim of getting rid of the mouse and keyboard. This led to experiments with multitouch, and one of the first prototypes of a finger-controlled tablet was the Model 035. It was a large tablet that looked like a chunky version of an iPad. However, at the same time, mobile phones were just beginning to gain popularity, and Apple made a move that would revolutionize the industry forever.
The iPhone was the debut of the touchscreen, which would soon become standard in the world of smartphones. Sure, there had been smartphones available from established manufacturers before, but they had physical keyboards and a much smaller screen. This was one of the main aspects in which the iPhone changed the game. It boasted capacitive touch technology that Apple acquired from a small company known as Fingerworks that had invented it.
The Masterminds
One of the people credited with innovating Apple's greatest product is Jony Ive. Back then, his team was working on some tablet prototypes. At the same time, other people at the company were focused on the iPod. It was becoming clear that the iPod would soon merge into a cellphone so that people could carry one device that would fulfill both their communication and music needs.
That's why, in 2005, Apple collaborated with Motorola to release the Rokr E1, which was an iTunes phone that could play music bought from the iTunes Music Store. However, it could store just one hundred songs, had a terrible interface, and took too long to transfer songs from a computer. Needless to say, Steve Jobs hated it.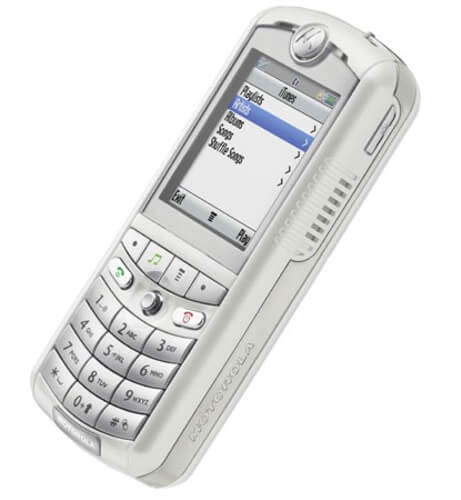 This led to the idea to merge the phone and tablet projects. Steve Jobs, Tony Fadell, Jon Rubenstein, and Phil Schiller met with Jony Ive to see a demo of the 035 prototype. They were impressed but also doubtful that the technology would work for a cell phone.
A crucial development came in the form of a small test app that used only part of the 035 tablet's screen. You could scroll on it using a finger.
This led to the decision to develop two phones in parallel. This secret phone project was given the code name "Purple," or just "P." Within this, the project based on the iPod nano was called the P1, and the other one based on the 035 tablet was codenamed P2. It was an all-new multitouch device that represented a considerable risk on the company's part because Apple had no experience with smartphone development. They were a successful computer and music company then, and if Project Purple had gone wrong, it could have destroyed the company's credibility and reputation.
The P1 project was led by Fadell, and his team focused on further developing the iPod into a phone. After six months, they produced a working prototype that could make and receive calls using a rotary dial pad on the screen. However, it was a pain to use and had too many limitations, such as it couldn't surf the net or run apps.
After six months of work on the iPod-plus-phone P1, the project was shelved by Steve Jobs, who thought it was better to focus on P2. However, Fadell was skeptical of touch screens, particularly because devices like Palm Pilots were awkward to use.
From Prototype to Phone
After the decision to go ahead with the P2, Jony spearheaded the industrial design, Fadell led engineering, and Forstall, previously looking after Mac OS X, was put in charge of adapting the computer operating system into one for the phone.
Jony's design team worked on the iPhone without even seeing the operating system. They first worked with a blank screen and later had just a picture of the interface with mock icons. Similarly, the software team never got to see the prototype hardware.
In fall 2004, Jony's design team began work on two styles of what would become the iPhone. One prototype was called "Extrudo," and was led by Chris Stringer. It resembled the iPod mini and was made from a flattened tube of extruded aluminum that could be anodized in different colors.
The other design was named "Sandwich," and was led by Richard Howarth. It was primarily made of plastic and was rectangular with evenly rounded corners. It had a metal band around the midpoint of its body, a centered display on the front, a menu button below the screen, and a speaker slot above the screen.
Jony's team preferred the Extrudo, but it ran into several problems and was eventually shelved. So Apple began moving forward with the Sandwich prototype.
However, by 2006, this too was discarded due to design issues, and the team then turned to an old model they'd made earlier but had discarded in favor of Sandwich and Extrudo. This discarded model looked very similar to the iPhone that the world would eventually see. It had an edge-to-edge screen and a single Home button. A gently curved back snapped seamlessly onto the screen. It looked minimalist and elegant while also being functional. Of course, several developments were made before it was ready to be unveiled to the world in June 2007.
Exploring the Specs
The original iPhone was based on the P2 device of the Project Experience Purple (PEP) team at Apple. It was-named M68 and had a 3.5-inch LCD screen at 320×480 with 163 pixels per inch. It also boasted 802.11b.g Wi-Fi, a quad-band 2G EDGE data radio, Bluetooth 2.0 EDR, and a paltry 2-megapixel camera.
These specs might fade in comparison to today's context, but back then, in 2007, it was still revolutionary and kicked off Apple's trend of giving the world incredible new phones.
Under the hood, it was powered by an ARM-based 1176JZ(F)-S processor and PowerVR MBX Lite 3D graphics chip, manufactured by Samsung.
The onboard RAM was just 128MB, and the battery was 1400 mAh battery. At launch, it offered two NAND Flash-based storage tiers – 4GB or 8GB.
It also included sensors like an accelerometer that could automatically rotate the screen to match device orientation, a proximity sensor that would automatically turn off the display when close to the face, such as when taking a call, and an ambient light sensor to adjust screen brightness for optimal viewing experience automatically.
Lastly, it could be charged and synced to iTunes using the 30-pin connector.
Before the official release, Steve Jobs accidentally scratched the iPhone screen with the keys in his pocket. This led to Apple teaming up with Corning, who had invented a new, chemically hardened material. This was turned into the Gorilla Glass on the first iPhone.
What about Software?
As for the software side of things, many tweaks happened pre-release. For instance, the split-screen mode for email got canceled after Steve Jobs thought it looked too crowded on the small screen.
Since the 'i' in iPhone alludes to the internet, the first model of this iconic device came with a relatively full version of Safari, Apple's renowned browsing experience from Mac. The team also used Google's location data to create a superb Maps implementation for the mobile device.
However, the first iPhone did not have any third-party apps and maxed out at just 16GB of flash memory. It was also exclusive to the AT&T carrier, which had a notoriously slow and unreliable EDGE GSM network.
The original iPhone was first shipped on June 28, 2007, and even then, spiraling queues formed outside Apple Stores, particularly the flagship ones such as the glass cube in New York City.
Despite the buzz and anticipation, Apple's competitors were dismissing the hype as temporary. The media dubbed the device as the Jesus Phone!
The Phone that Defined and Defied History
Even though it was just a little over a decade ago, the world was still very different back in 2007. Bandwidth was quite limited and expensive. Moreover, smartphones only appealed to niche user groups and not the masses.
The original iPhone sold over 6 million units in its first year on four carriers in four countries. Today, hundreds of millions of iPhones are sold on almost every carrier in almost every country. Apple has diversified into a range of smart tech products and services such as the Apple Watch, Apple TV, CarPlay and AirPlay, AirPods, HomePod, etc.
The first iPhone's successor was the iPhone 3G that boasted 3G functionality, apps, and more. It arrived a year after the first device, which was discontinued the same week. The first generation iPhone was eventually declared obsolete in June 2013, before the launch of the iPhone 5 and 5S.
In 2013, a prototype of the first-generation iPhone sold for $1500 on eBay! After all, it's now a relic of what technology is capable of achieving. Perhaps nobody could have predicted how the iPhone has evolved over the past thirteen years, but Apple and Steve Jobs made a bold move with that first device. The rest, of course, is history.
You may like to read: Apple's First-Ever Laptop: An Origin Story
I have been writing about tech for over 10 years now. I am passionate about helping people solve their tech problems with easy and practical solutions. At iGeeksBlog, I write and edit how-to guides and accessory reviews for all things Apple. My work has previously appeared in Live IT and Woman's Era magazines. When not working, I love reading and traveling.
Nikhil runs iGB's official YouTube channel. He is the official lensman of iGB and GB's small studio is Nikhil's playground, where he does all wonders with his remarkable signature. When Nikhil is not in his studio, you may spot him in a gourmet restaurant, chomping his way through some delicious food. He is a great traveler, who can go for long drives in search of good food.