We can't keep calm!!! Apple has revealed iOS 15 to the world, and man, is it power-packed? The features of iOS 15 span from much-needed improvements in FaceTime, iMessage, and Safari to significant app notifications update and beyond.
Let's dive into the nitty-gritty of iOS 15 and see when you can get it on your iPhone.
When will iOS 15 release date?
iOS 15 developer beta – June 7, 2021
The public beta of iOS 15 – July first half (date yet to be announced by Apple)
Official iOS 15 official release date– 20th September
Want to test these features right away?
iOS 15 supported devices
Contrary to the rumors, Apple has extended the iOS 15 support to six-year-old devices. Here is the complete list of iOS 15-compatible devices.
iPhone 13, iPhone 13 Mini, iPhone 13 Pro, iPhone 13 Pro Max
iPhone 12, iPhone 12 Mini, iPhone 12 Pro, iPhone 12 Pro Max
iPhone 11, iPhone 11 Pro, iPhone 11 Pro Max
iPhone XS, iPhone XS Max, iPhone X, iPhone XR
iPhone 8 and 8 Plus
iPhone 7 and 7 Plus
iPhone 6s and 6s Plus
iPhone SE (1st and 2nd generation)
iPod touch (7th generation)
Complete iOS 15 features list
It seems that Apple has observed the events of the past year quite closely. And the new iOS is designed to bridge the gaps with improved ways to communicate, share, express, focus, multitask and track health.
Let's get to know each new iOS 15 feature in brief.
Video calls have become an essential aspect of personal and professional lives, considering that Apple has introduced some noteworthy additions like Grid view, Portrait mode, and more.
Spatial audio: It will seem like participant's voice is coming from their position on the screen, lending a more natural feel to group conversations.
SharePlay: FaceTime now adorns the goodness of a screen-sharing and watch-party app. That's right! You can now share your screen within FaceTime calls.

And also stream movies and listen to music, complete with synced playback and controls. What's more? Third-party apps could use the Share Play API and incorporate the feature.

Apps like Disney+, Hulu, TikTok, Twitch, MasterClass, HBO max, ESPN+ will support the feature.

Mic modes: A unique two-part feature,


Voice Isolation – Minimizes the background noise, so that you are heard loud and clear by other participants.
Wide spectrum – Quite the opposite, it leaves the ambient sound as is, unfiltered.
FaceTime Link: When compared to other video calling apps, FaceTime lost points for being exclusive to iOS. Not anymore! Now you can schedule calls on FaceTime via a web link.

Whether iOS, macOS, Windows, or Android, every user can connect via this FaceTime link. Most importantly, the calls are still private and secure as end-to-end encryption is maintained.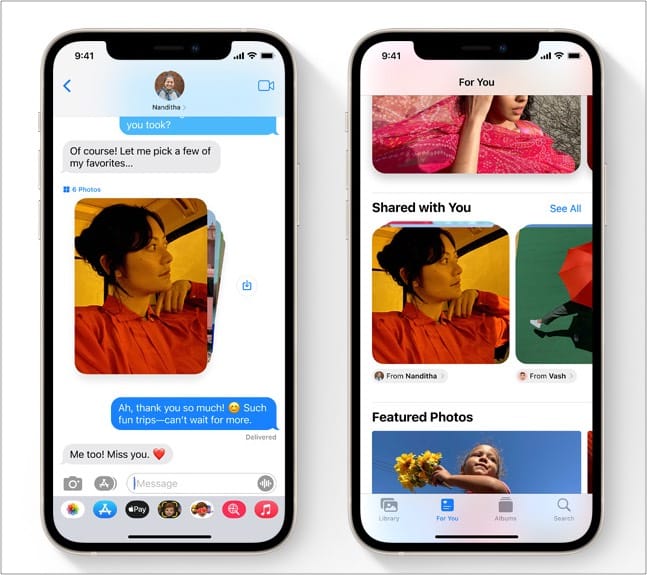 In addition to new outfits and accessibility customizations for Memoji, iMessage also incorporates a smart Shared with You feature. This brings a new way to share and access the shared content on messages.
The shared links, images, and other things will be featured in a new Shared with You section in the corresponding app. Moreover, the feature is built into Photos, Safari, Apple News, Apple Music, Apple Podcasts, and the Apple TV app; making it pretty nifty!
Focus: Notification Summary, Signal your status, more
Notifications: Alerts will now boast larger app icons and contact photos to make them easily readable at a glance. Additionally, notifications will now leverage on-device intelligence to show the priority ones from people and apps.



What's more? You can announce notifications with Siri now via AirPods 2nd generation!

Notification summary: A combined tile of notifications, ordered by priority, delivered daily according to your schedule. Let's read how to use Notification Summary in iOS 15 on iPhone.

Signal your status: Using Focus, you can automatically display status in Messages to keep people from distracting you. Only truly urgent messages will attempt to grab your attention.
Photos: Live Text and Memory feature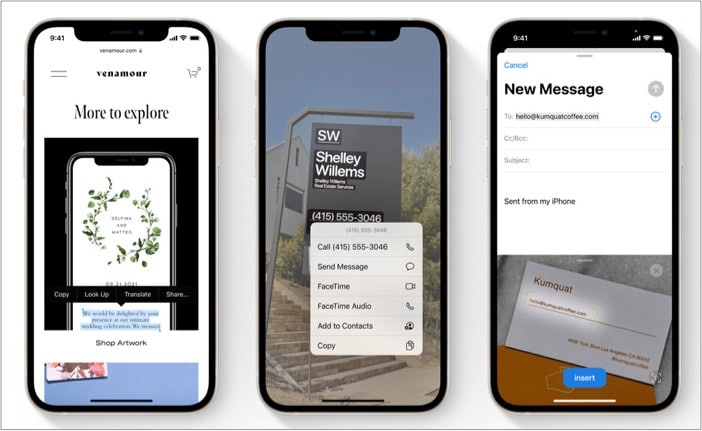 Live Text: The most exciting feature that hooked me is Live Text. You can now click pictures and copy the text on them directly from the photo. It extends to all kinds of images like downloaded or internet pictures.

The Google Lens-like feature also supports Live Text translation, Visual Look-up and is available in 7 languages! Apple Live Text vs. Google Lens – Which One is better?
Memory: With the help of Apple Music, the Photos app will automatically turn your photos into a memory accompanied by background music. You can change the music as well as filter the image.
Spotlight: Search photos, music, movies & more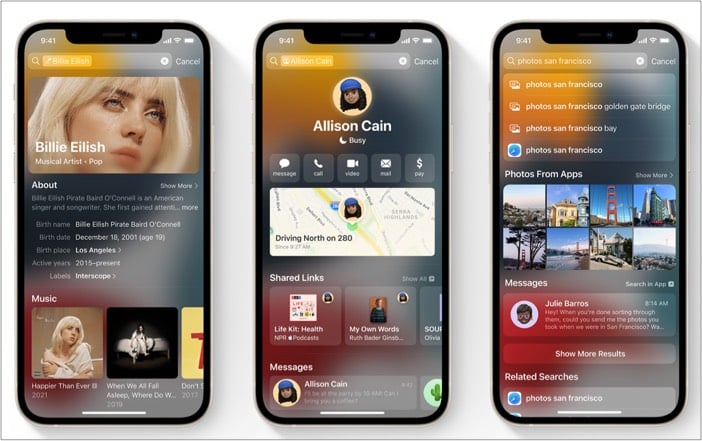 In iOS 15, get more refined and richer search results, whether you search for a contact, an artist, or TV shows and movies.
What's more? Now, Spotlight can also search through your photos and the text in them with the help of Live Text.
Safari: Tab groups, redesigned tab bar, and extensions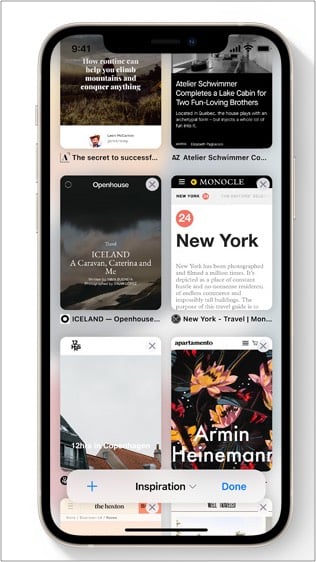 New tab bar design: The redesigned tab bar offers ease to navigate different tabs and stays out of the way for an enhanced browsing experience.

Tab groups: Move, save, and organize all relevant tabs in a group. The best thing? It syncs across all your devices. So, access them whenever and from whichever device you wish to.

Extensions: For the first time, your iOS device will support extensions on Safari. Choose, download, and activate whichever you want!
Apple ID: Recover passwords quickly
It's easier than ever to recover your Apple ID password and maintain account access via the new Account Recovery Contacts. They will get a security code that can be used for a password reset.
Plus, Apple incorporates a new Digital Legacy program. It will enable you to designate family or friends as Legacy Contacts, who can access your account in the event of your death.
Health app: Walking steadiness, Health data sharing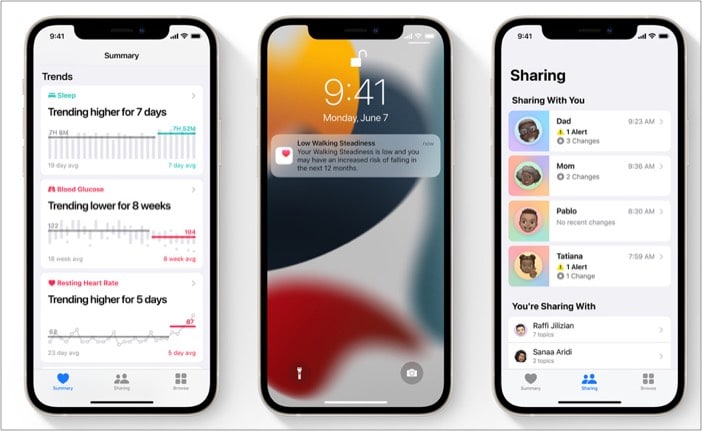 The Health app now incorporates a new metric to assess mobility (walking steadiness) and trend analysis that helps you understand changes in your health over time.
You can also safely and privately share these insights with your doctor or health officials.
Additionally, the family sharing concept now arrives in the Health App. You can keep an eye on your family members' health and track their activity data and trends.
iOS 15 Privacy: Hide your IP, App Privacy Report, more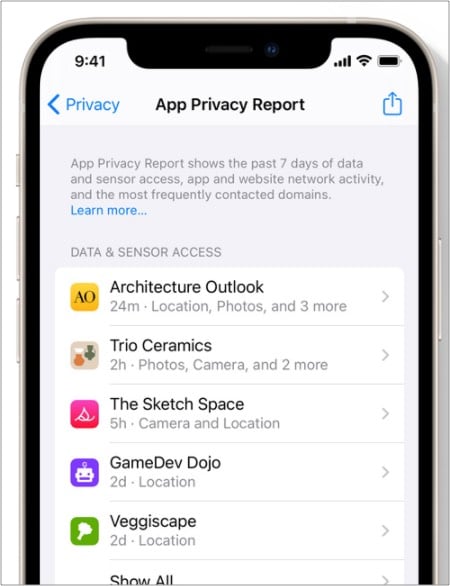 Maintaining its legacy of keeping privacy a priority, Apple has incorporated features like Mail Privacy Protection to hide your IP address and an Android 12 like privacy dashboard, dubbed as App Privacy Report.
There is also the introduction of iCloud+, boasting all you love about iCloud and new features like iCloud Private Relay and expanded HomeKit Secure Video support.
Wallet app: Unlock doors with a tap!
With iOS 15, the wallet app has drastically improved. Along with your Apple Pay details and cards, you could now securely store your driver's license or state ID, corporate badge, transit card, and even keys.
Moreover, now you can unlock your car, home, and even hotel rooms (at participating hotels) with your iPhone.
Apple Maps: 3D landmarks, dark mode, and more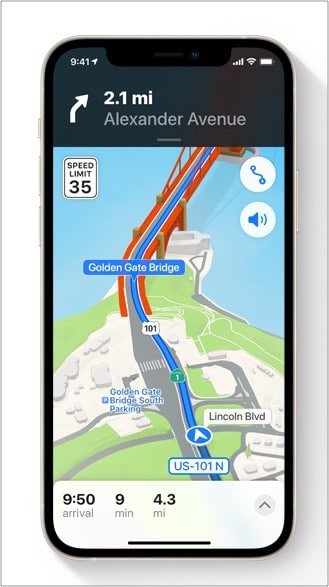 Apple is steadily making improvements in the Maps app with every iOS update. And this time in iOS 15, it boasts an all-new city experience, with 3D landmarks, dark mode, and immersive walking instructions.
Moreover, it will offer drivers incredible road details like crosswalks, turn lanes, interchanges, bike lanes, etc.
Other important updates: Weather, Focus, Notes, and more
Weather: A revived, fresh look with newer and smarter graphics and animated backgrounds to match the weather condition outside. Also includes data like precipitation, air quality, and temperature maps.

Notes: You can now organize notes with tags, mention people to collaborate, and access the Activity view in shared notes.

Widgets: All-new widgets are here for

Find My
Game Center
App Store Today
Sleep
Mail
People with Family Sharing integration


Translate – Thanks to system-wide translation, you can translate text anywhere on your device. Plus, the app now boasts Auto Translate and an improved face-to-face conversation interface.

Find My – Now locate your devices even if they're powered off or erased and see streaming updates of your family and friends' current locations.

Siri – You can now ask Siri to share on-screen items like photos, web pages, news, and more. Siri will send a screenshot if the item can't be shared. Further, Siri will now be able to assist you offline.
Now, isn't this an exciting list of new features? What's your take on the new iOS 15? Share your thoughts in the comment section below.
You may also like to read:
Readers like you help support iGeeksBlog. When you make a purchase using links on our site, we may earn an affiliate commission. Read Disclaimer.