Things to know before downloading apps for Apple CarPlay
You can't play games or stream Netflix or YouTube videos on CarPlay.
You don't need to install anything additional to use CarPlay apps. If an app supports CarPlay, it will appear in the app list on your car's system display after connecting to iPhone.
You can use Siri to access built-in functionalities, like clocks, reminders, etc., read notifications aloud, and give replies to incoming alerts.
CarPlay will now support fueling and driving apps thanks to iOS 16. So, you can find cheaper gas prices or check toll pricing.
Apple's CarPlay enhances your driving experience by conveniently giving you access to all your essential apps. It helps you navigate, respond to messages, and listen to music or podcasts on the go via the default iOS apps or third-party options. I've put together a full list of Apple CarPlay apps for iPhone.
Further, I have categorized the list to help you pick the best Apple CarPlay apps.
Best navigation apps for CarPlay
Navigation apps on CarPlay help you to reach your destination in the shortest time. So, you don't have to check your iPhone for maps repeatedly. Let's explore!
1. Apple Maps – Default iOS app
Over time, Apple Maps has changed and added additional functions to enhance the driving experience. So, it is the ideal GPS navigation app for getting directions if you reside in an area where Apple grants you access to all Maps capabilities. When you click the Destinations link, Maps will recommend locations based on your current location or previous message and emails.
Also, you may easily find gas stations, restaurants, and others using the Search feature. Besides, to use Siri for navigation, press the microphone button on the steering wheel or hit the microphone symbol on the system screen. With the recent update, you may add many stops to your driving itinerary. Also, check the balances of transport cards in your Apple Wallet and recharge them according to transit fares.
Price: Free
2. Google Maps – The best third-party maps app
Get real-time GPS navigation, traffic, and transit info on your daily commutes and trips to unfamiliar places. Also, Google Maps helps you explore local neighborhoods and discover interesting places. No matter what part of the world you're in, this is the best offline map app featuring hundreds of millions of businesses and places, including grocery stores, pharmacies, and other important places.
Besides, you can avoid traffic by using Google Maps' ETAs and real-time traffic data. Thanks to the Live View feature, you can view the route you need to take with arrows and instructions on your car's system. Also, the automatic rerouting feature shows routes depending on current traffic conditions, accidents, and route closures.
Price: Free
3. Waze Navigation & Live Traffic – Find parking easily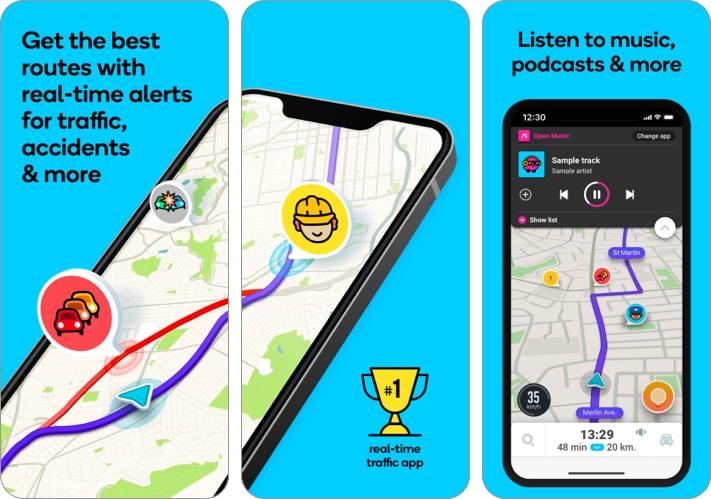 Waze is among the best navigation apps for Apple CarPlay that keeps you informed about everything on the road. It alerts you about traffic, crashes, construction, police, speed cameras, and more. So, you can avoid speeding tickets.
Further, it will give you alternative routes to avoid traffic and tell you the estimated arrival time with various voices. Also, you can find the cheapest gas station and parking area on your way. You can even listen to music and podcasts right from within the app.
Price: Free
4. TomTom Go – Privacy-focused and AD-free
Here's an app with an online navigation experience, downloadable offline maps, live traffic updates, and real-time speed camera alerts. It's available in 150 countries and continuously updated to ensure you always find the best route and save time, even offline. Recently, it has added new shortcuts on the CarPlay dashboard screen.
Besides, you can search for destinations, scenic areas, tourist attractions, and more, so it's a good travel app. One exciting aspect is Moving Lane Guidance which lets you know what lane is yours for junctions and exits. Also, using the messaging service of your choice, you may share your estimated arrival time with others.
Price: Free (Subscription starts from $4.99)
Best CarPlay-compatible music apps
How about a long drive with your favorite playlist? A perfect combination! Know the best music apps to play on your car's system.
5. Apple Music – Default
Apple Music is among the best Apple CarPlay apps for music streaming if you have a subscription. Also, you can tune in to your preferred radio stations. I liked the quick access tabs at the top of the CarPlay UI that allow navigating the app easily. Additionally, Siri may play music for you upon request.
If you're a subscriber, you can access the whole Apple Music library and play everything you've bought from iTunes. To browse your library and playlists, open the app and search for music using your car controls. Also, now you can experience 3D music and Lossless Audio with Spatial Audio and Dolby Atmos.
Price: Free (Voice plan starts from $4.99)
6. Spotify – Best alternative music player
If you love music, you've got to have Spotify to keep you entertained while you're on the road. This music streaming app curates custom playlists based on your preferences to ensure you always have something to tune into. You may also create your playlist and share it with others.
Further, there are customized playlists for every kind of mood and thousands of podcasts to keep up with your interests. Many are originals that are not available on any other platform. I most love the live talk shows between creators, artists, and athletes.
Price: Free (Premium starts from $3.99)
7. Pandora – Get a personalized listening experience
Pandora claims itself as the world's most effective music discovery platform. You may enjoy free in-car streaming of tailored music or podcast while on the go and get access to exclusive SiriusXM talk shows. Besides, the new speech mode enables easy voice commands for searching, playing, pausing, skipping, adjusting volume, and liking songs.
With six different Pandora Modes, you can get a new way to personalize your radio experience. Also, you may create stations using your favorite music, artists, or genres. Search for or browse through suggested stations based on your activities and download them.
Price: Free (In-app purchases start from $3.99)
8. Amazon Music – Highest quality streaming
The Amazon Music app is among the best Apple CarPlay apps for high-quality offline music streaming. It offers to play 100 million songs and gives access to 10 million podcast episodes. Also, you may listen to limitless musical artists and albums.
You can play music on CarPlay if offline tunes are stored on your iPhones. The app's UI is straightforward and offers basic and sophisticated playing settings. If you have Amazon Prime subscription, you can enjoy all the music ad-free and browse the largest catalog of top podcasts without ads.
Price: Free (In-app purchases start from $10.99)
Best news and entertainment apps for CarPlay
Your favorite live show, Podcast, or sport is going on, and you are on the road. Sad, right? These CarPlay news and entertainment apps will let you stay updated while driving.
9. Apple Podcasts – Default
Want to listen to podcasts while driving? If you have a subscription to Apple Podcast, save your favorite episodes in your library and access them on CarPlay. Also, Siri can play podcasts with voice commands like "Play the iGeeksBlog Podcast" and "Skip forward one minute."
It has a straightforward user interface and basic controls. Besides, you may discover new programs quickly and easily with curation by experts and tailored recommendations according to your preferences.
Price: Free
10. NPR One – Best news app
If you like to get regular news while on the road, NPR One is ideal in the Apple CarPlay apps list. It offers access to hundreds of local public radio stations in the US. These radio stations provide a good range of podcasts and the most recent news in sports, weather, politics, science, business, culture, etc., both locally and globally.
Besides, you may enjoy your favorite daily talk program and browse and read stories by topic. The app's UI is user-friendly, so you can easily navigate it on your car's dashboard. Therefore, get the latest news from National Public Radio by activating breaking news push notifications.
Price: Free
11. Audible – Listen to your favorite stories
Reading has never been easier, thanks to audiobooks. Get audible to take your mind on journeys of its own as you navigate to your destination. Besides many bestselling novels and non-fiction from around the world, it also offers original books for your listening pleasure.
Further, you can binge on podcasts too. When you subscribe, you get one monthly credit to get any book you want that stays in your library forever. Also, you may sort stories by using filters in the library. Add this to your arsenal of CarPlay apps and expand your mind.
Price: Free (In-app purchases start from $7.99)
12. Overcast – Best podcast app
Are you a podcast lover? Then here's a must-have app from the full list of Apple CarPlay apps in 2023. Overcast has got everything you need without any unnecessary features or fuss. The simple, intuitive UI makes it a breeze to listen to what you want whenever you want.
Other features of this leading podcast app include Smart Speed which saves time without distorting the audio or sounding unnatural, and Voice Boost, which makes every episode the same volume with a broadcast-quality remastering engine.
Price: Free (Premium at $9.99)
Best radio apps to use with CarPlay
Who doesn't remember the good old days with the radio? You can still tune in to radio stations through apps. Choose your preferred one.
13. TuneIn Radio – Best radio app
Check out this radio app for the world's most extensive library of live, original, and on-demand audio. Enjoy everything from breaking news and live sports to exclusive music and podcasts worldwide. I use this app for the MLB Postseason, which offers to listen live to every game through the World Series.
No need to worry about picking the next thing to listen to as it boasts a range of stations curated by renowned influencers, DJs, and iconic personalities. A premium subscription will give you even more exclusive content, such as the English Premier League, NHL, and ad-free entertainment.
Price: Free (Subscription starts from $4.99)
14. iHeart Radio – Radio, music, and podcasts all-in-one
iHeart Radio is a one-stop solution for all your in-car audio entertainment needs. It offers thousands of live radio stations, podcasts, and unlimited music playlists that match your moods and activities. Besides, you can tune in to sports radio stations and catch up to top sports personalities.
It's packed with useful features such as Favourites and Your Weekly Mixtape, making it easy to discover new sounds you'll love. You can even create personalized stations based on your favorite artists using the library of millions of songs from varied genres.
Price: Free (In-app purchases start from $5.99)
Best CarPlay-compatible communication apps
Stay connected with your family, friends, and other people while driving. So, you don't miss any calls or messages.
15. WhatsApp – Best communication app
While CarPlay already gives you access to the default iOS Messages app, it also supports WhatsApp to help you stay even more connected on the go. Send and receive texts, voice messages, photos, and videos through a network connection. You may create and share a WhatsApp call link from the Calls tab.
Also, you can even make audio or video calls, all for absolutely free. Besides, now you can undo "Delete for me" within a few seconds. It is one of the most popular ways to communicate with others globally, so it is a must-have for your CarPlay experience.
Price: Free
16. Telegram – Cloud-based messaging
Telegram is one of the well-known messaging apps for Apple CarPlay. Like WhatsApp, you may make calls, receive text messages, and reply to them using Siri while keeping your attention on the road. Also, Telegram is more focused on the privacy and security of its users.
You can create a private chat. Also, premium users may add up to three replies to each message and respond to communications with thousands of unique emojis. So, it can be your preferred method of communication instead of Messages or WhatsApp.
Price: Free (Subscription starts from $4.99)
17. Zoom Cloud Meetings – Stay connected with your team
Stay in the loop with this video conferencing app that's taken the world by storm. While incredibly useful for work and professional needs, it's equally helpful for meeting with friends and family online. Besides, you can use individual chats and channels, make or receive calls, and save your ideas on the whiteboard.
It has a safe driving mode to help you talk while focusing on the road. Further, you can use Siri Shortcuts to customize your voice commands to start, join, and listen to a list of your upcoming meetings. Also, it has SSO support and Okta integration.
Price: Free (Subscription starts from $14.99)
Other useful apps to consider
Rather than all the mainstream categories apps, some unique CarPlay apps make your drive convenient. Find the suitable one for yourself.
18. SpotHero – Best parking app
SpotHero is one of the best CarPlay apps in 2023 if you often commute and look for a parking area. Even if the app is limited to major US locations, it is still a trustworthy and widely used tool. Also, you may reserve a parking space and make payments using the app.
It works anywhere, including businesses, events, dining halls, and parking lots. So, you may search for a nearby parking space by manually entering your location. Besides, the app helps you book a slot in advance and save a work profile for routine workplace parking.
Price: Free
19. PlugShare – For electric car owners
Use PlugShare with Apple CarPlay to browse nearby charging locations. Therefore, it's the must-have CarPlay app for owners of electric vehicles. For convenience, the app displays station photos in addition to location information. Also, you may go through your bookmarked locations and trips you've planned from your car's built-in display.
If your car is in charging mode, you may check the app to see how it's doing. Besides, while traveling, PlugShare will let you choose the commute with the most charging stations. Also, you may use the app to assist you in making payments after the vehicle is fully charged.
Price: Free (Subscription starts from $0.99)
20. Dunkin' – Order food on the road
Feeling hungry while on the road? Place orders using the Dunkin' app on the dashboard of your car. So, you may choose from several outlets and order using the app based on your needs. The app helps you choose a Dunkin' Donuts location with a simple swipe on the screen.
The menu in its entirety is shown on your car's screen. The app also incorporates payment processing. And the user interface makes it simple for you to do anything from making reservations to getting takeout. Besides ordering food for delivery, you may also book a table for dining in.
Price: Free
So, that's all for today, folks!
We hope this roundup of some of the best CarPlay apps for your iPhone will elevate your driving experience and add more convenience to your life. Let us know your favorites in the comments below.
Read more…
Readers like you help support iGeeksBlog. When you make a purchase using links on our site, we may earn an affiliate commission. Read Disclaimer.