Ninety percent of kids between ages 8 and 16 have accidentally or deliberately seen illicit content online, according to GuardChild. Well, this easy access and increased screen time put guardians under more pressure, considering that everyone, including kids as young as two years, has access to smartphones.
As a parent (or a guardian), you need to ensure that the young ones are protected from the ill effects of technology. And while Apple has some built-in parental monitoring features, these best parental control apps for iPhone and iPad give you many more tools to monitor and safeguard your children. Let's check them out.
1. MMGuardian: Editor's choice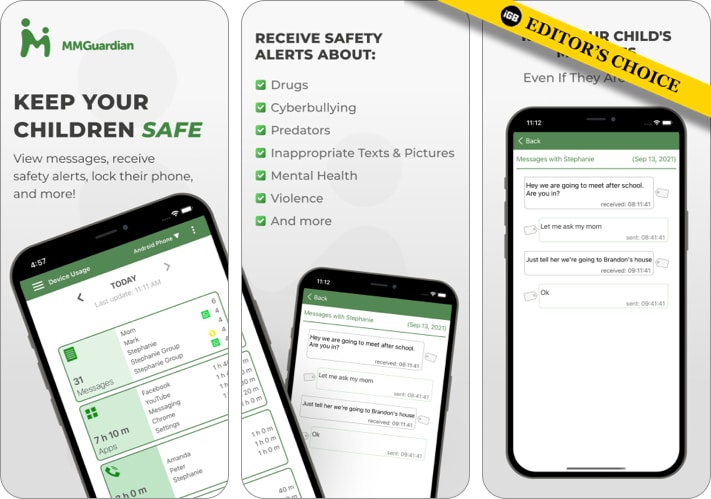 MMGuardian is an AI-powered parental control solution designed for helicopter parents. It enables them to monitor iMessage and SMS, even if they are deleted.
Moreover, it auto-scans the messages and attachments and sends safety alerts to parents if any indication of cyberbullying, drugs, suicidal thoughts, or violence is found.
You can also track your child's GPS location, ensuring they are where they are supposed to be. Enable web filters to protect them against inappropriate websites. And restrict certain device functionality or apps altogether, or add screen-time-based limitations.
MMGuardian also creates comprehensive reports around the child's overall activity, web browsing, phone calls, etc., so the parents can see a bigger picture and easily spot if something is amiss.
The great thing is that the whole process is pretty simple. Install the parent app on your device and the child app on the child's phone, follow the onscreen instructions and monitor away your child's activity without issue.
Pros
AI-triggered safety alerts
Block content remotely
In-depth reports
Easy to use
Cons
It might get too intrusive into the child's personal space
Price: Free, (Subscription starts at $1.99/month)
2. FamiSafe – Parental control app for overall internet access
FamiSafe covers every internet activity of your kids, including their browsing behavior like apps they use and games they play.
The app works by using a suspicious words library with various categories of bullying and illicit keywords to notify you whenever it detects any irregularities on your kid's device.
For example, it features 742 keywords around bullying, 228 keywords for drugs, and more. Notably, your ability to add more keywords makes the app super-flexible.
However, turning off any keyword category means you won't get notified whenever those category words appear on your child's device. Indeed, you can use FamiSafe to set rules on your child's phone. Notably, it has an adult content blocker and website filter ensuring your kids don't mess around with their internet access.
Although the free version offers simple control, subscribing to a premium plan lets you control up to 10 devices, including PC, tablets, or Mac.
Further, with the premium plan, you can filter web content, control YouTube and social media activities, monitor browser history, get device activity reports, detect inappropriate photos, track live location, and more.
To use FamiSafe, you'll need to install the kid's version of the app on your child's device and pair it with your iPhone using a given pairing code. For more information, you might want to see a more detailed review of FamiSafe.
Pros
Monitor your kid's overall internet access
Control your kid's phone remotely
Add and customize potentially abusive keywords
Smart notifications
Kids can request access to specific content
Cons
Most features are exclusive to premium
Price: Free (Subscription starts at $9.99)
3. Google Family Link – Monitor your kid's Android device
Google Family Link lets you control your kids' activities on Google Play from anywhere. It allows you to set digital rules for your children and filter content they access online, including games and apps installed from Google Play.
To start, you only need to open a dedicated Google account for your kid, if they don't have one already. Next, sync it with Google Family Link. And you're set to guide them to positive content.
With the app, you can set a screen time limit, cap your kid's access to specific apps, change your kid's Google account settings, restrict access to mature content on Google Play, unlock their device, and locate your kids using their device.
However, like any parental control app, your kid's device needs an active internet connection to track their activity. While you might monitor your kid's web activities from your iPhone, unfortunately, Google Family Link doesn't allow monitoring of iPhones, iPad, PC, or Mac. So you might want to skip to other apps on the list to track devices other than Android or Chromebook.
Another disadvantage is that you don't have remote control over apps or content you've previously allowed on your kid's device. For instance, you can't regulate app updates since they have previous access. That said, the app has stepwise instructions to guide you through the setup.
Pros
Control app installation on your kid's Android device
Unlock/lock your kid's phone remotely
Regulate internet access and filter content installed from Play Store
Easy management dashboard
Completely free
Cons
You can only monitor Android or Chromebook
Doesn't work well with browsers
Price: Free
4. OurPact – Most secure parental control app
For an app that gives you a recap of all your kid's activities, including those they access while offline, OurPact is the choice. Besides controlling your kid's access to specific websites and social media, OurPact lets you monitor their text messages, games, and even apps they download.
On this note, there's a gallery view that lets you scroll across recent activities on your child's phone. And should your child install new apps on their phone, it notifies you instantly.
Additionally, you can block specific apps or websites, set screen time, automate your child's internet schedules, get location details, and more. Nonetheless, like most apps, advanced features are only available on a premium basis.
To start using the app, you'll only need to connect your kid's device with this app on your computer using a USB. This adds more security to the app and even syncs the app with offline activities. When connected, you can monitor added devices on the app in real-time.
Pros
Monitor websites and apps
Get notified when your kid installs a new app
A gallery to view recent activities
Top-notch geolocation feature
Manage multiple devices at once
Cons
Advanced controls limited to the premium plan
Price: Free (Subscription starts at $1.99)
5. Kidslox – App with rewards for your kids
Kidslox is a simple parental control app that lets you block selected apps and websites and schedule daily screen time limits for your child. There's a reward feature on the side to encourage your kids with assignments and chores.
Further, it allows you to set an activation lock which you have to keep secret to prevent your child from bypassing authorization from their phone. Kidslox is free for the most part, but you might want to get a premium package for advanced features.
Nonetheless, Kidslox requires you to install the same app on your and your kid's phone to set it up. Once done, it syncs activities on your child's phone with the app and lets you monitor what they're accessing from anywhere. Keep in mind that you might be unable to monitor your kid's phone when it's offline, though.
The app offers high monitoring flexibility. You can also connect multiple parent devices with the app to keep watch with your spouse or other adults in the family.
With Kidslox, you can monitor up to 10 devices, including iPhones, iPods, and iPads. So, you can control what your kids access through the advanced content filtering that comes with the app.
Pros
Monitor up to 10 mobile devices
Easy to use
Connect multiple monitoring devices
Reward program for kid's compliance
Filter content and block specific apps
Real-time monitoring
Cons
Your kid can tweak things on their phone once they know the passcode
Price: Free (Subscription starts at $1.99)
6. Verizon Smart Family™ – Best for supervising teenagers
Besides monitoring all internet activities on your kid's phone, the Verizon Smart Family parental control brings you another step closer to your kids. Verizon is a perfect option for tracking your teenager's activities on the internet, considering its array of features.
Its driving monitor has to be one of the unique features of Verizon. It works by notifying you in case of reckless driving. Plus, it gives you a dedicated dashboard to view driving stats, including whether they used the phone or not while driving.
Verizon also features geolocation tracking to monitor your child's movement easily. The content blocker and website filter help you restrict your child's access to selected websites, apps, and social platforms.
In the stats section, you can see the daily usage of various apps and websites from your iPhone. And if you want to view their call logs, it's possible as well.
One of the most valuable features of Verizon is it allows you to limit apps, games, or music your kids buy via iTunes or App Store. This is an excellent way to manage expenses and prevent your kids from going overboard with the budget.
Pros
Versatile features
Limit app and music purchases and subscriptions on your kid's iPhone
Monitor your child's driving habits
View internet usage stats easily on the dashboard
Cons
Many functional bugs needs fixing
Price: Free (Subscription starts at $4.99)
7. mSpy Tracker Find Family Phone – Monitor your kids discreetly
Do you want to monitor what your kids do on the internet and various social media platforms, including WhatsApp, iMessage, Telegram, Facebook, and more? Or you'd like to control the pictures and videos they can access on their phone? mSpy lets you take your kids unaware and see how they use their iPhone when no one is around them!
Indeed, it's one of the most versatile parental control apps out there. As the name sounds, it's more of a spying app than a monitoring system, as your kids keep using their phone without knowing there's a tracker on it.
Well, that sounds sneaky to me. To beat other apps like it, mSpy has a call monitoring feature to keep a tab of your child's call logs and each call's duration.
Besides other internet and location monitoring capabilities, this one comes with iCloud support, which lets you connect your kid's device easily. Additionally, mSpy features keyword alerts to notify you of any inappropriate activity on their iPhones. You can check out our explainer to understand how mSpy Tracker works.
There's just so much you'll get in one app. That said, the app is exclusively paid and offers various premium types you can choose from, depending on your needs.
Pros
Monitor offline activities like call logs and texting
Supports iCloud
Social and other internet buffering available
Illicit keyword alerts available
Cons
No free version
It can be sneakingly intrusive
Price: Subscription starts at $11.66
8. Spy Phone ® Phone Tracker – Exclusively for location tracking
Perhaps you only want to know where your kids have been while you were away or monitor their navigations remotely, well, Spy Phone comes in handy. The app also syncs well with Find My to locate lost devices, and you can ring a connected device to know if it's within your reach.
Spy Phone is an exclusive GPS tracker, though. So it lets you see where your kids have been and who they frequently contact. The app does this by syncing the contact details of people on your child's phone to your device so you can know who they frequently contact.
To use the app, you'll need to install the app on your kid's iPhone and use similar credentials across the board. You'll then see all devices sharing credentials once you log in to a control panel.
To get a GPS update on connected iPhones, you only need to tap a button in the app. However, keep in mind that this is only available until when last time the said phone accessed the internet.
You can monitor the GPS information of up to 5 phones at a time from its control panel. Once you request to view contact details in the control panel, the app takes you to a website where you can log in using your parent credentials and see individual GPS information, including where they've been.
Pros
Monitor GPS information of up to 5 mobile devices
Syncs with Apple's Find My
It lets you locate lost phones.
Completely free
Cons
Monitoring features revolve around GPS only
Price: Free
9. Find My Kids – Chat with your kid on the go
Find My Kids is a subtle app that lets you see your kid's movement, starting from when they left home to when they returned. It features a notification system that alerts you when your kid gets to a particular destination or when they press an SOS button on a linked device.
Connecting your phone with your kid's device is simple with Find My Kid. All you need to do is install the app on your iPhone and the kid's version, Pingo, on your kid's device. This way, your kid can chat with you and even send you an SOS alert in case of emergencies. Find My Kids lets you connect your child's GPS watch or phone with yours.
In addition to GPS and geofencing features, it features stats for monitoring your kid's time on various apps. And more interestingly, you can listen to sounds around your kid from within the app. For more information, you might want to see this complete review.
Pros
Track location history
Geofencing capability
Receive SOS alerts and chat with your kid at all time
Transparent and non-intrusive
Monitor your kid's time on social media and other apps
Listen to your kid's surrounding to be sure they're safe
Cons
Adavced features are exclusive to the premium plan
Price: Free (Subscription starts at $3.99)
10. Spyic – Monitor your kids via web browser
Spyic features a detailed dashboard where you can monitor various activities on your kid's phone, all in a single click. The user interface and experience are top-notch, with all sections well-outlined for easy access. Although it doesn't require downloading an app, the web app is available in iOS and Android versions.
With Spyic, you can monitor your child's activities on social apps, see their call logs, check who they're chatting with, access and read their SMSes, see all apps on their phone, and filter website content they access.
Additionally, this one doesn't require installing an app on your kid's phone. All you need is to sync their phone via the provided platform on the web app. You might want to use the web app from a PC or Mac for a better experience.
That said, the app doesn't offer a free trial period, and you can't use any of its features without a subscription. But overall, it's an ideal app that serves the purpose. To see more on how Spyic works, here's a complete review.
Pros
Highly inclusive app for monitoring various internet activities
See offline activities like call logs and text messages
Get notified via email and SMS
User-friendly interface
Easy to set up
Cons
Paid and expensive
Might be sneaky
Price: Subscription starts at $10.83
11. Bark: Parental Controls – Most sophisticated
The Bark parental control app is unique in that it uses machine learning algorithms to filter what your kids access online. It offers an installable desktop tool and a mobile app. And it supports monitoring for iPhones, iPad, game consoles, Laptops, and more.
To start with the app, you'll have to visit the Bark website to link your child's device. And you're all good to go. Additionally, the mobile app's interface is sleek. And if you have more than one kid, you can manage many devices at once, thanks to the tap-to-control dashboard.
further, Bark features three key functionalities. These include web content filtering, screen time control, and social media monitoring. You can select your kids and customize what you want them to use and see.
Further, its dashboard gives you a recap of apps you've blocked and a stat of recent activities on your kid's phone. Plus, it only notifies you when it detects potential irregularities in what your kids are accessing.
Moreover, its web filtering functionality lets you select websites your child can and can't visit. With these features, you can also schedule when your child can come online to use the internet.
Pros
Filter content using machine learning and artificial intelligence
Well-outlined dashboard for managing more than one device
Schedule internet access timing and control screentime remotely
Cons
Installation can be complex
Set up might be often slow
Price: Free (Subscription starts at $5.99)
That's it!
While kids deserve a certain level of privacy, the internet is a brutal space. So, even if you trust your kids not to surf illicit content or engage in inappropriate activities online, bad actors might crawl in on them.
Hence, besides tracking your kid's activities online, installing one of these parental control apps helps you keep internet bullies and bad influences at bay. Let me know if you have any queries in the comment section.
You may also like to read these:
A self-professed Geek who loves to explore all things Apple. I thoroughly enjoy discovering new hacks, troubleshooting issues, and finding and reviewing the best products and apps currently available. My expertise also includes curating opinionated and honest editorials. If not this, you might find me surfing the web or listening to audiobooks.