GPS navigation apps for iPhone and iPad have come a long way. They can help us search locations, turn-by-turn instructions, traffic navigation, and off-road directions. So, whether you're hiking, traveling, or exploring your area, a map app is a must.
Moreover, some GPS apps allow you to download maps to conserve mobile data and battery life. But you must update your offline maps regularly to get accurate information.
We already have one GPS app for iPhone: Apple Maps. However, more choices are accessible, each with a unique set of qualities. I have listed the best GPS navigation apps for iPhone below.
1. Apple Maps – Editor's choice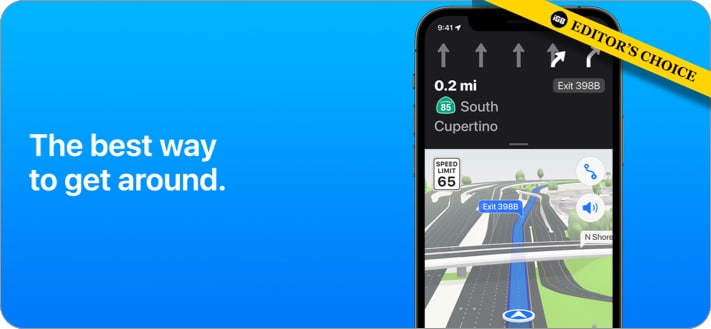 Apple offers a pre-installed default GPS app for iPhone from iOS 6. So, it's free and accessible to all. I liked its simple UI and turn-by-turn spoken instructions for bicycles, pedestrians, and vehicles. It gives an arrival time by calculating the current speed limit and real-time traffic data.
Besides, you may access real-time transportation information, including the bus or train's arrival and departure schedules. Also, the interior airport terminal maps show the locations of eateries and bathrooms.
I got a Google Earth-like experience using its Flyover Mode and 3D city views. You may also communicate your ETA while biking, strolling, or using CarPlay with Siri to report a traffic incident while remaining hands-free.
Pros
3D Look Around feature
Effective lane guidance and speed limit display
The navigation screen is free of distractions
Cons
Can't download the map
Doesn't warn drivers of speed traps or roadway obstructions.
Price: Free
2. Google Maps – Best global GPS app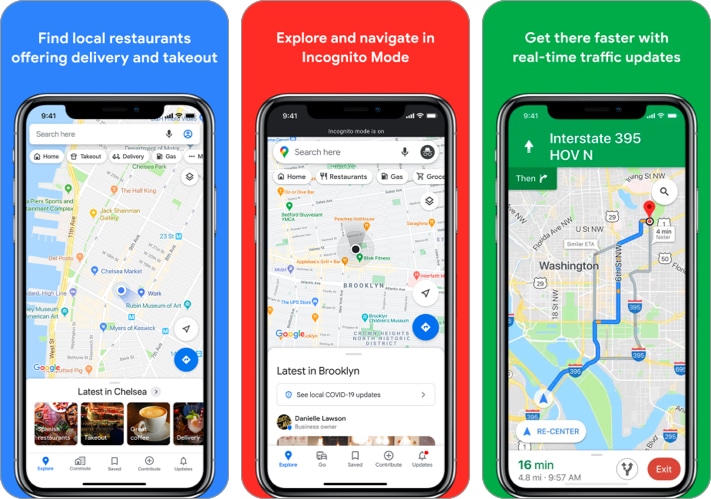 Google Maps offers a highly accurate points-of-interest database and map. Besides, with real-time traffic data and rerouting automation, you may quickly reach your destination and avoid traffic jams. The best part is it shows ongoing construction, accidents, potholes, and police presence.
You may view maps in different modes like traffic, public transportation, satellite, Google Earth, etc. I have made Google Maps default on iPhone as I mostly use the Google Local Search feature to find new locations with their business hours, ratings and reviews, and other important information.
Additionally, it syncs your flagged location lists and search history across your logged-in devices. You may have voice instructions in regional languages, modify volume settings and play through Bluetooth.
Pros
Advance voice search
Accurate directions and location updates
Street views for 99% of U.S. public roads
Cons
Good for online usage
Offline maps take a large storage
Price: Free
3. Waze – Best for drivers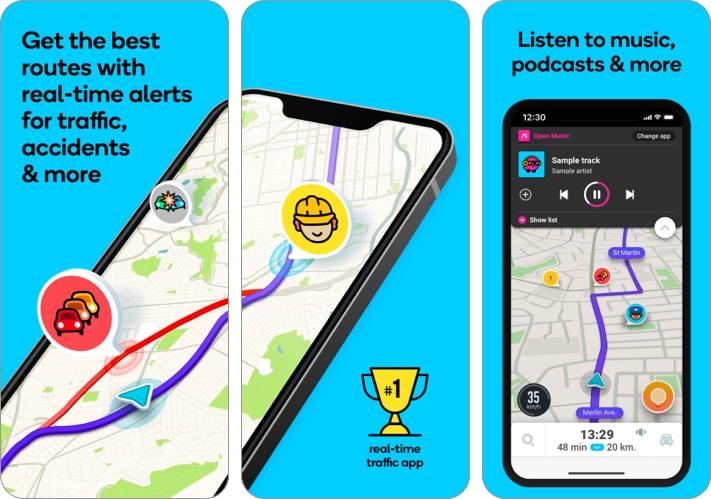 Waze, an offering of Google, provides you the best navigation app for iPhone with the biggest community-based live traffic. In this app, the local drivers update real-time traffic and route information from time to time.
So, plan your journey accordingly with dynamic routing and save time. Besides, you can find the cheapest petrol along your route to save money. But you must have the internet to access the live map and interact with other drivers.
You may also give updates about construction, road hazards, speed traps, etc., by connecting Waze with FourSquare, Twitter, or Facebook. I loved its compatibility with playing music and podcast directly from the app. Besides, you can use it on your car's display while driving with Apple CarPlay.
Pros
Real-time traffic information
Apple CarPlay compatibility
Rerouting automation
Driver's community
Cons
Ads on the screen
Little point-of-interest location information
Price: Free
4. Citymapper – Best for transportation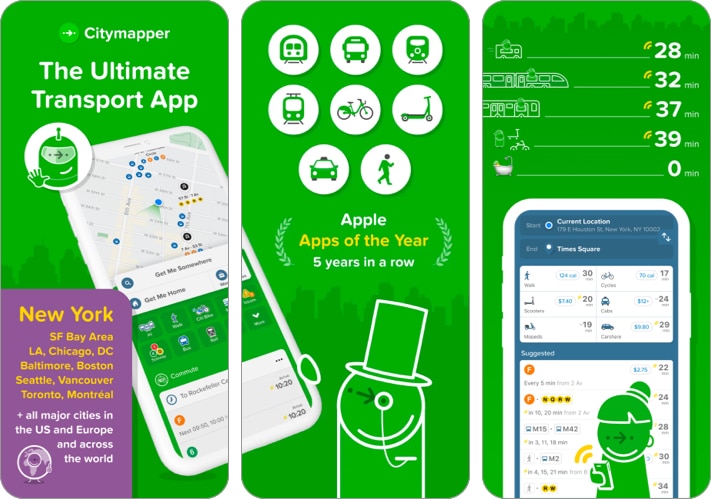 CityMapper allows planning your journey in the shortest time by comparing transportation alternatives. So, whatever transit mode you choose, including walking, biking, or public transit, you can easily traverse using turn-by-turn instructions.
Besides, the app offers three different map views, official offline maps, and no-parking zone alerts. Therefore, this app is your travel companion if you live in NYC or San Francisco Bay Area. Also, you may compare taxi prices, book a rental car, or locate an e-scooter nearby, thanks to its integration with the bike and car rental apps.
I always plan my journey according to its real-time wait times and ETAs to avoid missing buses or trains during rush hour. Besides, track your bus or train, check the best train car to board, and choose the right entrance and exit at every subway or railway station.
Pros
Aggregates all transit systems
Compatible with Apple Watch
Share your live ETA and location via iMessages
Cons
Crashes on older iPhones
Drains battery too fast
Price: Free (In-app purchases start from $2.99)
5. Avenza – Best offline GPS app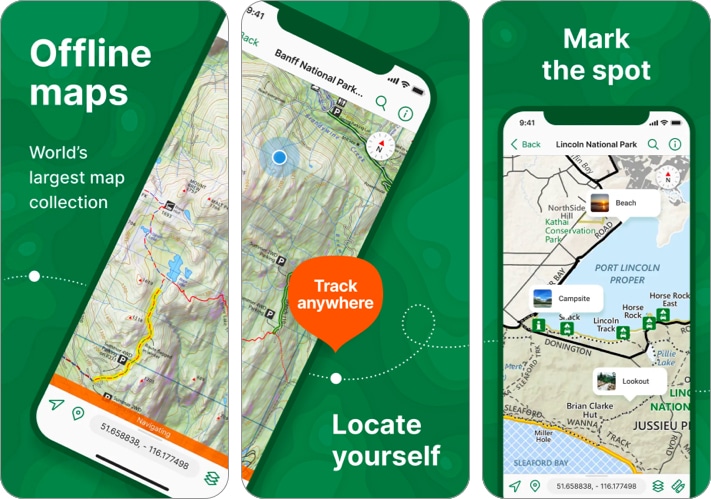 Avenza is my favorite app for offline maps, perfect for preplanning an adventure or hiking trip. It offers a large offline map store, including National Geographic maps, national park maps, etc. Also, you may access premium maps of Garmin, USGS, Michelin, etc.
The "trace your steps" feature tracks you down anywhere globally. Besides, you can create geofences worldwide. I liked its integration with what3words to pinpoint your position with custom symbol sets and alternative coordinate display formats.
Also, you can import unlimited geographic PDF, GeoPDF, and GeoTIFF maps and attach notes, images, and CSV, GPX, and KML files. So, whether riding off-roads or hiking remote trails, Avenza is there for you.
Pros
World's largest map collection for downloading
Record GPS tracks and mark spots
Import your own maps
Cons
The tracking feature obstructs the view of that map
The interface is not user-friendly
Price: Free (In-app purchases start from $0.99)
6. MapQuest – For night-mode lovers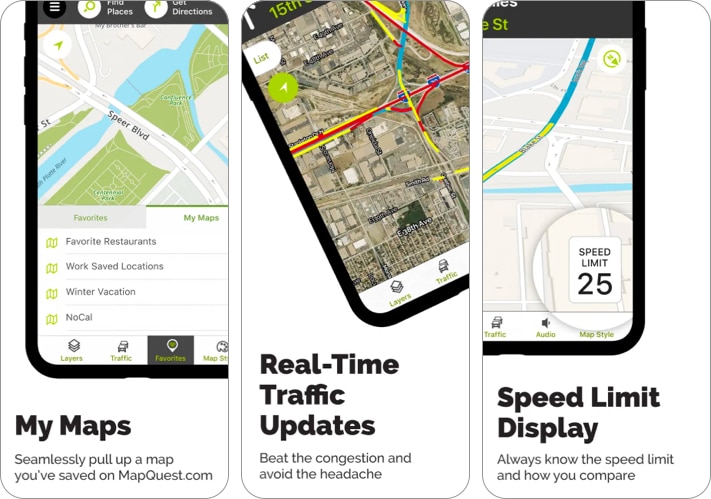 MapQuest provides every essential feature you need to explore and travel the United States and Canada. You may use voice navigation for walking or driving instructions or explore areas of interest on the map. Besides, it supports Apple CarPlay and live traffic camera.
Also, you can view live satellite images and real-time traffic updates to avoid traffic and take alternative routes. I liked its built-in speedometer that compares your current speed to the posted speed limits on your road. Besides, the multipoint itineraries feature allows you to set more than one-stop trips.
You can also use custom symbols to designate preferred destinations. While planning, I use its layers bar to find and explore surrounding attractions like restaurants, petrol stations with the lowest costs, etc. Besides, it's one of the GPS navigation apps for iPhone that lets you discover fantastic hotel offers and reserve them within the app.
Also, you can look at menus, book reservations, and place food orders through OpenTable and GrubHub. I think its most unique feature is local weather updates. But the pop-up ads are frustrating and obstruct the map view.
Pros
Get live traffic updates and alternate routes options
Speed limit display
App shortcuts
Cons
Doesn't work properly with Siri
The navigational capabilities are inoperable in offline mode
Price: Free
7. Sygic – Get 3D downloadable maps
The most sophisticated iPhone GPS app with a great navigation experience, smart tools, stunning 3D downloadable maps, and an intuitive user interface. The GPS multi-lingual voice guidance provides clear instructions and speaks street names.
Also, offline maps get free updates regularly. If you love exploring cities on foot, this app is for you. Because it covers every point-of-interest location and tourist site with walking instructions. Also, you can customize your navigation arrow.
Over 500 million people globally provide real-time traffic information, and Dynamic Lane Assistant helps to avoid traffic congestion. Besides, Speed restriction alerts display the current speed limit. Also, the Sygic app emphasizes your safety.
The Real View Navigation and Head-up Display technology is helpful in nighttime driving as it projects navigation onto the windshield. After a collision, a dashcam instantly captures a video of the surrounding area.
Besides, Apple CarPlay connectivity display all navigational tools on the in-dash display. I liked its wrong-way alert (developed in collaboration with Bosch) to know if you're going the incorrect way.
Pros
Head-up display
Real-time sign detection
Support for Dashcam and Cockpit
Dynamic Lane Assistant
Cons
Costly subscription
Unstable with CarPlay
Price: Free (In-app purchases start from $17.99)
8. MAPS.ME – Find the best hotel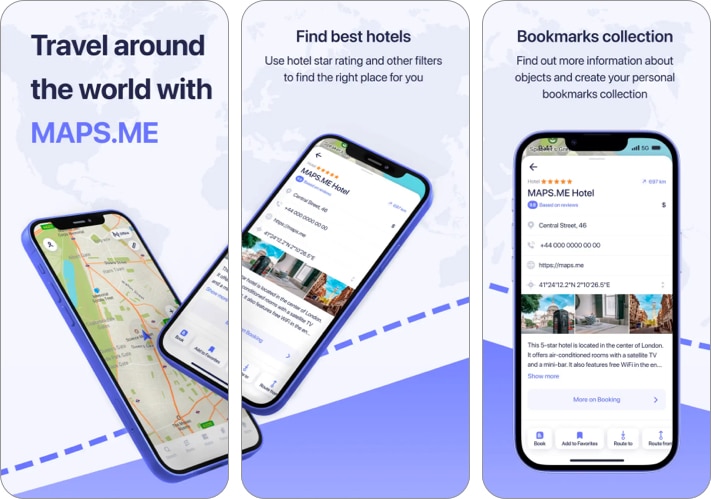 If you are looking for an offline GPS app that drains your battery, MAPS.ME is the one. With its ready-made travel guides, you save time arranging the trip and ensure you never miss a location or outdoor activities.
Besides, the app offers detailed directions to hiking paths, POIs, and other offbeat locations and indicates if a route is uphill or downhill. Also, millions of OpenStreetMap contributors update maps every day.
It shows hiking trails and other features with MAPS.ME's extensive tourist spots database. Along with using optimized navigation, you can do offline searches and browse several categories, such as eateries, tourist destinations, hotels, ATMs, and public transportation.
Besides, directly reserve hotels on Booking.com using the app. So, give MAPS.ME a try as every single free map is available in the app, along with little advertisements.
Pros
Get the most optimal route
Search location by category
Bookmark favorite spots
Cons
Poor navigation in rural areas
Doesn't choose the shortest route
Price: Free (In-app purchases start from $0.99)
9. TomTom Go – Drive to your photo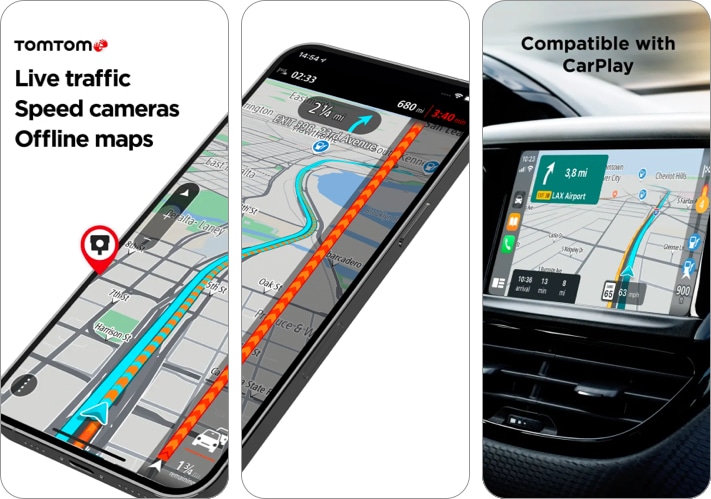 With TomTom GO, you can enjoy downloadable 3D offline maps updated weekly with accurate real-time traffic. Also, the dynamic lane assistance and simple turn-by-turn guidance let you reach your location quickly.
The speed alerts warn for stationary and moving speed cameras. With Apple CarPlay, enjoy best-in-class navigation on display in your vehicle. Besides, I liked its ads-free interface, which is more effective and privacy-focused.
Another unique feature called "Drive to a Photo" gives directions to the locations of your geotagged pictures and the addresses of the contacts on your phone. Along with offline maps, you may search online to find destinations, well-known sights, and crucial POIs.
Using the TomTom Traffic function's accurate distance and timing estimates, you can discover alternative routes to avoid traffic jams. Besides, you can share your arrival time with others using the messaging service.
But the biggest turnoff for me is you only receive 50 miles of free navigation each month. If you want more, you will need to subscribe.
Pros
150+ countries' downloadable 3D maps with weekly updates
Speed camera alerts
Directions for geotagged photos
Cons
The free app includes 50 miles of navigation per month
The iPhone route bar isn't available on CarPlay
Price: Free (In-app purchases start from $4.99)
10. MapFactor – Free offline maps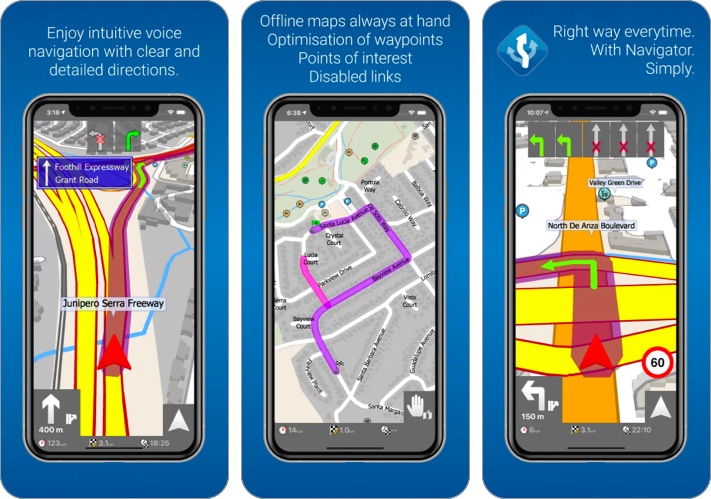 Mapsfactor is one of the best free GPS navigation apps for iPhone from OpenStreetMaps. It offers free offline maps of more than 200 countries with monthly map updates.
You will get HD live traffic, a door-to-door route, and a summary of the planned trip. Besides, the speed restrictions and camera alerts keep you safe. You can set the intuitive voice turn-by-turn directions in your preferred language.
The app's premium offers professional TomTom navigation maps with UK postcodes for more dependable and accurate driving. Also, I liked its day and night map modes with 2D/3D setting to navigate realistic visual maps.
You may modify your vehicle details to get improved diverse routes. Besides, the Heads-Up Display feature and support for CarPlay enhance your night drive.
Pros
Free maps of more than 200 countries
Customize your vehicle details for accurate routing
Head-up display for night drives
Cons
Poor searching
UI is backdated
Price: Free (In-app purchases from $3.49)
So, that's all for today, folks!
You should get the best GPS navigation app for your iPhone if you commute daily or love exploring new locations. The offline GPS app has the advantage that it doesn't drain the battery of your iPhone or produce heat. So, which app are you going to download? Let me know in the comment section!
Explore more…
Ava is an enthusiastic consumer tech writer coming from a technical background. She loves to explore and research new Apple products & accessories and help readers easily decode the tech. Along with studying, her weekend plan includes binge-watching anime.