Gas prices are soaring, and our wallets are still crying. Even the smallest savings could be a grace for all of us now. And I've got just that and more; here are some of the best gas apps for iPhone that'll help you find a nearby gas station that offers the cheapest gas.
1. GasBuddy – Editor's choice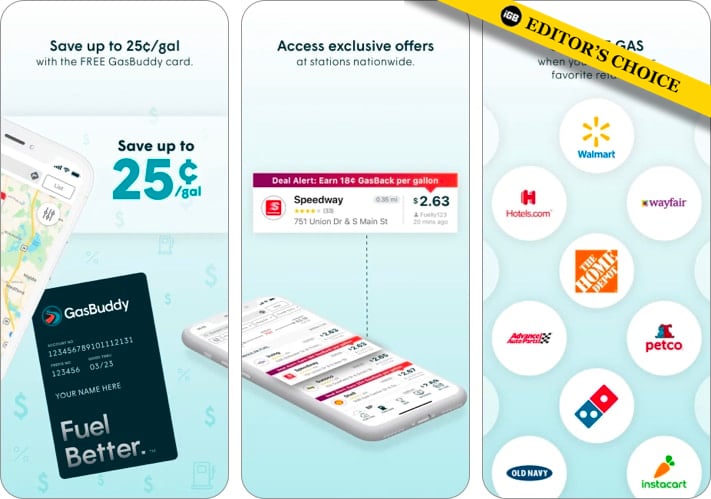 GasBuddy has helped around 90 million people to save money on gas, hence the most popular tag. A convenient gas map allows users to see and analyze gas stations that offer the best price.
Furthermore, you can filter options according to the type of gas, price, location, restrooms, etc. When selecting a station, you can check out reviews and when the price was updated last. Notably, the app typically updates gas prices every few hours.
On top of it all, it also helps you save money via the GasBuddy card. For starters, it saves up to 25¢/gal, and you're privy to exclusive, nationwide cashback schemes.
The app also boasts challenges, complete them to earn points and stand a chance to win a $100 gas card amidst other prices.
Price: Free
Waze is incredible navigation and live-traffic app. A major perk of the app is that you can find nearby gas stations and their respective gas prices along your route.
All you have to do is search gas stations or click the gas pump icon below the search bar, and a list of the nearby stations will pop up with their logo spread across the map. The result includes distance to the station, brand, and the gas price, along with the last updated date.
Select any station to check out the price list for different grades of gas available. Notably, the listed price may not always be live. But rest assured that you'll be shown the best route to the gas station and wherever else you're going.
And you can stream podcasts or music to keep you company during the journey. Yes, there are not many cashback or royalty points schemes here, but the ease of access triumphs over everything.
Price: Free
3. Speedway fuel: Gas price app with many rewards
As the name suggests, it is designed to help you find the nearest Speedway gas station. You'll instantly find the closest convenient station with up-to-date gas prices.
Moreover, it boasts exclusive Speedy Rewards granted/gifted to members. Members can keep track of their points, latest bonus offers, redemption items, sweepstakes prizes, and other gifts.
A special wallet section keeps a record of digital cards and coupons. Moreover, a handy Shake-to-Show option allows you to view the Speedy Rewards Card instantly, without tapping any buttons. So, ensure smooth and quick payments with the app.
Price: Free
4. Upside – Best iPhone app for cash back on gas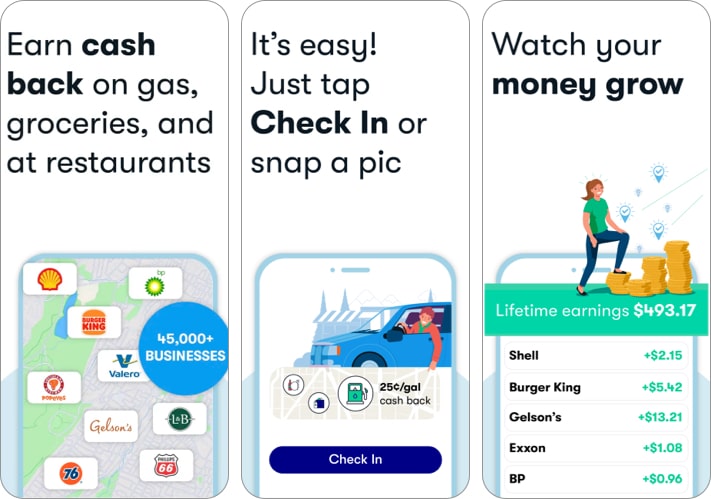 Formerly known as the GetUpside, the Upside app allows you to save on gas and food. Simply search the app for gas stations, grocery stores, convenience stores, or restaurants, and you'll be presented with amazing deals.
Upon shopping at any participating location, snap and upload the receipt picture or pay via the linked credit/debit card. Soon your Upside account will be flooded with cash back rewards.
You can earn up to $0.25 per gallon on gas, 30% at grocery stores, and 45% at restaurants. Interestingly, you'll earn both Upside rewards and card rewards for the same purchase when paid via a credit card. Now, isn't that a win-win situation?
Notably, Upside works at over 25,000 gas stations across the U.S, including brands like Shell, Speedway, Conoco, Mobil, Exxon, and more.
Price: Free
5. MapQuest – Easily find the nearest gas station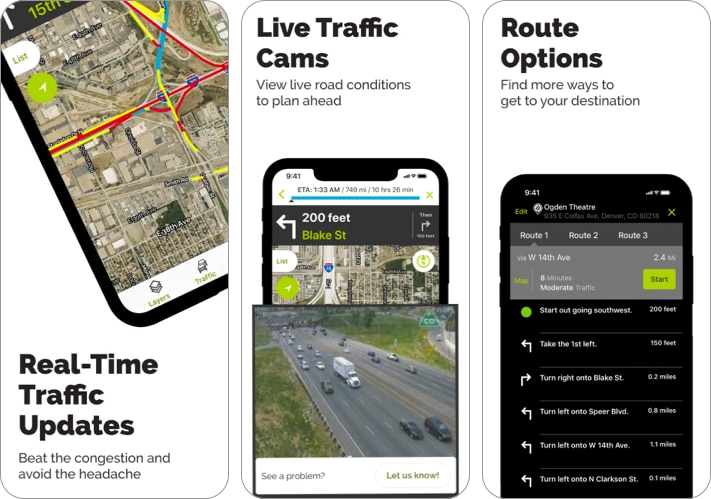 Fun fact, MapQuest was launched in 1996 as the first commercial web mapping service. And it has come a long way from printing out instructions; you can now get accurate routes and compare gas prices.
Select the Gas icon under the search bar, and a list of nearby gas stations will pop up. Just like Waze, you can see the gas price and when the price was last updated. It usually ranges between a few hours or 2-5 days ago.
In addition, MapQuest offers Apple CarPlay connectivity, turn-by-turn voice navigation, live traffic cameras, a speedometer to compare the current speed with the allowed speed limit, and most importantly, routes designed to help save time, gas, and money.
Price: Free
6. Alternative Fueling Stations – Comprehensive database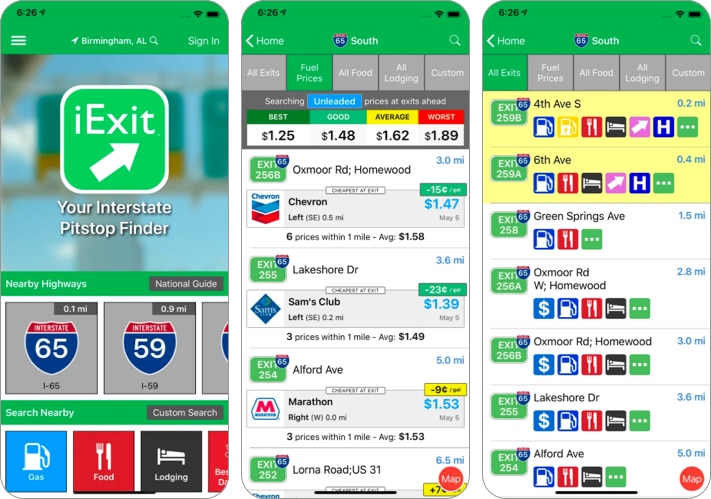 The app's name might have told you what it does. But you need to know that it draws its information from the U.S. Department of Energy's Alternative Fuels Data Center. That means you'll be privy to the most comprehensive and up-to-date database.
What's more? Select your alternative fuel of choice, whether electricity, natural gas, biodiesel, E85, propane, or hydrogen. You can find the 20 closest stations within a 30-mile radius around your current or any custom location.
When selecting a station, you can view details like their address, phone number, hours of operation, accepted payment types, public or private access, special services, and more. The only thing you don't see is the price of the fuel, and that's a bummer.
Price: Free
7. Drivvo – Best gas mileage app for iphone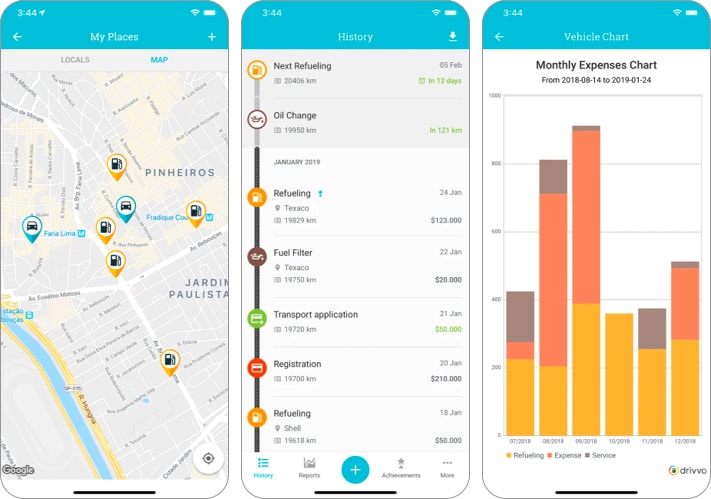 Drivvo is a smart car management app that helps you manage every aspect of your car. The idea is to save money. Firstly by finding the most inexpensive gas near you and helping you get great mileage.
Simply add your car, motorcycle, bus, or truck to the app. It will track your vehicle's every big and small detail allowing you to manage the monthly costs, including total spending on gasoline or ethanol, oil change, installments (if any), registration, fines, tolls, and much more.
You can also check out other derivatives like cost per km, average km/liter, average consumption, etc.
Price: Free
8. iExit Interstate Exit Guide – Great for road trips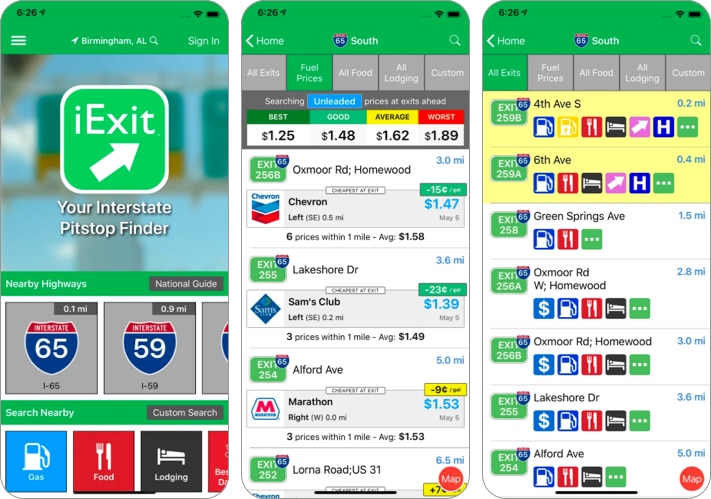 Designed to make your road trip smoother, the app gears up when you are on the Interstate, showing you what's ahead, including the cheapest gas station. iExit is updated with gas prices across the United States and helps you find the cheapest station at each exit.
Although, you'll have to pay an extra $1.99 to view the gas prices. Otherwise, you'll just see the nearest gas station and how far it is from you. Spending the extra $$ might make sense if you're a regular traveler.
Price: Free
I hope this article can help you find the right gas app that saves you some $$. Let us know which app served you best. It will help us improve our article further!
For more interesting iPhone apps, check these articles out:
Readers like you help support iGeeksBlog. When you make a purchase using links on our site, we may earn an affiliate commission. Read more.
A self-professed Geek who loves to explore all things Apple. I thoroughly enjoy discovering new hacks, troubleshooting issues, and finding and reviewing the best products and apps currently available. My expertise also includes curating opinionated and honest editorials. If not this, you might find me surfing the web or listening to audiobooks.