At this point, you can find an app for almost anything on the App Store. This bodes well for people who have become new plant parents or are curious about nature. Whether taking care of your house plants or increasing your knowledge, these plant identifier apps for iPhone will be highly useful for you!
These apps will provide tonnes of information on the rarest plants you can find. Without further ado, let's take a look at them!
1. PictureThis – Plant Identifier: Editor's choice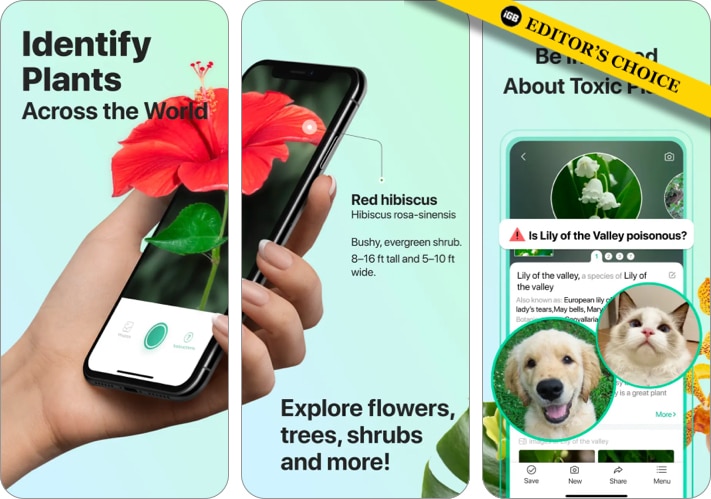 PictureThis is the most definitive plant recognition app you can find online today. If people have ever asked, "Is there an app to identify plants?," PictureThis has been the first app to pop into mind.
The app has a huge database, to the point where it identifies over a million plants every day through users worldwide. The AI-driven identification system on the app just needs a plant's picture to provide the required information. Additionally, you can converse with botanists to gain valuable information.
There are also plant guides to help you take care of your house plants and give them the proper treatment. The in-app note functionality lets you track your plant's growth and reminders for water or treatments.
Overall, this is one of the best plant identifier apps. However, it requires a constant internet connection to function. There's no option to download the database onto your phone for easier and faster access.
Pros
Extensive database on plants
Plant guides for house plants
Note functionality to track plants' growth
One-on-one conversations with botanists provided
Cons
Needs constant internet connection to access the database
Price: Free (In-app purchases start at $2.99)
2. PlantSnap: Thriving community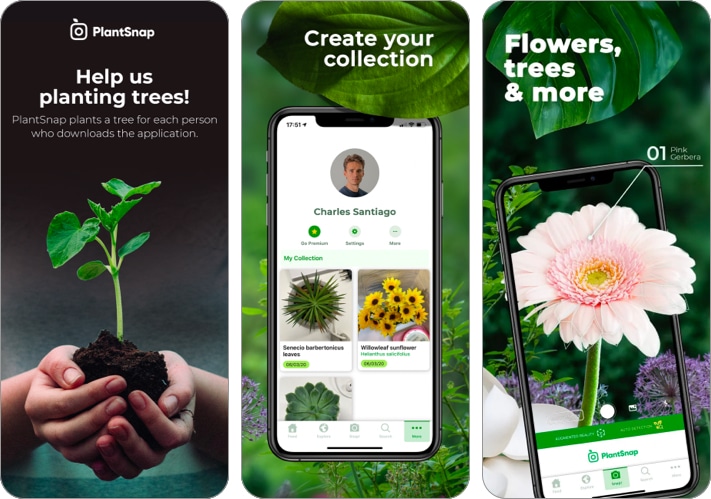 While it's nice to have a large database for plant identification and treatment, some problems could be more specific. In these situations, it's always better to chat with other members in a larger group to understand and fix issues.
PlantSnap provides this large group through its massive community of users. The community is spread over 200 countries, with over 200 million users. This gives users a great opportunity to find solutions to their plant problems and connect with like-minded people sharing their passions for nature.
The app's database is impressive too, with over 600,000 species of plants, trees, and bushes logged in. This database keeps growing as every plant picture you take will be stored for more information. This information is then shared with every user worldwide.
The app's customer support isn't great, though. Users have complained of lackluster customer service.
Pros
Huge community to share your passion with
Decent database size
Users can add information to be accessed by other users
Cons
Customer support isn't the best
Price: Free (In-app purchases start at $0.99)
3. Seek by iNaturalist: Highly informative
If you want to inculcate a passion for plants and nature into your children, how you disseminate the information is important. With Seek by iNaturalist, educating people on plants has never been easier!
It is not only a free plant identifier app for iPhone but also identifies animals and fungi. The app has a neat feature called the Tree of Life, which holds and provides information on plants in your surrounding area. All you need to do is use the Seek Camera and scan your environment. The app will then provide information on plants commonly found in your area.
Moreover, it's great for teaching kids about nature as it turns collecting information and observations into a game. The more information you collect, the more badges you'll earn.
Unfortunately, the app has some issues with the camera. You can't zoom into flowers, and the app cannot identify plants in low light conditions.
Pros
Seek camera identifies plants based on your surroundings
Great for teaching kids about plants
Has animals and fungi information
Cons
Camera app lacks features
Price: Free
4. NatureID: Best for plant parents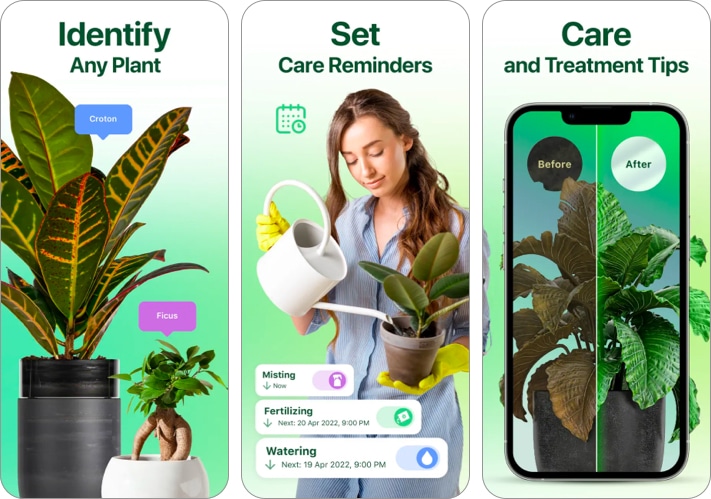 As plant parents, it can be difficult to deal with plant issues if you're not well-versed in their biologies. Even completely new plant parents find it challenging to take care of their plants for too many weeks.
If you plan on becoming a plant parent or have new plants to take care of, you need to use NatureID. The app comes with the Plant Doctor feature, making it supremely easy to identify plant disease symptoms and treat them early. Moreover, the Plant Journal feature helps you track everything about your house plant.
You can also read different articles through the built-in encyclopedia for some interesting information. However, it doesn't have an extensive database on plants.
Pros
Excellent for house plants
Plant Doctor feature for treating symptoms early
Plant Journal tracks every detail
Cons
Database needs information on more plant species
Price: Free (In-app purchases start at $1.99)
5. LeafSnap: Impressively accurate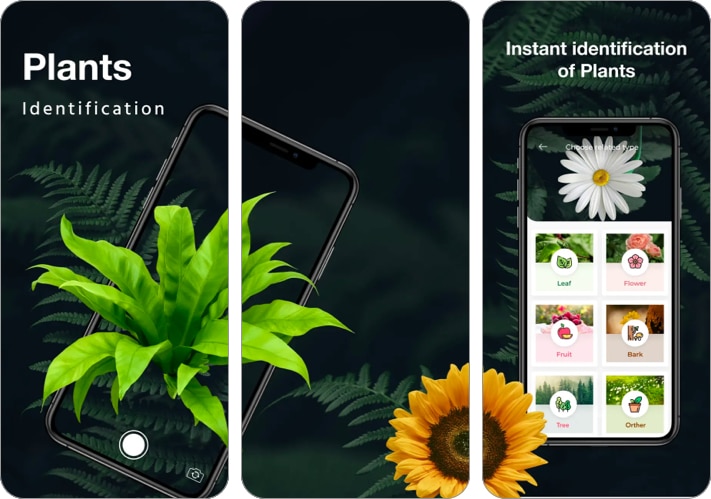 Most plant recognition apps claim that they're insanely accurate but fail miserably when the time comes. However, LeafSnap backs up its claim impressively as well.
The app's database has information on 90% of the known species of plants on the planet. If you think that's impressive, there are features such as a Plant Journal and a Care calendar. Both of these features come in handy when gardening and tending to the plants in your backyard.
The app's recognition software is also pretty fast, using the camera to identify plants and correlate with the database almost instantly. This makes the app's camera intuitive. The app has a clunky user interface, though. It keeps pushing users to pay for subscriptions using constant pop-ups.
Pros
Accurate plant species recognition
Plant Journal and Care calendar to take care of house plants
Fast recognition algorithm
Price: Free (In-app purchases start at $4.99)
6. PlantNet: Location-based identification
PlantNet is an excellent app if you want to know more about the local flora. The app uses information recorded from various corners of the planet to provide accurate information on your local area's plant life.
At the moment, the app's database is impressive. It's got accurate information on at least 20,000 plant species, adding more information every passing day. Moreover, you can filter out the plant information with comprehensive filters.
Lastly, you can share the information you've gathered on a species with other users through the app's community. Through this, you can review and re-identify plant species for better data collection.
The user experience is slightly dampened because of the awkward app interface, however. It's difficult to navigate and rather uninteresting.
Pros
Decent amount of information in the database
Filtering feature works well
Can share your finds with community members
Cons
Needs a better user interface
Price: Free
7. Plant Identification ++: Excellent features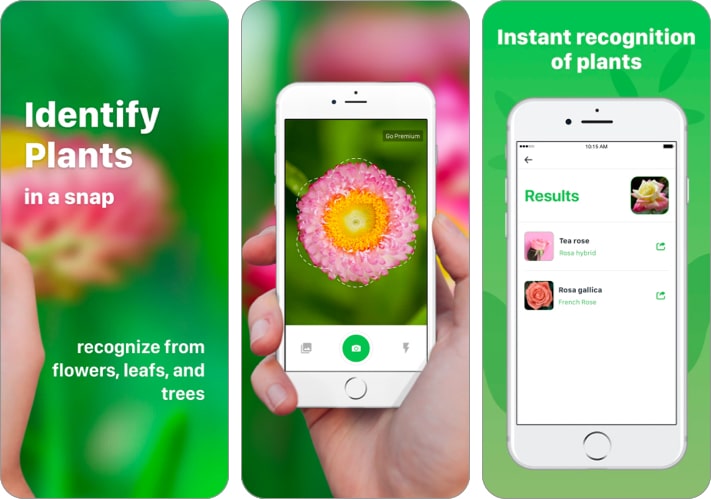 You won't find too many plant recognition apps that can provide all the features you get through Plant Identification ++. The list of features is so extensive that you might find it overwhelming at first.
The app's advanced machine learning algorithm can identify and provide all the information on a plant. This is regardless of whether you've photographed the plant through the app or picked a photo from your phone's library. Additionally, you also get access to a community of plant-lovers and tips to take care of your house plants.
Moreover, even if the plant shown in the picture isn't in the database, the app can intelligently check its features and give you a list of possible plant names or members of the genus. Overall, the algorithm used by the app is top-notch.
Unfortunately, most of the app's best features are hidden behind paywalls.
Pros
Huge list of features
Access to a passionate community
Algorithm can make accurate guesses about plants that aren't in the database
Price: Free (In-app purchases start at $1.49)
8. iplant: Easy to use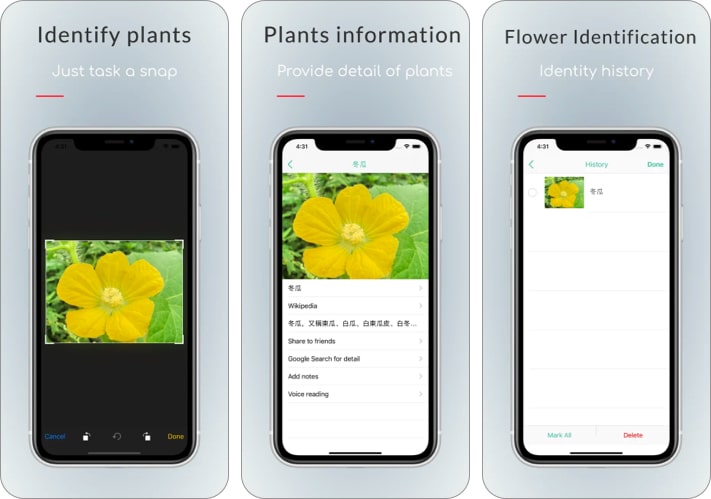 Although iPlant doesn't have all the major features of the best plant recognition apps, it provides a convenient user interface that almost anyone can use. This is the one feature that propels it higher than its competition.
Whether taking pictures through your camera or uploading them via your phone's gallery, iPlant ensures that the identification is fast and efficient. The artificial intelligence algorithm of the app is pretty fascinating and accurate. Furthermore, every new plant recorded will have its information instantly stored on the app's global database.
Lastly, if you run a plant page or like sharing your nature finds, you can do so directly through the app. It can be linked to social media platforms such as Facebook and Twitter.
However, the app lacks a few features present in other plant recognition apps.
Pros
Fast and efficient plant identification
Every new plant information can be accessed through the app's global database
Can be used to share plant information through social media integration
Cons
Lacks more comprehensive features
Price: Free (In-app purchases start at $4.99)
FAQs
Q. Are plant identifier apps safe?
Yes. Most plant identifier apps only take basic information for signup purposes. Moreover, they only access your phone's Gallery and Camera apps for plant pictures. Some plant identifier apps require access to social media apps if you want to share your discovery with other people online. However, these are mostly boilerplate requirements.
Q. What does PlantSnap cost?
PlantSnap is free to use. However, it features some in-app purchases that offer extra, more comprehensive features. You can also get Lifetime premium access on the app for various prices, depending on the provided features. This access ranges from $9.99 to $39.99.
Signing off…
If you love nature and the flora-based bounty it offers, these plant identifier apps for iPhone are a boon for you. You can share your passion for plants with other people and satisfy your curiosity simultaneously. If I missed your favorite plant recognition apps, let me know in the comments below!
Read more:
Readers like you help support iGeeksBlog. When you make a purchase using links on our site, we may earn an affiliate commission. Read Disclaimer.