It's always considered a huge advantage if you can speak more than one language fluently. Good command over multiple languages not only looks great on your resume but also increases your chances of finding good opportunities in different parts of the world. Moreover, it's a nifty hobby to have.
To ensure that your language barriers reduce ever so slightly, I've curated the best language learning apps for iPhone and iPad. Let's look at the myriad of apps available online, shall we?
1. Duolingo – Editor's choice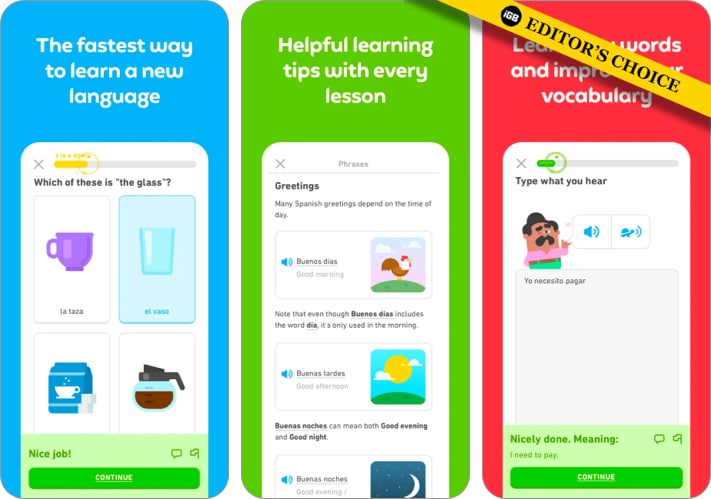 This was a rather easy choice for the top spot. Duolingo has been around for a long time and has become one of the best iPhone apps for learning a new language. It's got an easy user interface that anybody could use.
Additionally, there are multiple languages that you can learn based on your current skill level. It doesn't matter if you're a beginner or can hold a conversation in a different language. Duolingo gives you ample opportunity to improve your command of a specific language.
It also takes visual learning into account. This is great if you're teaching different languages to kids at an early age, as they're more receptive to visuals.
The only issue with this app is that it charges a substantial amount of money for the premium version.
Pros
Perfect regardless of your skill level
Great for kids, thanks to visual learning
Teaches the basics of multiple world languages
Cons
Premium version is expensive
Price: Free (In-app purchases start at $0.99)
2. LingoDeer – Structured courses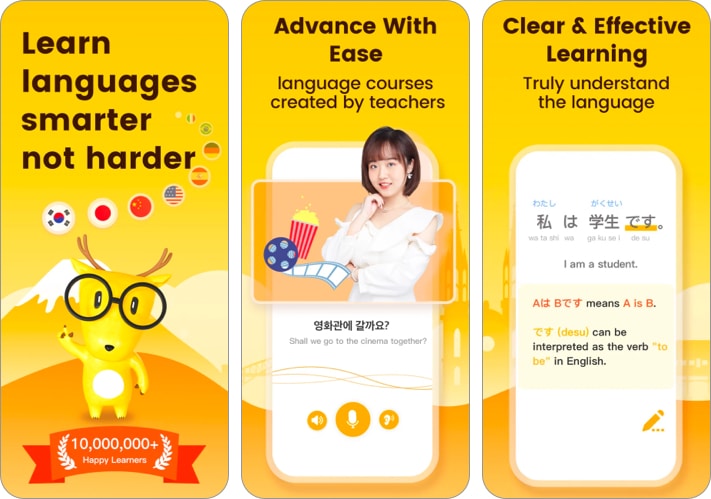 LingoDeer may not provide you with a spectrum of languages to learn. However, it provides a stable structure catered to your skill level.
After all, it takes longer to pick up a language's nuances if you're learning without structure. Thankfully, LingoDeer speeds up the process with mini-lessons you can complete anytime during your workday. This keeps you in touch with your lessons without having to take up too much of your time.
It also teaches you how to write in the native language script you're learning. This is especially useful when you're learning to speak Japanese or Korean.
Unfortunately, you'll have to pay for the main courses. Other apps of this nature tend to make the main courses free while enabling customers to pay for add-ons.
Pros
Structured courses
Mini lessons to ensure you don't miss a day of learning
Uses the language's native script
Cons
You have to pay for the bulk of the course
Price: Free (In-app purchases start at $12.99)
3. Rosetta Stone – 24 languages in detail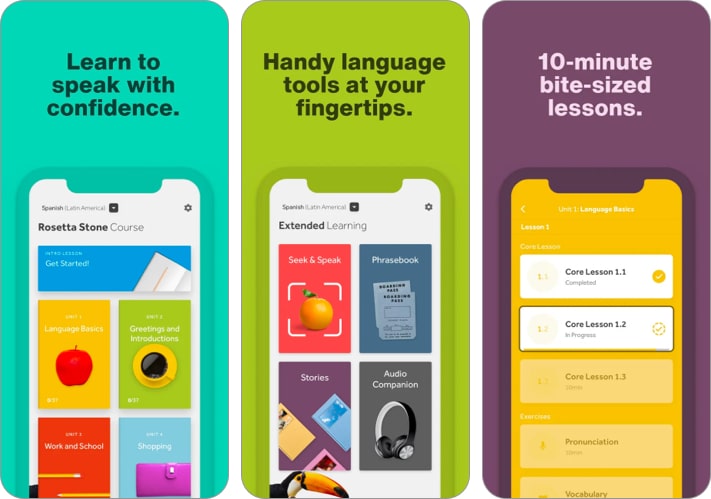 Very few language learning apps for iPhone provide courses for multiple languages, that too in detail. Rosetta Stone is one of those few great apps.
You can personalize a learning plan based on your daily routine. The app's AI will change the lesson plans according to your progress. If you're traveling for a while and don't want to miss your lessons, you can download and complete them offline too.
Since pronunciation is a huge part of learning a language, the app also gives instant feedback on whether your pronunciation is correct, wrong, or needs a slight improvement. This app is meticulous!
My main issue with the app is the price of the in-app purchases. They're exorbitant!
Pros
Detailed learning plans for multiple languages
Lessons can be downloaded
Instant feedback on pronunciations
Cons
Expensive in-app purchases
Price: Free (In-app purchases start at $44.99)
4. Memrise – Video language learning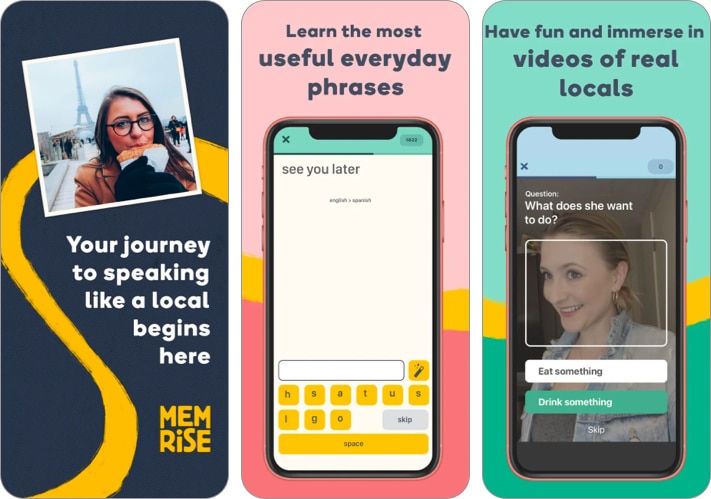 Memrise is one of the best language learning apps for iPhone due to one particular aspect. This aspect is learning through videos of native speakers.
While you can try to learn a language all you want through AI and automated voices, watching someone speak a language and listening to them quicken the learning process. You can understand the nuances and cadences much better. This is what Memrise provides to its users.
It also has a bunch of less common dialects that you can learn. This is helpful as common dialects are not usually found in language learning apps.
The in-app purchases are quite expensive, though, reducing the app's accessibility.
Pros
Offers videos of native speakers
Plenty of common dialects
Price: Free (In-app purchases start at $2.99)
5. Beelinguapp – News, articles, music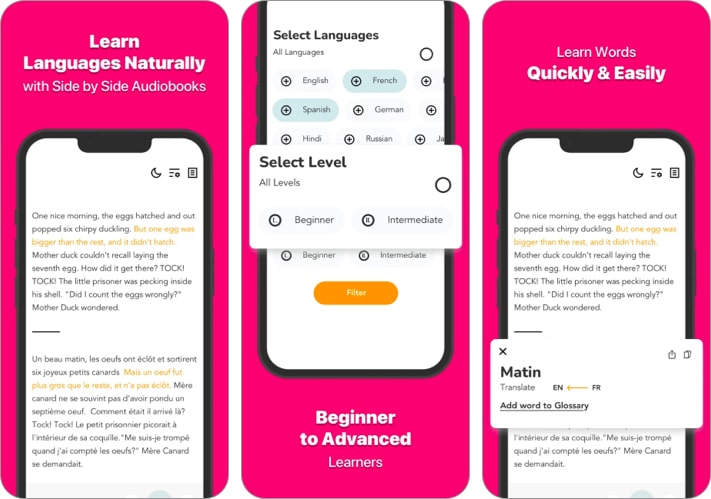 While most language learning apps focus on teaching specific words or sentences, they don't provide you with more material in the native language. Beelinguapp changes this aspect of such apps.
With this app, you'll be able to read, learn, speak, listen, and understand the language more engagingly. For example, if you're learning the famous tale of The Ugly Duckling, you'll also be instructed to give it a read in a language such as French (if that's what you're focusing on). This method is also applied to news bits and native music.
This structural process makes learning more interesting. You'll spend hours on this app, attempting to understand song lyrics.
The app is slightly buggy, though. It tends to crash, and the search bar is unusable at times.
Pros
Various world languages covered
Includes music and stories in the language you're learning
Far more engaging than competitors
Cons
Slightly buggy user interface
Price: Free (In-app purchases start at $5.49)
6. LinQ – Plenty of downloadable content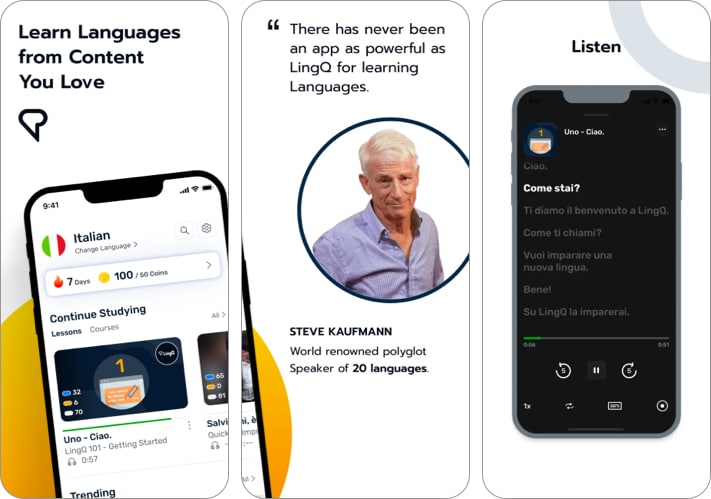 What's better than an app that teaches you a broad range of languages in a structured manner? When that app lets you download all your favorite lessons, of course!
LinQ is one such app that provides over 1000 lessons for more than 40 languages. These lessons cater to your skill level, and you can download them, so you don't miss any lessons on the go!
It also provides podcasts and interviews in the language you're learning. This challenges your comprehension skills and allows you to decipher difficult languages through native speaker conversations. Lastly, no matter which device you use, you can sync all your lessons to ensure they're accessible!
The in-app purchases aren't cheap, though. If you're a free user, you'll be locked out of most of the content.
Pros
Huge list of lessons
Over 40 languages to learn
Native speaker conversations keep the lessons interesting
Can be synced on all devices
Cons
In-app purchases are expensive
Price: Free (In-app purchases start at $12.99)
7. Babbel – Best for Spanish, French, Italian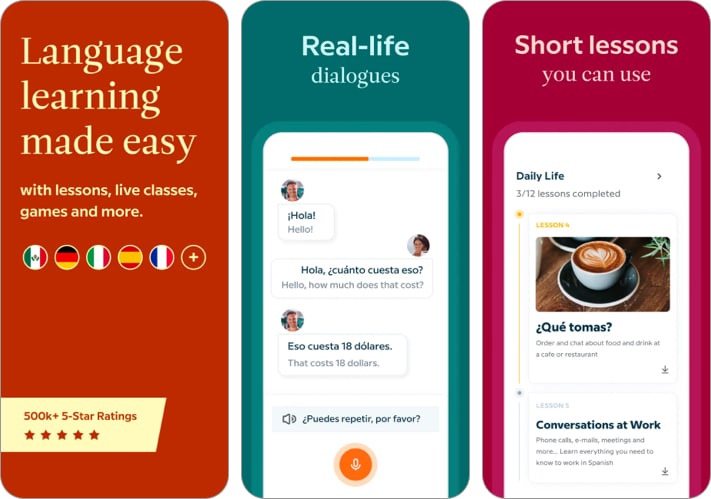 Sometimes, a few language learning apps for iPhone provide many languages to learn under the same umbrella. However, they often miss out on the nuances of most languages as they cannot go deep into the learning structures for those languages.
With Babbel, you can specialize in Spanish, French, and Italian with ease. This is because the app concentrates most of its content on these three European languages. While there are other languages you can learn through the app, their lessons in the aforementioned languages are the best. It also has a review feature that lets you recap what you've learned and fix mistakes easily.
The learning curve of this app is quite steep, though. It doesn't allow you to make too many mistakes. This can be disconcerting for many users.
Pros
Great for learning Spanish, Italian, French
Review feature helps you correct your mistakes
Cons
Has a steep learning curve
Price: Free (In-app purchases start at $16.99)
8. Busuu – Perfect for learning Japanese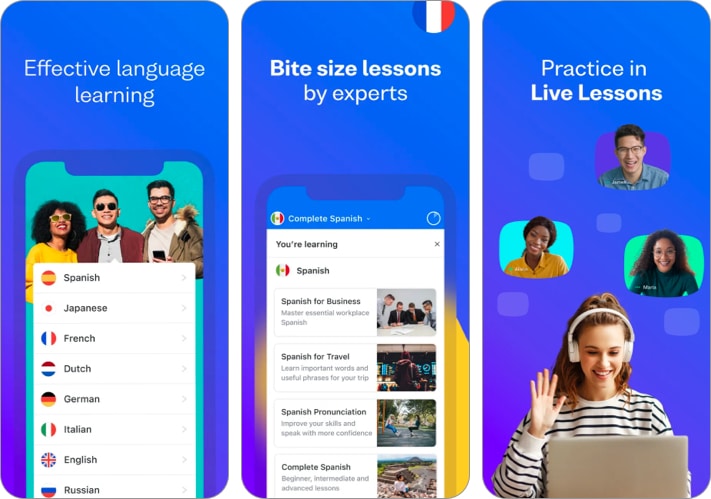 Japanese is fast becoming a global language, thanks to the advancements that Japan is making in various industries. If you want to learn Japanese for professional or personal reasons and don't have the time to go to language classes, Busuu should be the app you use.
While it offers other languages, such as Spanish, I'd recommend using this app specifically for Japanese. Moreover, you get small tidbits of information and useful tips from language experts to improve your pronunciation and vocabulary.
Additionally, if you want to learn Japanese for either business or travel, you can do that too with specific options in the app. However, the free version of this app seems to provide only basic lessons in some languages. It hardly goes in-depth when it comes to learning the different world languages.
Pros
The best app to learn Japanese
Language experts give you helpful tips
Specific use cases for learning the language
Cons
Coverage on other languages isn't great
Price: Free (In-app purchases start at $6.99)
9. Tandem – Connect with native language speakers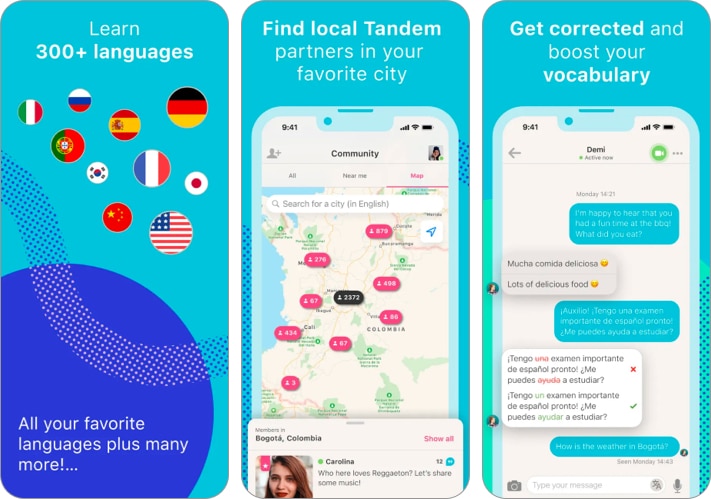 There are two primary ways to learn a language fast. Firstly, you can take up a structured course. Secondly, you can learn through trial and error by speaking the language with native speakers.
With Tandem, you get both. The app provides over 300 languages to learn. Moreover, you can get on audio and video calls with verified native speakers to understand and improve your cadence, vocabulary, and pronunciation. In general, you get a much better understanding of the language itself.
The app suffers from some random glitches, though. They're not dealbreakers, but they can be annoying enough to impede the experience.
Pros
Helps you talk to native language speakers
Over 300 languages
Price: Free (In-app purchases start at $13.99)
10. Cambly – Great for non-native English speakers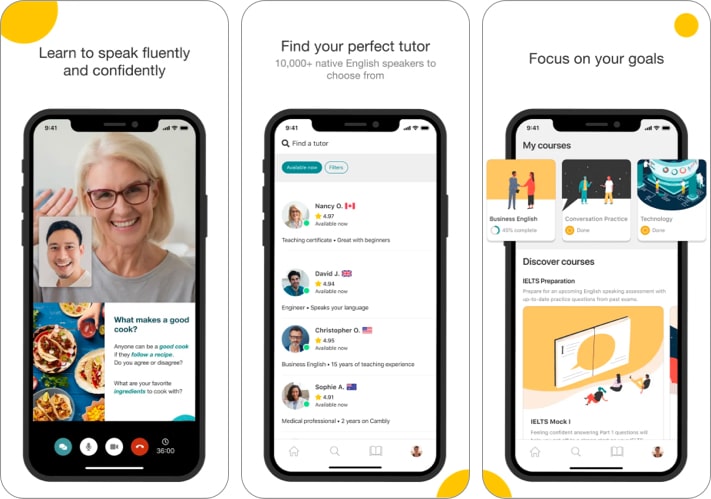 English is one of the most widely used languages today. In fact, it is one of the truly global languages that is used in multiple industries. As such, it's important to have a good grasp of English, regardless of your country.
With Cambly, you get to improve your English by working on proper courses and understanding the nuances of the language. Moreover, you've got native English speakers ready to help if you face issues in your lessons. If you're unsure about your prowess in the language, or if you want to improve, Cambly is great!
If you're planning to sign up as a tutor on Cambly, you'll be facing some user interface issues. Most tutors have stated that a separate app for tutors would be a good idea.
Pros
Best for non-native English speakers
Tutors to help you learn the language better
Cons
Needs a separate app for tutors
Price: Free
11. Drops – Highly polished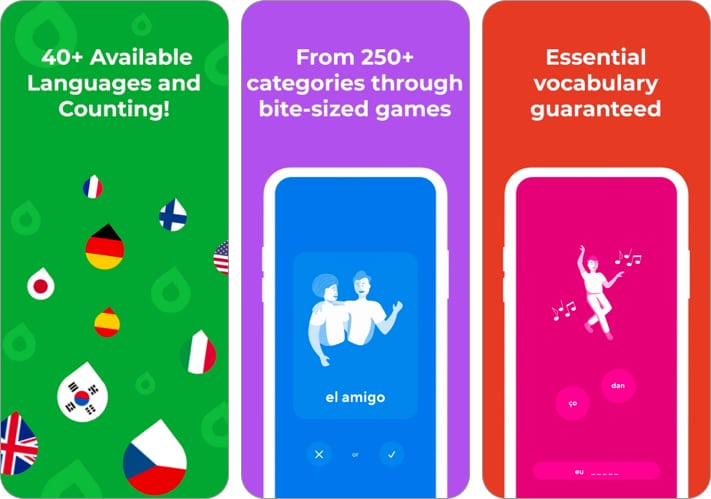 Drops is one of the best language learning apps on iPhone, especially for its aesthetics. It gives you such a polished feel that you'd want to start the app and check it daily.
The lessons have a mini-structure of sorts. You can learn words and improve your vocabulary for a language, little by little. Moreover, it has small games to ensure that visual learners can keep themselves engaged with the learning process.
You just need to use this app for five minutes per day, and pretty soon, you'll be changing app languages just to test your new language skillset! However, the app's user experience suffers a bit due to the consistent ads.
Pros
Refined aesthetics
Lessons are small and easy to learn
Works well for visual learners
Cons
Constant ads interrupt the learning process
Price: Free (In-app purchases start at $7.99)
12. Mango Languages – Extensive coverage of 70 major languages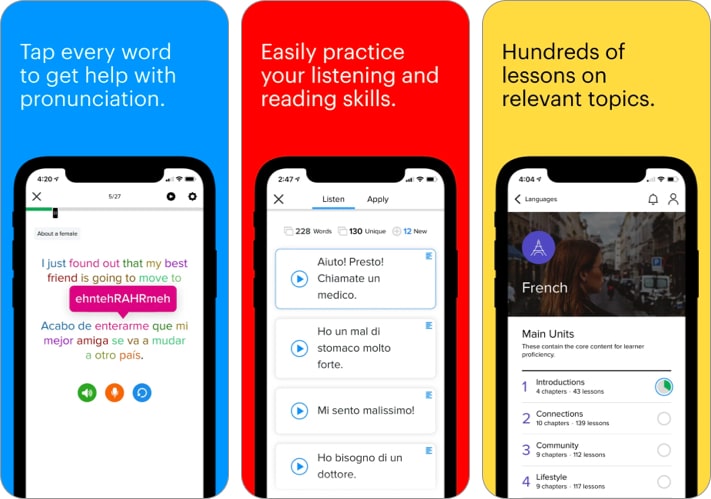 Mango Languages uses a proven method called Intuitive Language Construction. Basically, it targets the four important pillars of learning a language to a native's fluency level.
You can choose your skill level in a language and start from there. However, if you're a beginner, the app will focus on building your vocabulary and pronunciation first. After that, your grammar in the language will be reviewed.
If the algorithm notices that the first three steps are complete, you'll move on to cultural contexts. Learning a language in this manner helps you understand the roots of the language better.
However, if you're serious about learning the language and need the IPA deconstruction of words for pronunciation purposes, you won't be getting it here. At best, you'll be provided with the anglicized versions.
Pros
Over 70 languages to learn
It follows a proven pattern for language learning
Cultural and contextual learning also provided
Cons
IPA deconstruction of words isn't available
Price: Free (In-app purchases start at $7.99)
13. HelloTalk – A thriving community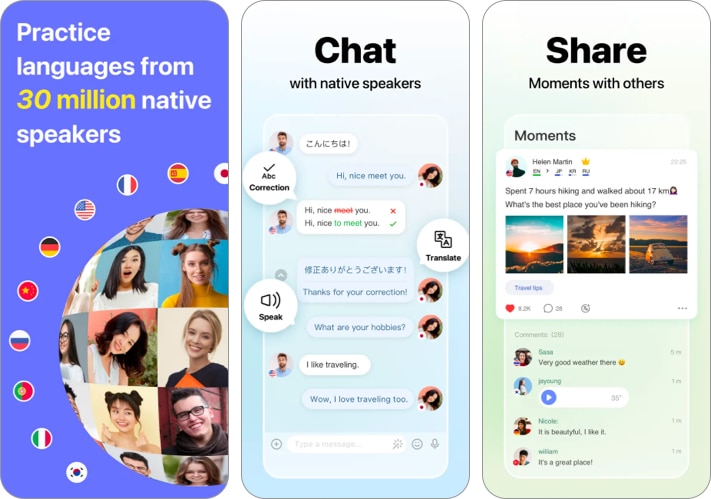 HelloTalk's biggest flex is that it connects you with thousands of people online, based on whichever language you want to learn. You can interact with them daily and clear your doubts.
There are over 30 million people in the HelloTalk community. With the Moments feature, you can share your questions on culture, language, and travels to clear your doubts. If you're unsure about your pronunciation, you can leave audio messages in the forum, and your queries will get answered by millions of people.
You can also have 1-on-1 language lessons with a native speaker. The native tutors are certified teachers and will teach you regardless of your progression in the language. Overall, it's definitely one of the best iPhone apps for learning a new language.
The app has some user interface issues, especially with the Moments feature and comment section being on the clunky side. Hopefully, developers can change the interface in future updates.
Pros
Huge community to help you learn
Common forum to have your queries answered
Native language tutors available
Cons
Some parts of the app are clunky
Price: Free (In-app purchases start at $6.99)
Summing up…
While there are plenty of apps online, these are my picks of the best language learning apps on iPhone and iPad. Whether you're looking for structured courses or lessons from native speakers, you can get them all with these apps. If you've used any of these apps, share your experience in the comment section below!
Read more:
Readers like you help support iGeeksBlog. When you make a purchase using links on our site, we may earn an affiliate commission. Read Disclaimer.