iMessage on iPhone and iPad is loaded with features beyond plain texting and images. For example, did you know that you can type in bold inside iMessage? Or, clean the long row of app icons below the typing box?
Well, to help you make the most of Apple's in-built messaging app, here are the 33 best iMessage tips and tricks that will elevate your chatting experience on your iPhone.
With the iOS 15 update, Apple launched Shared with You for iMessage. This enables the Messages app to automatically segregate the shared content and display them into the proper apps. For instance, all the websites shared with you are in the Links section, images in the Photos section, etc.
However, you don't always want the content from every person to show up in the respective app. Hence, you can also hide the shared content from certain people to appear in the apps. Here's how:
Open Messages → tap the conversation with the content you wish to hide.
Tap the name at the top.
Toggle off Show in Shared with You.
Hit Done.
Note: If you want to completely turn off Shared with You, check out our explainer on the same.
2. Enable messaging safety for kids
Apple introduced Communication Safety with iOS 15.2 to beef up measures and make messaging safe for people, especially kids.
Communication Safety uses machine learning to analyze image attachment and decide if it is sexually explicit. The entire process takes place within the device and hence, doesn't affect your privacy. To put it simply, Apple can't access your messaging data.
To enable Communication Safety, check our explainer on how to use Communication Safety Messages on iPhone.
3. Choose preferred email or number for iMessage
Do you use multiple emails or numbers? Let us begin by showing you how to choose the email or phone number you wish to use for iMessage.
Open the Settings app, scroll down, and tap Messages.
Tap Send & Receive.
Here, you will see all your phone numbers and email addresses enabled for iMessage. Choose which ones you wish to receive iMessage on.
Additionally, you can also choose which phone or email you wish to start new conversations with.


Pro Tip: Wish to add a new email to iMessage or FaceTime? Say, your work email. Open the Settings app → your name from the top → Name, Phone Numbers, Email → Edit next to CONTACTABLE AT → Add Email or Phone Number.
Open the Settings app and tap Messages.
Tap Share Name and Photo.
Follow the on-screen process. I prefer Always Ask, as it gives me control over who I share my name and photo with.
If you do not wish to show your name and picture, turn off Name and Photo Sharing.


Tip: We have a dedicated post where we show you how to customize your iMessage avatar like a pro!
5. Hide Read Receipts for all or only specific persons
When you read a message, the sender gets to know that you have seen their message. If you want to hide this for all:
Open the Settings app and tap Messages.
Turn off Send Read Receipts.
To hide read receipts for an individual conversation:
Open the Messages app and go to an iMessage chat.
Tap the person's name or number from the top. Next tap (i) info.
Turn off Send Read Receipts.


6. Send an iMessage as an SMS
Assume you send an iMessage (blue colored text), but the recipient's internet is off, and thus your message isn't delivered. In this case, long-press the message and tap Send as Text Message.
7. Trick to type in bold letters in iMessage
Unlike WhatsApp, iMessage does not allow you to format text like bold, italic, etc. But there is a workaround, using which you can send messages in bold. Let me show how.
Launch the iPhone Settings app and tap Messages.
Enable Show Subject Field.
Open the Messages app and open any conversation. You will see a Subject field over the iMessage typing box.
What you write in the Subject box will be delivered in bold letters.
Note: Do not forget to write something in the standard iMessage typing field as well. If you don't, the text inside the Subject box will be delivered in regular letters.


8. Have your iPhone automatically delete old messages
Want to save space and keep your Messages app decluttered? Learn how to delete old messages automatically.
Open the Settings app and tap Messages.
Tap Keep Messages.
Choose 30 Days or 1 Year.
Note: This affects all messages (iMessage + SMS Texts). If you have important messages, consider skipping this feature!
9. Choose to keep audio messages forever on your iPhone
Once you listen to an audio message, it is deleted automatically after 2 minutes. If you do not like this, here is how to keep voice messages forever.
Inside the iPhone Settings app, tap Messages.
Under AUDIO MESSAGES, tap Expire.
Tap Never.
10. Send images in full quality
Clicked an awesome picture that you want to send someone in excellent quality?
Inside the iPhone Settings app, tap Messages.
Scroll to the bottom and turn off Low-Quality Image Mode.
Pro Tip: This will increase internet usage. If you are low on data or wish to save more data, keep the Low-Quality Image mode on.
11. Use iMessage apps for polls, games, music, etc.
iMessage has an App Store which lets you download specific apps that add more functionality to your chatting experience. Tap the App Store icon inside an iMessage conversation to download apps.
Note: When you download certain iOS apps like YouTube, their iMessage counterpart app is automatically downloaded and available.
Using an iMessage app is as simple as tapping its icon inside the chat screen. You can know about some of the best iMessage apps here. Finally, if you do not want an iMessage app, here is how to delete it.
12. Clean the row of apps below the typing box in iMessage
You can see a row of apps below the iMessage typing box (or, say, above the keyboard). They are helpful (as explained above). But if you (like me) do not use them, here's how to remove these and get a clean look.
Scroll horizontally to the end and tap More.
Tap Edit.


Tap the red minus buttons to remove these apps from favorites. Next, from under MORE APPS, turn off the toggles for all the apps.
Finally, tap Done twice.


13. Search and send GIFs directly from the iMessage chat screen
Inside an iMessage conversation, tap the pinkish-red search icon.
Type to find the desired image or choose one from the recommendations.
Enter a comment (optional) and finally hit the send button.


14. Spice up your messages with beautiful bubble and screen effects
iMessage has some of the coolest and unmatched message effects, like 'Pew Pew' for laser light show effect or 'Happy new year' for fireworks. Our readers requested us to have a separate post on this. We obliged, and here is our full guide on how to use the beautiful iMessage effects on iPhone and iPad.
What's more? With macOS Big Sur, you can also enjoy them on your Mac!
15. Draw or handwrite something (Digital Touch) and send it to your loved ones
Inside an iMessage conversation, tap the 'heart icon inside a black background.'
Use a finger to draw or write something. You may also tap the video camera icon to record a clip and draw on it. You can draw before recording or while recording. Sweet!
Once done, tap the blue send button.


16. Use Animoji and Memoji in iMessage
Love to express yourself with an advanced form of emoji – Memoji and Animoji? iMessage makes it effortless to use these. All you have to do is tap the Memoji or Memoji Stickers icon and follow the simple process.
In case you need help, we have step by step guides on:
Pro Tip: You can also hide the Memoji stickers permanently. To do so, go to iMessage -> open any conversation -> Swipe the app icons and tap the three dots bubble -> tap "Edit" at the top -> deselect Memoji from Favorites and/or More Apps -> tap Done.
17. See all the photos sent or received between you and your friend
Open a conversation inside the Messages app.
From the top, tap the person's name or contact and choose (i) info.
Tap See All next to Photos.
You can share your current location or live location via iMessage. Here's how to do that.
Open the Messages app and go to the desired conversation.
Tap the person's name from the top. Next, tap info.
Tap Send My Current Location to send your present location. The person can see this location on the map.


To share your live location, tap Share My Location and choose the time you wish to share for – one hour, end of the day, or indefinitely.


Alternatively, you can also share your location from the Apple Maps app. Here's how.
Open Apple Maps and give it a few seconds to locate you.
Tap Share.
Choose Message from the Share Sheet.
Type the contact name and tap the send arrow icon.


Extra info: If you use Google Maps, surprisingly, things are effortless. Tap the Google Maps icon in the messages screen and tap Send.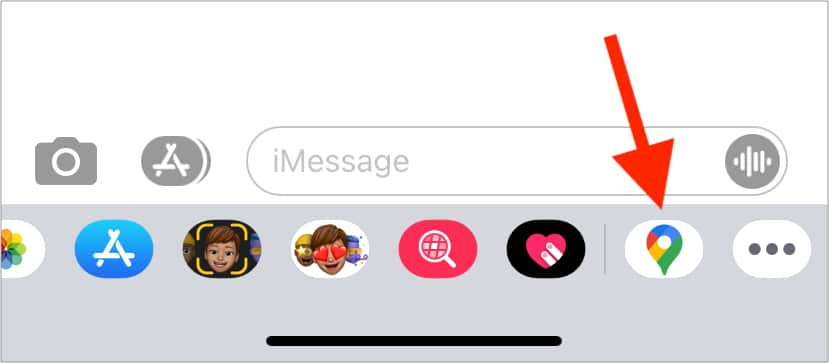 19. Send audio notes via iMessage
Open a conversation. Tap and hold the grey wave-like icon inside the iMessage typing field.
Now speak your message.
Leave the touch and tap the arrow icon to send the voice note.
Optional: If you wish to play it before sending, tap the triangle button.
To delete and re-record, tap x and follow steps 1 and 2 again.


20. Make calls effortlessly from the iMessage chat screen
Tap the name or number from the top of the chat screen to reveal the audio (standard call) and FaceTime video call buttons.
21. Pin a conversation to the top of the list
Open the Messages app and swipe left to right on a conversation.
Tap the pin icon.
This conversation will stick and always appear at the top of the screen.
To unpin: Long-press on the pinned chat and tap Unpin.


22. Quickly mark many iMessage conversations as read
Open the Messages app.
Swipe down with two fingers on the desired unopened chats to select them.
Tap Read.
Alternatively: You may also tap the More icon (three dots inside a circle) → Select Messages → Read All, or select messages and tap Read.
23. Forward an iMessage message to somebody else
Long-press a message and tap More.
Tap the curved arrow icon at the bottom right.
Enter the name or number and hit Send.


24. Show your reaction to a message
Long-press a message.
Tap one of the six reactions – heart, thumbs up, thumbs down, Haha, exclamation (!!), and question mark (?).
Your friend will see this reaction above the message he sent.


Extra info: It may not sound very relevant, but you can also react to your sent messages.
25. Use in-line replies to reply to a specific message
Want to reply to a specific message among the bubble of several texts?
Long-press a message and tap Reply.
Type your message and hit Send.
The sender will see [number] Reply below that message. They can tap it to see what you said in response to that specific message.


26. Play with iMessage notifications
Like any other app, you can choose to change how the Messages app sends you notifications.
Additionally, if you use the 2nd generation or later AirPods or some Beats headphones, you can have Siri read out the message automatically. For this:
Open the Settings app and tap Notifications.
Tap Announce Messages with Siri.
Turn it on.
Next, tap Messages to customize whose message Siri should announce.


27. Hide alerts if you are constantly bothered by someone's message
Swipe right to left on a conversation and tap the purple bell icon.
You may do the same from the contact's information screen by enabling Hide Alerts.
Now, you won't get the notification for new messages from this person. However, other message notifications will act as expected.
28. Also, see how to block a contact on iMessage
Someone bothering you? Here's how to block that contact from iMessage.
Open the iMessage conversation, tap the name or number from the top, and then tap (i) info.
Tap info once again.
Tap Block this Caller → Block Contact.
Important Note: Now, this person is blocked from making phone calls, FaceTime calls, and iMessage.


Tip: Are you on the receiving end? Learn how to know if someone has blocked you on iMessage.
29. Learn about message filters
With iOS 14, Apple has added a robust message filtering system to separate the junk, promotional, and transactional messages. Further, there is a separate folder for known senders and unknown senders.
To see these, open the Messages app, and at the top left, tap <Filters.
In case you do not like this sorting and would rather have all messages in one pane (like iOS 13 and earlier), open the Settings app → Messages → Unknown & Spam → turn off Filter Unknown Senders.
30. Delete multiple messages at once in a conversation
Long-press a message in a conversation.
Tap More.
From the left edge, tap circles to select multiple messages.
Finally, tap the trash icon → Delete [number] Messages.


31. Learn all about iMessage groups
Groups in iMessage are fun to talk collectively with several college buddies, office mates, and family. These groups have several settings that make the experience enjoyable. Learn all about them in our full guide on using iMessage groups.
32. Send money via iMessage
Courtesy of Apple Pay, you can effortlessly send money to friends and family via iMessage.
33. Use iMessage to talk to businesses for support
iMessage is now no longer limited to personal conversations. You can contact the support team for several renowned businesses via iMessage. Look at this official Apple page to learn all about it.
Best tips to master iMessage on your iPhone
These tips will help you supercharge your iMessage experience. It is also worth mentioning that iMessage is available not only on iPhone (+ Apple Watch) and iPad but on Mac too. If you own several Apple devices, you can set up the same account on all to enjoy a seamless experience no matter which device you are on.
Finally, if you have a tip that you wish to be included in this post, use the comments box to share it with us!
READ NEXT:
A tech-aficionado whose superpower lies in blabbering interminably about new technologies. After 4+ years and 4500+ content pieces that helped diverse companies grow, I followed my passion and made iGeeks Media my home. When not gushing over technology, you will find me immersed in a fictional world, either reading or creating one.