Powered by more proficient watchOS 4, Apple Watch 3 runs more smoothly than its predecessors. However, just like iPhone or any other technology, the smartwatch needs to be managed efficiently in order to continue to perform the task with the desired flair. Therefore, if not given the required care, the wearable device can become extremely sluggish. Have you found yourself on the wrong side of the stream? Give a chance to these effective tips to accelerate your Apple Watch Series 3.
We have taken into account every small thing that can work competently in speeding up your Watch. Having tested the tricks on our smartwatch and got the desired result, we are confident that they can click for you as well. Break a leg!
Tips to Fix Sluggish Apple Watch and Make It Run Faster
Don't Keep Too Many Apps Open in Dock
Once I have used an app, I make sure to quit it as leaving apps in the background not only drain the battery but also slow down the device. It has worked for me in keeping the smooth sailing performance of the wearable device intact for long. It may be a very small thing but believe me, it can play a big role in offering some respite to your device.
To force quit an app on your Watch, simply press the Side button once to access the Dock. Then, you need to swipe left on an app and tap on the 'X' button to kill it.
Restart Your Watch
I know some of you might laugh at the idea that how a simple restart can accelerate the watch. But let me tell you that it works effectively in flushing out RAM and even eliminating cache. So, it's wise to give it a shot as well.
Just press and hold the Side button until power menu appears. Then slide to power off the smartwatch. Next, you need to press the Side button again to turn it on.
Reduce Motion
The one simple yet pretty effective trick that has always come handy in boosting the speed of my Apple Watch is "Reduce Motion". What it basically does is cut down the animation and automatic resizing of the user interface on the Home screen when launching or exiting apps.
Once you have turned on Reduce Motion, you should see a simple fade transition instead of the zoom effects.
Launch Watch app on your iPhone ⟶ My Watch ⟶ General ⟶ Accessibility ⟶ turn on the switch next to Reduce Motion.
Disable Auto App Install
If automatic app installs feature is enabled, iOS automatically installs the Apple Watch companion of the app you download on your paired iPhone.
I find it very helpful as you don't have to download the same app on your wearable device. But there are two downsides of this feature: It can slow down your device and even drain the battery. Therefore, it's worth turning it off.
Launch Watch app on your iPhone ⟶ My Watch tab ⟶ General ⟶ turn off the switch next to Automatic App Install.
Disable Background App Refresh
"Background App Refresh" plays a vital role in keeping your apps live and kicking. But it's known to be one of the most power sucking features. Thus, it's apt to keep this feature disabled.
One thing worth noting is that "Background App Refresh" helps the watch face complications in being updated. Just in case you use complication from a third-party app, disable this feature on a per-app basis.
Open Watch app on your smartphone ⟶ My Watch tab ⟶ General ⟶ Background App Refresh ⟶ now either disable this feature completely.
Or turn off the switch next to the app you don't want to refresh in the background.
Turn Off Location Services
You should use Location Services smartly as it's a massive power-hogging feature. Aside from eating into a lot of battery, it also tends to slow down the device when used extensively. The best way to deal with it is that allow only important apps to use your location.
To turn off Location Services, including the built-in GPS, for your smartwatch, head into the Settings app ⟶ Privacy ⟶ Location Services on your paired iPhone. And then, either disable it completely or turn off the switch next to the app that you don't want to have the access to your location.
Eliminate All the Unwanted Apps
It's always advisable to remove the unnecessary apps from your device. Hence, if you have a lot of apps installed on the device, shoot out the ones you hardly use on the wearable device.
Touch and hold on any app icon till the apps start wiggling on your Watch. Then, find the app you no longer want to use and tap on it. Then, tap on Delete app.
Just in case you wish to get rid of a number of apps from your watchOS, I would suggest you to take the help of the Watch app for iPhone. It lets you clean up the unnecessary apps a bit more conveniently.
Open the Watch app on your iPhone ⟶ My Watch tab ⟶ swipe down to go to Installed on Apple Watch section. Then, tap on the app you want to get rid of and then turn off the switch next to Show App on Apple Watch.
Time to Get Rid of Apple Music Playlists
If you have turned on the default syncing settings with Apple Music on your Apple Watch, your watch may be syncing playlists consistently with your iPhone. Considering that the watch has limited space for music, it's better to keep a check on this feature.
Open the Watch app ⟶ My Watch tab, swipe down and tap on Music. Then, you need to turn off the playlists you no longer want to sync.
Update Apple Watch Software
If you have followed all the steps and still struggling to troubleshoot your watch, there might be some issue with the software. To get rid of the bug, try updating your device.
Open the Watch app ⟶ My Watch tab ⟶ General ⟶ Software Update.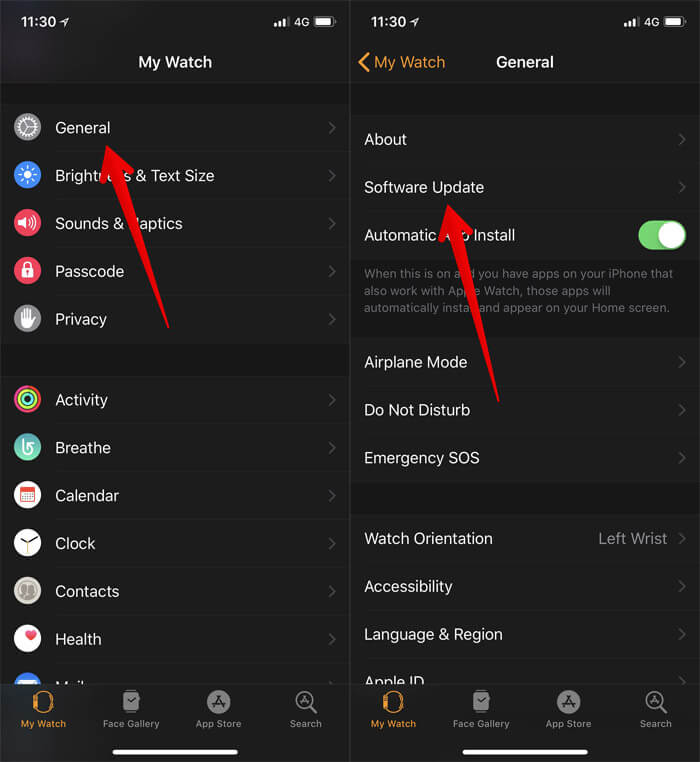 Reset Apple Watch
No respite yet? It's time to go for the complete clean-up. Unpair your watch from the iPhone and pair it again. Ten to one, it can resolve the issue!
Have your say:
Assuming you have succeeded in ramping up the performance of your wearable device. Let us know which one of the above tricks worked for you in getting the job done.
Take a peek at these posts as well: