Is your iPhone running slow or lagging? There are various reasons why your iPhone might have slowed down, such as insufficient memory, too many background processes, outdated software, etc. So let's troubleshoot the issue and go through eight tips that help you to speed up your iPhone and get it back on track.
#1. Restart your iPhone 
The first step is to restart your iPhone. If you have an iPhone X or 11 series, press and hold the Side button along with either of the volume buttons. On your iPhone with Home button, press and hold the side button until the power off slider appears. Release when the slider appears on the screen and drag the slider from left to right to turn off your iPhone.
Wait for about 30 seconds. Then, turn ON your iPhone by pressing and holding down the Side button until the Apple logo appears. This refreshes the system and automatically fixes any glitches that may be causing it to run slow.
#2. Close Unnecessary Apps
Most iPhones can handle multitasking very well, but sometimes, if you're running a lot of resource-intensive apps such as games or photo/video editors, your iPhone can lag and slow down.
This is especially noticeable on older phones that may be low on memory. You should force close apps that you don't need and see if that helps to speed up your iPhone.
#3. Clear the RAM
Flush out the RAM to bring back the top speed of your iPhone. Jump to this post for full instructions about how to do this on your iPhone.
#4. Update iOS 
Usually, updating to the latest version of iOS can fix many issues you may be experiencing on your iPhone. You can check for updates by going to Settings → General → Software Update.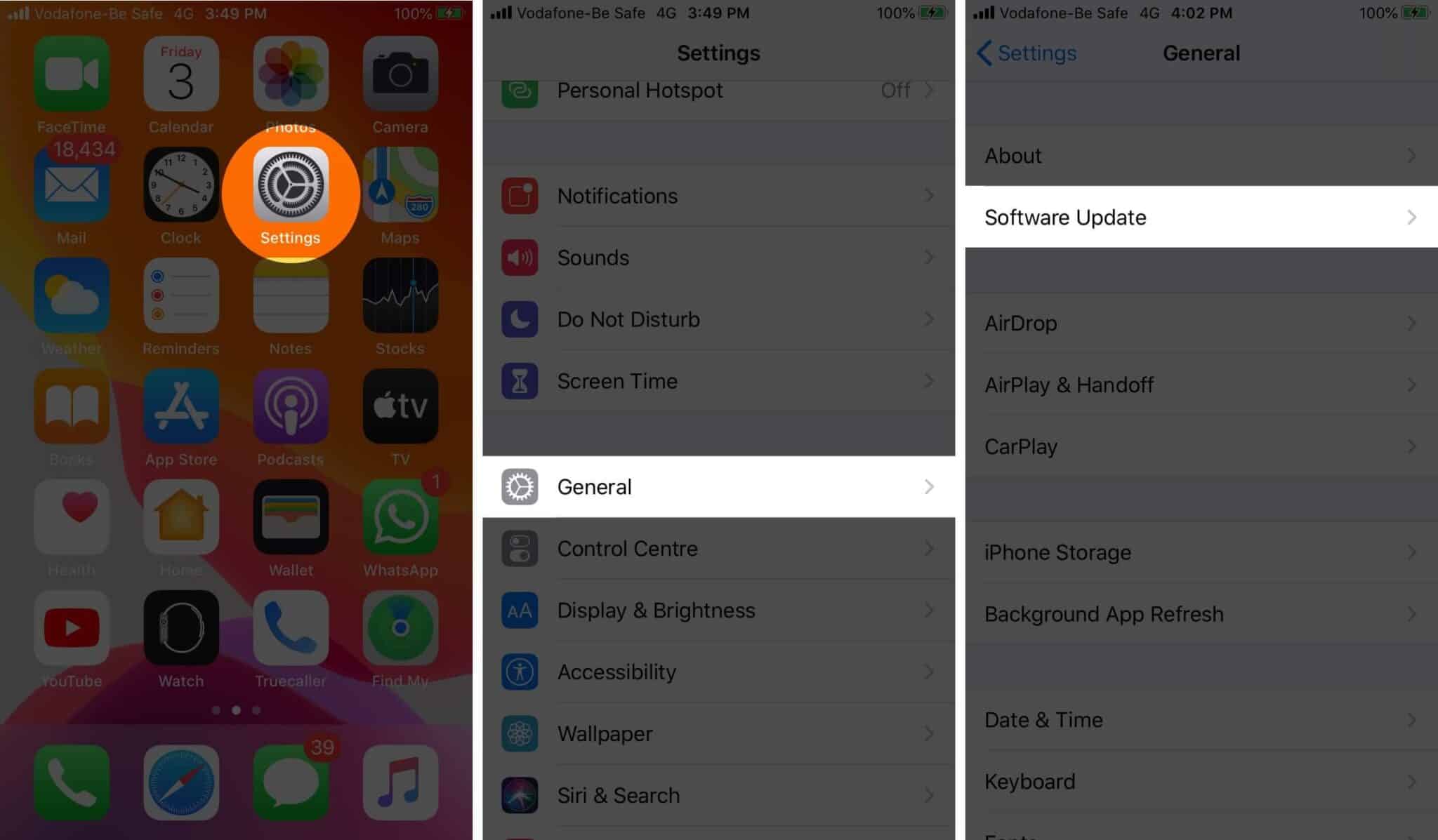 #5. Turn Off Background App and Location Services

Certain processes such as Background App Refresh and Location Services consume a lot of power, which can slow down your device. So it's advisable to turn these off to speed up your iPhone.
Go to Settings → General.
Tap on Background App Refresh → Background App Refresh → Toggle it OFF.

Then, go to Settings → Privacy → Location Services.
Turn OFF switch next to Location Services.
#6. Turn On Reduce Motion on iPhone
The animated visual effects on iOS are cool but can also be a drain on the system. If your iPhone is lagging, then it's a good idea to turn off these parallax effects.
Go to Settings → Accessibility (In iOS 12 or earlier, General → Accessibility.)
Now, go to Motion and Turn On the toggle for Reduce Motion.
#7. Free up Space on Your iPhone
If none of the above steps help increase your iPhone's speed, then your device storage may be too full and need some clearing.
To find out how much space you have left, go to Settings → General → iPhone Storage.
It's advisable to get rid of apps you no longer need and clear out big files such as videos, photos, and music. Check out this post for more tips to free up space on your iPhone.
#8. Reset to Factory Settings
Still haven't been able to accelerate your iPhone? Try resetting it to factory default. Please note that that this will erase all your data and set up your iPhone 'like new.' So it's essential to backup your iPhone, first.
Then go to Settings → General.
Reset → Erase All Content and Settings.
You will have to enter your Apple ID and password to confirm the process.
Your phone will be wiped and return to the setup screen you saw when you first used the device. You can then restore your iPhone from a backup.
Summing Up 
Your iPhone can slow down for multiple reasons, but it's usually possible to give it a speed boost with the tips mentioned above. In case nothing works for you, contact Apple Support for further assistance. Let us know in the comments below if you're looking for any other iPhone tips.
You may also read here:
I have been writing about tech for over 10 years now. I am passionate about helping people solve their tech problems with easy and practical solutions. At iGeeksBlog, I write and edit how-to guides and accessory reviews for all things Apple. My work has previously appeared in Live IT and Woman's Era magazines. When not working, I love reading and traveling.