Choosing the right web browser for our devices is essential for productivity and efficiency. Safari and Chrome are two popular choices on Apple devices, each with strengths and weaknesses. In this blog, I will compare Safari vs. Chrome to help you decide which browser is better for your iPhone and Mac. Let's dive into the differences!
Safari vs. Chrome – User Interface
Safari is designed to blend seamlessly with Apple's ecosystem. Its sleek and intuitive user interface ensures a clutter-free browsing experience. Besides, it offers group tabs management for organizing your browsing. So you can easily focus on the content.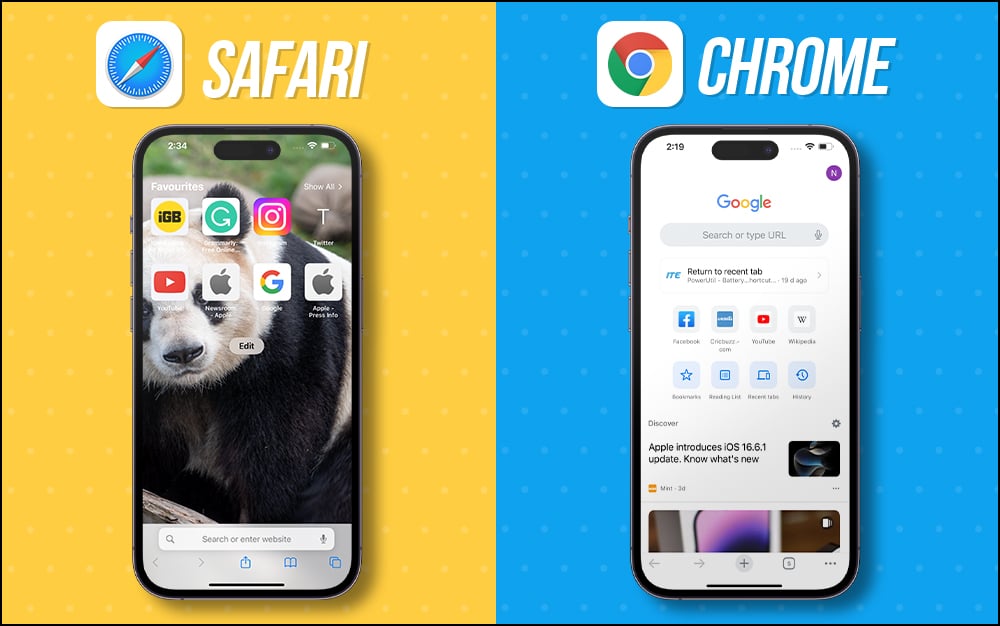 Chrome's UI is user-friendly, with a familiar interface across devices. It lets you personalize your browsing experience with various themes, extensions, and add-ons. Nonetheless, this added flexibility might come at the cost of a more cluttered than Safari.
Therefore, both Safari and Chrome have strong UI aspects. But the winner depends on your preference for minimalism (Safari) or customization options (Chrome).
Safari vs. Chrome – Ease of use
Safari is the default browser on Apple devices. So, it offers seamless integration and synchronization with other Apple services. The intuitive gestures make it easy to navigate and use the browser effortlessly. With Smart Search, you get more relevant results without going through multiple websites. Additionally, you can quickly autofill your passwords and verification codes, saving time and effort.
With its widespread popularity, Chrome ensures a consistent experience across different platforms. The synchronization with Google accounts, bookmarks, and history is convenient for users already within the Google ecosystem.
If you own both Apple, Android, and Windows systems, Chrome will be your go-to browser. However, I only have Apple devices, so I prefer Safari to take up the work where I left it. Also, Safari allows me to create profiles to keep my personal and professional browsing separate.
Safari vs. Chrome – Performance and speed
As Apple optimizes Safari for its devices, it often outperforms Chrome regarding speed and battery efficiency. Safari's performance is particularly notable on iPhones and Mac devices. I have experienced smoother browsing and longer battery life using Safari.
Chrome has made significant improvements in performance over time. However, it can still be resource-intensive, especially on older devices. While it performs well on Mac, it might not be as efficient on iPhones as Safari.
Safari vs. Chrome – Security
Apple strongly emphasizes user privacy and security. So Safari has built-in Intelligent Tracking Prevention and strong sandboxing. It also warns against unsafe websites, ensuring a secure browsing environment. Moreover, you may hide your IP address for data protection. With iOS 17, Safari automatically removes tracking parameters from URLs.
Google's Chrome also focuses on security, with features like Safe Browsing and automatic updates. Besides, you may save your passwords securely and access them on any device using Chrome Password Manager. However, its ties to Google's services raise data collection and privacy concerns.
Safari vs. Chrome – Privacy
As mentioned earlier, Safari prioritizes user privacy by blocking cross-site tracking and preventing advertisers from collecting user data. It also includes a "Privacy Report" feature to get insights into trackers blocked on visited websites. Besides, you can lock your incognito tabs for more privacy.
You can use Hide My Email to create unique, random email addresses that will forward messages to your inbox without revealing your actual email address. Also, you may create or delete as many addresses as needed to enjoy greater control over who can contact you.
While Chrome offers some privacy controls, it cannot match Safari's level of privacy protection. As part of Google's business model, Chrome collects user data to improve its services, raising concerns for privacy-conscious users.
Safari vs. Chrome – Customization
Safari's customization options are relatively limited compared to Chrome. You can only customize the Safari start page and a few website settings. While you can install some Safari extensions, the selection is not as extensive as in Chrome's Web Store.
Chrome's extensive Web Store offers a vast collection of extensions, themes, and add-ons that allow users to tailor their browsing experience to their preferences.
Additional features
Safari offers Reading List, Listen to Page, PiP mode, and Handoff features to enhance the browsing experience. Also, it has a built-in PDF conversion tool to convert any webpage into a PDF. This is pretty convenient to save web pages. Besides, you can quickly share your password with family members without explicitly sharing them.
Chrome's additional features include Google Assistant integration, cross-device synchronization with non-Apple devices, and easy access to Google Workspace. Another standout feature is the feature to do a reverse Google search on any image instantly.
Which browser is better for iPhone and Mac?
Choosing the better browser between Safari and Chrome for your iPhone and Mac depends on your priorities and preferences. Safari is ideal if you value seamless integration within the Apple ecosystem, strong privacy protection, and optimized performance. However, Safari is only limited to Apple devices.
On the other hand, you may prefer Chrome if customization options, a wide range of extensions, and additional features are more important to you. Therefore, if you want to use Chrome on your Apple devices, you may change it on your iPhone and Mac.
Ultimately, whatever you choose, both browsers will provide a satisfying browsing experience on your Apple devices. Which browser is your favorite? Let me know in the comments below!
Explore more…
Readers like you help support iGeeksBlog. When you make a purchase using links on our site, we may earn an affiliate commission. Read more.
Ava is an enthusiastic consumer tech writer coming from a technical background. She loves to explore and research new Apple products & accessories and help readers easily decode the tech. Along with studying, her weekend plan includes binge-watching anime.