With the advent of iOS 17 and macOS Sonoma, you can now personalize your way into the digital landscape. Among the notable features of these operating systems is the ability to create Safari profiles, which allows users to customize their browsing experience. In this article, I'll demonstrate how you can create personalized Safari profiles on iOS 17 and macOS Sonoma with ease.
Importance of creating profiles in Safari
Creating profiles in Safari can be an extremely beneficial step for both personal and professional use.
It enables users to curate personal user profiles so that they can personalize their browsing experience by setting up preferences they like, such as blocking or clearing cookies, preventing pop-ups, and enabling/disabling JavaScript.
This feature can turn out to be extremely beneficial for businesses that want to control access to certain sites or have employees use specific settings when browsing.
If multiple people are operating a device or surfing the internet from the same Apple ID, they can ensure individual privacy according to their preferences.
All in all, Safari Profiles streamline productivity and help to declutter the browsing environment. These profiles are easily switchable without compromising data of any kind.
So, regardless of the use case, users can enhance their productivity and make the most of this feature when surfing the internet without being wary of privacy.
How to create Safari profiles on iPhone and iPad
Launch the Settings app.
Scroll down and select the Safari app.
Tap New Profile categorized under Profiles.
Allocate Favorites per your preferences.
Designate a name, icon, theme color, and other settings for startup page for the new tab → Select Done.


Now, you can access the created profile from the PROFILES section.
Additionally, click Extensions to choose the extensions you would like to use with the profile you're creating.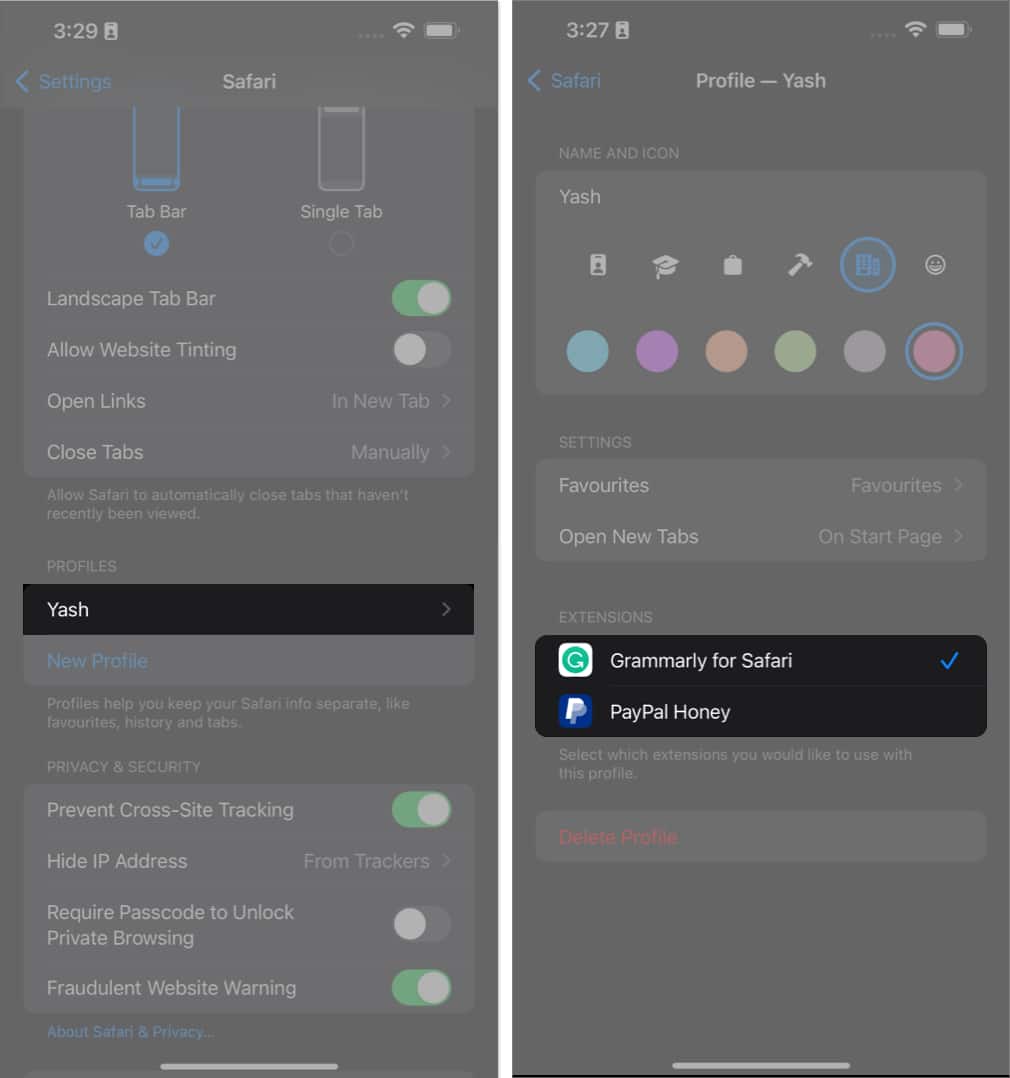 Switch profiles in Safari on iPhone and iPad
Launch Safari on your iPhone.
Select the Tabs icon → Hit the hamburger menu to proceed.


Tap the Profile icon → Choose the profile you wish to use.


How to delete Safari profiles on iPhone and iPad
Go to the Settings app → Scroll down and choose Safari.
Select the profile you wish to delete.
Tap the Delete Profile option → Hit Delete once again to confirm.


How to create Safari profiles on Mac
Launch Safari on your Mac.
Click Safari from the menu bar → Select Settings.


Choose the Profiles option → Click New Profile.


Choose a name, symbol, and color for your profile.


Further, you can either "Create new bookmarks folder" or "Use existing folders."


Once your profile is set as per your preference, click Create Profile.
There are a few additional settings you can adjust to complete setting up your profile.
You can decide where you want your New windows or New taps to open.


You may click Extensions to choose the extensions you would like to use with the profile you're creating.


Your Safari Profile is now set up.
Switch profiles in Safari on Mac
As you launch Safari on Mac, you'll be prompted with the normal interface.
To switch user profiles, right-click Safari from the dock.
Select the profile of your preference.


The chosen profile will be launched on Safari.
Moreover, if you operate with multiple profiles, you can use the color codes to distinguish each profile.


How to delete profiles in Safari on Mac
Go to Safari Settings → Access the Profile menu.
Select the user profile you seek to remove.


Click the (-) icon → Press Delete Profile when prompted.


FAQs
Can I customize the profile name and settings in Safari on my iPad?
Yes, Safari on iPad provides the ability to create multiple profiles or customize profile names and settings individually.
Can I sync bookmarks and settings across profiles in Safari?
No, profiles in Safari operate independently, and bookmarks and settings are not synced across different profiles. Each profile functions as a separate browsing environment. 
Can I use different extensions for my different Safari profiles?
Yes, you can choose the extensions you wish to save for your profile. However, this will only work for the existing extensions in your Safari.
Will my profile sync across my Apple devices?
Yes, if you are using the same Apple ID across multiple devices, then every user profile will be synced thoroughly.
Happy browsing!
Whether you want to separate your work and personal browsing, share your device with family members, or maintain different sets of bookmarks for different interests, Safari profiles have got you covered. So go ahead, explore the possibilities, and make the most out of your browsing experience.
Thank you for reading. If any, please comment down your thoughts.
Read more:
Readers like you help support iGeeksBlog. When you make a purchase using links on our site, we may earn an affiliate commission. Read more.
Yash is a driven individual with a passion for technology and its impact on our world. His aim is to educate and inform others about the newest advancements in technology and how they can benefit society. In consonance, he is deeply indulged in anime and Marvel Cinematic Universe, if not writing.