Apple users are all too familiar with the limited personalization options of Apple products. However, on your Mac, you can customize your Safari's Start Page, ensuring that all your web needs are in one convenient space.
If Safari is your default web browser on your Mac, here's how you spruce up your Start Page for a more personalized and smooth browsing experience.
Safari Start Page features on Mac
Safari's Start Page is the first thing you'll see when opening a Safari window. This makes it an ideal place to store all the websites you regularly utilize. Of course, you can also make tab groups on Safari when managing several tabs and keeping things organized, but a customized Start Page lets you do more.
If you can't see Safari's Start Page when you launch Safari, you can set it to appear when you open a new window. Here's how to do it:
Open Safari → head over to the menu bar and click Safari.
Select Settings.


Click the General tab and select Start Page on the dropdown menu beside New windows open with.


Here are some of the Safari Start Page features you can do:
Change Safari Start Page background on Mac
The first thing you'll notice is the plain gray background when you launch Safari. While nothing's wrong with that, you can add life to your Safari by choosing a livelier background than that. To do this:
Open a new window and click the menu icon at the bottom right.
Tick Background image → click the Add (+) icon.


Select from the available images from the Desktop photos or choose an image from a different folder.


To change the background image, just remove the background image by clicking the Close (X) button and select a new one.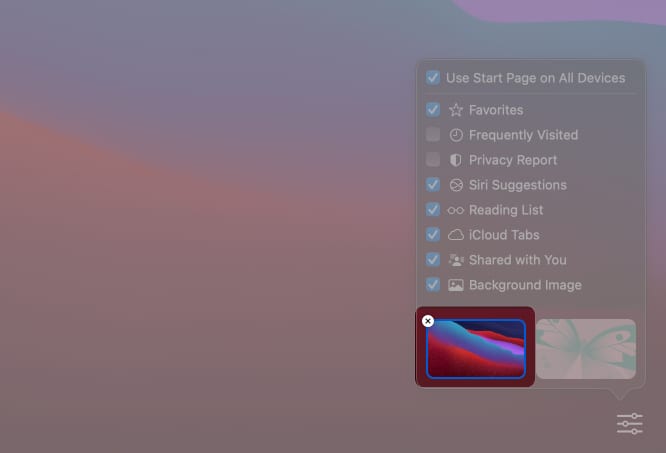 Add Favorites to Safari Start Page on Mac
While your Bookmarks are safely tucked on your Safari sidebar, you can add select websites you frequent to make them more easily accessible. To do so:
Open the website.
Right-click the plus icon beside the website.
Select Favorites.


You should see an icon of the website added under Favorites when you open a new window. You'll also be able to access all your favorites from the sidebar. Just click Favorites to expand it.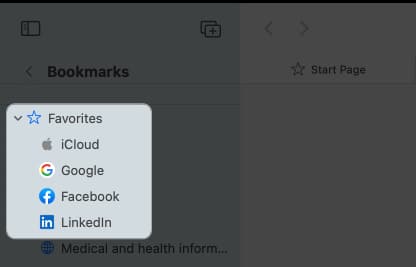 Include your Reading List on Safari Start Page
There are webpages that we just want to save for future reading but aren't that important to get to our Favorites list. If so, the Reading List is the best place for them. Just open a new window and tick Reading List in the menu icon.
Whenever you're on a webpage you want to save, just click Shift + Cmd (⌘) + D to save it to your Reading List instantly.
Saving things you want to read later in your Start Page Reading List is a great visual reminder that makes it more likely that you'll read it the next time you see it.
Start Page on All Devices
If you're using the Apple ecosystem, having the same Start Page settings on all devices can be handy to access all your Favorites and Reading Lists, whatever device you're using at the moment.
Use iCloud to sync Safari tabs across devices
Similarly, you can enable iCloud for Safari on all your devices, which makes it easy to work across your devices.
Ensure you're signed in on the same Apple ID, and that Safari is turned on in all your device's iCloud Settings. Here's how you can turn on iCloud on your devices:
On your Mac:
Go to Apple menu → System Settings.
Select [your name] at the top of the sidebar → click iCloud on the right.


Turn on Safari.


On your iPhone/iPad:
Go to Settings → [your name] → iCloud.
Tap Show All → toggle Safari on.
Display Privacy Report
Apple takes privacy and security seriously. If you're wary of the pages you're visiting and which sites are trying to track your activity, Safari's Privacy Report shows you how many trackers it has blocked and which sites want to track you.
Other Safari Start Page features
Aside from those mentioned above, below are other features that you may want to see on your Safari Start Page:
Recently Closed Tabs: this shows you websites from the tabs you recently closed in the selected Tab Group
Frequently Visited: this indicates the sites you recently or frequently visited
Shared With You: this contains videos, stories, news, and other links shared with you on Messages
Siri Suggestions: this shows suggested websites found in Mail, Messages, and other apps.
How to hide or show Start Page items
The Safari Start Page is fully customizable and lets you choose which items you want to show and which ones you want to hide. To show or hide items, head to the Start Page menu icon and check or uncheck the items.
How to delete items from Safari Start Page on Mac
You need to manually delete each item to remove them on the Safari Start Page. This works for items on the Reading List, Favorites, and Frequently Visited sites. Just right-click the item you want to delete and select Delete or Remove Item.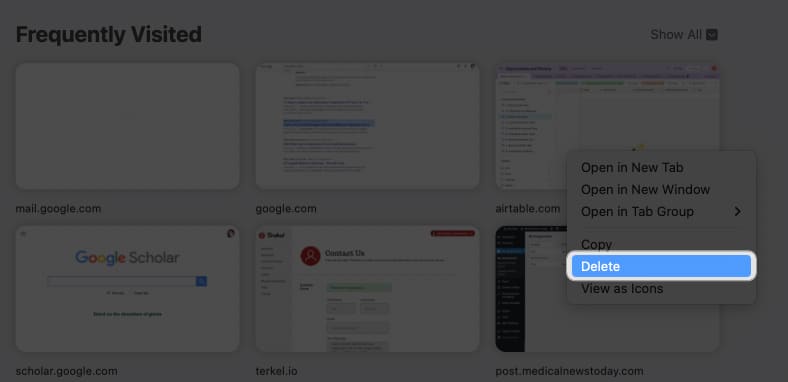 If you keep seeing Siri Suggestions that you don't want to show up anymore, right-click it and select Don't Suggest This Website in the popup menu.
How to rearrange items on Safari Start Page on Mac
You can also rearrange the start page options in the order you want them to appear. Just go to the menu icon and drag each item up or down to rearrange them.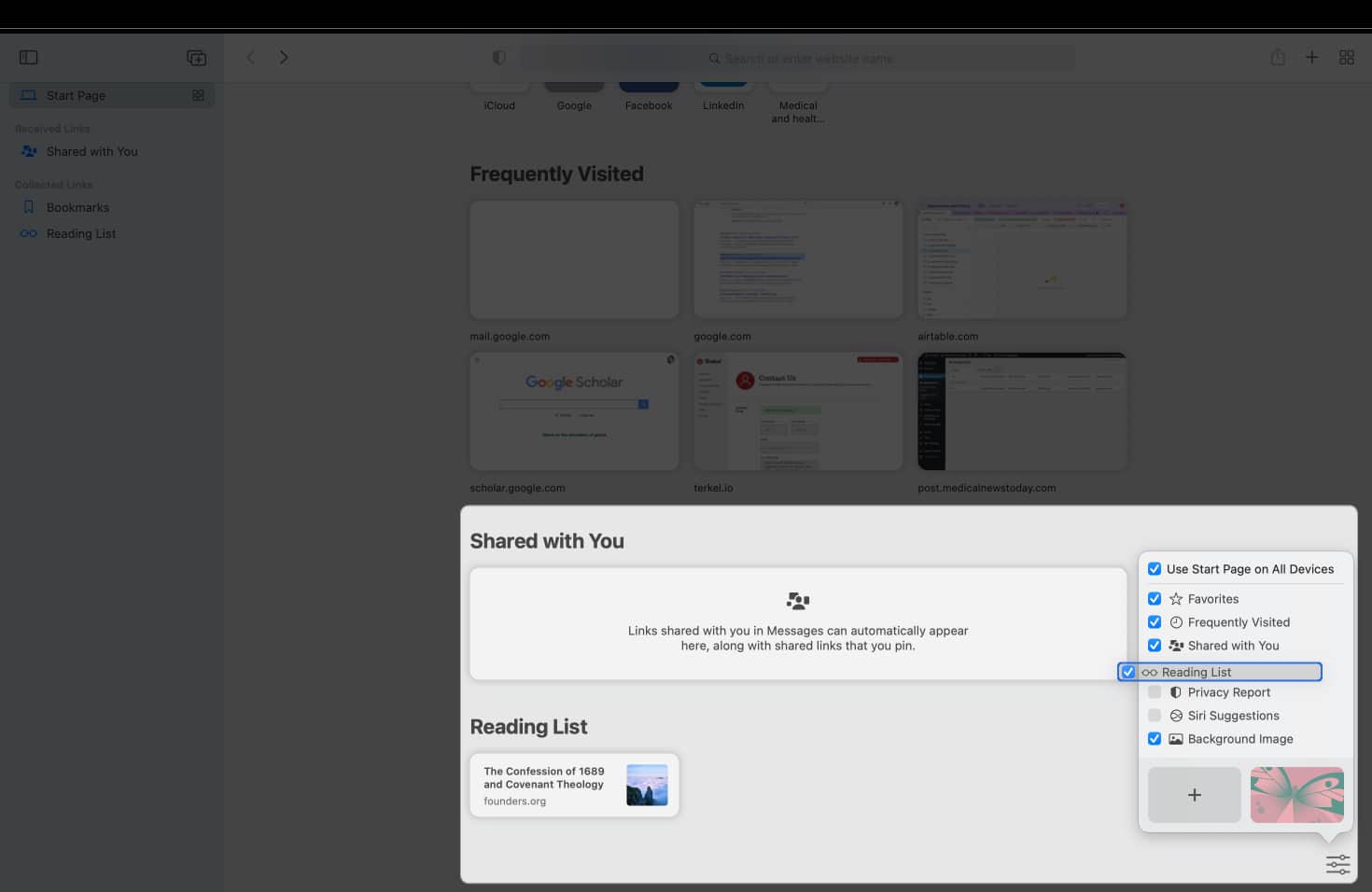 Wrapping up…
The Safari Start Page is a powerful tool to help you quickly access your favorite websites and content. All these features make Safari your go-to browser for all your internet needs.
If you have other Apple devices, take advantage of the synchronized Safari settings across all your devices. This will ensure you have the same Start Page on all your devices.
Hope this helps!
Read more:
Readers like you help support iGeeksBlog. When you make a purchase using links on our site, we may earn an affiliate commission. Read Disclaimer.