If you are ready to upgrade your smartphone, you must check out the flagship devices from Google and Apple. Both Pixel 8 Pro and iPhone 15 Pro have rolled out with significant improvements. So, it's tougher than ever to decide which one to buy. Therefore, I have compared the differences between Google Pixel 8 Pro vs. iPhone 15 Pro to help you make an informed decision.
Key Specs – Google Pixel 8 Pro vs. iPhone 15 Pro
Google Pixel 8 Pro
iPhone 15 Pro
Build
Corning Gorilla Glass Victus 2 cover glass and edgeless matte back with polished aluminum frame
Corning Ceramic shield front and glass back with grade 5 titanium frame
Display
6.7 inches Super Actua 120Hz OLED
6.1 inches Super Retina XDR OLED with 120Hz ProMotion
Resolution
2992 x 1344 pixels, 20:9 ratio, 489 PPI
2556 x 1179 pixels, 19.5:9 ratio, 461 PPI
Brightness
Up to 1600 nits (HDR) and up to 2400 nits (peak brightness)
1000 nits (typical), 1600 nits (HDR), 2000 nits (outdoor)
Dimensions
6.4 x 3.01 x 0.35 inches
5.77 x 2.78 x 0.32 inches
Weight
213 grams
187 grams
Processor
Google Tensor G3
Apple A17 Pro 3nm
Battery
Typical 5050 mAh (Minimum 4950 mAh)
Video playback: Up to 23 hours
Audio playback: Up to 75 hours
Charging speed
30W wired, 23W wireless
20W wired, 15W MagSafe
Rear camera
50 MP Octa PD wide main, 48MP Quad PD ultrawide, and 48MP Quad PD 5x telephoto sensor
48MP main, 12 MP ultra-wide, 12MP 2x telephoto sensor
Front camera
10.5 MP Dual PD selfie camera
12MP TrueDepth camera
Video recording
4K @ 24/30/60 fps
1080p HD @ 24/30/60 fps
Slo-mo video up to 240 fps
10-bit HDR video
4K @ 24/25/30/60 fps
1080p HD @ 25/30/60 fps
720p HD @ 30 fps
Cinematic mode up to 4K HDR at 30 fps
Operating System
Android 14
iOS 17
Sensors
Proximity sensor, Ambient light sensor, Accelerometer, Gyrometer, Magnetometer, Barometer, Temperature sensor
Face ID, LiDAR Scanner, Barometer, High dynamic range gyro, High-g accelerometer, Proximity sensor, Dual ambient light sensors
Starting Price
$999
$999
Now that you understand the differences between the Google Pixel 8 Pro and iPhone 15 Pro, let's dive deep into every aspect.
Design and build
You can easily distinguish a Pixel and an iPhone because of their unique design language and luxurious premium feel.
The Google Pixel 8 Pro has the same flat display, rounded edges, symmetrical bezels, and a metallic camera bar on the back like the Pixel 7. If you love the matte finish smartphones, you will love its polished aluminum frame and edgeless Corning Gorilla Glass Victus 2 in front and back. Also, Google has introduced two new colors: Porcelain and Bay.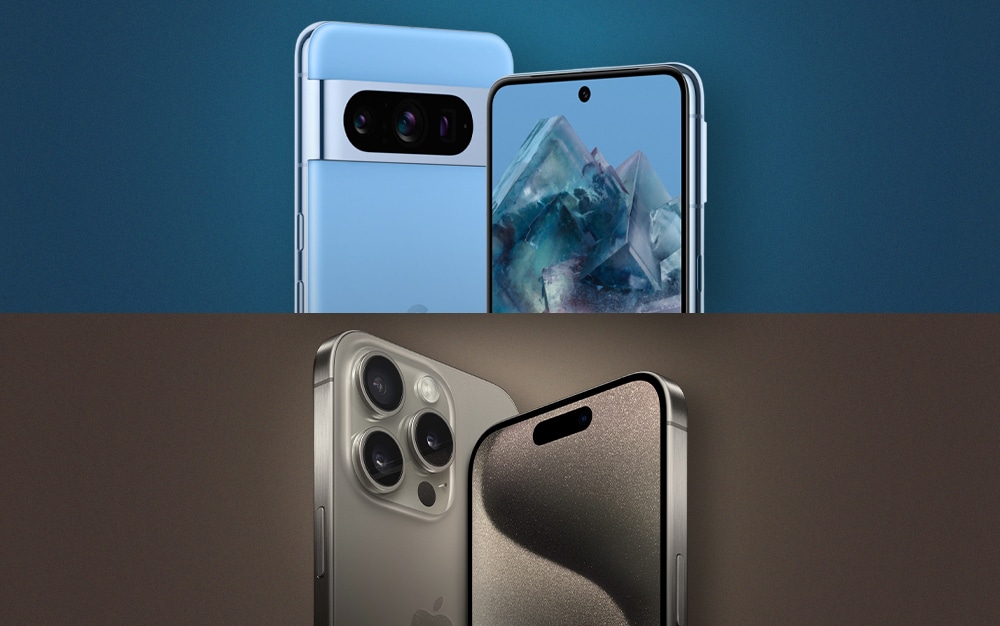 On the other hand, Apple has improved its iconic Pro design. However, the new Titanium build has helped to reduce its overall weight. I liked its brushed metallic appearance on the sides that doesn't attract fingerprints. Apple has used Ceramic Shield glass on the front and textured glass on the back panel to maintain its matte finish. Besides, you will get new titanium finish colors for a unique look.
Both flagships can withstand rain splashes and dust thanks to the IP68 rating. As per Apple, you can submerge your iPhone 15 Pro at a maximum depth of 6 meters for up to 30 minutes, whereas we can't confirm the same for the Pixel 8 Pro. Now, it's up to you which design you prefer. Pixel is getting an extra point from me for being sturdier and drop-proof, though you need to bear its weight.
Display – Google Pixel 8 Pro vs. iPhone 15 Pro
I love larger display smartphones to enjoy my content, so Google Pixel 8 Pro is a step ahead. It offers a 6.7-inch display with a 20:9 LTPO OLED panel. Depending on your surroundings and usage, it can adopt a dynamic refresh rate from 1-120Hz and a peak brightness of 2400 nits.
Therefore, you will enjoy smoother gaming and use your phone outdoors with no worries. The punch-hole design lets you utilize the entire display. Also, the visuals are crisp thanks to its 2,992 x 1,344 pixels resolution. However, the Pixel 7 Pro display was slightly more detailed, with 512 ppi compared to the 8 Pro's 489 ppi.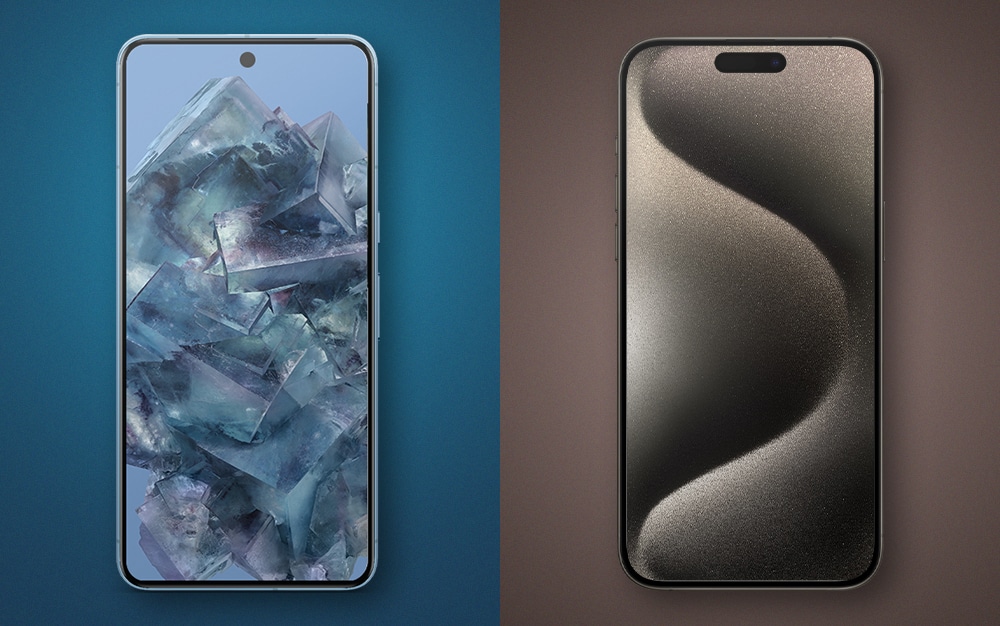 Apple has kept its display technology the same as the iPhone 14 Pro series, only it has beautiful curved corners. You will get the 6.1-inch Super Retina XDR panel with standard 1000 nits brightness and 2556 x 1179 pixels resolution at 460 ppi. For excellent outdoor performance, it can reach 2000 nits peak brightness. The refresh rate can also adapt between 1-120 Hz using Pro Motion technology.
The specs may seem lesser, but it has good sharpness due to the compact size. I love its responsive Dynamic Island, which shows different animations based on your usage. Also, the more decadent always-on display shows a full-color wallpaper backdrop rather than a monochrome view of the clock and other information.
Besides, the contrast ratio is double that of the Pixel 8 Pro, producing richer visuals. Moreover, the fingerprint-resistant oleophobic coating on the screen helps avoid smudges. If color accuracy and adaptive display technology matter more to you, the iPhone 15 Pro takes the lead in the comparison.
Camera – Google Pixel 8 Pro vs. iPhone 15 Pro
I feel camera comparison is necessary while discussing the differences between Google Pixel 8 Pro and iPhone 15 Pro.
If you love taking photos, choosing Pixel is a no-brainer. Its powerful AI features are the core strength of Google's camera system. Also, Google has upgraded the camera hardware with a 50MP sensor at an f/1.68 aperture. So it can capture 21% more light. Also, the 48MP ultrawide camera has electronic image stability, dual exposure, and a 125.5° field of view with a 105% enhancement.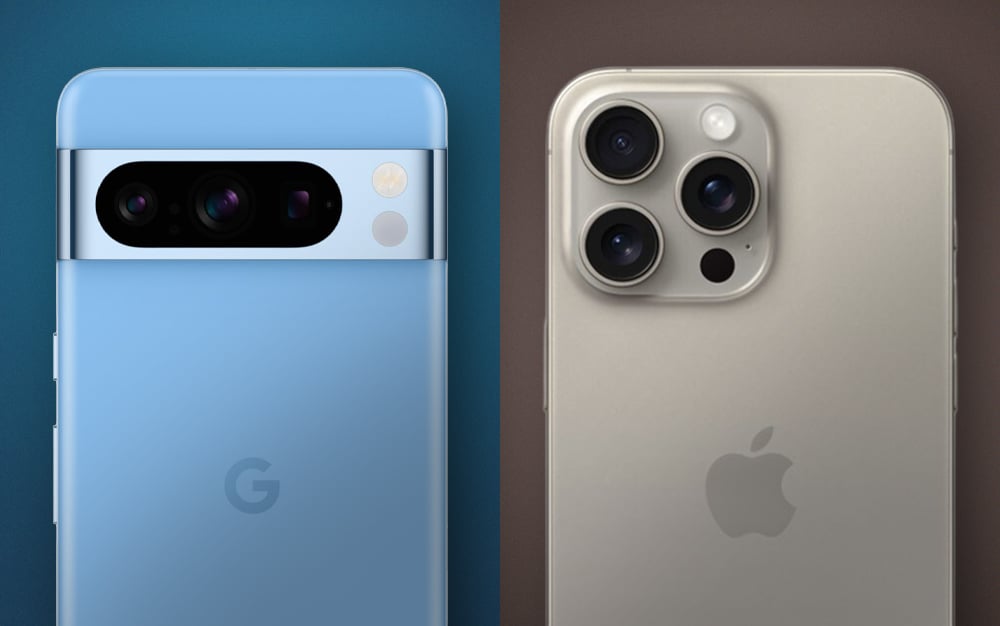 Besides, the 48 MP Quad PD telephoto camera with 5x optical zoom, Super Res Zoom up to 30x, and 56% greater light sensitivity. Also, the multi-zone LDAF sensor, spectral and flicker sensor, and creative camera controls further push the camera functionality. I loved its AI-backed features, such as Magic Eraser, Best Take, Photo Unblur, Video Boost, Night Sight for Video, and Astrophotography.
In contrast, Apple has a three-lens setup with a 48MP primary, 12MP telephoto, and 12MP ultrawide sensor. Even with its updated f/1.78 aperture, the primary shooter is still incompetent with Pixel 8 Pro. Besides, the 12MP telephoto sensor has only a 3x optical zoom range. However, you can click better portraits thanks to its next-gen Focus and Depth Control, Photonic Engine, and Deep Fusion.
Therefore, Google is undoubtedly pushing the photography boundaries with machine learning and generative AI. The iPhone 15 Pro also produces excellent images with ProRAW and ProRes video, but you won't be able to edit them quite as much. Therefore, the Pixel 8 Pro is the obvious choice thanks to its added editing capabilities, superior optical zoom, and better camera sensors.
Performance – Google Pixel 8 Pro vs. iPhone 15 Pro
Similar to Apple, Google incorporates in-house Tensor chipsets for Pixel devices. This year, the Pixel 8 Pro came with third-generation Tensor G3, Google's first 64-bit only chipset. It has 9 core CPUs with the configuration of one Cortex X3 @ 3.0GHz, four Cortex-A715 @ 2.45GHz, and four Cortex A-510 @ 2.15GHz. Google has upgraded all the subsystems to implement on-device AI models.
Besides, the new ARM V9 CPU cluster has been included for the latest security technologies, substantially boosting the peak performance. To improve video rendering and your gaming, Tensor G3 houses a 15% faster 10-core ARM Mali-G715 GPU clocked at 890MHz. The main highlight is the 10% faster AI TPU that allows the smartphone to excel in machine learning processes.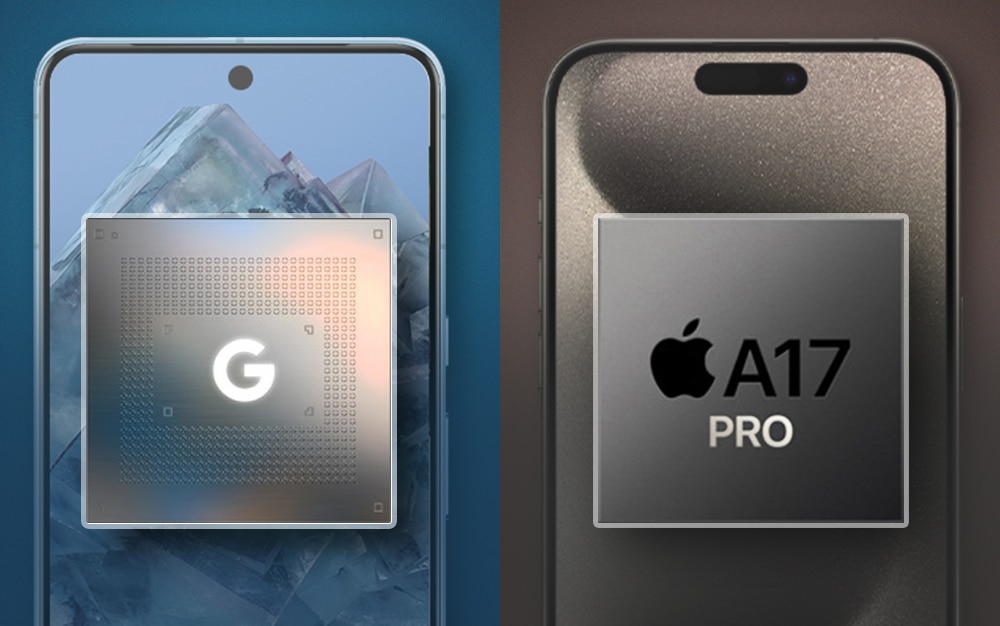 On the other hand, Apple has released its most powerful SoC, the A17 Pro. It has a 6-core CPU, made with 3nm technology and clocked at 3.78GHz. This time, Apple has emphasized the gaming performance with the 6-core GPU. You can enjoy intense games like Resident Evil 4. Also, it supports both Metal Effect upscaling and hardware-based ray tracing with the 16-core Neural Engine.
So, the iPhone 15 Pro is 20% faster than the previous models and easily surpasses Pixel 8 Pro. Google hasn't been good at power efficiency. Also, the gaming performance was much worse in Pixel 7, showing significant heat buildup and battery consumption. Its only plus point is exclusive AI functions support. So, let's wait for the hands-on experience to see if the Tensor G3 is better.
Software
Everything boils down to the ultimate battle of Android vs. iOS. And if you are loyal to any of the team, your decision is already made. However, let's take a look at how both flagships compete.
The Pixel 8 Pro comes with Android 14 out of the box, offering a clean and pure Google experience. Android 14 provides an enhanced customization picker, additional control over health data, enhanced accessibility features, and even UltraHDR support in the camera. However, the main spotlight is the promise of seven years of Android, security patches, and Pixel Feature Drops upgrades.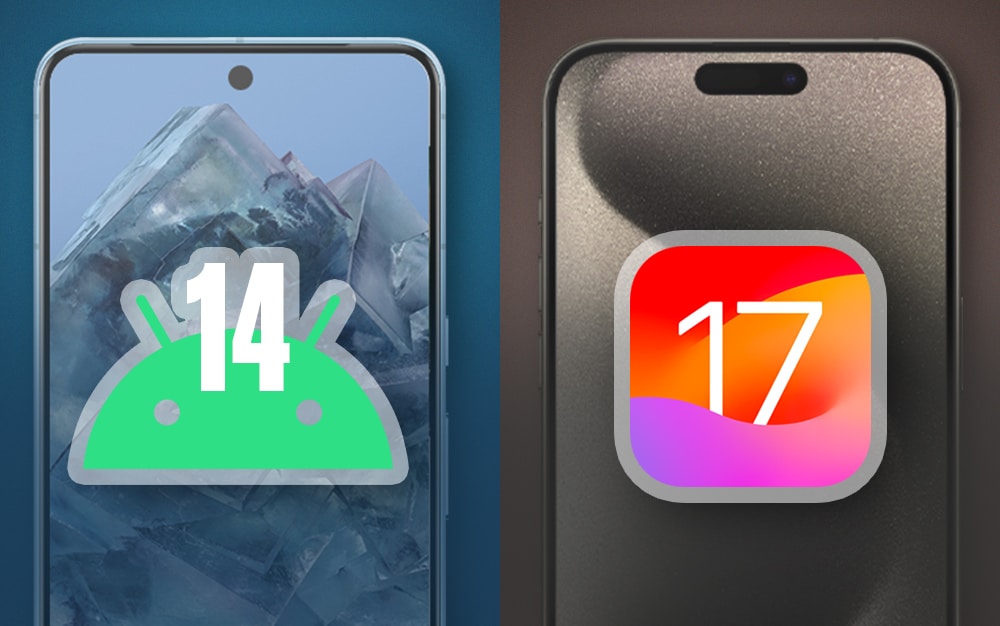 So, Google is really stepping up the game and beating Apple at OS updates. Besides, Pixel users now can brag about high privacy protection as the 8 Pro has end-to-end Google security and Android System Intelligence. You may also use passkeys for anti-malware and anti-phishing protection. Moreover, the multi-layer hardware security includes a Tensor security core and Titan M2 security chip.
I am an Apple aficionado and love the iOS 17 features of iPhone 15 Pro. It has advanced features like NameDrop, Contact Posters, FaceTime hand gestures, Live Voicemail, StandBy mode, etc. However, Android is always ahead regarding customizations and basic features like call recording. As for future-proofing, Apple has a track record of providing at least five years of updates.  
Simply said, Android 14 and iOS 17 are fully functional and robust and offer a unique user experience. As I use Apple devices mostly, iOS is my go-to for smoother integration, enhanced security, and seamless experience across the ecosystem. On the other hand, Android can be your best option if you want the greatest customization and global compatibility.
Unique features
If you have watched the Pixel 8 Pro launch event, you know how often Google AI was mentioned. Pixel has gone all out this year by putting machine learning everywhere to automate your daily activities. It comes with an Audio Magic Eraser, Face Unlock support for third-party apps and websites, Live Translation to 49 languages, improved Clear Calling, and much more.
Besides, spelling and grammar checkers are now integrated into Gboard, and Guided Frame can identify objects and animals in front and back cameras. Google also included an Object Temperature sensor. Therefore, you can measure your body temperature without a smartwatch.
The ultimate showdown of Apple is the Action button. You can customize it to accomplish quick actions. Besides, with the USB-C port, the iPhone is capable of 10Gbps data transfer. Also, the Academy Color Encoding System enables studio-level video editing. You can save 4K @ 60fps ProRes video recording to an external storage device. Therefore, it's perfect for professionals.
Moreover, the iPhone 15 Pro can record 3D spatial video to watch Apple's Vision Pro headset, having your own immersive experience. Additionally, a new ultra-wideband chip can help you find friends in a crowd if they are also carrying an iPhone 15. For specially-abled users, the iPhone 15 Pro is bliss with its advanced accessibility features. Overall, it's a complete package worth every dollar!
Battery life
I am on my phone all day, so battery performance is essential to my buying decision. The Pixel 8 Pro has a 5050mAh battery, which can survive 24 hours without trouble. Besides, Google claims the Extreme Battery Saver mode can extend the battery life to 72 hours.
Also, it supports USB 3.2 30W fast charging, so you can juice it up to 50% charge in about 30 minutes. The best part is it charges wirelessly at 12W with Qi-certified chargers and can go up to 23W with Pixel Stand. Also, you can enjoy reverse charging with a Pixel battery pack.
On the other hand, my iPhone 15 Pro also lasts a day with a full charge. However, it takes around 70 minutes to get from 0 to 100 with the standard USB C 20W charger. I use a 100W GaN adapter for fast charging as Apple has finally replaced the Lightning port with USB C. Regarding wireless charging, the Pixel 8 Pro has an edge because the iPhone 15 Pro can only draw 7.5W from Qi chargers.
You may enjoy 15W quick wireless charging with an Apple-certified MagSafe wireless charger. Though the actual battery capacity is not revealed officially, the iPhone 15 Pro can deliver 20 to 23 hours of video streaming and up to 75 hours of audio playback. The A17 Pro chip can balance power consumption efficiently. Therefore, both flagships are capable of entertaining your heavy usage.
Price
The price differences play a significant role in choosing the flagship conqueror between the Pixel 8 Pro and iPhone 15 Pro. First, let's see the pricing depending on the storage options:
| | | |
| --- | --- | --- |
| Storage | Google Pixel 8 Pro | iPhone 15 Pro |
| 128GB | $999 | $999 |
| 256GB | $1,059 | $1,099 |
| 512GB | $1,179 | $1,299 |
| 1TB | $1,399 | $1,499 |
So, both the base model with 128GB storage costs $999. If you want to expand the storage, Google's pricing is less expensive than Apprage. Therefore, the Pixel 8 Pro is truly value for money. Note that the Pixel 1TB variant is only available in Obsidian color.
Final verdict – Google Pixel 8 Pro vs. iPhone 15 Pro
The battle between Apple's and Google's flagship smartphones is fierce, as always. But this year, the Pixel 8 Pro emerges marginally ahead thanks to a superior camera system, advanced AI features, a larger, brighter screen, and excellent battery life. You need to get the costlier iPhone 15 Pro Max to match or outperform the specs. Yet, Google needs to work on its CPU performance to handle multitasking.
I am going with the compact and lightweight iPhone 15 Pro because of its powerful A17 Pro performance, gaming abilities, Action button, and cool iOS 17 features. Now, you must let your personal choices guide you with these pricey flagship smartphones, and you won't be disappointed whichever you choose.
FAQs
Is Google Pixels better than iPhone?
Google Pixels have advanced AI features and offer brighter, sharper displays. However, its processor performance is underwhelming compared to iPhones.
Do Google Pixels have better cameras than iPhones?
Yes! Google Pixels have an upgraded camera hardware configuration. Also, innovative editing features like Magic Eraser, Best Take, etc., and creative camera controls let you click professional photographs.
I hope this guide helped you to make an informed decision. Let me know your conclusion of this Google Pixel 8 Pro vs. iPhone 15 Pro comparison in the comments below!
Read more:
Readers like you help support iGeeksBlog. When you make a purchase using links on our site, we may earn an affiliate commission. Read Disclaimer.