Apple's latest lineup of iPhones is here, and just like last year, the new chip remains exclusive to the Pro models, while the non-pro models still rock an older chip. But is the new A17 Pro actually better than the older A16 Bionic to make the iPhone 15 Pro models worth their money? To answer this question, I've compared both the SoCs side-by-side in the epic battle of Apple A17 Pro vs A16 Bionic.
CPU and RAM – Apple A17 Pro vs. A16 Bionic
Apple's newly announced A17 Pro offers a similar CPU performance to the A16 Bionic with a slightly higher clock speed of 3.78GHz instead of 3.46Ghz. The A17 Pro still features the same 6-core CPU with two performance cores and four efficiency cores as the A16 Bionic. However, the new chip is based on TSMC's 3nm architecture, which features 19 billion transistors, up from 16 billion on A16.
Thanks to the new 3nm architecture, the two performance cores deliver up to 10 percent faster performance than last year's A16 Bionic, which is based on TSMC's 4nm architecture. Whereas the four efficiency cores offer up to 3x better performance per watt, making the A17 Pro more power efficient.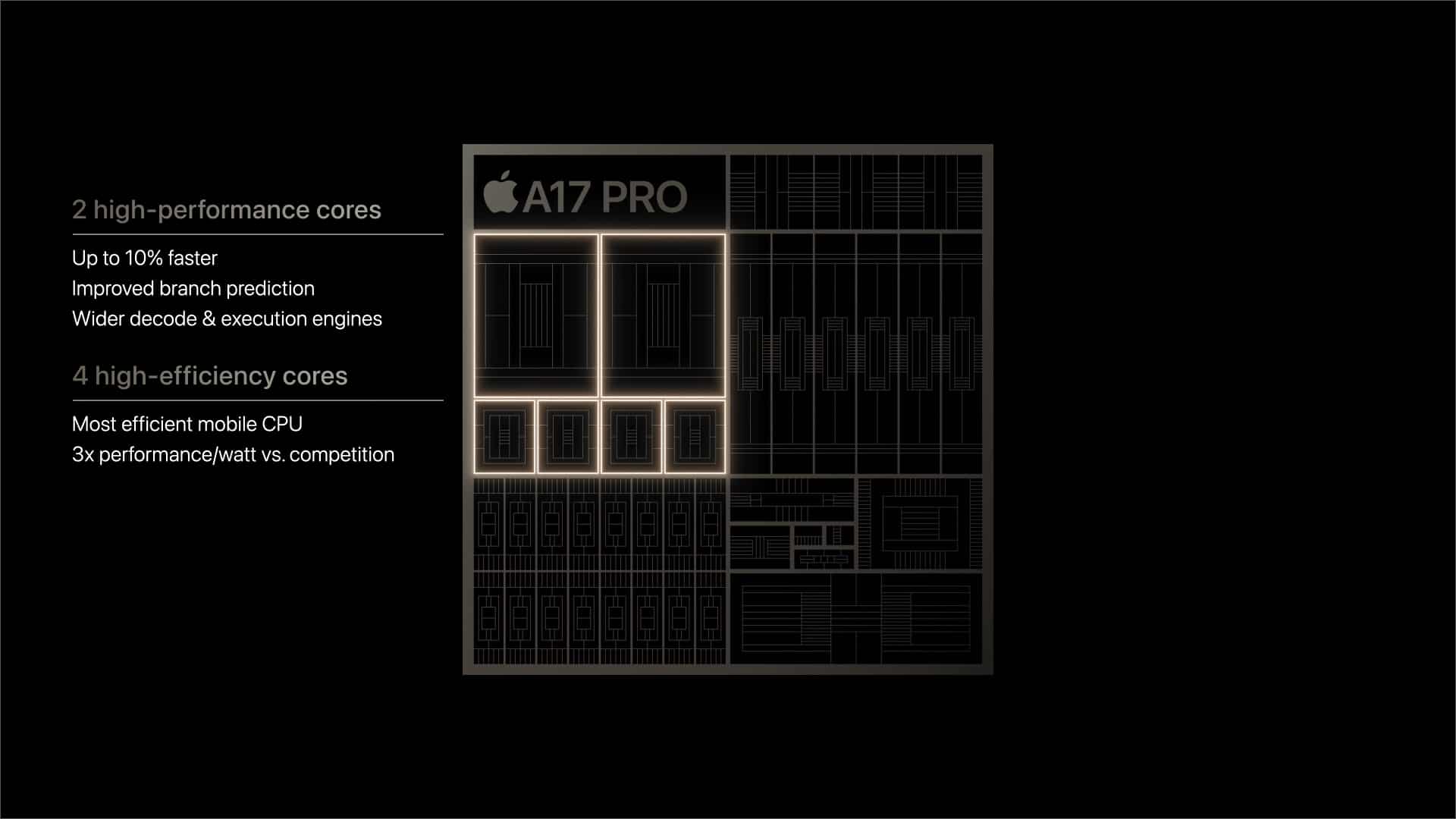 As far as the RAM/memory is concerned, early benchmarks for A17 Pro suggest that it's accompanied by 8GB of LPDDR5 RAM, which is 2GB more than the A16 Bionic found on iPhone 15 and 15 Plus. This should allow the A17 Pro to deliver a smoother experience when launching or switching apps.
However, if you really want to know how the new A17 Pro compares against its predecessors in terms of its raw performance, here's a comprehensive table illustrating A17 Pro, A16 Bionic, and A15 Bionic's Geekbench 5 scores:
| | | | |
| --- | --- | --- | --- |
| | A17 Pro | A16 Bionic | A15 Bionic |
| Single-core scores | 2914 (16%↑) | 2519 (15%↑) | 2183 |
| Multi-core scores | 7199 (13%↑) | 6367 (24%↑) | 5144 |
Overall, if we consider each of the new improvements made to the CPU, you might not be able to tell the A17 Pro and A16 Bionic apart from each other in terms of their performance during day-to-day usage. However, the newer 3nm architecture should contribute towards a relatively better battery life.
GPU: A17 Pro vs. A 16 Bionic
One of the most notable differences between the A17 Pro and A16 Bionic is that the A17 Pro features a brand-new 6-core Pro-class GPU instead of the 5-core GPU. This, along with Apple's new shader architecture, allows the A17 Pro to deliver 20 percent faster graphics performance while being efficient.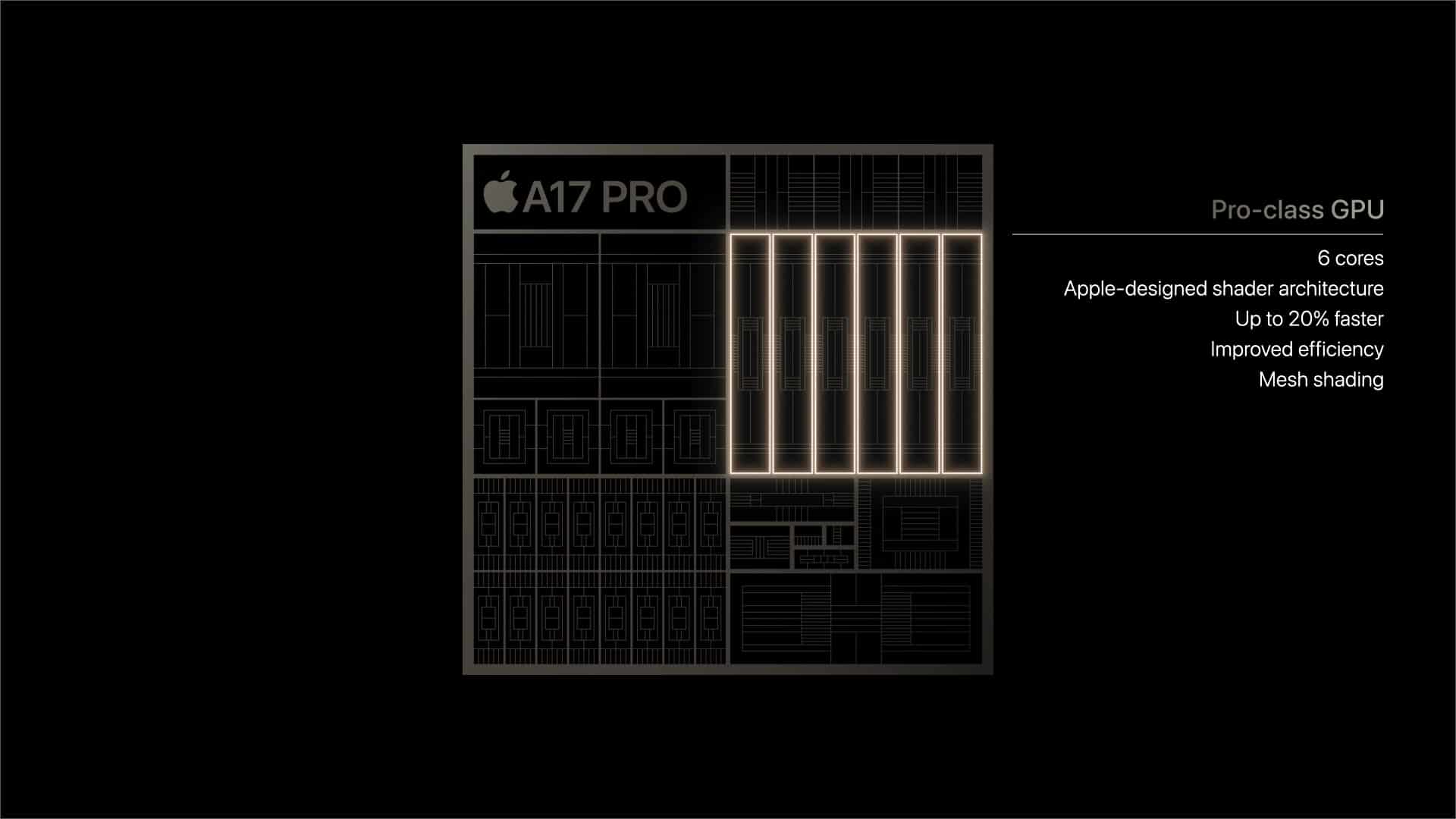 To take things to the next echelon, the A17 Pro is Apple's first chip to support hardware-based ray tracing, which delivers 4x more FPS than conventional software-based ray tracing. This enables a smoother AR and gaming experience with realistic reflections and lighting for improved immersion.
Amazingly enough, A17 Pro's new Pro-class GPU is powerful enough to offer console-grade gaming performance on the iPhone 15 Pro and 15 Pro Max. Apple has even collaborated with major game developers to bring games such as The Division: Resurgence, Resident Evil Village, Resident Evil 4, Death Stranding, and the upcoming Assassin's Creed: Mirage to the App Store.
Transfer speeds
Yet another reason why the A17 Pro is significantly better than the A16 Bionic is because of its new USB 3 controller. This new controller, accompanied by a significantly powerful USB-C port, enables the iPhone 15 Pro and Pro Max with A17 Pro to offer data transfer speeds as high as 10 gigabits per second.
Although it wasn't mentioned by Apple in their keynote, the A17 Pro features Qualcomm's upgraded Snapdragon X70 modem instead of the X65 found on the A16 Bionic. It might seem like a minor iterative update; however, the Snapdragon X70 is much more reliable and power-efficient, with several initial reports indicating up to 24 percent jump in 5G download speeds.
Apple A17 Pro vs. A16 Bionic – Other features
Apart from an upgraded CPU, GPU, and a high bandwidth USB 3 controller, the Apple A17 Pro features a faster 16-core Neural engine along with a handful of new dedicated media engines that were not found on last year's A16 Bionic.
Although the A17 Pro still features a 16-core Neural engine as the A16 Bionic, the 3nm architecture allows it to run 2x faster. Moreover, the Neural engine can now handle up to 35 trillion operations per second, up from A16 Bionic's 17 trillion operations per second. This offers faster on-device processing for Siri, Personal Voice, and other ML tasks like computational photography.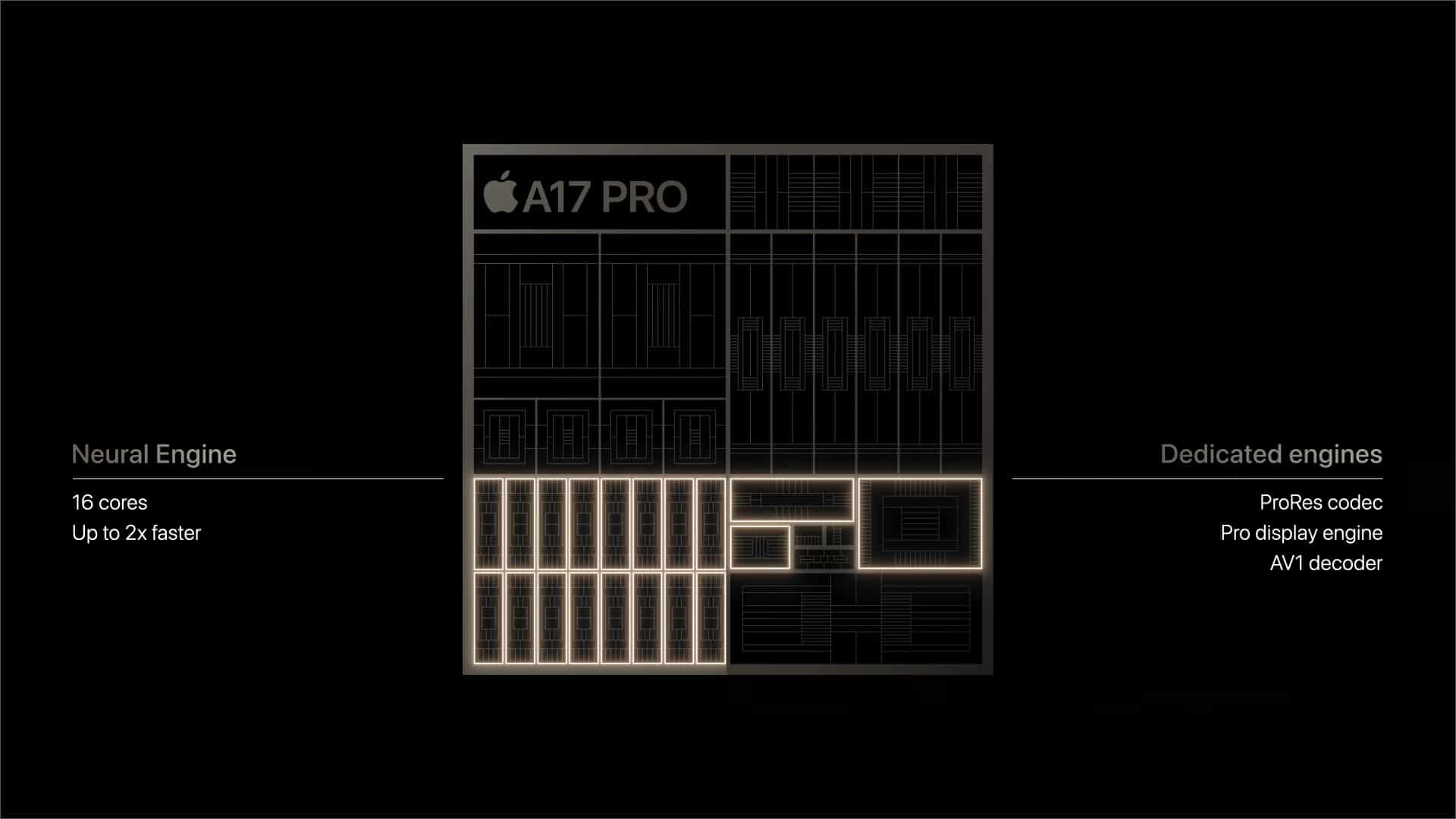 As far as the Dedicated engines are concerned, the A17 Pro comes with three, including a ProRes codec, a Pro display engine, and an AV1 decoder.
The A17 Pro's ProRes codec offers hardware-level encoding and decoding support for HEVC, H.264, and ProRes videos. The Pro display engine powers ProMotion and the Always-on display. Meanwhile, the AV1 decoder helps improve the video streaming experience on iPhone 15 Pro and Pro Max.
Final verdict – Which Apple SoC is more powerful?
CPU performance-wise, both the new A17 Pro and last year's A16 Bionic are fairly powerful SoCs that should cut through most tasks without breaking a sweat. However, it's the A17 Pro's graphical prowess that takes things to the next level with hardware-based ray tracing and a new shader architecture.
If you're looking for an iPhone with excellent graphical performance and a fairly powerful CPU, the iPhone 15 Pro and Pro Max with Apple's new A17 Pro SoC should be your first preference. And that's not all; the A17 Pro, with its newer 3nm architecture, also offers up to 3x more performance per watt. Overall, it's safe to say that the A17 Pro is a significantly more powerful SoC.
Also read:
Readers like you help support iGeeksBlog. When you make a purchase using links on our site, we may earn an affiliate commission. Read more.
Ayush is a tech enthusiast turned tech journalist and how-to writer with a knack for explaining complex topics clearly and concisely. When he's not writing, you can find him studying the latest trends in consumer technology, binge-watching videos from his favorite tech YouTubers, or diving into immersive open-world games.