Apple has gone all out this year with its iPhone 15 Pro lineup. Therefore, there are significant changes between the iPhone 15 Pro and the iPhone 14 Pro. Here, I will share a detailed comparison of the iPhone 15 Pro vs. iPhone 14 Pro. Thus, you can easily decide whether upgrading to iPhone 15 Pro is worth your money.
Specs comparison: iPhone 15 Pro vs. 14 Pro
The iPhone 15 Pro has all standard "Pro" features, such as an OLED Super Retina XDR display, Dynamic Island, triple camera set, 5G compatibility, etc. But it has some significant design improvements. Let's compare the specifications of the iPhone 15 Pro and iPhone 14 Pro to differentiate them head-to-head.
| | iPhone 15 Pro | iPhone 14 Pro |
| --- | --- | --- |
| Display | 6.1-inch OLED; 120Hz refresh rate | 6.1-inch OLED; 120Hz refresh rate |
| Dimensions | 146.6 x 70.6 x 8.25 mm | 147.5 x 71.5 x 7.85 mm |
| Weight | 6.60 ounces (187 grams) | 7.27 ounces (206 grams) |
| Build Material | Titanium | Stainless steel |
| Cameras | 48MP main, 12MP (ultrawide), 12MP telephoto (3x optical) | 48MP main, 12MP (ultrawide), 12MP telephoto (3x optical) |
| Front-facing camera | 12-megapixel | 12-megapixel |
| Processor | A17 Pro Bionic | Apple A16 Bionic |
| Battery | Up to 23 hours of video playback | Up to 23 hours of video playback |
| Connector | USB-C (USB 3.0) | Lightning (USB 2.0) |
After the overview, you may think the iPhone 15 Pro is an underwhelming upgrade to its predecessor. But there are substantial improvements that may influence your decision. Let's jump into the detailed iPhone 15 Pro vs. iPhone 14 Pro comparison.
Design and display – iPhone 15 Pro vs. 14 Pro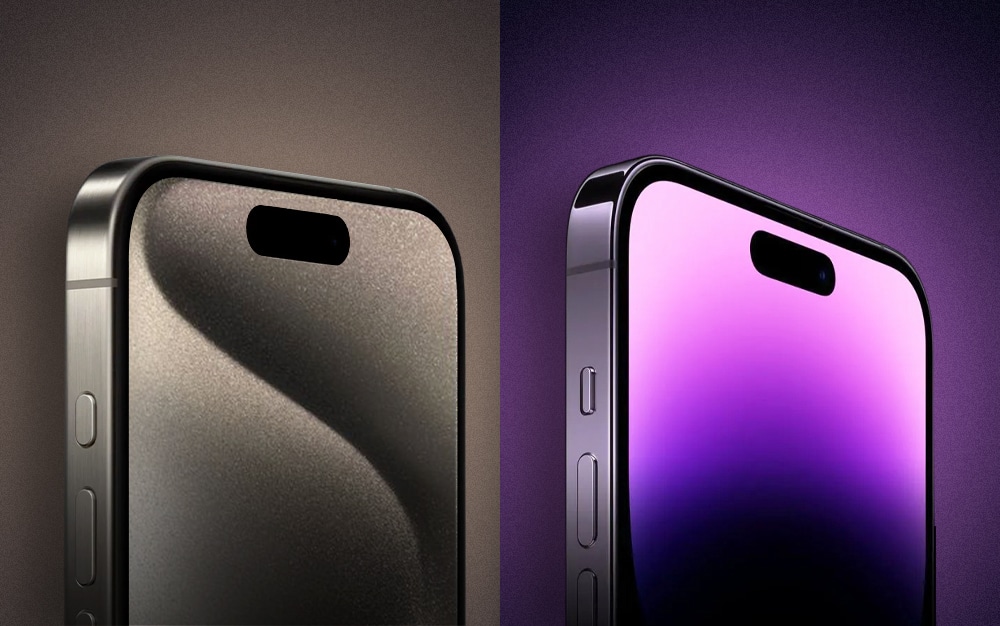 Both the Pro models look the same at a glance. They have a 6.1-inch OLED display with Dynamic Island. All the display specs are the same on both. However, only the bezel is made 1.55mm thinner. Besides, the iPhone 15 Pro features an Action button replacing the Mute switch. So, your iPhone 14 Pro cases will not fit it.
Also, you will get a USB-C port with USB 3 support. Thus, the 15 Pro can transfer data up to 10Gbps speed, surpassing the 14 Pro's 480Mbps speed. Besides, Apple has used aerospace-grade titanium instead of stainless steel, reducing its weight. Also, titanium is more scratch-resistant and durable.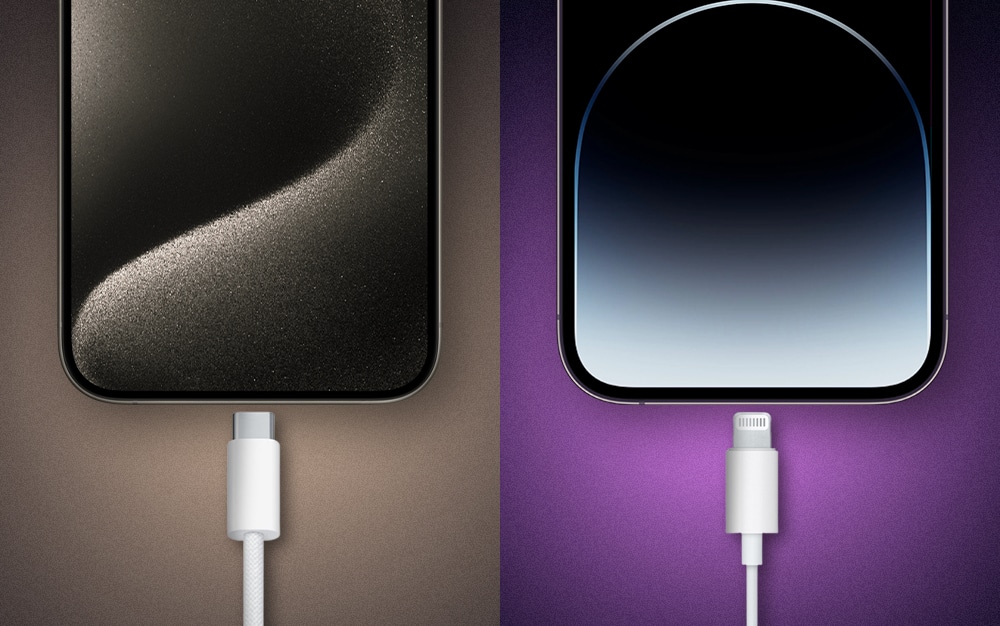 Therefore, your new iPhone can withstand daily wear and tear. Moreover, I liked its brushed matte finish. My 14 Pro's glossy back panel was a veritable fingerprint magnet. Also, you will get two new metallic colors: Natural Titanium and Blue Titanium. Nevertheless, the 15 Pro is a bit thicker.
Performance – iPhone 15 Pro vs. 14 Pro
Apple has introduced its most potent Bionic chip, A17 Pro, to offer you the Pro experience. It is engineered on the new 3nm manufacturing process. So, the chip can house 19 billion transistors, increasing significant performance and efficiency. Also, the same 6-core CPU is now 10% faster.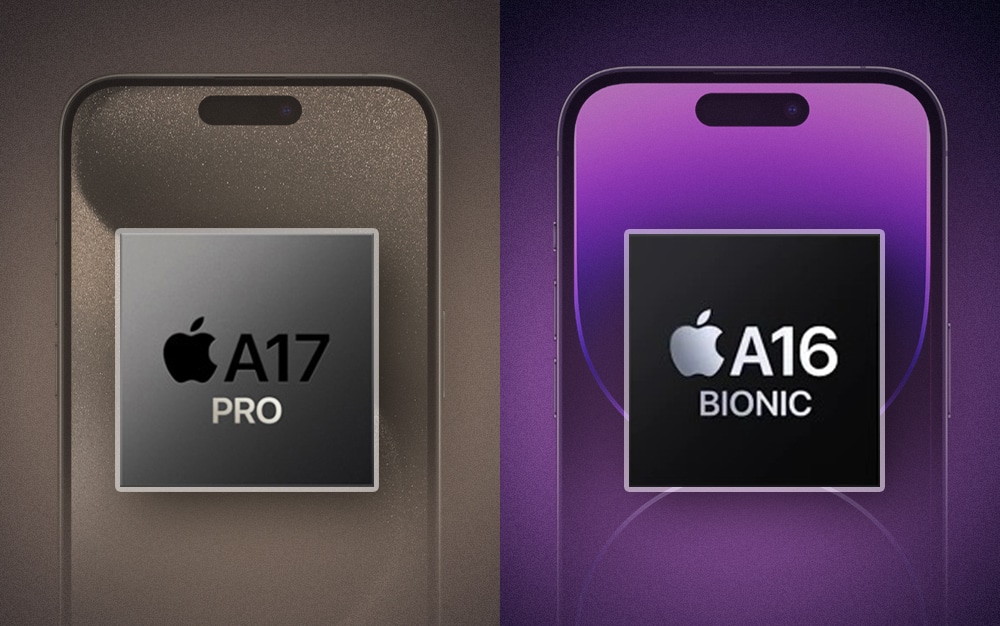 Apple has highly emphasized gaming performance this year with a 20% faster Pro-class 6-core GPU. Besides, the 16-core Neural Engine is 2x faster and can execute 35 trillion operations per second. The highlight of the A17 Pro chip is the fastest hardware-accelerated ray tracing.
It is four times quicker than A16 Bionic's software-based ray tracing. So you can enjoy more fluid visuals and true-to-life lighting in games. Besides, Apple has added MetalFX Upscaling, combining GPU and Neural Engine capability. So, your iPhone 15 Pro can generate more immersive, high-resolution, detailed frames while consuming less power.
Camera: iPhone 14 Pro vs. 15 Pro
iPhone Pro models have a unique triple camera setup, and the new iPhone 15 Pro retains the same appearance. The 15 Pro, like the 14 Pro, has a 48MP primary sensor, 12MP Ultra Wide, and 12MP Telephoto camera with the same apertures and optical zoom options.
However, an innovative quad-pixel sensor adjusts based on your subject and frame. So, 15 Pro has enhanced lowlight photography. Besides, you can access two new focal lengths: 1.2X and 1.5X sensor crop. Also, the new Photonic engine allows you to capture 24MP Super High Res photos.
Besides, 15 pro includes upgraded Smart HDR 5 and Next-generation Focus and Depth Control for sharp, detailed photos and portraits. If you love street photography, you may choose between 24mm, 28mm, or 35mm. Besides, the ultra-wide camera has an enhanced anti-reflective coating.
The key new feature in the iPhone 15 Pro camera is Spatial Video. Besides, the Log encoding to ProRes makes it considerably more powerful. Also, the iPhone 15 Pro supports ACES, or the Academy Color Encoding System, a global color standard used in big film projects.
Connectivity
The new iPhone 15 Pro also entails a new cellular modem: Qualcomm Snapdragon X70. So, you will notice much-reduced power consumption, stronger 5G carrier aggregation, and greater connection when your iPhone is farther away from a cell tower. Compared to the iPhone 14 Pro, the download speed is now 24% faster. Here's a test result below:
| | | |
| --- | --- | --- |
| | iPhone 15 Pro | iPhone 14 Pro |
| AT&T | 204.34 Mbps | 178.19 Mbps |
| T-Mobile | 300.92 Mbps | 245.69 Mbps |
| Verizon | 243.06 Mbps | 195.83 Mbps |
Price: iPhone 15 Pro vs. 14 Pro
Apple has set the same price for the new iPhone 15 Pro: $999 (128GB), $1,099 (256GB), $1,299 (512GB), $1,499 (1TB). However, you can't buy the iPhone 14 Pro from the official Apple Store and must go to an authorized reseller.
Verdict – Which Pro model should you buy?
The iPhone 15 Pro is an all-rounder; it has every feature of the iPhone 14 Pro with significant improvements. To buy an iPhone to have a great gaming experience, you must consider 15 Pro. Also, it can level up your photography skills. With a new Action button and modern-age features like Roadside Assitance, the iPhone 15 Pro is an unbeatable deal.
However, I would not suggest upgrading if you currently have an iPhone 14 Pro. The iPhone 14 Pro with iOS 17 is powerful and can handle heavy tasks. Therefore, which one will you choose between iPhone 15 Pro and 14 Pro? Let me know in the comments below!
Explore more…
Readers like you help support iGeeksBlog. When you make a purchase using links on our site, we may earn an affiliate commission. Read more.
Ava is an enthusiastic consumer tech writer coming from a technical background. She loves to explore and research new Apple products & accessories and help readers easily decode the tech. Along with studying, her weekend plan includes binge-watching anime.