Maximizing productivity is paramount in today's fast-paced digital world, and MacBook makes it easier with several exceptional features. As a long-term user myself, I've curated a selection of the best productivity apps for Mac. These apps seamlessly integrate into macOS, enhancing workflow and optimizing time management.
From task management to collaboration and note-taking, these apps are designed to boost efficiency and help you reach your full potential. Join me as we explore the best macOS apps for productivity to revolutionize how you work on your MacBook.
1. Todoist – All-in-one personal task manager
The first thing I do in the morning is set my routine, and Todoist helps me to plan, organize, and collaborate on tasks. You may add to-dos with priority orders, due dates, and reminders so you never miss any deadlines. The best thing is if any tasks occur often, you may set recurrent deadlines.
Besides, it integrates well with other productivity apps like Amazon Alexa, Gmail, Google Calendar, and Slack. Using cloud synchronization, you can access your tasks from any device. But you will enjoy this task manager app more on your Mac as it supports keyboard shortcuts, Siri commands, and the Share extension.
Moreover, the Today widget will keep you on track. I use the built-in Safari plugin most to add websites as a to-do. To monitor your progress, it offers tailored productivity trends. And you can use most of these features in the free version. The premium tier gives access to backups, automated reminders, and more.
Price: Free (In-app purchases start at $4.99)
2. OneNote – Jot down your thoughts
Note-taking apps are essential for keeping tabs on every minute detail. OneNote does its job very well in maintaining your digital journal. You may take notes, add images, whiteboards, or files, and share notes across devices. It also supports handwritten notes and drawings using a different digital pen.
The Convert to Shapes tool helps to transform hand-drawn shapes into perfect shapes. Besides, the collaboration feature helps to work together in real time. After taking notes, I use different tags like Important and To-Do to highlight the crucial ones. You may also use tabs, labels, and color coding to organize your notes.
Apart from organizing, the app also lets you flag topics and pin important pages to the top. Moreover, you can rename, search, sort, and copy individual pages and notebooks. Besides, you may protect your notes with a password and manage sharing access.
My only concern is I need to buy the whole Microsoft 365 bundle to get the premium for OneNote.
Price: Free (In-app purchases start at $69.99)
3. Elephas – Your AI co-writer
The AI apps have changed the dynamics of productivity in recent times, and the Elephas app is one of a kind among them. You can save hours by automating your writing tasks. Using the Smart AI assistant, it can compose emails, write attractive blogs and social media posts, fill out Google Sheets, summarize web articles, and much more.
Besides, you can rewrite sentences and repurpose your old content. Elephas is powered by OpenAI's GPT-3 capabilities; thus, it has no monthly credits or limitations. To get a taste of this AI tool, you may opt for a 30-day free trial. If you want to know more features, read our detailed review of the Elephas app.
Price: Subscriptions start at $4.17/month
4. iA Writer – For focused typing
My work involves typing for long hours, so I use focused writing apps to avoid distractions. iA Writer is an app that offers a clear and simple writing environment. The Focus mode keeps you in the writing flow by dimming everything except the current phrase or paragraph. You may export your writing to PDF, HTML, docx, Medium, etc.
Besides, you can preview your content in HTML preview and easily format it thanks to the built-in markdown text editor. It helps to find unnecessary adjectives, flimsy verbs, repetitious nouns, and erroneous conjunctions and remove the typical rumble from your content. I love its light-on-dark mode, which is ideal for all lighting conditions.
Price: $49.99
5. Grammarly – Error-free content
Similar to AI writing assistants, Grammarly is an AI tool for proofreading. It checks the spelling, grammar, readability, and clarity of your content in real-time and suggests improvements. As I mostly write on Google Docs, I use the Safari extension to proofread the content on the go. It also lets you improve your writing by sharing your writing statistics.
Price: Free (In-app purchases start at $29.99)
6. MindNode – Create mind maps
Accomplishing a large project needs a proper outline, and MindNote helps with this. It is a brainstorming app that enables you to write down your ideas and get a structured, hierarchical perspective. You may jot down your ideas in any format, including text, images, links, tasks, or notes, and create a visual connection between them.
Besides, the mind maps can be customized to add new ideas, graphically reorder nodes, and move, tag, connect, detach, and rejoin ideas. The app modifies the corresponding outline side by side. I use the Focus mode and foldable branches to stay concentrated on one topic at a time. Moreover, the Smart Layout makes your mind map look stunning.
Price: Free (In-app purchases start at $2.99)
7. Notion – Best for project management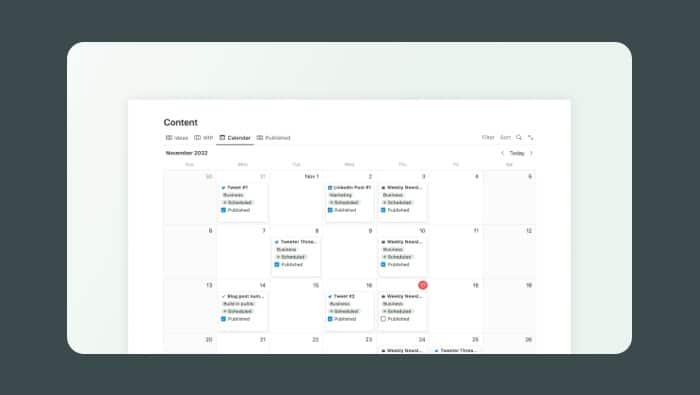 Not kidding, but the Notion app has the most screen time on my Mac among all the productivity apps. I use it for everything from organizing documents, taking notes, tracking tasks, creating wikis, collaborating on projects, etc. It's best for remote team management! Also, you may write a Notion page and publish it directly on the web.
Besides, Notion boosts your productivity further by integrating AI, which assists you in every step. If you feel daunted to set up your workspace from scratch, get the Notion templates and customize them per your needs. So, I highly recommend trying the free tier, and if you like the app, go for the premium version.
Price: Free (Subscriptions start at $8)
8. Dashlane – Secure password manager
Most people can't remember all their passwords, including myself. So, password manager apps are a relief. Dashlane is simple to use and lets you save all your passwords, credit card numbers, IDs, and other sensitive information in the cloud with utmost security. Also, it automatically syncs across your devices so that you can access the credentials on any device and share them quickly.
Moreover, the app offers a strong password generator to create unique passwords. You can autofill your credentials by authenticating your Face ID. If there is any data breach, you will get instant alerts. The app integrates with Safari well to save passwords and access existing credentials.
Price: Free (In-app purchases start at $3.49)
9. Be Focused – Keep an eye on time
If you face difficulty staying focused for a long time, this Mac productivity app is for you. I divide my tasks into to-dos with deadline of small time chunks. So, this time tracker makes managing chores easier. It also provides detailed information to track your progress. You may opt for an auto-start timer with custom parameters and block distracting apps or websites.
Price: Free (In-app purchase starts from $2.99)
10. Magnet – Organize your Mac
Magnet is among the best Mac productivity apps for students, offering advanced multitasking. You can open several apps in different windows simultaneously, eliminating app switches. On ultra-wide display, it supports up to six windows. Moreover, I use customized keyboard shortcuts to optimize my Mac and boost my workspace's effectiveness.
Price: $9.99
11. Fantastical – A wholesome calendar app
Fantastical is another essential app on my Mac dock. This calendar app offers several robust reminder and meeting scheduling features. The natural language processing capabilities allow you to add events or tasks by writing prompts. I have integrated it with Todoist and Google Tasks apps to sync my routine.
You can also check the upcoming weather forecast on your calendar before planning an outing. Besides, I admire its built-in world clock while scheduling an international meeting. It offers different calendars like for sports, holidays, or TV shows, making the app more fun. Additionally, the app supports multiple macOS shortcuts for better productivity.
Price: Free (In-app purchases start from $6.99)
12. Spark – Smart email app
If all other macOS apps for productivity can be automated, then why not the email apps become smart too? The Spark email app by Readdle offers a modern and minimal UI. Thanks to intelligent categorization, you can rapidly identify the most critical emails with Smart Inbox. Besides personal usage, it is excellent for business purposes also.
You can manage many mail IDs in one place, assign emails as tasks with due dates, and monitor progress. The unique feature is you can draft emails with your coworkers using a real-time editor and schedule for delivery. When busy, I snooze emails to read them later. Also, the Smart Notifications eliminate the clutter and alerts for vital mail. And all features are free!
Price: Free
You can make your Mac's menu bar more productive using Bartender. It gives you complete control over your menu bar items with the Quick reveal, personalized hotkeys, triggers, etc. features. So, rather than clutter, you may choose which icon appears when. Besides, you may search for menu items to display and activate them.
I like the trigger feature, which automates your menu bar such as when your Mac is charging, the battery icon will be shown. Also, it provides a robust menu bar layout interface to set icons as per priority and modify the distance between them. Moreover, the secret menu bar will give you more space for additional menu items.
Price: $16
14. Pocket – Your personal reading list
Pocket app is for the bibliophiles like me. You can conveniently store articles, websites, movies, and any kind of content later in one location from apps and websites. The browser extensions from Safari and Chrome make saving easier. Besides, it allows you to access from any device at any time quickly.
I love the app because of its offline feature, which lets me read articles without the internet. You will not have any distractions while reading because of its straightforward, user-friendly interface. There's no limit to saving content, and Pocket will highlight the finest and most relevant items.
Price: Free
15. Amphetamine – Keep your Mac awake
Sometimes we need to keep our Mac awake to complete any ongoing tasks like rendering video or uploading files, etc. In this scenario, it's not always possible to sit in front of the laptop to keep it awake. That's why I use Amphetamine. It ensures your Mac and connected display are awake by using basic on/off switches or triggers.
You may launch a stay-awake session for a specific period of time or indefinitely. Also, you may set functions like indicating sleep, turning on the screen saver, moving the cursor automatically, etc. Not only this, you can also create advanced triggers to start stay-awake sessions. The best part is when your Mac's battery is low, it automatically ceases sessions.
Price: Free
16. Prompt+ Teleprompter – Speak with confidence
Tele prompter is invincible for creators like me, and Prompt+ is the finest app in this category. It works with all video meeting apps like Zoom, Google Meet, etc., including Facebook Live. The script scrolls over your screen thanks to voice recognition ability and speed controller. So, you can show confidence and make superb eye contact with your audience.
You may also set a clock to stay on schedule. The app allows importing script files in the.txt,.rtf,.pdf and Google Doc formats from Dropbox, Google Drive, iCloud, or OneDrive. If it's not visible clearly, you may format it in Rich Text and modify the text area's width, color scheme, text orientation, and font size.
Note that the free version only supports scripts up to 750 characters. For lengthier scripts, you need to buy a one-time subscription.
Price: Free (In-app purchases start at $9.99)
17. Krisp – Enhance voice clarity
In the roundup of my favorite professional productivity Mac apps, Krisp is magical. It helps me communicate clearly on calls or meetings by eliminating background noises, including nearby conversations, fan sounds, keyboard clicks, dog barks, etc. Its AI-powered Voice Clarity and Meeting Assistant features are so powerful that sensitive microphone echoes are removed.
The best part is that, while taking international calls, the Accent localizer adjusts my dialect to sound more familiar in real time. Without external plugins, you will also get automatic meeting transcription and AI-enabled meeting summaries. I use these transcriptions as meeting notes. And don't worry about security and privacy! The tool neither records the calls nor saves them to a database.
Price: Free (Subscriptions start at $8/month)
18. Alfred – Automate your tasks
Mac Shortcuts are excellent time-savers and help to get the work done quickly. But if you want advanced automation, the Alfred app is superior. You can create unique workflows, discover apps and files with the quick search feature, and configure hotkeys.
The built-in clipboard manager saves every copied text, photo, and file. Besides, the Snippets tool lets you create templates for frequently used phrases. Additionally, you may search for any password in Alfred's 1Password area as both are integrated.
Price: Free (Licensing starts at $42)
19. BestZip – Compress your files quickly
Sending files in ZIP format maintains content quality while taking less storage space and transfers quickly. Therefore, if you excessively work with files, get the BestZip app. It's an all-purpose software for compressing and decompressing archives. Besides extracting, it does file encoding well.
I mostly use it for encryption compression to keep my sensitive files secure. After compression, you will see a package preview and finalize it for sharing. Moreover, the drag-and-drop feature makes it easy to use. Note that the tool is available for free for a 10-day trial.
Price: Free (Premium version – $9.99)
20. Atlas VPN – Surf the internet securely
VPN has several benefits, including hiding your IP address, connecting to international servers, and providing security. I use this VPN on my Mac for watching 4K content as it offers streaming-optimized servers with no restrictions on bandwidth. You will never be interrupted thanks to 1000+ high-speed servers across the globe.
With a premium subscription, you can connect unlimited devices, get email protection, have ad blockers while browsing, and much more. And the best part is that it's the most affordable one with so many features!
Price: $1.82/month
21. Pixelmator – Edit photos like a pro
There are many renowned photo editor apps out there, so why am I suggesting Pixelmator Pro? This app is exclusively designed and optimized for macOS and Apple hardware. So, it supports all Mac key features, Shortcuts, Photos extensions, etc. Its simple UI is best for beginners.
You can edit RAW images, color-grade videos, create designs using templates, paint digital art, draw drawings, and over 50 image editing tools. It uses machine learning to automatically remove image backgrounds, boost quality, eliminate noise, etc. After editing, you may share your pictures or videos to Photos, Mail, and AirDrop.
Price: $49.99
22. F.lux – Make your eyes comfy
Working long hours at high brightness on your Mac will strain your eyes. Therefore, I use f.lux, a screen adjuster tool, to adjust the brightness of my screen based on the time of day. So, the screen is lighter in the morning and warmer at night to match the lighting and ambiance in your room.
You must specify your location and custom wake time for the best-personalized experience. Besides these standard settings, you can customize the brightness as much as possible.
Price: Free
23. Microsoft Edge – Feature-packed browser
Edge offers lightning-fast browsing with utmost efficiency. I use this web browser on my Mac while playing games online as it has built-in gaming features. Besides, AI-enabled productivity tools like Collections, sidebar, vertical tabs, etc., help you to get your work done quickly. Moreover, you can get comprehensive answers from Bing, your AI co-pilot.
Price: Free
24. Google Drive – Flexible cloud storage
Though iCloud is a secure cloud storage on Mac, it may not be compatible with all apps or websites. In this case, Google Drive is best. You will get 5GB of free cloud storage. It supports all common file formats and offers offline access to your files. I use Google Drive to share large files with others and collaborate on Google Workspace files.
Price: Free (In-app purchases start at $2.99)
25. Microsoft Remote Desk – Work from anywhere
Among all Mac remote apps, Microsoft Remote Desk works like a charm. It lets you connect to remote PCs and access admin-provided virtual apps and resources. Using the Connection Center, admins can administrate the user accounts. Besides screen sharing, you may stream audio, redirect files, share clipboards, and use local hardware like cameras and microphones.
Price: Free
Get the most out of your Mac!
The productivity apps for Mac in 2023 offer powerful tools to streamline workflows, boost organization, and save time for every kind of user. So, experiment, find the apps that suit your needs, and invest wisely in productivity apps to maximize your Mac experience.
Explore more…
Readers like you help support iGeeksBlog. When you make a purchase using links on our site, we may earn an affiliate commission. Read Disclaimer.