Your MacBook is an essential piece of technology that holds plenty of important files, documents, and media. Although you can now secure your work by backing them to iCloud or other cloud storage services, it may not be enough in case of an emergency. This is why I've curated a list of the best password manager apps for Mac so that you can rest assured that your work can only be accessed by you.
1. iCloud Keychain – Editor's choice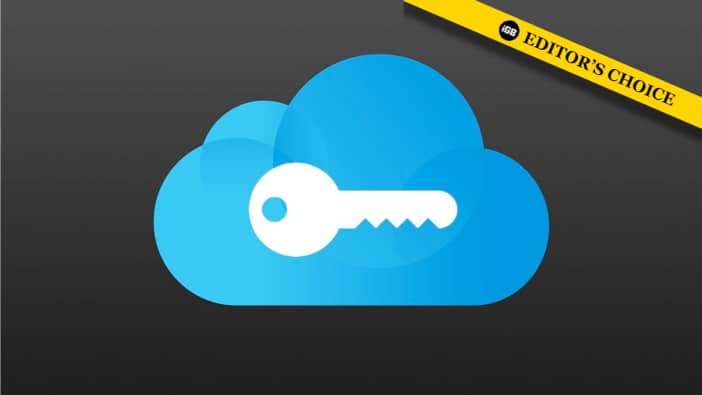 Apple is known for the level of security it offers. Whether it's an iPhone, iPad, or MacBook, Apple's security and encryption systems are far superior to that of its competitors. In true Apple fashion, the company has also included the massively popular iCloud Keychain with macOS for storing your password managers.
The best part about this password manager is that it offers the same level of security as some of the most expensive password manager apps. Moreover, you don't have to pay a dime extra for this facility. You'll be able to store all your passwords in the iCloud Keychain without any hassle.
Additionally, wallet passwords, log-in credentials, addresses, and even your credit card information can be kept in the iCloud Keychain. The Keychain will also integrate seamlessly with your Safari browser, thereby automating several processes.
However, the iCloud Keychain's biggest issue is that its Audit system isn't as robust as that of other third-party apps.
Pros
Completely free to use
Convenient user interface for beginners
Automates online processes by integrating with Safari
Cons
The audit system isn't as strong as that of third-party apps
Price: Free
2. 1Password 7 – Replete with features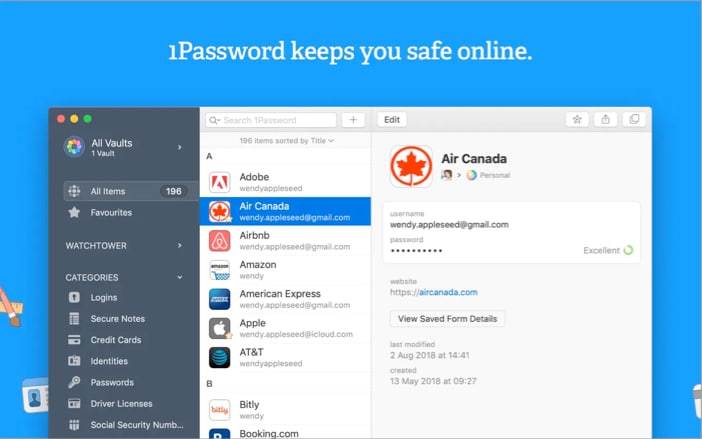 If you're willing to pay for a Mac password manager, few are better than 1Password 7. The sheer number of features in this password manager app justifies its pricing. The app generates strong and unique passwords when required.
Moreover, it can integrate with your MacBook's browser for filling in usernames, passwords, and credit card information on various websites. Of course, it can also sync this information seamlessly across your other devices. 1Password has also ensured that the app is compatible with Touch ID.
However, one of its biggest draws is the Watchtower feature. This feature keeps track of your device and will promptly notify you if your information has been exposed on a website. The app will also be able to tell you if certain passwords have been leaked on the internet.
The only issue with the app is that the free version is riddled with popups. This can ruin the user experience.
Pros
Has lots of decent features
Compatible with Touch ID
Excellent auditing system through the Watchtower feature
Cons
The free version's user experience isn't great
Price: Free (In-app purchases start at $3.99)
3. Norton Password Manager – Highly secure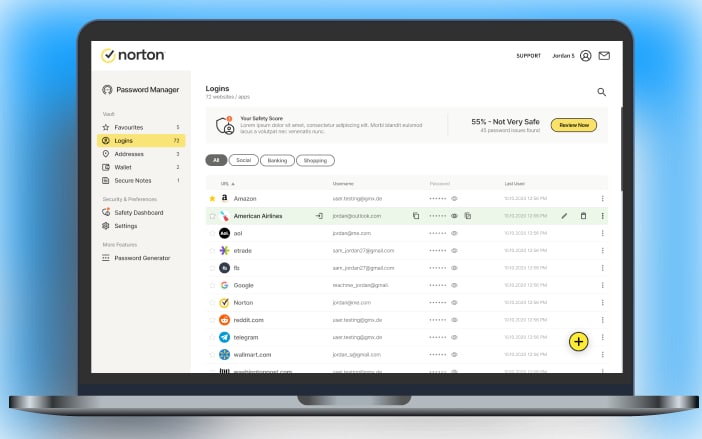 Norton has been in the security game since 1990. Although the company produces excellent antivirus products, they've also moved into the password manager app market. With the Norton Password Manager, they've succeeded in bringing their security expertise into password protection.
The app provides all the features that are deemed to be necessary for an app of this nature. From storing passwords to generating them, Norton does them all. It's also quite easy to use, with the interface sporting a user-friendly design. When it comes to storing information, from passwords to credit card information, you'll be able to store them in Norton's secure and encrypted vault.
It also integrates well with your browser and syncs across all your devices for greater convenience. Moreover, after you've successfully logged into the app, you'll be able to access your password vault even when offline.
The app also comes with VPN and split tunneling options for better security when browsing the internet. However, these settings are slightly cumbersome to use.
Pros
The user interface is pretty quite convenient
Syncs across all browsers and devices
Passwords and information are stored in an encrypted vault
Cons
VPN and split tunneling options could have been better
Price: Free
4. Bitwarden – Excellent for businesses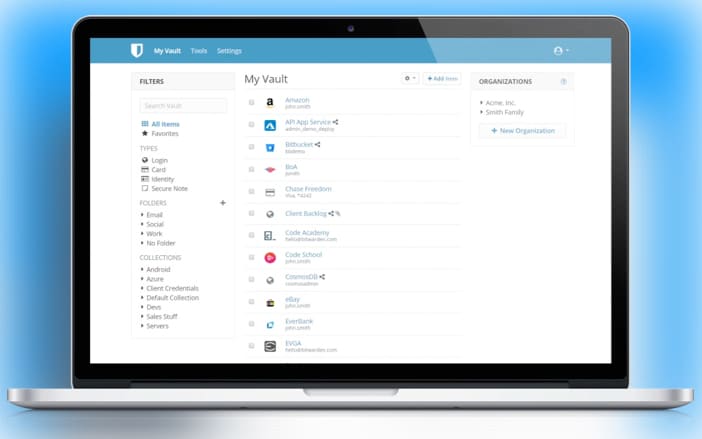 Managing your personal passwords is one thing. However, managing the password and security keys of an entire business is another thing entirely. If you're managing a business and need a password manager, Bitwarden could be exactly what you're looking for. This password manager for Mac has been designed keeping businesses in mind, although it can be used by individuals as well.
Bitwarden includes the essential features that you'd expect in a Mac password manager. Storing passwords, keys, addresses, and credit card information can all be done with Bitwarden quite easily. However, it sets itself apart from the competition as it can be installed and used on unlimited devices, being able to store an unlimited number of passwords and other secure information.
Additionally, the app also offers free cloud hosting and encrypted data export features. In other words, your business' essential information can be stored through Bitwarden with ease. Furthermore, Bitwarden Send will allow you to send information across servers via highly encrypted data packets.
However, there's one small issue with the app. Its interface isn't very intuitive and can take a while to understand.
Pros
Caters to large businesses
Can store unlimited passwords
Can be installed on an unlimited number of devices
The audit system is strong
Cons
The user interface is substandard
Price: Free (In-app purchases start at $3)
5. Keeper – Strong password generator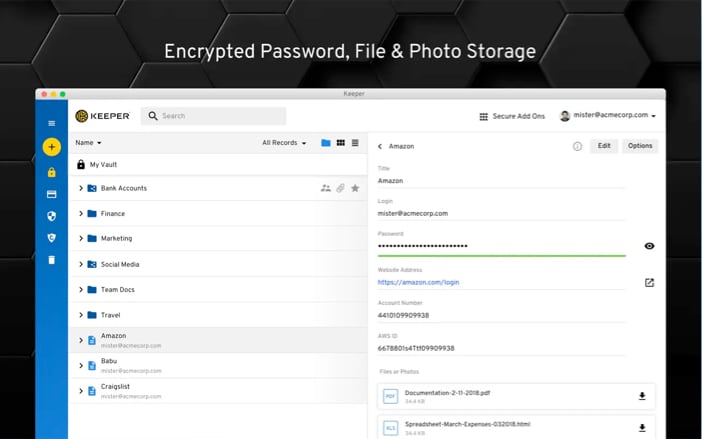 With hacking and cyber-attacks becoming all the more common, using a strong password is more important than ever. However, creating a strong password is easier said than done. You'll have to follow the site's password rules and think of something that you're less likely to forget. With Keeper, the guesswork is thrown out the window!
Keeper is a password manager app for Mac that comes with an exceptionally strong password generator. Not only does it comply with the password rules for various sites, but it also generates passwords that add the right level of security to your credentials.
The app also comes with a KeeperFill feature, which is essentially an AutoFill feature for websites and apps. Moreover, the passwords that the app generates can be securely stored in the app's vault, which holds an unlimited number of passwords. Keeper is also compatible with Face ID, Touch ID, and provides Two-Factor authentication for extra security!
My only issue with the app, however, is that most of the app's features are locked behind paywalls.
Pros
Decent password generator
Compatible with Touch ID, Face ID
Provides Two-Factor authentication
Cons
Most of the good features are locked behind paywalls
Price: Free (In-app purchases start at $9.99)
6. NordPass – Easy to use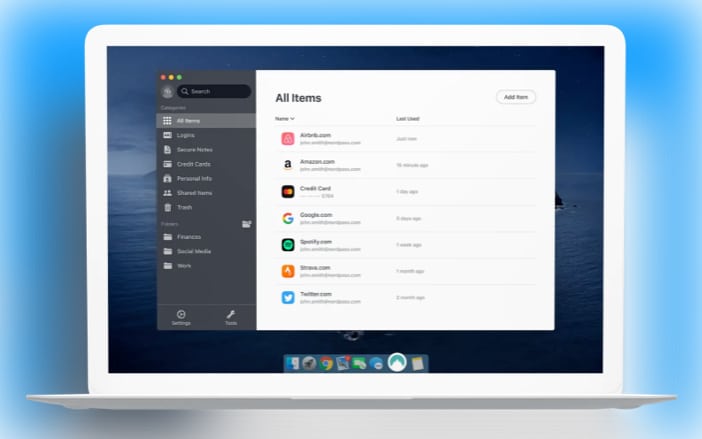 While there are plenty of Mac password managers that provide decent features, they're not easy to use. Lackluster and clunky user interfaces can often ruin the user experience. Nonetheless, NordPass is one such password manager app that combines an intuitive interface with decent features, providing an excellent overall experience!
NordPass comes from the developers of NordVPN, who have been making waves all over the internet lately. Whether you're using your MacBook or iPhone, NordPass is ridiculously easy to integrate and use on either device. Moreover, it supports secure and encrypted credential sharing between users.
Whether you're using a business account or an individual one, NordPass ensures that your data is safe through multi-factor authentication. Moreover, its useful data breach scanner and password health reports ensure that you're always on top of your information security.
The only major problem with NordPass is that it's far more expensive than competitor products. Additionally, you won't be able to test the software on multiple devices if you're using the free trial version.
Pros
Exceptionally convenient to use due to a decent user interface
Supports secure and encrypted sharing between user accounts
Data breach system adds an extra layer of security
Cons
Pretty expensive when compared to its competitor products
Price: Free (In-app purchases start from $4.99)
7. Zoho Vault – Best for enterprises and teams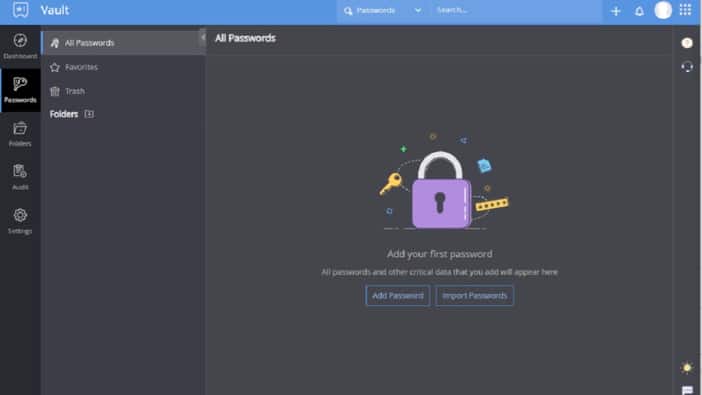 The Zoho Corporation is one of the most recognized faces when it comes to technology for businesses, enterprises, and teams. Naturally, their password manager app for Mac is also highly secure and designed for large teams in corporations.
Zoho Vault comes with a few decent features, even for its free users. However, if you've got a few bucks to spend, I'd recommend you get the premium version. This premium version is specially geared toward small and medium-sized enterprises.
You can also integrate it with third-party services such as Google Drive or Microsoft's OneDrive for added security over the cloud. Additionally, if you're running an enterprise, you can design the level of access that each person receives. This ranges from the Super Administrator to the basic User.
Zoho could've provided better customer support for the Zoho Vault, though. Several users have complained about unhelpful customer support.
Pros
Tailored toward SMEs and teams
Integrates with other third-party services such as Google Drive
Free features are pretty decent
Cons
Customer support needs improvement
Price: Free (In-app purchases start at $1.00)
8. StickyPassword – Offers student-friendly prices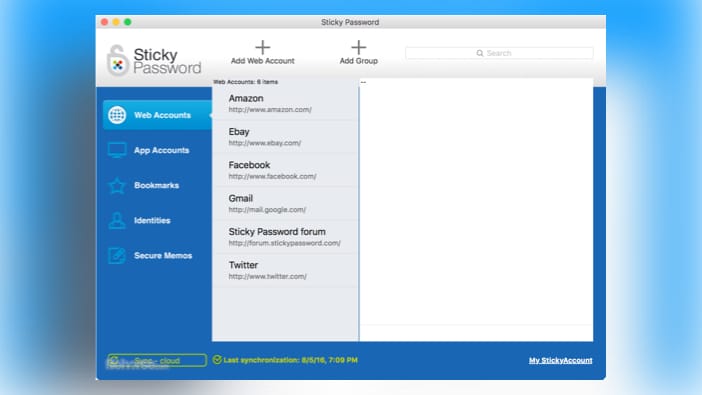 When you're looking for a Mac password manager, you'll notice that most of these password managers are expensive. This is understandable, as most working professionals, families, businesses, and enterprises are their target audience. However, with StickyPassword, the relatively cheap prices can be afforded by a student as well.
The new generation of MacBook users spends more time on their MacBooks than most other people on the internet. Naturally, with the world moving towards online outlets, documents, assignments, projects, papers, and study materials – all of these are available online for students. For the cautious student, a password manager doesn't seem like a far-fetched idea.
So, if you're a student who's looking for an affordable password manager for Mac, StickyPassword could be what you need. The app provides 256-bit AES encryption, along with Two-Factor authentication. It's also very easy to use, even for complete beginners.
For the more tech-savvy students, however, StickyPassword's interface may be rather outdated and off-putting.
Pros
Reasonably priced in the long run
256-bit AES encryption and Two-Factor Authentication
Convenient for beginners
Cons
The user interface needs a rehaul, as it looks outdated
Price: Free (One year's purchase available at $29.99)
How to choose best Mac password manager app?
There are a few points below that you should bear in mind before choosing a password manager for your MacBook. Let's check them out:
Security
Of course, this is the most important aspect of choosing a Mac password manager app. When you're using a Mac password manager, you'll notice that the passwords are kept in one of two places – cloud storage powered by remote servers of the app, or a vault placed into your MacBook. Which option you choose is ultimately based on personal preference.
However, the cloud option is more popular, as the cloud storage server can be synced across devices. Moreover, if your device is lost or stops working, you'll still be able to access the passwords through a different synced device. Nonetheless, if you prefer to keep your password close to your chest, you could store it in Mac's vault as well.
Device compatibility
If you're choosing a password manager for MacBook that stores the data in the cloud, you should check its compatibility with different devices. After all, you might have to access the password vault through other devices in multiple situations. Whether it's a tablet, laptop, or smartphone, your password manager should be widely compatible.
More importantly, ensure to check the device's compatibility with operating systems other than macOS as well. Windows, Linux, Android, iOS, and even iPadOS – the more compatibility, the better!
Coverage
In this context, coverage refers to the plans that the password manager offers. Your digital security and documents may be priceless, but it's more likely that you're working within a budget. Free password managers don't allow unlimited password storage, and their security features may be lacking.
With paid password managers for Mac, you can store unlimited passwords. Furthermore, their security measures tend to be airtight. Moreover, if you end up taking a family plan, covering multiple users, you may not have to pay more than $60. In this situation, some password managers offer value-for-money deals as well. So, you should keep an eye out for that!
Why didn't we consider the price?
The list contains entries for both free and paid Mac password manager apps. However, if you're password-protecting important documents, such as a digital passport or property papers, paying a few bucks is the better option in the long run. This is why the options on this list are available at varying prices for different budget segments!
FAQs
Below, you'll find the answers to some common questions regarding Mac password managers. These answers should clear any doubts you have about password managers.
Is it worth paying for a password manager?
This depends on your usage. If you're comfortable with updating your credentials and passwords manually on different devices and just want to store your passwords, then a free version is enough. However, if you want synchronization capabilities and manage a team or enterprise, a premium password manager is recommended.
Doesn't my Mac already have a password manager?
MacBooks already have a password manager in iCloud Keychain. While the Keychain is excellent in its own right, it lacks a few advanced features that other Mac password managers can provide. Nonetheless, the iCloud Keychain is good enough for basic users!
Summing up
In today's online-centric world, information is key. From passwords to credit card credentials, protecting your information is of paramount importance. In this list, I've curated some of the best password manager apps for Mac that you can use today. I've also segregated them based on their various use cases. In case I've missed out on your favorite password manager, let me know in the comments below. I'll be sure to check them out!
Read more:
Anirban is a literature post-grad who delves in philosophy and postmodern novels when not writing on tech and gaming. His love for research is only trumped by his love for chai and heavy metal.