Apple introduced a new method for authentication in iPhone X for the first time in 2017, on the tenth anniversary of the iPhone. Apple's Face ID biometric authentication system allows unlocking a device, making payments, accessing personal data, and tracking facial expressions for Animojis.
Apple garnered a plethora of negative publicity for replacing Touch ID with Face ID, especially from privacy enthusiasts who were skeptical about Apple using the facial recognition data of the users.
However, almost every iPhone (except the iPhone SE series) and iPad Pro model released after 2017 features Face ID. It has become a norm for Apple to offer Touch ID in its baseline products (iPad and iPad mini) and Face ID in its premium products, including iPad Pro and iPhones.
But have you wondered how these two authentication methods stack against each other? Does Face ID offer more security than Touch ID, or what's easy to use between the two for regular usage?
Read below for a detailed comparative analysis of Touch ID and Face ID.
Face ID vs. Touch ID: Tech behind the scene
Before we begin comparing Face ID and Touch ID, it is important to understand the working of both Apple patented technologies. Let's start with Touch ID.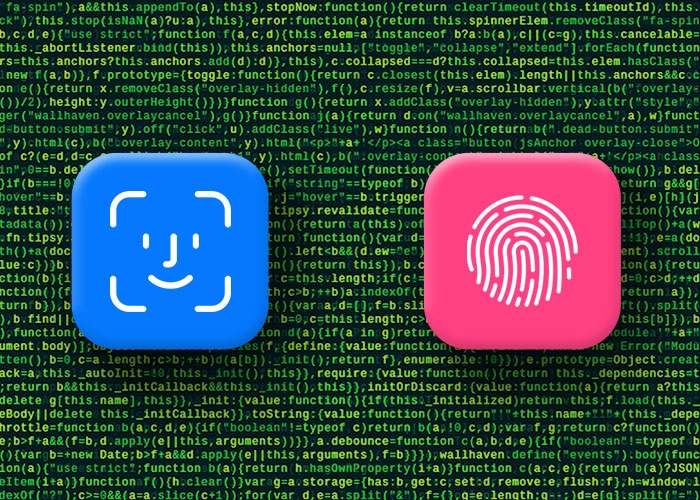 Touch ID
Apple unveiled the Touch ID with iPhone 5S in 2013 for the first time. Integrated into the Home button, Touch ID offers a rather convenient way of unlocking an iPhone/iPad and authenticating purchases from the App Store instead of entering your passcode every time.
Touch ID is protected by an outermost layer of scratch-resistant sapphire glass. Besides offering protection to the sensor, sapphire glass also doubles as a lens to focus the fingerprints on the sensor. Under the glass is a stainless steel detection ring that detects your fingerprint when placing your finger on the button.
The sensor uses advanced capacitive touch to take a high-resolution fingerprint image. Apple says it scans sub-epidermal skin layers using its wafer-thin sensor that measures just 170 microns. It means that the sensor is not scanning the topmost layer of dead skin. Thus, making it fail-proof against artificial fingerprints, severed fingers, and other duplicitous ways of cloning a fingerprint.
Apple says Touch ID does not store your actual fingerprints but a "mathematical representation" of them. Therefore, it is impossible to reverse engineer your fingerprints even if someone gets hold of this database.
Apple further protects this data by using an advanced security architecture called the Secure Enclave. Moreover, the device doesn't store fingerprint data. You can only access this data through the Secure Enclave architecture. Hence, iOS, other apps, or even Apple servers cannot access this data.
Now, let's analyze the working of Face ID.
Face ID
Face ID was launched as the next step toward a secure and user-friendly biometric authentication method. The incredible technology by Apple features a complex hardware module that Apple likes to call the "TrueDepth camera system". It works with neural networks and the chipset's Bionic neural engine.
Every time you glance at your iPhone/iPad featuring Face ID, the dot projector projects over 30,000 invisible dots on your face for creating a detailed facial map. The flood illuminator helps detect your face and creates a map even in the dark.
Next, this data is passed on to the neural network to turn it into a mathematical representation. When you try to unlock your device, the Face ID generates a mathematical representation of your face and checks it against the one you stored while setting up the authentication system. If it matches, your iPhone gets unlocked, and purchases are validated.
For carrying out the entire process in real-time and within seconds, Apple developed a Bionic neural engine. The chipsets starting from A11 are designed for executing billions of operations per second.
Like Touch ID, the facial recognition data is inaccessible to the operating system and apps. Instead, it is stored in the Secure Enclave.
Apple claims Face ID works accurately even when you're wearing sunglasses, a hat, or if you have shaved off your beard. Recently, Apple released iOS 15.4 with the Face ID with a mask feature. It lets you unlock your iPhone using your Face ID, even if you wear a mask.
Face ID vs. Touch ID: Which is more secure?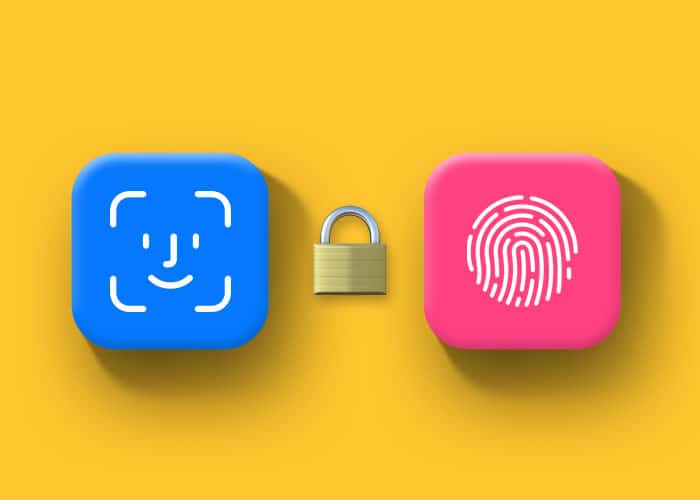 While there are mixed opinions from privacy experts on which is more secure, Apple claims that Face ID is 20 times more secure than Touch ID. While the chances of someone unlocking your iPhone using a spoofed fingerprint is one in 50,000, this number grows exponentially to a false positive of one in a million when it comes to Face ID.
Apple mentions on its website that it is impossible to replicate the facial recognition data of your face by using print or 2D digital photographs, masks, or other similar techniques.
As an added security layer, Apple's Face ID comes with an attention-aware feature, ensuring that your iPhone cannot be unlocked until your eyes are fully open and you're paying attention to the device. Thus, it is impossible for someone to use Face ID to unlock your iPhone/iPad Pro while you are sleeping.
If you're wondering what will happen in a situation where you are cornered by a thief, and he points your iPhone at your face to unlock it. In fact, Apple's Chief of Software Engineering Craig Federighi replied to an email from developer Keith Krimbel saying,
If you don't stare at the phone, it won't unlock. Also, if you grip the buttons on both sides of the phone when [you] hand it over, it will temporarily disable Face ID.
Thus, statistically and otherwise, Face ID is much more secure than Touch ID.
Which is faster? Face ID or Touch ID
When it comes to speed, Touch ID wins the competition. According to Tom's Guide, it took 1.8 seconds to unlock an iPhone X with Face ID, starting right from turning the screen on and then swiping up to go to the Home Screen. Whereas Touch ID unlocked an iPhone 7 Plus in just 0.91 seconds.
On paper, Touch ID is faster than Face ID, but the same does not stand true in real-life applications. If you have to open a notification on a Touch ID device, you need to tap the notification and place your finger over the sensor.
The process for the same is quite simpler in devices featuring Face ID. When you raise to tap a notification, the Face ID simultaneously recognizes your face, thus, offering faster access to the notification.
Why did Apple switch from Touch ID to Face ID?
One of the reasons Apple decided to switch to Face ID in 2017 is the form factor of devices. Face ID allows more screen estate than the button-integrated Touch ID.
This has allowed Apple to offer bigger screens and thinner bezels. Since the release of iPhone X in 2017 and the entry of the notch, we have seen even Android counterparts adopting the notch design, albeit in their way.
With the release of iOS 15.4, Apple has made Face ID compatible even if you with a mask. This move indicates that Apple has no plans to adopt the Touch ID on its iPhones again. There are rumors that Apple plans to further improve Face ID instead of going back to Touch ID.
DSCC analyst Ross Young recently tweeted the below:
Young is not the only analyst who believes that Touch ID is now a thing of the past. Noted Apple analyst Ming-Chi Kuo also agreed with Ross Young and tweeted the below:
Also, it makes no sense for Apple to revamp the authentication system, which is statistically inferior to Face ID. The company has already stopped offering it in its premium products.
Face ID vs. Touch ID: Ease of usage
When it comes to day-to-day usage, Touch ID would be the preferred choice over Face ID as you simply need to place your finger on the button to unlock your iPhone. In the case of Face ID, you need to hold your face in front of the iPhone, pay attention to it, and swipe up the screen once your face has been authenticated to reach the Home Screen.
You can read our detailed guide on how to use Face ID on iPhone and iPad to get familiar with the tech on your device.
Furthermore, the prolonged pandemic has proved that face masks are here to stay. Although Apple has introduced Face ID with a mask feature, it takes time to unlock the device. Therefore, Touch ID would be the better and easier option to go with masks.
If we compare the repair costs of Face ID and Touch ID, it goes without saying that Face ID is rather complex to repair than the latter.
In fact, it is still not possible to repair iPhones with faulty Face ID without replacing the entire iPhone! On the other hand, Touch ID is not a much-convoluted setup. It costs around $79 with the Apple Care plan and around $200 without the plan.
So, Face ID or Touch ID?
Face ID is the successor of Touch ID, with the most obvious difference being the method of identification. While Face ID has its limitations, like you cannot use it if your iPhone is in landscape mode, it does not work well with masks, and there's an additional step to reach the Home screen.
But, Face ID is certainly more secure than the latter and has been designed to replace Touch ID. It's been over five years since we've seen Face ID in almost all iPhones, proving that the tech is here to stay.
So, what do you prefer more – Face ID or Touch ID? Share your answers in the comments below!
Read more:
Readers like you help support iGeeksBlog. When you make a purchase using links on our site, we may earn an affiliate commission. Read Disclaimer.