While MagSafe has 'safe' in its name, there is uncertainty around safety, especially with third-party accessories. A major confusion arises from the terms 'MagSafe-compatible' and 'Made for MagSafe'. But are they different? And more importantly, does it matter?
The question, or shall I say the difference, has been plaguing me for quite some while. So, I decided to do some research on the topic. And if you're interested in knowing the difference between MagSafe compatible and Made for MagSafe, just read on.
What is MagSafe?
MagSafe is Apple's proprietary technology that uses strategically placed magnets. In MacBooks, it is used for smooth attachment and removal of the charging cable. Although in iPhones (iPhone 12 and above), the ring of magnets manifolds the use cases.
For one, the magnetic system enables fast wireless charging up to 15W. Plus, it opens the flood gate for amazing accessories from Apple and third-party manufacturers like detachable wallets, PopSockets, stands, car mounts, etc.
And it is here that this particular confusion is birthed; some manufacturers use the MagSafe compatible tag while others sport Made for MagSafe. While they might sound similar, there is a massive difference between them.
MagSafe compatible
An accessory that is compatible with MagSafe but not necessarily harnesses the power of MagSafe to the fullest. The manufacturers smartly fit an array of magnets into their product that attracts and sticks to other magnets, aka iPhone with MagSafe.
However, apart from the basic properties of the magnet, i.e., easily sticking and unsticking with another magnet, these won't provide any extra features like auto-adjusts, fast charging, battery status, etc.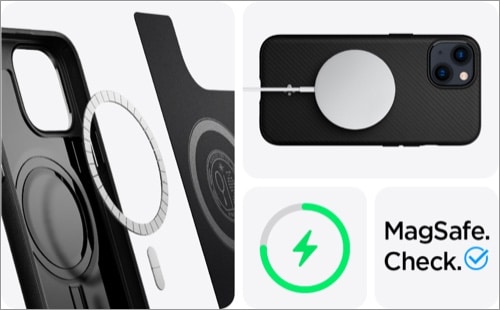 Made for MagSafe
On the other hand, Made for MagSafe accessories combines the power of magnets and a single-wire NFC antenna. Thanks to it, the iPhone can identify the device and tweak/manage certain settings accordingly.
For instance, iPhone will instantly recognize a made for MagSafe charger and crank up the rate to 15w. Otherwise, it will max out at 7.5w (half the speed).
Moreover, Apple has a certain level of control with Made for MagSafe products, similar to MFI certification (Made for iPhone/iPad), so you'll have some quality assurance as well.
And while all this is super cool, it makes Made for MagSafe comparatively expensive than MagSafe-compatible products, which is not that great.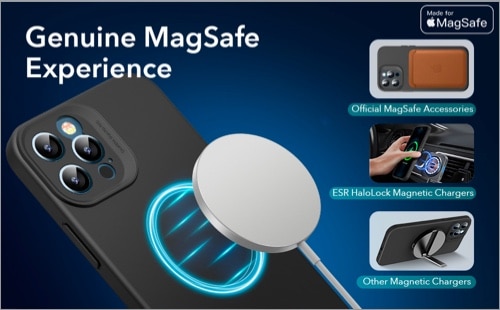 Do MagSafe compatible and Made for MagSafe accessories perform differently?
On paper, the answer is a big YES. Although, it depends a lot on products and manufacturers. So, if you are talking about a MagSafe case, the distinction will matter as the case might or might not support 15W charging.
But if you're talking about a simple wallet, PopSocket, etc., both will perform equally well. And then there is the point of having the feature and not certifying it; take the example of water-resistance certification.
Some phone manufacturers offer water resistance in their devices; they do not get the IP certification. And while it saves them money and a little bit of hassle, they can't claim water resistance, at least officially.
Similarly, tagging their device MagSafe compatible is much easier than getting Apple's approval for Made for MagSafe. So even though their performance is far superior, they are stuck with MagSafe compatible tag.
So the crux of the whole situation is that it will depend on what you are buying and from whom are you're buying it.
Which accessories should you pick? MagSafe compatible or Made for MagSafe?
If you're buying something that'll affect charging speeds or involves Find My compatibility like Apple's Wallet, prefer an accessory with Made for MagSafe. But, otherwise, MagSafe-compatible products are suitable.
It would be best if you also looked into the brand's equity in the market and the reviews of that product. Even if they are not labeled as Made for MagSafe, they might work as fine as other competitors.
So, while you can almost blindly trust Made for MagSafe products, a little research is advised with MagSafe compatible products. But hey, when you're saving some money, some extra time on the next won't be that big of an issue.
Signing off
Currently, the difference between MagSafe compatible and Made for MagSafe is not that wide. However, as the MagSafe accessory market builds up, Apple might add more features, like a MagSafe car mount that auto-enables driving focus on the iPhone.
At that time, the choice between the two will matter a lot. Because we might change our iPhone yearly, our accessories should last us a lifetime. What are your thoughts on the matter? Which one will you prefer? Share your take in the comment section below.
For more interesting insights into Apple's ecosystem, check out these articles:
Readers like you help support iGeeksBlog. When you make a purchase using links on our site, we may earn an affiliate commission. Read more.
A self-professed Geek who loves to explore all things Apple. I thoroughly enjoy discovering new hacks, troubleshooting issues, and finding and reviewing the best products and apps currently available. My expertise also includes curating opinionated and honest editorials. If not this, you might find me surfing the web or listening to audiobooks.