Can you take your iPhone for a swim? Will it survive a drizzle? Is it safe to use iPhone in the shower? The answer to all these and more queries is to first uncover how waterproof your iPhone is? And that's exactly what this guide will help you discover, so let's get started without further ado.
Is the iPhone waterproof or water-resistant?
In iPhone ads, Apple proudly spills drinks or splashes water on the phone to showcase their water resistance. Note the word 'resistance' and not 'waterproof.'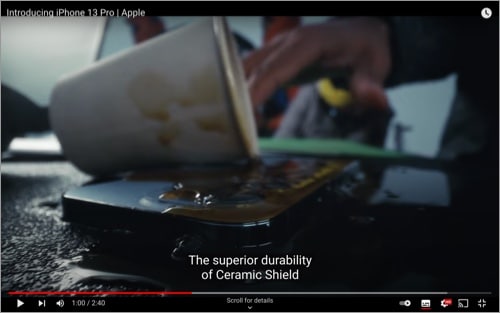 No Phone is fully waterproof, although, iPhone 7 and later carry varying degrees of water resistance. The iPhone won't survive underwater for very long, but a few minutes is fine. And how can we know how many minutes? Here's where IP rating comes into play.
What is IP water resistance rating, and how does it matter?
The IP water resistance rating is a certification given by the International Electrotechnical Commission to describe a device's durability. The IP code boasts two digits at the end, for instance, IP68
First digit – usually from 0 to 6, device's protection against solid objects.
Second digit – usually from 0 to 9, device's protection against solid liquids.
Now, to decode a device's water resistance, you'll have to check its IP rating and read the brand's fine line. So, here we go.
What iPhone models are water-resistant?
| iPhone Model | IP rating | Water resistance up to |
| --- | --- | --- |
| iPhone 13 series | IP68 | 6 meters/ 30 mins |
| iPhone 12 series | IP68 | 6 meters/30 mins |
| iPhone 11 Pro and Pro Max | IP68 | 4 meters/30 mins |
| iPhone 11 | IP68 | 2 meters/30 mins |
| iPhone XS and XS Max | IP68 | 2 meters/30 mins |
| iPhone SE (2nd gen) | IP67 | 1 meter/30 mins |
| iPhone X and XR | IP67 | 1 meter/30 mins |
| iPhone 8 and 8 Plus | IP67 | 1 meter/30 mins |
| iPhone 7 and 7 Plus | IP67 | 1 meter/30 mins |
| iPhone 6 and above | None | None |
Note: While iPhone XS and above carry an IP68 rating, the water-resistance timing and depth are different. So, don't forget to read this fine line before playing with water.
What activities can water-resistant iPhones handle?
Now, if my iPhone has an IP68 rating with up to 6 meters/30 mins water resistance, I can take it swimming with me, right? Absolutely not ⚠️🙈
As stated by Apple on its support page, the protection is not permanent, and the resistance level may decrease with regular water-related wear. So, while it might survive an accidental dip into the pool or water spillage, it would lose some of its resistance power and may succumb to water damage eventually.
Here's a list of activities that Apple recommends avoiding to protect the iPhone from liquid damage:
Submerging the iPhone intentionally in water
Using iPhone during swimming, bathing, sauna, or steam rooms
Exposure to pressurized water, i.e., water sports like surfing, jet skiing, etc.
Using the iPhone outside of the recommended temperature or humidity ranges
Minimize exposure to soaps, detergents, acids, and liquids like oils, lotions, perfumes, etc.
Is it safe to use iPhone in the shower?
While Apple specifically says not to take your iPhone in showers, there is a way, i.e., if you have the will to do some hacks. The safest and smartest trick is to buy a waterproof pouch/cover for your iPhone.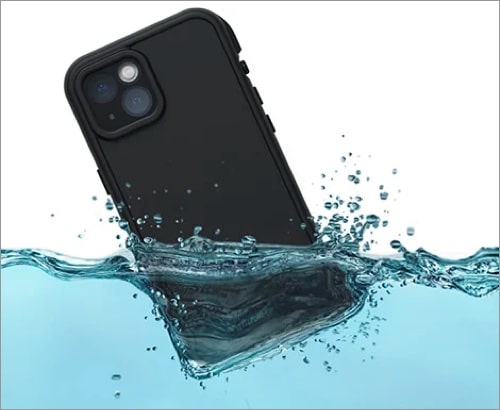 Another sly trick is to ensure that your iPhone is always out of the water's reach. However, this one could be risky. Furthermore, if it is all about listening to music or podcasts, you can invest in wireless waterproof headphones.
Note: If you are a swimmer, check out this list of swimming-friendly headphones and keep your iPhone safe from water-related accidents.
What to do if your iPhone gets wet?
If you face a minor spill from common liquids like coffee, tea, soda, juice, etc., carefully rinse the affected area with tap water or use a moist cloth to clean off spots, stickiness, or any residue.
After that, wipe your iPhone with a soft, dry, lint-free cloth. Gently tap the iPhone against your hand with the Lightning connector facing down and use the water eject shortcut to remove excess liquid.
As a precaution, leave the iPhone in a dry, well-aerated area to dry off further. Also, avoid opening the SIM tray and avoid charging or connecting a Lightning accessory for at least 5 hours.
However, if the accident is a bit more serious, i.e., you have almost bathed the iPhone in water or other liquids, the steps might differ. Shut down your iPhone immediately, remove the charger or any Lightning accessory, and check for water damage.
How to tell if your iPhone is water damaged?
Apple has very smartly equipped iPhones with Liquid Contact Indicators (LCIs). Usually, the indicators sport a white or silver color. However, it turns red when it comes in contact with water or a liquid containing water.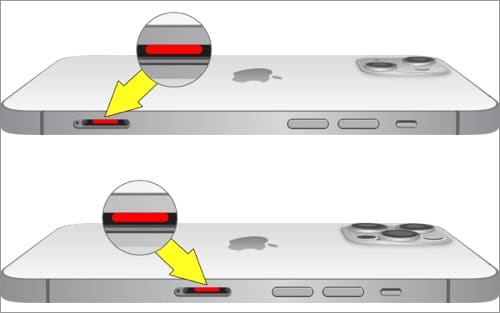 So, if the LCI of your iPhone is red, water has seeped through the barriers and mostly initiated some form of water damage. Visit this detailed Apple Support guide to see where the LCI is located on your iPhone and whether it is activated or not.
Does AppleCare cover iPhone water damage?
No, Apple doesn't cover liquid damage to an iPhone under its one-year limited warranty. The whole concept of LCI is developed to detect such a situation, and if it's red, you'll have to chip in for the repairs.
Interestingly, this also brings up an important question. Imagine you have broken the iPhone screen and got it replaced. Would the water resistance, or shall I say the seal is still intact?
Will iPhone remain water-resistant after repairs?
The answer is yes and no 😧😧. Basically, when the device is opened, the waterproof seal gets broken and needs a replacement along with other repairs.
If the repairs are performed by an Apple-approved store/technician, replacing the seal is part of their job, so the answer is yes.

However, in the case of third-party repairs, the seal might not be replaced, and thus your iPhone might not be as water-resistant as before.
Signing off
Hopefully, all your questions about iPhone's water-resistance status have met their suitable answers. If not, feel free to use the comment section below and share your concerns or queries.

Want more insider info about your iPhone? Here are some links you should check out
Readers like you help support iGeeksBlog. When you make a purchase using links on our site, we may earn an affiliate commission. Read more.
A self-professed Geek who loves to explore all things Apple. I thoroughly enjoy discovering new hacks, troubleshooting issues, and finding and reviewing the best products and apps currently available. My expertise also includes curating opinionated and honest editorials. If not this, you might find me surfing the web or listening to audiobooks.