Music and workout are a match made in heaven. But what if your choice of workout or profession is swimming, underwater adventure, or something on these lines? That's where the best swimming headphones come to the rescue! So, just keep swimming scrolling.
What's more? It's not just another list of products; I have curated this extensive guide after tons of research and expert guidance. And hopefully, I'll be able to help you out with all the answers you need; if there are still a few questions left, ping me in the comment section below.
Types of waterproof headphones for swimming
The right pair of waterproof headphones is as important as a great swimsuit for audio lovers. And before we find the right one, a brief peep into all available variety is a must.
Wired earphones – They look, feel, and perform like a normal pair of wired earbuds, except these are waterproof and usually boast a shorter cable. Most importantly, they need to be connected to a waterproof MP3 player, supported fitness watch, etc.

Bone conduction headphones – Placed over the cheekbones, these headphones transmit sound directly to your inner ear via vibrations. The best part, they don't block your ear canal. However, the sound quality is debatable.

Integrated MP3 player – As the name suggests, these waterproof headphones boast a built-in media player, so you don't have to depend on an external one. Although, these might be a little pricey and can give you battery woes.
Why not wireless earbuds? – Simply put, Bluetooth doesn't work well underwater, as its signals only penetrate water for a very short distance. So, unless you can take your phone or player underwater, they won't work.
Underwater headphones for swimming
1. H2O Audio Interval Swim – Best waterproof headphones for Apple Watch
Type: In-ear and bone conduction
Connection: Bluetooth Apple Watch
Water resistance: IPX8, up to 12ft underwater
Battery life: 6 hours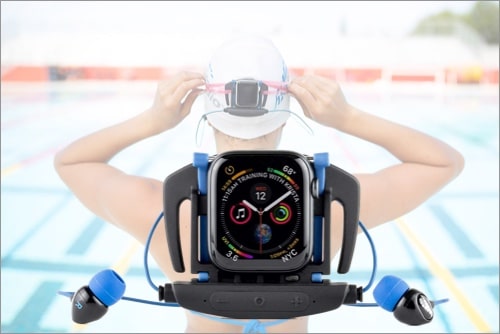 Interval Swim is a specially designed accessory for swimmers with Apple Watch (Series 2 and above). And as the brand claims, it is the only waterproof headphone system for the watch currently available.
Interestingly, you can choose between an in-ear or bone conduction variation. Both models house integrated goggle loops to securely hold almost any swim goggles.
Another native benefit of the Interval Swim is that you can enjoy the media app of your choice, Apple Music/Podcasts. Spotify(beta), Audible, and more. Notably, the watch will use offline play and might need a subscription.
You also get access to the My Swim Tracker app (beta) that'll log your swims, give audio lap counting, help you reach your goal, and close Apple Watch rings.

2. Sony NW-WS623 – Best walkman for swimmers
Type: In-ear
Connection: Built-in MP3 and Bluetooth
Water resistance: IPX8, up to 6.56ft
Battery life: 12 hours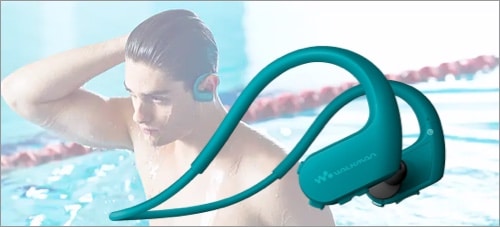 Sony's NW-WS623 is a fantastic asset, as it seamlessly works under and above water. It is sweat-resistant, dustproof, and can endure extreme temperatures (-5°C to 45°C), plus survive up to 2 meters (6.56ft) of salt & freshwater.
And alongside an internal 4GB storage, it also supports NFC and Bluetooth technology. So you can also stream music from your iPhone (when not underwater).
There's more! NW-WS623 is ergonomically designed for maximum comfort; it houses a built-in mic for hands-free calling, an ambient sound mode, and quick charging (3-minute for 60-minute listening time).
This headphone is the perfect companion for any adventure streak, including swimming in private/public pools or ocean and lakes.
Buy now: Amazon
3. Swimbuds Sport – Most affordable waterproof headphones
Type: In-ear
Connection: Wired 3.5mm
Water resistance: IPX8
Battery life: NA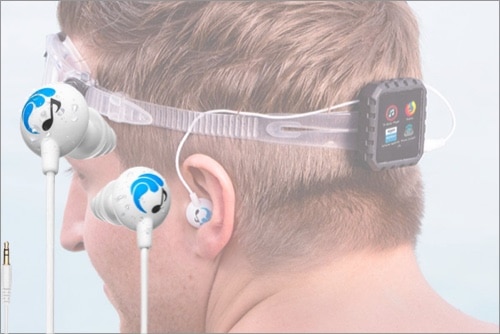 Swimbuds Sport waterproof headphones pack almost everything you need from a swimming companion, and that too on a decent budget. A flip-proof, 100% waterproof seal for starters, so you don't have to break and adjust the headphones repeatedly.
Then the extra short 40cm cord effortlessly connects with the waterproof music player without leaving loose cables, making way for tangle-free strokes. The box also contains an extension if you need one for other activities.
Furthermore, it employs 3rd gen HydroBeat technology, allowing truly optimized sound and lower drag. You also get 11 pairs of earbud tips in 4 unique styles to accommodate various activities, like deep diving, surfing, running, gyming, etc.
Buy now: Underwater audio | Amazon
4. Shokz OpenSwim – Best bone conduction earphones for swimming
Type: Bone conduction
Connection: Built-in MP3
Water resistance: IPX68, up to 6.56ft
Battery life: 8 hours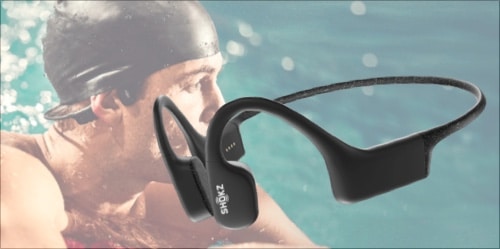 Shokz OpenSwim (formerly AfterShokz Xtrainerz) boast a signature open-ear design and 7th generation bone conduction technology. The bud-free design doesn't block your ears and reduces the chances of infection or irritation.
But most importantly, it enables you to hear ambient sounds like our coach's encouragement or lifeguards' whistles. So, you can be in your zone, listen to your jam, and still be approached when needed.
The 4GB storage allows you to load up to 1200 songs in various formats. And three convenient buttons over the right ear give all the playback control. While you can use it for other outdoor activities like cycling and running, a few things are missing here.
For one, the sound tends to bleed when used above water. And the lack of Bluetooth support means, wired connection all the time. So, it is perfect for swimming and just good for other activities.
5. AGPTEK Swimming MP3 Player – Amazing battery life
Type: In-ear
Connection: Built-in MP3
Water resistance: IPX8
Battery life: 18 hours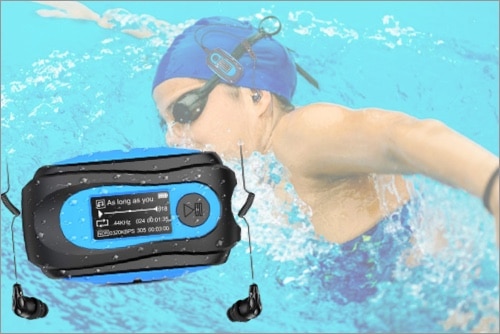 AGPTEK offers an 18-hour battery life, up to 2000 songs (8GB) capacity, 1.5 hours total charging time and a budgeted price point. And that's not all; you also get generic playback controls, radio, folder view, shuffle mode, and other such settings.
The pack also includes 3 layers in 3 different sizes, ensuring the right and leakproof fit. Further, a 360° rotatable clip makes it easy to attach to your goggles or shower cap. And if you're doing other outdoor activities, you can stick it to your clothes, belt, bands, etc.
Although, don't keep too high standards for audio quality. And while not bad, it is not at par with others on the list. So, only go for this one if you're not too picky about sound or need swimming headphones only for some rare occasions.
Buy now: Amazon
6. H2O Audio Sonar – The all-in-one waterproof MP3 player
Type: Bone conduction
Connection: Built-in MP3 and Bluetooth
Water resistance: IPX8, 12ft
Battery life: 7 hours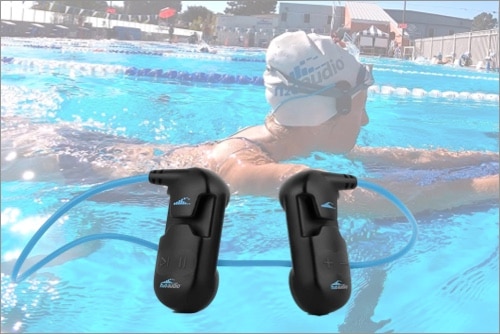 Quite matching to the Sonar in its name, this MP3 player works on the principle of vibrations, i.e., a fancy way of saying that uses bone conduction to play music in your ear. And with 8GB of storage under its hood, it brings plenty of music to your fingertips.
Moreover, to make it fool-proof, H2O employs big buttons, extra raised markings, so you can play, pause or adjust the volume with ease. But why did I call it an all-in-one swimming MP3?
Because, thanks to Bluetooth, you can connect the headphones with your Apple Watch, attach the watch to your swim goggles, and enjoy your favorite media app underwater. Plus, for activities above water level, you can connect it to an iPhone and carry on; the wireless range on-air is 30ft/10m.
7. Zygo Solo – The only phone-friendly underwater headphone
Type: Bone conduction
Connection: Transmitter
Water resistance: IP68
Battery life: 3 hours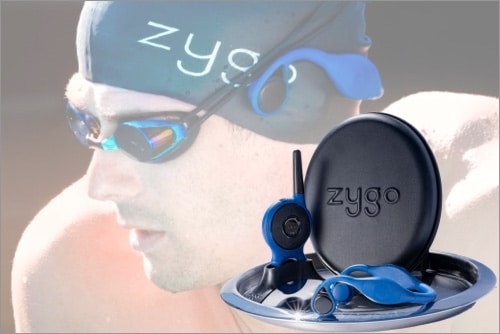 Since Bluetooth isn't that successful inside the water, Zygo brings an FM radio transmitter into the mix. You can play music, podcast, audiobooks, live workouts or coaching, etc., from your iPhone directly into your ears, even if you're underwater.
The transmitter looks like a walkie-talkie and somewhat works like it as well. The only flip side is the size; the headphone is comparatively bulky, and the whole transmitter setup is slightly heavy. However, it compensates for that with impressive sound output.
The player fades when you're on land, but underwater bass is quite profound. I should also add that the Zygo mobile app boasts killer instructor-led workouts and drills suitable to various skill levels.
Yes, it is also one of the most expensive on the block. But a worthy investment if you're hitting the pool almost daily.
Buy now: Zygo
8. FINIS Duo – Clip-on underwater swimming headphones
Type: Bone conduction
Connection: Built-in MP3
Water resistance: IPX8
Battery life: 7 hours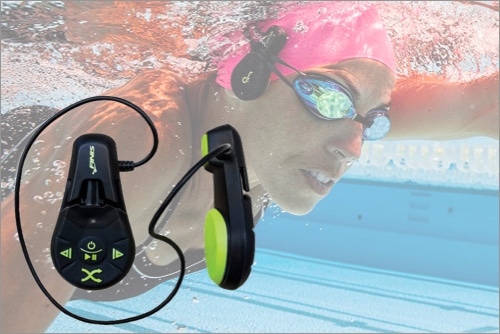 FINIS Duo will be a perfect match for someone looking out for an extremely lightweight alternative. This one doesn't have the usual neck or headband; it is just two pendant-like earpieces connected via a short cable.
The idea is to clip it on your goggle's strap and let the device rest on your cheeks. When turned on, it conducts continuous music to your ears. Interestingly, it remains steadily clipped, even during backflips.
And when you wish to fast forward, rewind, shuffle, play or pause the track anytime, large button control on the ear pendants makes it a breeze. This one's not that impactful and useful above water, so skip this one if you're looking for an all-rounder.
Buy now: Finis Swim | Amazon
9. H2O Audio Surge S+ – Best for beginners
Type: In-ear
Connection: Wired 3.5mm
Water resistance: IPX8, 12ft
Battery life: NA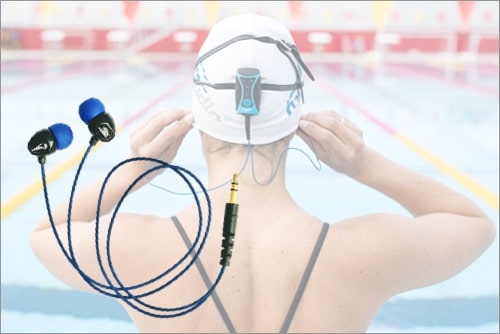 Surge S+ sport a short, approximately 1ft long cable, making it a perfect companion for any head-mounted MP3 player. And courtesy of the super-ergonomic design, the earphones are incredibly comfy and remain steady in the ears.
Furthermore, Surge S+ offers five sets of high-quality earplugs so that you will be able to easily find the perfect fit for your ears. This means you can swim freely without worrying about skipping the beat or your rhythm.
The earbuds also promise crisp and clear sound, thanks to H2O's proprietary audio technology. And at just a $40 price tag, they are perfect for beginners still exploring whether they want music or total silence during their training.
10. Swimbuds HydroActive – Best underwater headphones for laps
Type: In-ear
Connection: Wired 3.5mm
Water resistance: IPX8
Battery life: NA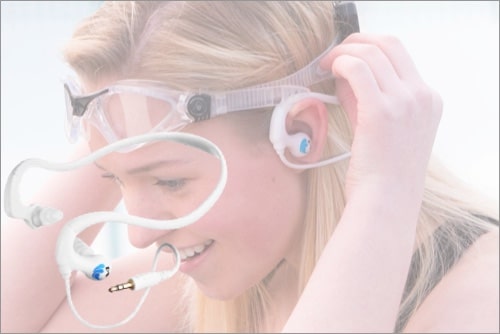 Swimbuds HydroActive removes the worry of misfit or falling out from the equation, all thanks to several design elements. Firstly, it boasts a sleek rigid frame that'll sit comfortably on your neck and keep the bud in place.
You also get several ear tips to match your activity and find the perfect fit. Then there's something known as the multiple protection chambers, making it the most watertight of all headphones, i.e., you'll get a clear and un-muffled sound.
And while other swimming headphones have dependability on your cap or goggles, this one is free. You can easily wrap on or off the headphone without interfering with other accessories.
Though it might not be suited for deepwater activity, it is great for laps, aqua-aerobics, canoeing, kayaking, etc.
Buy now: Underwater Audio | Amazon
How to choose the best waterproof headphones for swimming?
The term 'best' is always subjective, as what works for you might not work for others. However, certain parameters can surely help you narrow down the list.
Connection type – As discussed and seen throughout the article, each option has its merit and cons. You'll have to choose what sails your boat best.

Sound quality – Again, a very subjective topic, some like simple, some bass-heavy, and some audiobook and podcast addicts like me prefer speech over the tune. What's your style?

Versatility – Do you keep separate headphones for various activities, or do you want one of them to do it all?

Waterproof rating – Always check the IP rating, a minimum of IPX8. Plus, compare the depth and time mentioned by the manufacturer with the activity you intend. Almost all branded and good products will have these specs outlined in the description.

Eartip Fit – Does the headphone offer a variety of tips and sizes? If yes, you can safely assume you'll get a watertight seal, a must for every underwater trip.
Cord size – Obviously, you'll prefer a short cable while swimming. But does the pack include an extension for when you want to run, meditate, or cycle or something? Or you'll buy one separately.

Battery life – Again, depending upon your activity, do 5- 6 hours suffice, or do you want more? And if a quick charge is available, does that make a difference?
These are more or less the key points you should consider before purchasing the right waterproof headphones for yourself. And if you need more help, the comment section is always open.
What's your pick?
My pick would be any H2O Audio offering; they have the right balance of sound quality, features, a product built, and price point. And if I am not limited to just swimming, Sony NW-WS623 is a remarkable offering. Share your pick with us in the comments below.
Meanwhile, here are some amazing articles you may enjoy:
Readers like you help support iGeeksBlog. When you make a purchase using links on our site, we may earn an affiliate commission. Read more.
A self-professed Geek who loves to explore all things Apple. I thoroughly enjoy discovering new hacks, troubleshooting issues, and finding and reviewing the best products and apps currently available. My expertise also includes curating opinionated and honest editorials. If not this, you might find me surfing the web or listening to audiobooks.