Using earphones to listen to your favorite music can be soothing, and for audiophiles, the distinction between a decent and fantastic one is the build quality. Wired earphones are still popular, even if wireless headphones are all the rage. Although most high-end, wired earphones are fantastic, not everyone's pocket can accommodate one. I tried to select the best options while keeping their prices reasonable. Here is a list of the best wired earphones for iPhone.
1. Apple lightning connector EarPods – Editor's choice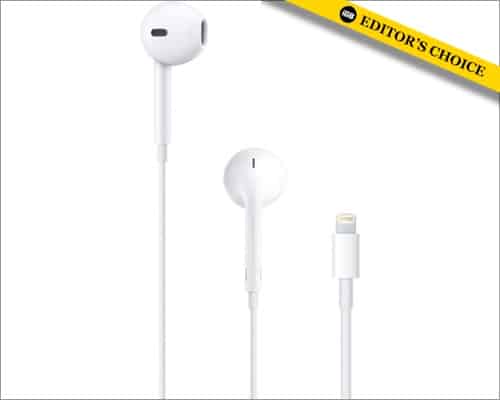 With these Apple EarPods, you can feel and groove to every note. Unlike the standard circular earbuds, they offer an ergonomic shape that allows them to sit comfortably in your ear. Additionally, using the built-in remote, you can easily play, pause, or skip the tracks.
The product's built-in speakers offer you high-quality sound. I was hesitant to purchase the wired earphones at first, but once I began using the product, it now feels better than TWS earbuds since we don't have to keep track of charging, and it doesn't hurt the ears. I am sure many others out there feel the same. If so, this is the best wired earphone on the market.
Pros
Sound is euphonious
Snug fit
Superior sound quality
2. Sennheiser AMBEO – Smart earphone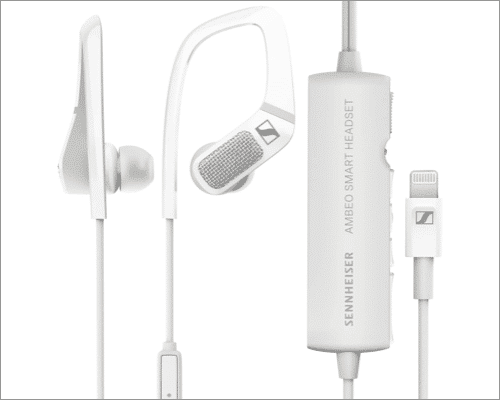 When it comes to design, there's hardly a product better than Sennheiser AMBEO smart headsets. What distinguishes these earbuds is the ability to choose between the transparent hearing mode, which enables you to stay connected to the world and monitor what's going on around you, and the active noise canceling mode, which separates you from the rest of the world on demand.
The noise-reduction mechanism packed with this earphone also provides incredible clarity. Additionally, because the ear tips are delicate, you'd be happy to wear them all day. More importantly, the earbuds have a remote that allows you to control music and phone calls. It also has two unique buttons at the top and bottom.
The top button is individually programmable and may be assigned to any purpose, while the bottom button allows you to transition between two audio modes effortlessly. Moreover, the remote section also features an in-built microphone that enables 3D recording.
Pros
Transparent hearing mode
Snug ear fit
Programmable button
Cons
Crackling sounds are heard at the receiver's end
3. PALOVUE – Noise cancellation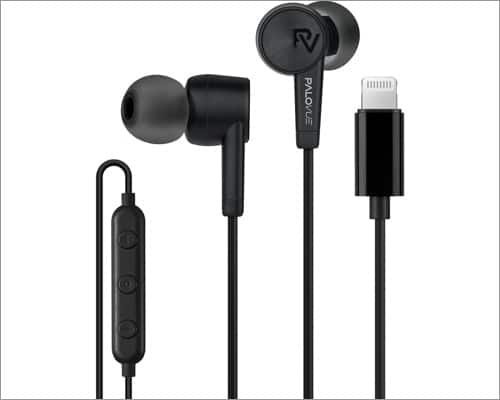 The PALOVUE earbuds are designed with a shock-absorbing superior protective HDPE wrap and are Apple MFi certified, which makes them a perfect companion for your iPhone.
The gadget prevents background noise from interfering with your peaceful hands-free calling. Furthermore, the 10 mm dynamic driver in each ear has been tweaked for crisper mids and deeper bass.
Music and phone calls are easy to handle, which is thanks to the responsive buttons. One of my favorite features of this wired earphone is the option to activate Siri by long pressing the main button. The reasonable replacement policy is another reason to choose it.
Pros
Resistance to abrasion
Elegant design
4. Uni – Noise isolating earphones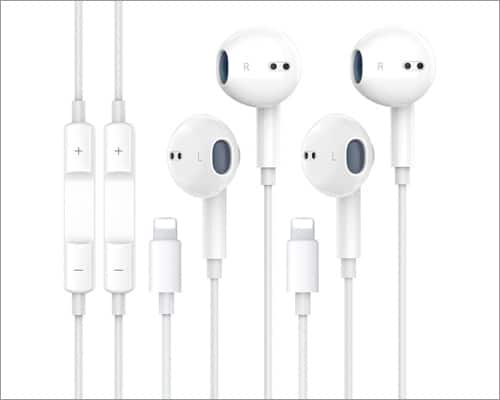 Uni has created yet another fantastic set of MFi-certified lightning earbuds with 48 kHz and 24-bit audio output to ensure sound transmission reliability and quality. The design also helps to reduce ambient noise, resulting in a more melodious and immersive experience.
Furthermore, the earphones are made to properly fit your ear canals, creating a balance between comfort and quality. Simultaneously, an in-line mic/remote allows you to accept and stop calls, play music, change songs, and control the volume with the press of a button. The funny part was that it prompted me to enable my Bluetooth before connecting. Other than this, you receive a pack of two which in consideration is a deal to grab.
Pros
Thunderous
Light weighted
Flexible material
Cons
Unsure about build quality
The set up can be tricky
5. Symphonized NRG – Classic earphones
Check out this Symphonized NRG if you want an earphone made of wood. It comes in a range of hues, including black, red, and white, making it easier to choose attractive earphones. The wood placement is the most distinguishing characteristic of the earphone, which also delivers clean acoustics, deep bass, and stereo surround sound.
It offers superb sound and comfort; it is intended to adapt to the natural contours of your ear for a secure and ergonomic fit. The earphones help keep outside noise from interfering with your quiet hands-free calling. It's a lot simpler to operate music, calls, and Siri, now that the buttons are responsive. Finally, the product is comprised of TPE cable, which keeps it tangle-free.
Pros
Rich tone
Superior craftsmanship
Comes with 9 ear tips
6. Thore V100: RVRB – 8 tuned earphones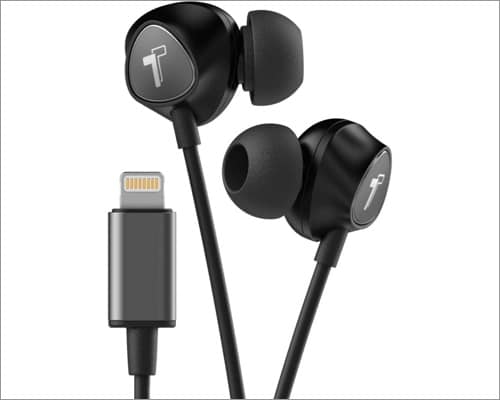 The Thore lightning MFi certified earphones are ideal for appreciating music in its entirety since they provide all of the necessary characteristics. With its RVRB-8 digitally tuned earphone pairs, the device is widely regarded for producing loud and accurate sound. The set contains three sizes of silicone gels to ensure a comfortable fit for ears of different shapes and sizes.
The noise-canceling technology prevents commotion from distracting you during calls, which is also due to the snug fit of the earphone. Furthermore, the responsive buttons make altering the volume and ending calls simple. What's more, these amazing earbuds come in three appealing colors: black, white, and rose gold.
Pros
Affordable
Comfortable wear
RVRB-8 tuned
Cons
Noise cancellation isn't up to the mark
7. Skullcandy – Sweat-proof earphones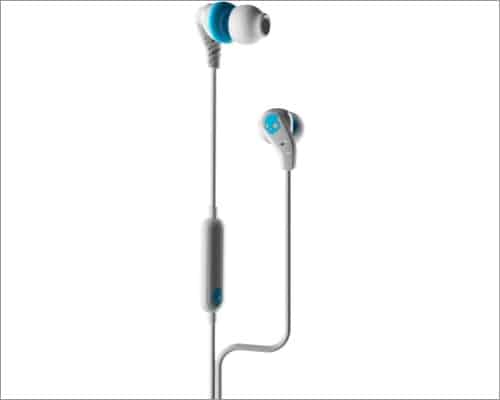 The Skullcandy earbud will make immerse you in an excellent music experience, thanks to sophisticated noise reduction technology. The product's ear tips are so comfortable that you'll never want to put your music on hold.
With a single touch, you can effortlessly manage your music and answer calls. Also, the embedded microphone in the earphone produces quality sound, which improves your hands-free calling experience. Furthermore, these amazing earbuds are water and perspiration resistant to IPX4.
Pros
Noise cancellation
Robust
IPX4 splash resistant
8. Guguearth – Lightweight earphones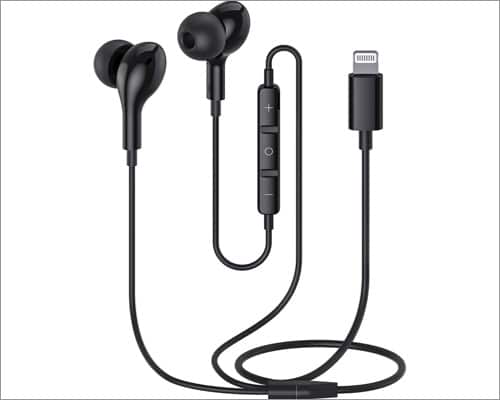 Guguearth's lightweight magnetic designed earbuds wonderfully demonstrate that brilliant design is more than simply appearances. In the long term, the MFi-certified product is designed to completely fit your ear canals and be worn while conducting regular tasks. The clean high tones bring your favorite songs to life. The Lightning earbuds may easily steal the show with high-fidelity sound quality driven by built-in high-grade processors and innovative, dynamic drivers.
Noise cancellation is available to guarantee your music experience is to your heart's liking. The earphones amplify music to provide high-quality sound. It includes three button controls that allow you to conveniently play/pause music or make/take phone calls. The manufacturer is confident in its product and will provide free maintenance for the next two years if it sustains any damage under normal conditions.
Pros
A pouch is added to the bundle
High sound quality
Livable
Cons
Less bass
Fitting is a problem at times
Expensive
9. Belkin – SoundForm earphones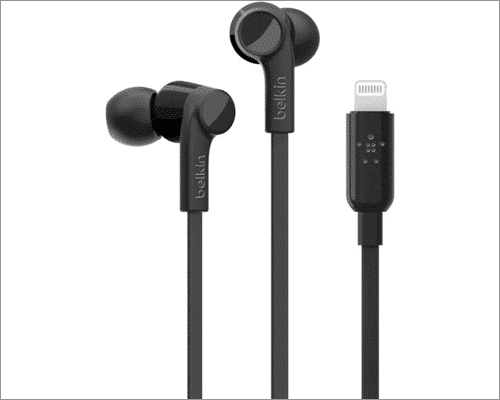 As one of the market's veterans, Belkin has all the traits to be your trusted asset for enjoying music in its full-fledged form. The innovative design of the earphones has piqued my interest. The smooth ear tips fit snugly in the ears, and the noise-canceling technology prevents cacophony from distracting you during calls or when listening to music.
Changing the volume and terminating calls is a breeze with the responsive buttons. Another notable feature of the product is its sweatproof material, which is also tangle free. In terms of colors, you have two options: black and white. In addition, you will receive one pair each of small, medium, and large silicone ear tips.
Pros
Precipitation proof
Sturdy
Cons
Heavy
Doesn't block noise perfectly
10. Debado – Dulcet earphones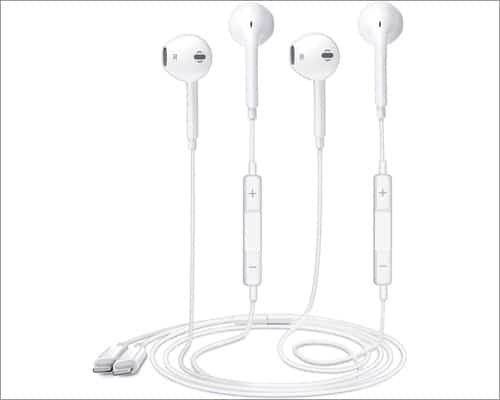 Here's another excellent pair of MFi-certified lightning earphones made of high-quality copper and covered with three-layer protection: an aluminum layer, a fibrous layer, and TPE rubber. One of the odds, when we try to connect the product to iPhone, is that Bluetooth must be enabled.
Furthermore, the earphone is a member of the flyweight group, and its in-ear construction and ergonomic angular form provide you the comfort of listening to music for an extended period of time. Simultaneously, an in-line mic/remote allows you to accept or deny calls, play music, and control the volume with the push of a button. One of the reasons I included it in my list of the best earphones for iPhone is that it comes in a set of two.
Cons
Requires Bluetooth to connect
Unsure about the build quality
Which one are you going to buy?
That's all, fellas! These are some of the best wire earphones currently available in the market for iPhones. Did I miss your favorite brand? If so, mention it in the comments section.
Read more:
Readers like you help support iGeeksBlog. When you make a purchase using links on our site, we may earn an affiliate commission. Read more.
Bhaskar is a tech guru who turned wordsmith. Hiding his B.Tech degree in a closet, he ditched the corporate path to simplify tech for everyone. For the past 5 years, he's been dishing out how-tos, reviews, and sharp insights. But there's more! He's a witty interview champ and has been sharing his wisdom for 3 years. Furthermore, he has honed his editing skills for 1.5 years and is now delving into marketing to assist newcomers. When not jamming his fingers on those mechanical keyboards, you may find him on strings or engaging in sports. And by evening, his quotes will be appearing on your Instagram feeds.