The AirPods are, without a doubt, among the best earphones available for Apple devices. They may sound great, but you should take adequate care of them.
Your AirPods may accumulate dirt and earwax over time, resulting in diminished sound quality. The first step in taking good care of them is to clean them regularly. This guide will show you some of the best methods to clean your dirty AirPods or AirPods Pro without damaging them.
Materials and tools you can use to clean AirPods
Some parts inside the AirPods are fragile, so you should be careful with what you use with the AirPods Pro. If you are wondering what to clean your AirPods with, there are specific tools you can use, and most of them should be available to you in a nearby store.
70% isopropyl alcohol wipe
75% ethyl alcohol wipe
Clorox disinfecting wipes
Cotton swabs
Soft, dry, and lint-free cloth
Toothbrush
Toothpicks
While you can use all of these things listed above to clean your AirPods Pro, make sure not to put any liquid material directly on the speaker mesh of your AirPods Pro or submerge your AirPods entirely in them. Apart from that, don't use bleach or hydrogen peroxide products. Finally, ensure that no moisture enters the openings of your AirPods Pro.
How to clean AirPods and AirPods Pro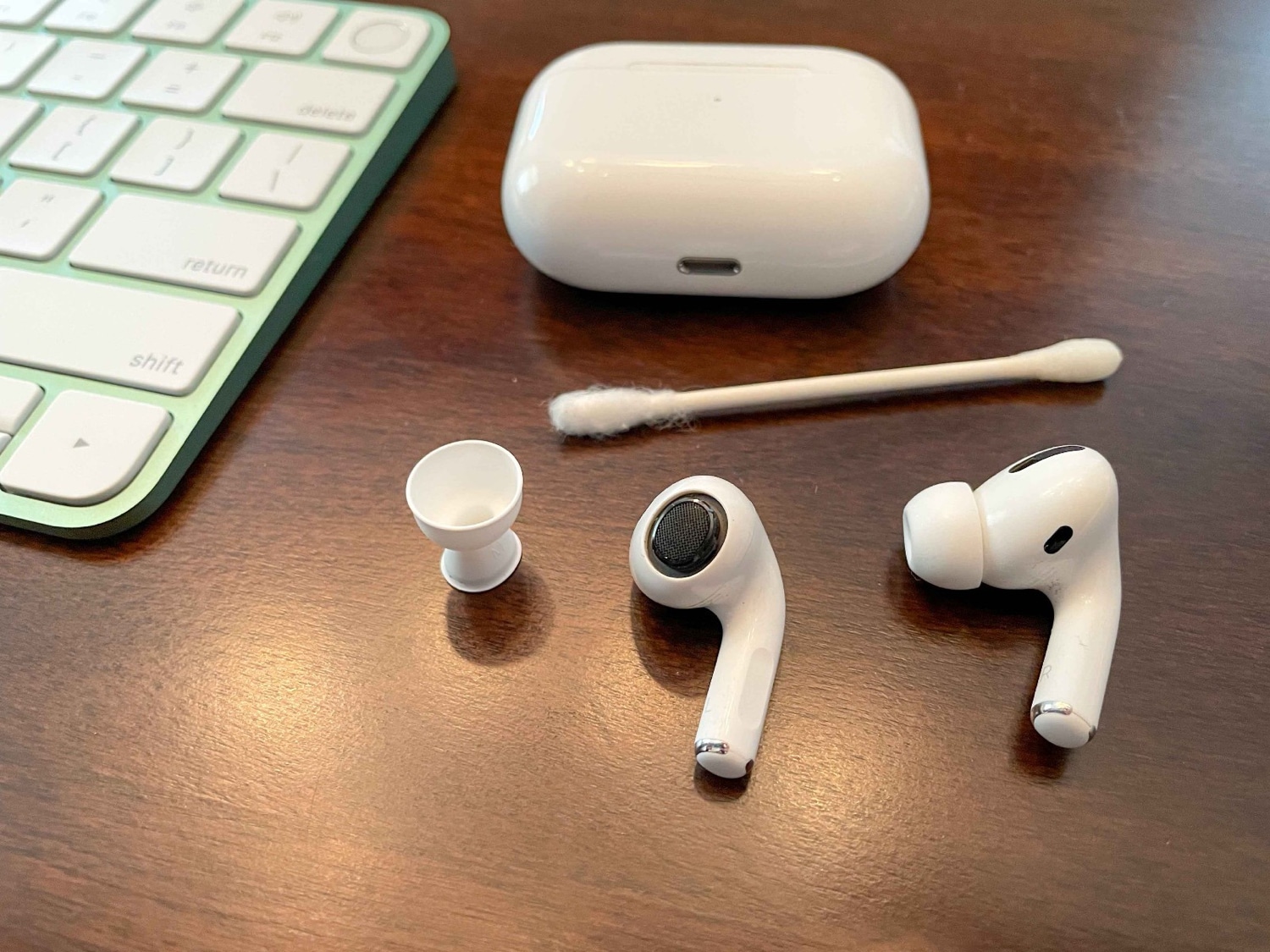 First, remove your AirPods from the case and remove their ear tips. Then do the following:
Take a cotton swab and apply a few drops of isopropyl alcohol.
Use the cotton swab to clean the surface of your AirPods.
Take a toothpick and clean the edges and small holes to scoop out the dirt and debris stuck inside.
Use a toothbrush to clean the finer debris and dust from the earpiece.
Finally, use a lint-free cloth to wipe it.
Once done cleaning your AirPod, keep them aside for a while in a dry cloth. It will allow them to dry if there's any excess wet remaining.
Clean the ear tips of your AirPods Pro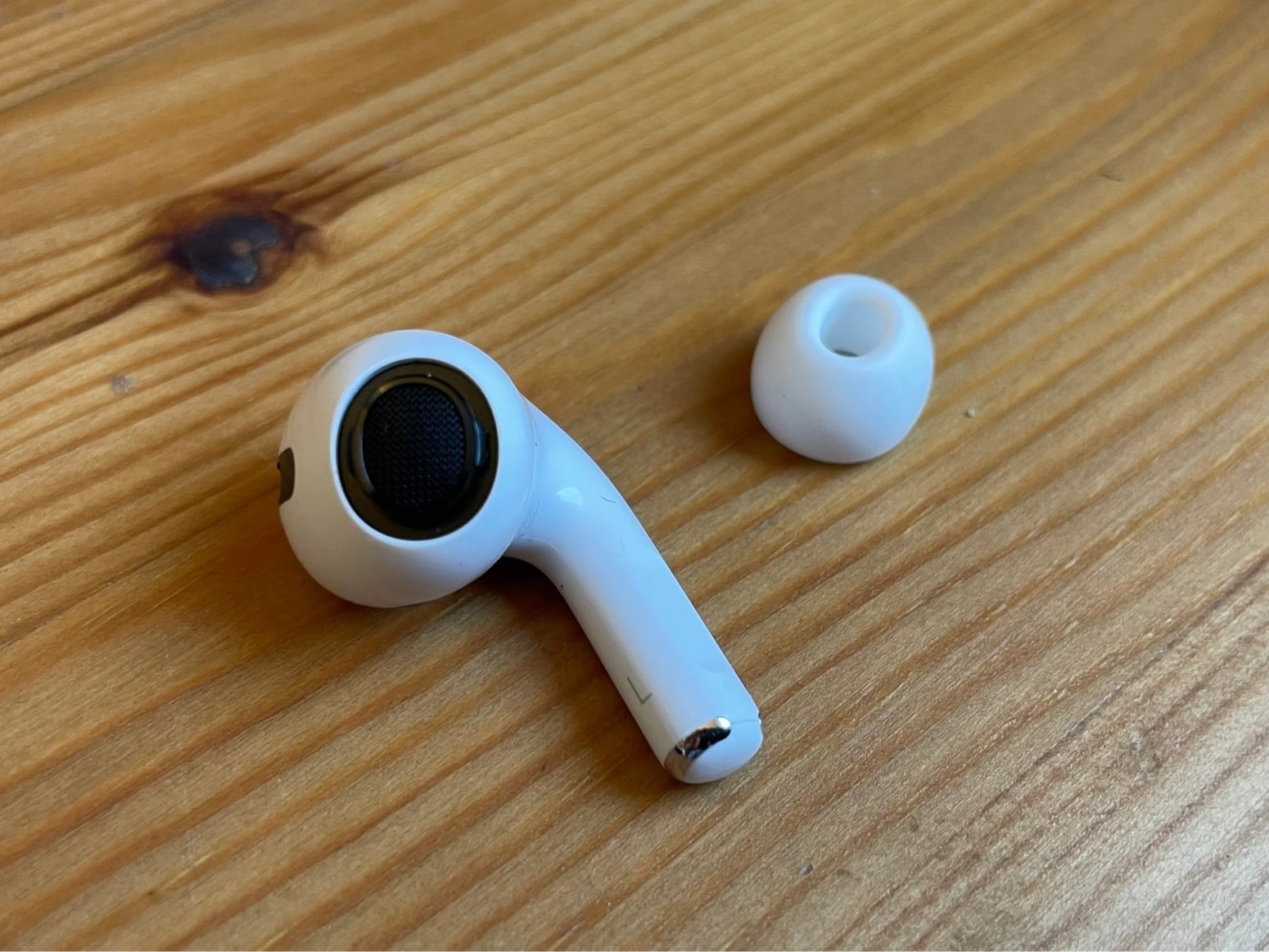 AirPods Pro comes with a removable ear tip design that helps in providing a sealed experience for better noise cancellation. Keeping them clean is as important as the other components of your AirPods Pro. Follow these instructions to learn how to clean the ear tips of your AirPods.
If you haven't already, pull off the ear tips from the AirPods Pro.
Rinse them under a tap with some water and let them drain for a while.
Wipe the ear tips with a soft, dry, and lint-free cloth.
Wait for the ear tips to dry out completely before you put them on your AirPods again.
Once dried, you can re-attach them to your AirPods. Make sure they make the click sound so you know they got attached.
Clean the charging case of your AirPods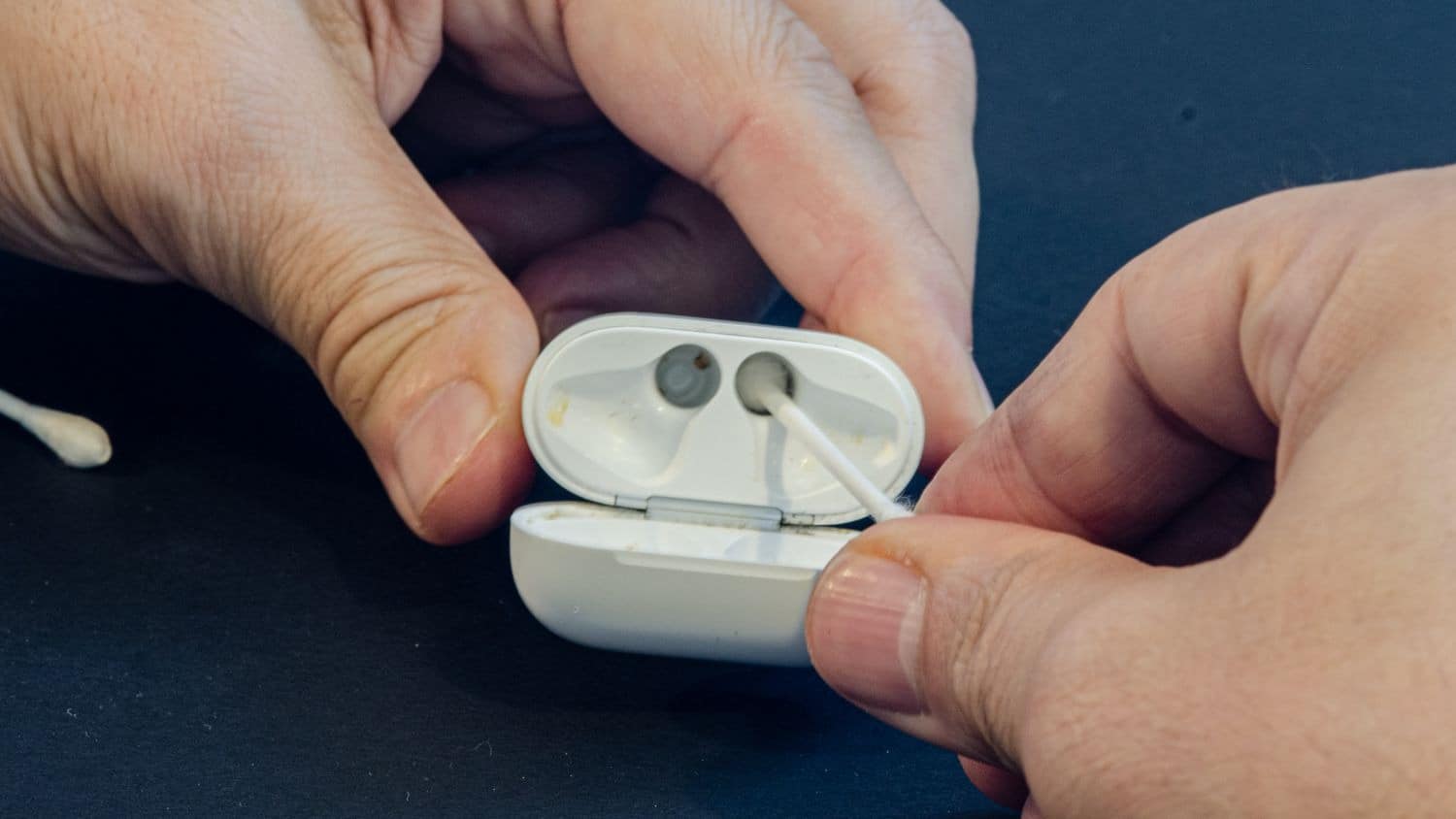 The charging case of your AirPods Pro protects and charges your AirPods simultaneously; hence, it may accumulate dust, dirt, and even scratches in the long run. So it's best to clean it regularly. That said, here's how to clean the AirPods case.
Take a soft, dry, and lint-free cloth and slightly dampen it with isopropyl alcohol.
Clean the charging case of the AirPods and let it dry for some time.
Use a cotton swab to clean inside the case and the connectors, but ensure you don't get it wet since it may damage the connectors. You can use the toothpick to reach the places where your cotton swab can't.
Take the toothpick to clean the case's charging port with little to no pressure. However, you'll have to be very careful since it contains fragile electrical components.
Dry the case with a dampening towel if there's any moisture left on the case.
Don't use the charging case immediately since it may still contain moisture. So it's best to leave it for a few hours opened and face down on a cloth, which will absorb all the moisture.
FAQs
Is it okay to wash AirPods?
No, it would be best if you didn't run your AirPods under the water since it will damage the internals of your AirPods, leading them into damage. However, you can wash the ear tips to clean them.
What happens if you don't clean your dirty AirPods?
If you don't clean your AirPods, in the long run, it will affect your ears. Earwax will build up, leading to ear pain, fungal infections, and other potential ear issues. In addition, the sound quality of your AirPods will also decrease over time and provide you with a bad listening experience.
I hope you can easily clean your dirty AirPods or AirPods Pro using the above guide. It helps maintain good hygiene, better sound quality, functionality, and comfort in the long run.
Read more:
Readers like you help support iGeeksBlog. When you make a purchase using links on our site, we may earn an affiliate commission. Read Disclaimer.