While listening to music on AirPods Pro (1st generation), it is possible that you may hear rattling, crackling and static sounds. Bluetooth interference is the most common explanation for the issue. However, there are various solutions available. In this post, I'll run you through some quick fixes for AirPods Pro crackling sound issue.
1. Put AirPods Pro back in case
If you are experiencing the AirPods Pro crackling issue for the first time, the first thing you should do is place them back into the Bluetooth case and leave them there for a few minutes. Come back later and check if the issue has been resolved.
2. Ensure you're within Bluetooth range
Put your AirPods Pro back in its case, and yet nothing's changed? Make sure your iPhone is within the allowed range of Bluetooth for the AirPods to work properly. Also, check if your AirPods Pro and iPhone are paired and have formed a connection. Post that, try resuming the connection by turning Bluetooth on/off on your iPhone.
3. Try re-pairing the AirPods Pro
If the situation persists, try re-pairing the two devices. Go through our detailed guide in case you face the issue of AirPods Pro not connecting to your iPhone. As a workaround, you can turn off or unpair any unwanted neighboring Bluetooth devices. Hopefully, this will solve your problem, but if it doesn't, keep reading.
4. Charge your AirPods Pro completely
Another reason you could hear a crackling sound is if your Bluetooth device is running low on juice. Simply place your AirPods in the case and attach a lightning cord to charge them, and wait a few hours before using them again. If your earbuds aren't charging, check out our tutorial on how to solve AirPods not charging.
5. Try using a different music app or track
Sometimes the issue isn't with the product itself but with the app or track you're using. So, if nothing has worked for you so far, try playing a new audio track or switching to a different music app before proceeding.
6. Clean the AirPods Pro
If you've used your AirPods Pro for a long time, there's a good possibility that dirt has formed on the silicone ear tips and speaker grille. You should not clean your AirPods without first reading our article on how to clean your AirPods and charging case, as you may damage them. If you plan to get a cleaning kit to complete the task, here are our recommendations for the best AirPods cleaning kits.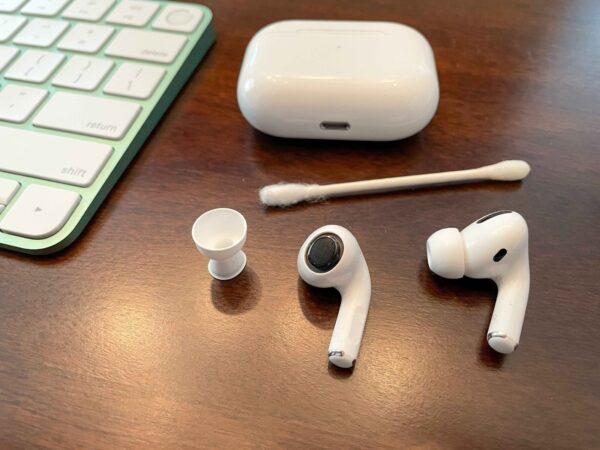 7. Update AirPods Pro firmware
It's possible that the firmware on your AirPods is outdated and bugged. If you notice a static sound coming from your first-generation AirPods, try upgrading the firmware to see if it goes away. If you can't find an update, you're suggested to place your earbuds inside its case while they are connected to your iPhone and then read our article on how to upgrade the firmware on AirPods.
8. Update your iPhone
AirPods Pro's internal software will automatically be updated as long as you're linked to an iPhone or iPad, according to Apple. So, if you're still using an older version of iOS, you may need to update your iPhone to get error-free sounds on your AirPods Pro. You may upgrade your device to the latest iOS version with these simple steps.
9. Reset your AirPods Pro
If none of the above solutions have worked, here is a penultimate solution. Factory reset your AirPods Pro to see if it makes any difference in the static noise. Before you begin, ensure you read our article and understand the steps on how to reset your AirPods and AirPods Pro before performing the task.
10. Contact Apple Support
The above-mentioned fixes are meant for crackling sound issues caused by the software. If the problem is caused by hardware issues, none of the procedures will help you. The last resort is to contact Apple Support.
Check if you're eligible for Apple's replacement program
Apple has also said that a replacement program would be implemented for certain AirPods models that have too many hardware complaints. You can check Apple's Replacement Program page to see if your AirPods qualify for a free replacement. Take them to an Apple Store near you, and you should be able to acquire a new set for free if they comply with the terms and conditions.
Note: The impact program doesn't extend the AirPods Pro's usual warranty coverage and is only applicable for the first three years after its retail sale.
FAQs
Is it normal to hear static on AirPods?
No, it's not normal to hear any sort of irregular sound or defects on your AirPods. If you hear any of such sounds, then it's time to fix them by following the above solutions or getting them replaced.
How do you know if your AirPods are ruined?
If you've accidentally spilt water on your AirPods, don't worry. Unlike iPhones, your AirPods include a Liquid Damage Indicator. The simplest method is to connect them to your iPhone and see whether they are distorting the audio.
Do Apple repair AirPods or just replace them?
If your left, right, or both AirPods Pro become defective, they will be replaced straight away. If the case is not impacted, it will not be replaced. To replace the AirPods, you must find an Apple Authorized Service Provider or visit an Apple Retail Store.
Why do my AirPods go crackly?
The crackling sounds or static noises of your AirPods Pro might be caused by either broken hardware or software. Let me tell you; it's not a pleasant experience. Let me know in the comments which of the above-mentioned methods worked for you, and don't forget to check the read more section for more solutions.
Read more:
Readers like you help support iGeeksBlog. When you make a purchase using links on our site, we may earn an affiliate commission. Read Disclaimer.