What to know about updating AirPods firmware
To be straightforward, you do not have to do anything as AirPods update automatically.
Check the current firmware version for your AirPods and match it with the latest version mentioned below.

iPhone, iPad – Go to Settings → Bluetooth → i next to AirPods name.
Mac – Go to Apple Menu → System Settings → Bluetooth → select your AirPods.
Firmware updates for AirPods are published occasionally and happen automatically without your intervention. In addition to better and improved connectivity, these updates fix existing issues or introduce something new.
If you are wondering how to update your AirPods Pro 2 or even check your AirPods or AirPods Max's firmware, here are the steps to do that.
About AirPods firmware update
Unlike iOS updates, Apple usually doesn't mention what the new AirPods firmware update includes. Plus, there are no official steps to update the AirPods. It happens automatically when the wireless buds are connected to your iPhone, iPad with iPadOS 16.1, and Mac with macOS Ventura.
The latest firmware versions are:
AirPods Pro (2nd generation): 5A374
AirPods Pro (1st generation): 4E71
AirPods (2nd and 3rd generation): 4E71
AirPods Max: 4E71
AirPods (1st generation): 6.8.8
Now, let us see how to check your AirPods existing firmware and, if needed, how to ensure it updates.
Check the firmware version of any AirPods from iPhone or iPad
Open Settings on your iPhone or iPad (iPadOS 16.1 or above).
Tap Bluetooth → tap "More Info" i button next to the AirPods.
Scroll down to the About section to see the Firmware Version

.




See your AirPods firmware version on macOS Ventura or later
Go to Apple Menu .
Select System Settings → Bluetooth.
Find your AirPods and tap the i button next to it.
You'll see the current Firmware Version here.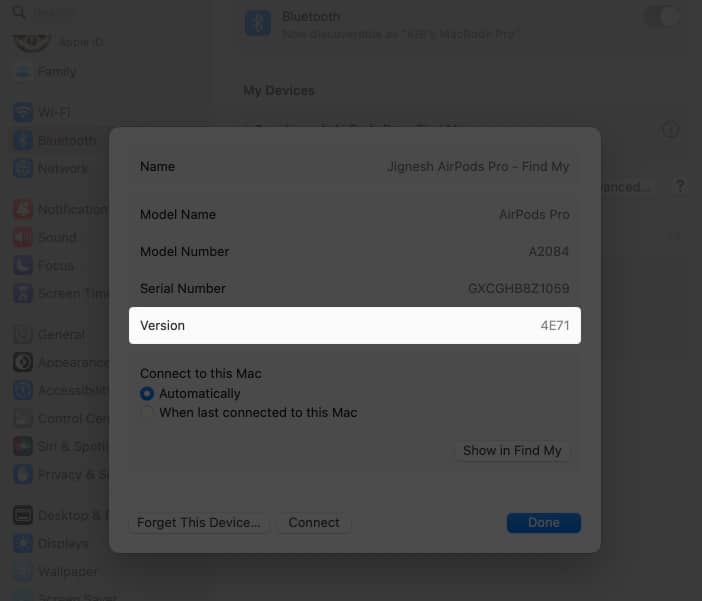 If the version displayed here is the latest, you do not have to do anything. Enjoy! If outdated, your iPhone will automatically download and install the firmware on your AirPods. You can also follow the steps below to prepare and try forcing the update.
How to update AirPods Pro 2 and 1 or AirPods 1, 2, and 3
Put the AirPods inside their charging case and connect them to power via Lightning cable or Wireless charger.
Make sure your iPhone is connected to a stable Wi-Fi network. It would also help to put the iPhone in charging. Also, ensure Low Power Mode is off.
Now, keep the iPhone and the AirPods case close and wait for a few minutes.
How to update AirPods Max to firmware 4E71
Connect AirPods Max with your iPhone and use it for a few seconds.
Pause the music and put AirPods Max inside their Smart Case.
Now, insert the Lightning cable and put the AirPods Max in charging.
Ensure your iPhone is connected to stable Wi-Fi.
Keep AirPods Max and iPhone close and undisturbed for a few minutes.
This is how to update your AirPods and enjoy all the latest features Apple has for your wireless audio device. If you have additional questions, please reach me via the comments section below.
Other helpful posts:
Readers like you help support iGeeksBlog. When you make a purchase using links on our site, we may earn an affiliate commission. Read more.
I have been an Apple user for over seven years now. At iGeeksBlog, I love creating how-tos and troubleshooting guides that help people do more with their iPhone, iPad, Mac, AirPods, and Apple Watch. In my free time, I like to watch stand up comedy videos, tech documentaries, news debates, and political speeches.