If you are always on your iPad, its screen and accessories will quickly gather fingerprints, dirt, grit, and grime. A filthy screen or accessory is unuseful and might impair lifespan and function. Fortunately, you can keep your iPad looking and performing at its best with simple cleaning techniques. In this guide, I'll walk you through step-by-step instructions on how to clean iPad screen and its accessories, such as the Apple Pencil, Magic Keyboard, cord, etc., so they feel brand new.
What are requirements to clean your iPad and its accessories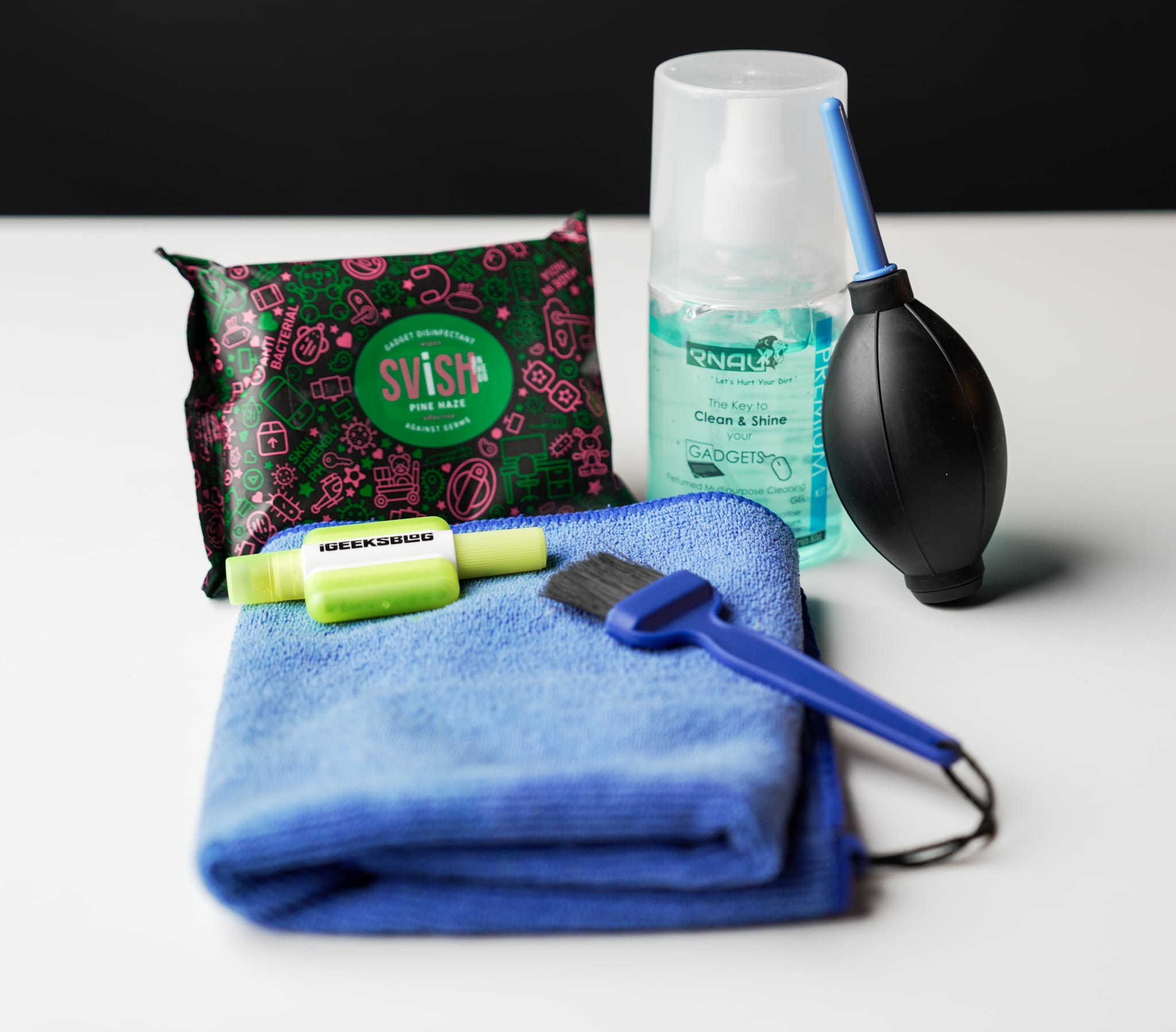 You need some essential tools to clean your iPad without causing damage. So gather them together before you start the cleaning process.
Microfiber cloth (lint-free cloth) to remove fingerprints, smudges, and dirt.
Water for general cleaning.
Low-concentrated isopropyl alcohol to disinfect your iPad and its accessories.
Compressed air to blow away dust and dirt from your iPad's ports and other hard-to-reach areas.
Soft-bristled brush to remove dust from your iPad's keyboard and other accessories.
Things to avoid when cleaning your iPad
Below are a few things you should remember while cleaning your iPad screen and its accessories.
Avoid harsh chemicals like bleach or ammonia because they can harm the screen and other parts of your iPad.
Do not use abrasive materials such as rough sponges, paper towels, or steel wool, as they may scratch the screen.
Be careful not to get water in the ports of your iPad, like the charging port and headphone jack. Water can harm the internal components of the device.
Don't spray the cleaning solution directly onto the screen to avoid liquid damage.
Avoid using too much pressure while cleaning your iPad. This can damage the screen or push the liquid into the device.
Don't leave the cleaning solution on the screen for too long, as it can lead to screen damage and leave streaks or marks.
How to clean iPad screen
Keeping your iPad screen clean and smudge-free is an easy task that you can accomplish easily. It's a good idea to clean your iPad at least once every week. Additionally, I advise you to immediately clean your iPad screen if you notice stains from food, liquid, soap, makeup, lotion, or ink.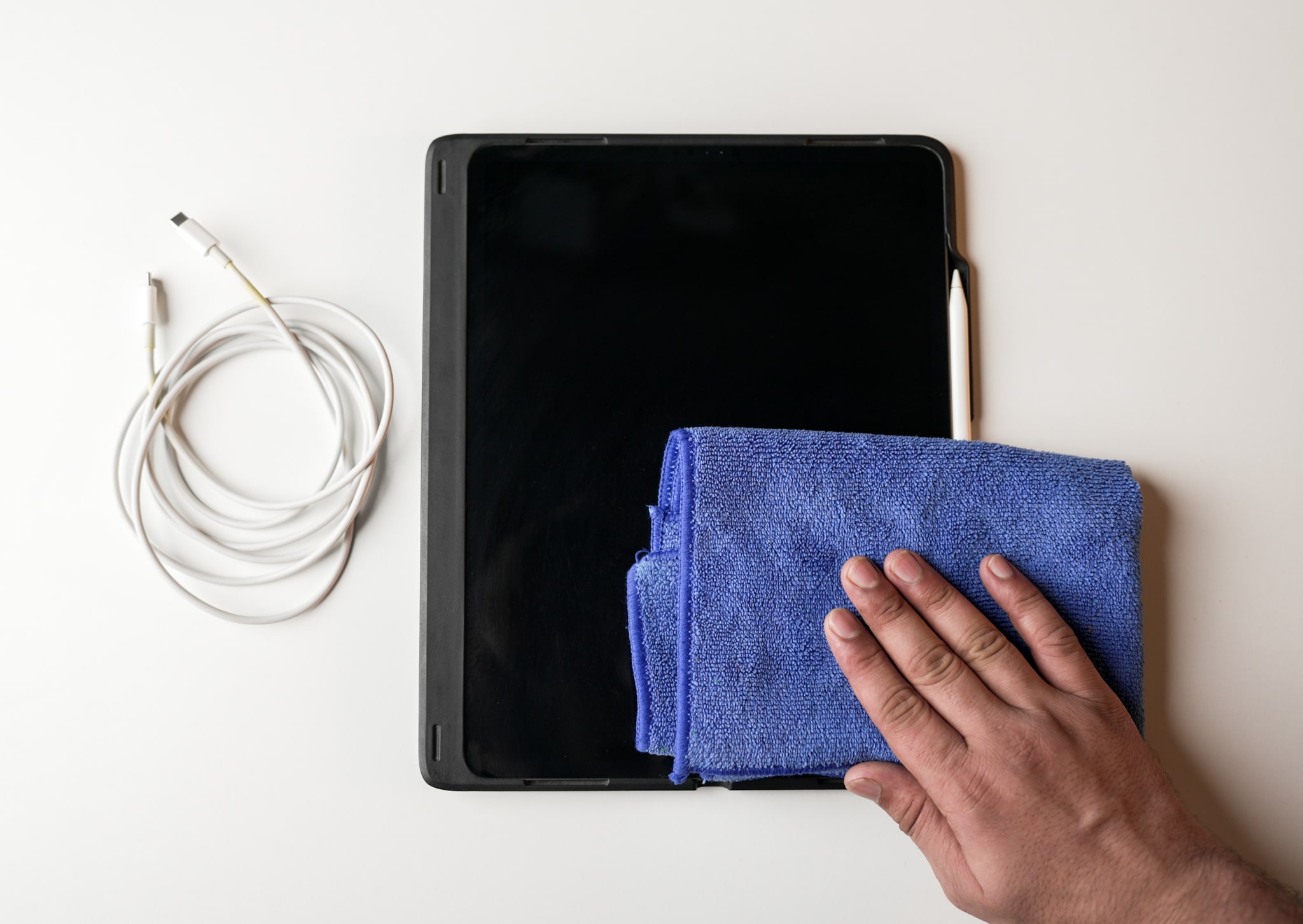 Plug out your iPad from any power source to avoid electrical damage. If you have a protective case on your iPad, remove it.
Turn off your iPad and ensure that your iPad's screen is not heated. If that's the case, wait a few minutes and let the screen cool down.
Now, lightly dampen a soft, lint-free, or microfiber cloth in the water. Make sure that the fabric is not too wet.
Then, spray the solvent on the fabric and gently wipe the screen by applying light pressure to remove any smudges, fingerprints, or dirt.
Finally, use a dry cloth to remove any excess moisture from the screen. Also, you may repeat the process until the screen is smudged or dirt-free.
How to clean your iPad accessories
We use a variety of iPad accessories to reach the highest productivity. So, you must clean them properly to increase their longevity and performance efficiency.
Clean iPad cases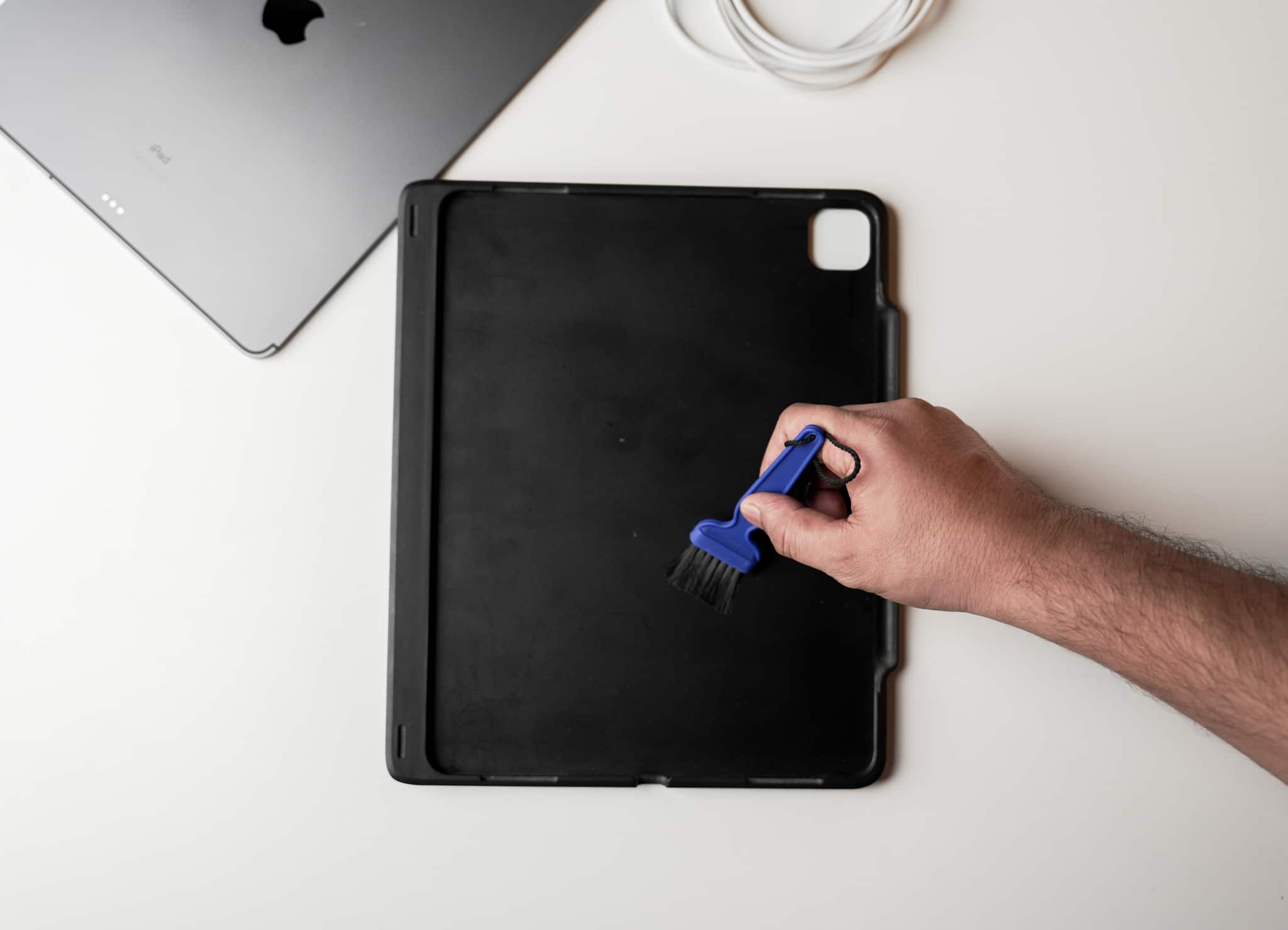 An iPad or iPad Pro case is essential to secure it from sudden bumps and drops. So, it is crucial to maintain and upkeep the case itself.
Remove the iPad from the case.
Use a soft-bristled brush or a lint roller to remove debris or dirt from the case.
Create a solution using warm water and mild soap or dish detergent.
Dampen a soft cloth with the cleaning solution and gently wipe down the case.
Rinse the cloth with clean water and wipe down the case again.
Allow the case to air dry completely before placing the iPad back.
The steps above work best for iPad silicone cases. If you are using an iPad smart cover and smart case made of leather, you must use a leather cleaning solution instead of soap. So the leather can maintain its shine. Moreover, adhere to any specific care instructions provided by the manufacturer.
Clean your Apple Pencil
Cleaning your Apple Pencil is essential in maintaining its performance and prolonging its lifespan. Here are the steps to clean your iPad's Apple Pencil.
Make sure to carefully remove the cap off the tip of the Apple Pencil, if it has one.
Wipe the Apple Pencil's tip now with a soft, lint-free cloth or a microfiber cloth to clean any dust, debris, or fingerprints.
If the tip is still unclean, dampen a lint-free cloth with water and gently wipe it. Nevertheless, don't get water on any other area of the Apple Pencil.
Wait a while for the tip to air dry. Otherwise, remove moisture using a dry cloth or an Air blower.
Put back the Apple Pencil cap when the tip has dried.
Clean iPad's Magic Keyboard case
Follow the below-mentioned tips to keep your iPad's Magic Keyboard case clean and in good condition.
Ensure your iPad is not connected to the Magic Keyboard case before cleaning it.
Blow the keyboard case with compressed air to remove the dust and dirt.
Wipe the Magic Keyboard case with a microfiber cloth to eliminate any last traces of dirt or debris. Avoid using cleaning solutions or sprays, as these can damage the keyboard.
You can gently remove any obstinate junk between the keys using a small brush with soft bristles. To protect the keys from damage, avoid using too much force or pressure.
Use a clean, dry toothbrush to carefully clean out the charging port on the Magic Keyboard case. Water and other liquids should not be used since they could harm the charging port.
Before re-connecting your iPad, wait a few minutes for the Magic Keyboard case to air dry if you use a wet cloth or cleaning solution.
Clean the iPad's cable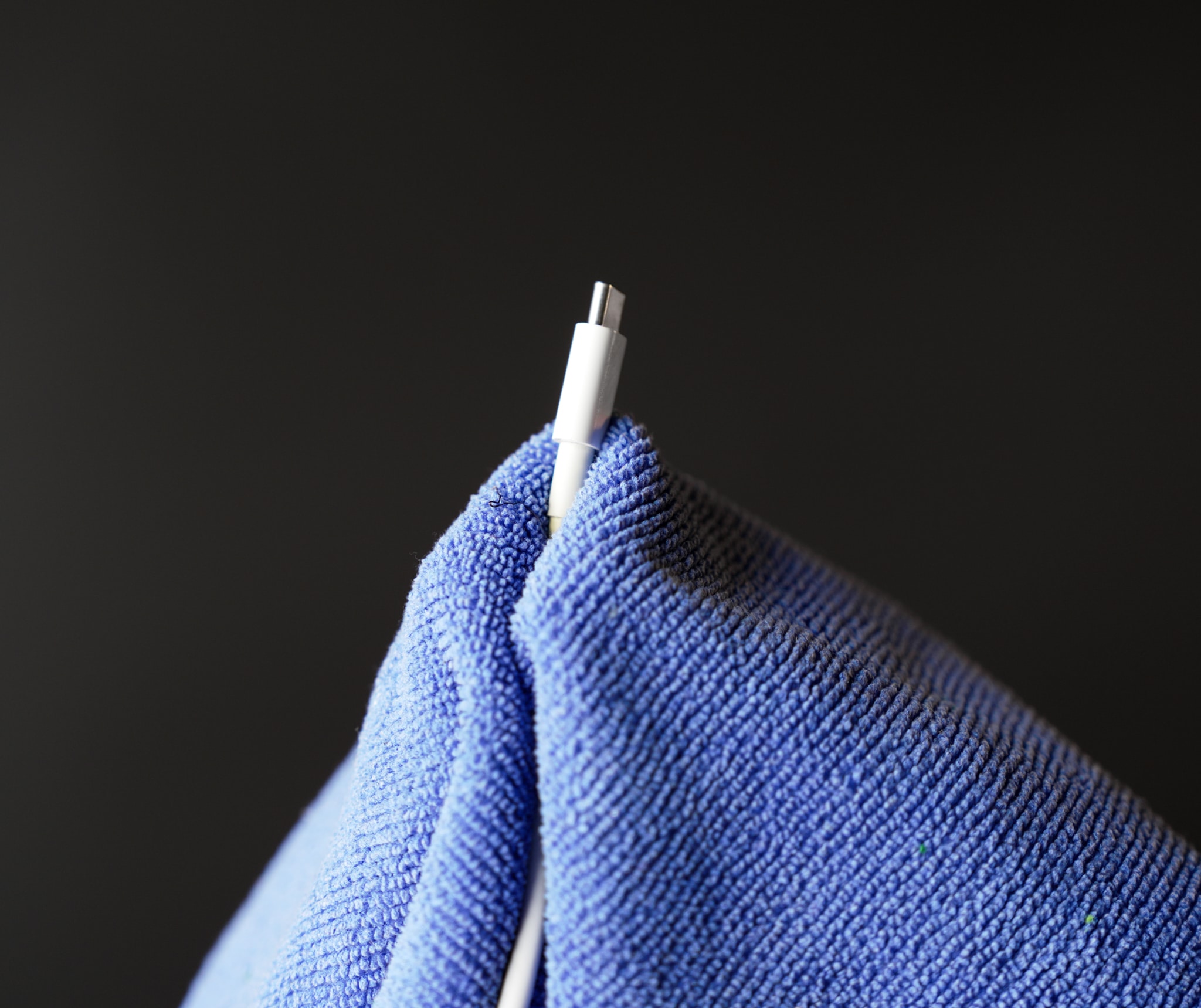 Before cleaning your iPad cable, you must confirm that it's not damaged. Assuming your cable is in good condition, follow the steps outlined below.
Unplug the cable from your iPad and the power source to avoid electrical hazards.
Wipe down the cable with a dry, soft, and lint-free cloth. You can also dampen a soft cloth or cotton swab with a small amount of isopropyl alcohol.
Gently wipe the cable with a damp cloth, focusing on areas with visible dirt or grime.
Let the cable air dry completely before using it again.
Avoid using water or harsh chemicals to protect your cable's coating or inner wires.
FAQs
How long does my iPad's oleophobic coating last?
The lifespan of your oleophobic screen coating depends on several factors, such as usage and maintenance habits. However, the oleophobic coating on your iPad's screen should last around 1-2 years with regular use and proper care.
Can I use a disinfectant wipe to clean my iPad screen?
No, disinfectant wipes shouldn't be used on your iPad's screen because they could harm the coating. Instead, you can use a microfiber cloth that has been mildly wet with water or a screen cleaning solution.
Can I put my iPad case in the washing machine?
You can put your iPad case into the washing machine. But before that, I recommend you refer to the manufacturer's instructions.
So, wasn't it easy?
I hope the guide above has helped you effectively to clean iPad screen and its accessories without damaging them. Regular cleaning of the screen, Apple Pencil, Magic Keyboard cable, and case ensures their hygiene and keeps them looking like new.
Read more:
Bhaskar is a tech guru who turned wordsmith. Hiding his B.Tech degree in a closet, he ditched the corporate path to simplify tech for everyone. For the past 5 years, he's been dishing out how-tos, reviews, and sharp insights. But there's more! He's a witty interview champ and has been sharing his wisdom for 3 years. Furthermore, he has honed his editing skills for 1.5 years and is now delving into marketing to assist newcomers. When not jamming his fingers on those mechanical keyboards, you may find him on strings or engaging in sports. And by evening, his quotes will be appearing on your Instagram feeds.