The new 10th-generation iPad offers enticing pro-level capabilities. If you've invested in one, I'm sure you're searching for methods to boost your productivity without compromising on protection. That's where keyboard cases come in! These cases protect your iPad from scratches and facilitate faster typing. So, if you are looking for such a keyboard case, here's my list of best keyboard cases for the 10.9-inch iPad (10th generation).
1. MoKo detachable keyboard case – Editor's choice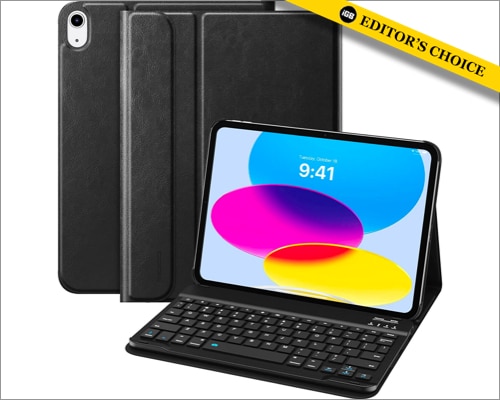 What stands out for this MoKo case is the compact design! The cover fits perfectly on the 10th-generation iPad and protects it from scratches and drops. Also, the sturdy back cover provides an ample amount of impact resistance. The outer part of the case comes in PU leather coating and has scratch-free microfibre lining, and the inner layer is anti-slippery and soft to touch.
All of the keys are incredibly sensitive and provide clear feedback. Additionally, the keyboard doesn't attract fingerprints and is scratch-proof. You can also separate the magnetic keyboard and use it as a kickstand case, depending on your need. In addition, a USB-C cable is included in the box to meet your charging needs.
If all this wasn't convincing enough, this keyboard case comes at an affordable price of $34.98! That's also the reason why it is the editor's choice and an easy recommendation.
Pros
Charging cable
Easy to carry
Detachable keyboard
2. ESR Rebound Magnetic case – Backlit keyboard
ESR is one of my preferred brands when it comes to iPad cases. This case, specifically designed for the 10th-generation iPad, comes with a high-quality keyboard and supreme protection. The aptly-spaced keys respond wonderfully and provide an improved typing experience! To top it off, the 1800g of holding force ensures the iPad stays strongly attached to the cover.
Additionally, the adjustable kickstand facilitates landscape orientation for typing; it almost feels like you're using a laptop. Furthermore, the magnetic keyboard case includes a trackpad, which lets you use gestures like tap, pinch, and swipe. All things said and done, I'd have liked to see ESR set more affordable pricing for this case.
Pros
Comes with a trackpad
Magnetic stand
Good typing experience
3. typecase Edge Slim – Magnetic keyboard case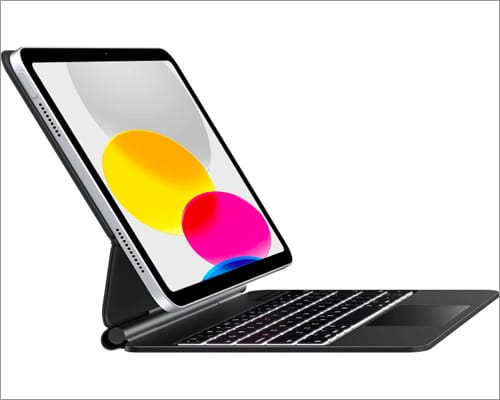 The typeCase keyboard case for the 10th-generation iPad has a lot going for it. On the outside, it's made of synthetic vegan leather with a plush anti-slip inner. This safeguards your tablet against scratches, drops, and bumps. As a result, it's ideal for both everyday usage and travel. Another interesting aspect is that the keyboard is backlit and provides a laptop-like feel.
Included with the package is a USB type-C charging cable and a handbook for step-by-step installation. In addition, the company provides a 12-month product warranty and lifelong technical support.
Pros
Easy-to-use
Leather cover
Lifetime tech support
4. HENGHUI – Aesthetic keyboard case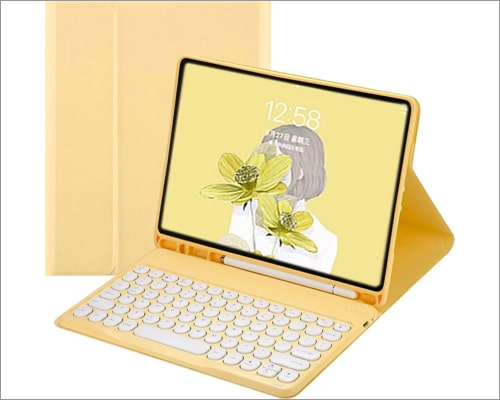 Do you want an aesthetic keyboard case for your 10th-generation iPad? Then you must check out this gorgeous HENGHUI keyboard that comes with nice rounded keys for a swift typing experience. The keyboard is rather light, and the soft shell keeps it securely in place when you're on the go. It's a great way to appear fashionable while protecting your iPad from scratches and scuffs.
Furthermore, it includes several amazing features, such as hitting Esc to access the Home Screen, F5 to access the search bar, FN to lock the iPad, and so on. The keyboard maker allows you to choose from seven colors. Another bonus is that the case is also compatible with various tablets and smartphones.
Pros
Fancy design
Multi-device compatibility
Convenient keyboard shortcuts
Cons
Apple Pencil falls out easily
5. YEEHI keyboard case – Waterproof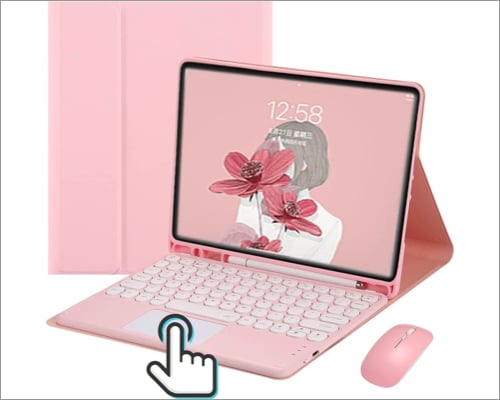 This waterproof keyboard cover by YEEHI provides excellent protection while being lightweight. The iPad (10th generation) is firmly held in a landscape position by the adjustable stand. Furthermore, the case protects against drops and scratches.
The cover includes an Apple Pencil stand. Additionally, the magnetic keyboard features a trackpad for precise navigation using tap, pinch, and swipe gestures, thereby providing a new way to interact with the iPad.
Pros
Comes with a mouse
Sleek and lightweight
Stylish color options
Cons
Gets disconnected after 5 mins of inactivity
Built quality could've been better
That's all, folks!
Now that you've gone through the above keyboard cases, please let me know which one is best suited for your needs.
Don't miss:
Readers like you help support iGeeksBlog. When you make a purchase using links on our site, we may earn an affiliate commission. Read more.
Bhaskar is a tech guru who turned wordsmith. Hiding his B.Tech degree in a closet, he ditched the corporate path to simplify tech for everyone. For the past 5 years, he's been dishing out how-tos, reviews, and sharp insights. But there's more! He's a witty interview champ and has been sharing his wisdom for 3 years. Furthermore, he has honed his editing skills for 1.5 years and is now delving into marketing to assist newcomers. When not jamming his fingers on those mechanical keyboards, you may find him on strings or engaging in sports. And by evening, his quotes will be appearing on your Instagram feeds.