The 10th-generation iPad is a spectacular October 2022 release. Although pricey, some unique features set it apart from other iPad generations. And I bet you want your new gadget protected. You've probably already invested in a protective case. Now, pair that with a picture-perfect, super-quality screen protector to give it a face-lift and prevent dents or scratches on the screen. Here are the best screen protectors for your new 10.9-inch iPad (10th generation).
1. ProCase screen protector – Editor's choice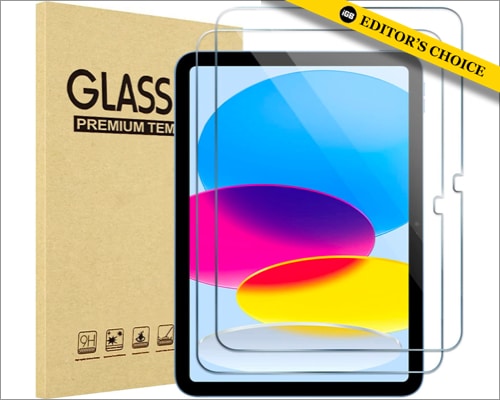 You can't go wrong with a ProCase screen protector, considering the brand's track record of making quality iPad cases. This one is a 9H super-hard tempered glass with high-definition clarity.
The ProCase 10th-generation iPad screen protector is 0.3mm thick, adding to its toughness. And, of course, this level of thickness doesn't compromise screen sensitivity. The tempered glass gives it a glossy feel that makes it pleasant to touch.
For attachment to your device's screen, this screen protector features an air-exhaustive silicone adhesin, giving it a native blend with your iPad's screen. Don't worry about fixing it. A few seconds of DIY is all you need to paste this on your iPad's screen.
Pros
Pack of 2 protectors
9H-hard tampered glass material gives it more rigidity
An air-exhaustive adhesin eases fixing
Cons
It may present adherence problems
2. iVoler ultra thin screen protector – Touch sensitive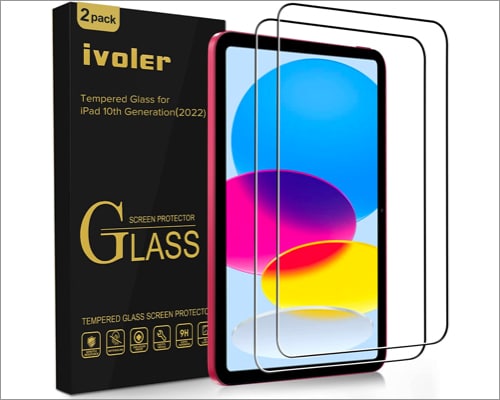 Are you looking for a screen protector with some more sensitivity? Adorn your iPad with this 2-pack iVoler screen guard. It's only 0.26mm thick, but its 9H tempered glass formation gives it the thickness you need to cruise the day with your new iPad.
The iVoler screen guard offers 99.9 percent HD transparency, plus it's multi-touch sensitive. These attributes make it sync effectively with your iPad's screen. And its sensitivity to the Apple Pen is quite impressive. Although the iVoler screen protector appears thin, it glues perfectly to your iPad's screen unnoticed.
Pros
Fits perfectly
High sensitivity
Easy to fix
Cons
The thin layer might be a disadvantage in some cases
3. MoKo tempered glass – Easiest to fix
The MoKo case has always been a life-saver on rough days. But this time, you get the choice to pair your iPad with two packs of Moko's 99 percent ultra-clear HD quality tempered glass.
With a 0.33mm thickness and 9H hardness, MoKo takes the front as one of the toughest but highly sensitive screen guards. The glass is a hydrophobic-oleophobic material, making it water and oil-resistant. You also get a soft wipe, microfiber, and dust-removing stickers in the package to clean the glass before and after fixing.
The material type protects the screen from visible dirt, as they tend to wash off easily. The inner layer is also sleek to prevent bubbles or air while fixing. Overall, a MoKo screen guard only adds to the existing quality and beauty of your new 10th-generation iPad.
Pros
The hydrophobic-oleophobic glass keeps the screen clean
The 0.33mm thickness confers strength without compromising sensitivity
9H-quality hardness
99 percent ultra-clear HD
Cons
Installation can be tricky
4. SPARIN – Detailed installation manual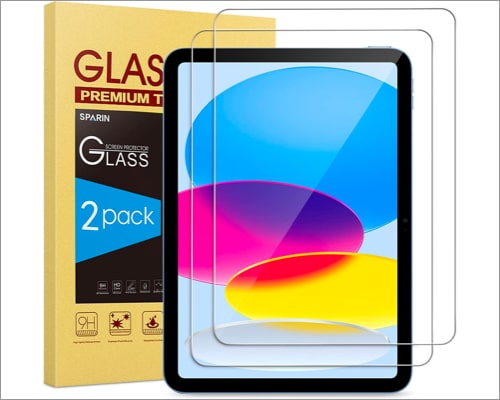 The SPARIN screen protector gets stronger as the going gets tough. It's all your new iPad (10th generation) needs to scale the day's hurdles. Get one of these and protect your iPad with scratch-resistant, 0.33mm, 9H-hard tempered glass.
It follows the 99.9 percent ultra-clear screen convention, plastering adequately to your iPad's screen. In addition to some extra cleaning fibers, you get a pack of two screen guards when you purchase this offering from SPARIN. Although this screen protector comes with an installation manual, you'll hardly need it to fix this onto your iPad's screen.
Pros
9H-protective material
Enjoy a 99.9 percent crystal-clear picture
Easy to fix
Cons
A carefree application can damage the glass
5. OtterBox Alpha glass – Lifetime warranty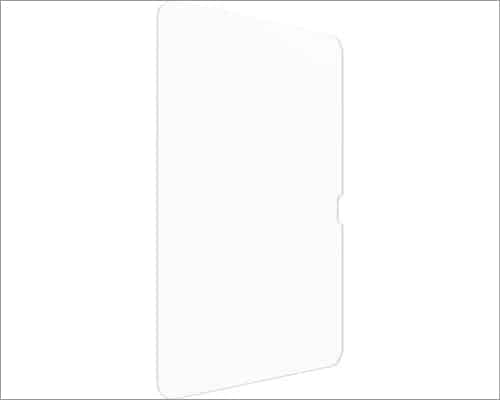 You might've already come across OtterBox in your pursuit of cases. The brand's super-high quality track record hasn't dropped in this OtterBox iPad 10th Generation screen protector either.
The OtterBox screen guard is second to none with its glossy finish glass made with advanced alpha glass. This gives your iPad an ever-shining look. The glass is also super-sensitive to the touch despite its strength. As a bonus, you get a lifetime warranty when you purchase an OtterBox screen protector.
Pros
High sensitivity
Two-times scratch protection
A lifetime warranty is available
Wrapping up…
The new features of the new iPad 10th generation are a hard pill to swallow. The A14 Bionic chip, 16-core neural engine, and many more features are hard to ignore. I feel the value placed on your new iPad. And that's why I selected the best screen guards to compliment your expensive iPad. Feel free to choose from the list.
Read more:
Readers like you help support iGeeksBlog. When you make a purchase using links on our site, we may earn an affiliate commission. Read more.
Idowu is an avid tech writer and a software surfer who loves covering knowledge gaps in consumer software, including anything related to iPhones. Well, when he's not reading and learning new things, you'll find Idowu losing gallantly on a solid chessboard or virtually on Lichess.