Apple released the 10th generation of the entry-level iPad just this October, offering a complete redesign, a chip upgrade, a new set of color options, and more.
Finally ridding itself of the home button and similar other features, the iPad's transformation makes it much more at par with iPad Air 5 (2022). However, the recently released iPad Air 5th generation (2022) comes with impressive upgrades too.
The new "budget" iPad is more expensive than its predecessor, jumping from $329 to $449. This means that you're only $150 away from an iPad Air 2022. The price difference can complicate the purchasing decision if you're weighing these two options. While the two seem nearly identical, they have stark differences that you might miss out on. Below is an iPad 10 vs. iPad Air 2022 comparison to help you decide.
iPad 10 vs iPad Air 2022: Design
If you compare the iPad models, the iPad (10th gen) and iPad Air (2022) seem almost identical in design. Here are all the design features that are the same for both iPads:
Aluminum body with flat edges.
Uniform thin bezels around the display.
Power button Touch ID at the top.
USB-C charging port.
12 MP Wide camera at the rear and 12MP Ultra Wide front camera.
While both rock the same cameras, a significant difference is that the FaceTime HD camera of the iPad (10th generation) has been repositioned on the right edge (when held vertically). This is handy for video calls, ensuring that you look straight at the person you're talking to. Meanwhile, the iPad Air retains its front camera at the top of the display.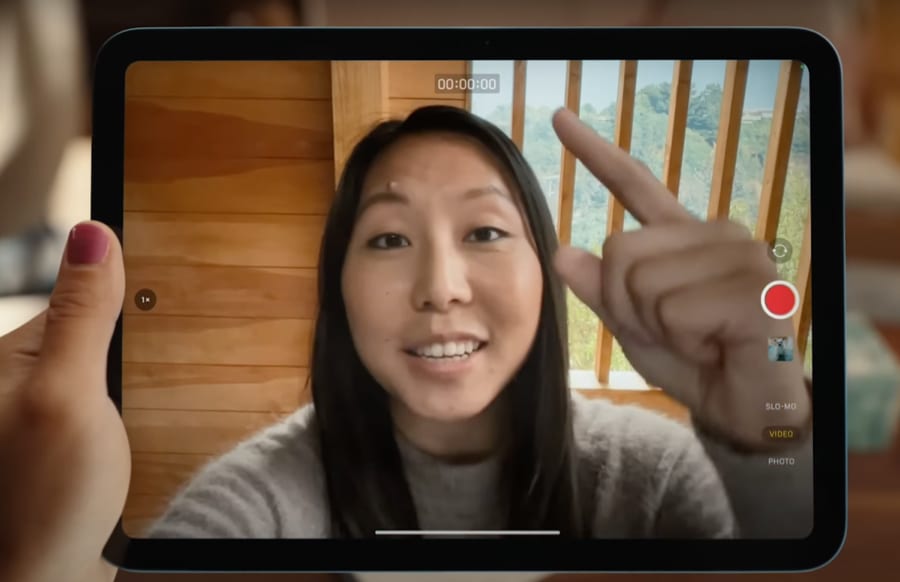 The two devices differ in dimensions, weight, and color options. The entry-level iPad opted for bolder color options, while the iPad Air provides neutral tones.
| | | |
| --- | --- | --- |
| | iPad Air 2022 | iPad 10th gen |
| Dimensions | 247.6 x 178.5 x 6.1mm | 248.6 x 179.5 x 7mm |
| Weight | 461g | 477g |
| Color options | Space gray, Starlight, Pink, Purple, Blue | Yellow, Pink, Blue, Silver |
iPad 10 vs iPad Air 2022: Display
Regarding display, both the 10th-generation iPad and iPad Air 2022 have a 10.9-inch (diagonal) LED-backlit multitouch display, offering a 2360×1640 resolution at 264 ppi. Both have a Liquid Retina Display with True Tone technology and a maximum brightness of 500 nits.
While both tablets have a fingerprint-resistant oleophobic coating, the iPad Air 2022 has a fully laminated display and comes with an anti-reflective coating. This means that it will have less glare in bright conditions and is more protected from environmental elements than the entry-level iPad.
Additionally, iPad Air delivers more vibrant greens and reds with its wide color display (P3) compared to the iPad (10th gen)'s traditional sRGB.
iPad 10 vs iPad Air 2022: Hardware and specs
The most significant difference between the iPad 10th gen vs. iPad Air 2022 is the chip. Let's take a look at some other specs as well.
iPad Air 2022
iPad 10th gen
Chip
Apple M1
A14 Bionic
RAM
8 GB
4 GB
Media engine
Hardware-accelerated H.264 and HEVC
–
Storage options
64 GB, 256 GB
64 GB, 256 GB
Battery life
10 hours on Wi-Fi
9 hours on cellular data
10 hours on Wi-Fi
9 hours on cellular data
The new iPad runs on the A14 Bionic chip, which offers a 6-core CPU, 4-core GPU, and a 16-core Neural Engine. This gives it a massive leap from its predecessor in terms of performance, with a 20% boost in CPU speed and 80% faster speed with double the neural engine core.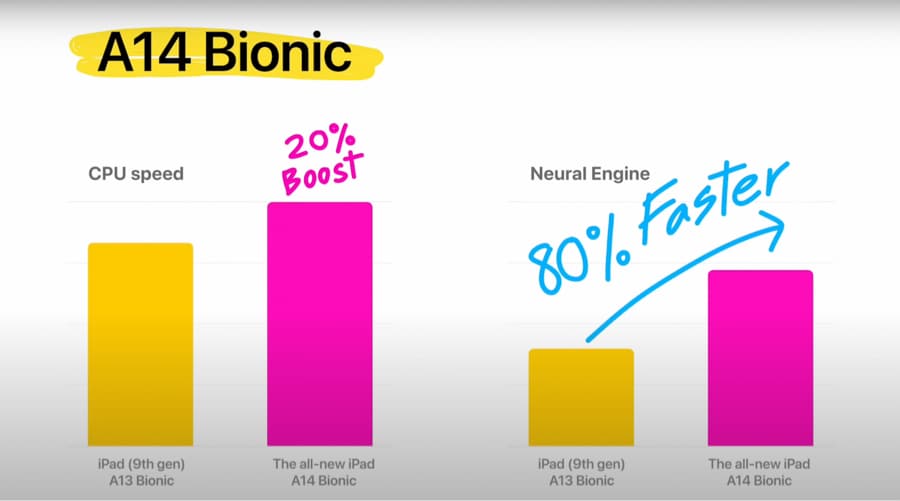 The iPad Air, on the other hand, runs on the M1 chip, offering the same 16-core Neural Engine but with an 8-core CPU and GPU. However, iPad Air comes with 8GB RAM and Media Engine on board which will be extremely helpful if you're using your tablet for heavy work, like video editing.
As mentioned above, both tablets offer the same 12MP wide camera with ƒ/1.8 aperture, digital zoom of up to 5x, and Smart HDR 3 for photos. They also provide the same video recording features.
In terms of storage options, both offer 64GB and 256GB options and 5G connectivity on cellular models. Both devices also support Nano SIM and eSIM.
The battery performance of both handsets is also at par, offering up to 10 hours of surfing on Wi-Fi or 9 hours on cellular data.
Accessories
If you're an Apple Pencil user, then this difference may be a deal breaker for you. For starters, the budget iPad only supports the first-generation Apple Pencil, which means that you might need to buy an adapter to be able to pair and charge it.
The first-generation Apple Pencil is heavier and longer. It also has a cap that needs to be removed when charging. Most importantly, it doesn't magnetically snap to the side of the iPad. That said, if you heavily rely on an Apple Pencil for note-taking or illustrations, or want to use the Apple Pencil 2, then you may want to get an iPad Air instead.
Both support external keyboards. The iPad Air works well with a Magic Keyboard and its own Smart Keyboard Folio, while the iPad (10th generation) works seamlessly with its Magic Keyboard Folio.
The keyboards themselves have different strengths. The Magic Keyboard Folio is ideal for those who enjoy using function keys and sports a versatile two-piece design that lets you attach the Folio magnetically to the tablet's smart connector. Meanwhile, the Magic Keyboard's floating cantilever design gives you the perfect viewing angle and has backlit keys for more comfortable typing.
Software
Both devices will run on the new iPadOS 16, offering a similar experience across the board. However, the iPad Air has Stage Manager, which is ideal if you use your iPad alongside your Mac.
iPad 10 vs iPad Air 2022: Price
The price may be a deciding factor for some people, so let's get on with it. Both come in Wi-Fi and Wi-Fi + Cellular and 64GB and 256 storage options.
| | | |
| --- | --- | --- |
| Variants | iPad Air 2022 | iPad 10th gen |
| 64 GB, Wi-Fi | $599 | $449 |
| 64 GB, Wi-Fi + Cellular | $749 | $599 |
| 256 GB, Wi-Fi | $749 | $599 |
| 256 GB, Wi-Fi + Cellular | $899 | $749 |
Which iPad should you get?
Answering this question can be challenging at first, but stacking up the two side by side should help you see nuanced differences between the iPad 10 specs and the iPad Air.
The iPad 10th generation and the iPad Air 2022 share many similarities, including the display, camera, storage, connectivity, and design. However, the two differ in peripheral support. This is essential if you intend to use an external keyboard and an Apple Pencil.
So to sum it up, if you're after a tablet for basic use and money is a significant factor, go for the iPad 10.
However, if you're after performance and multitasking capabilities (and the extra $150 isn't a concern for you), I'd tell you to go for iPad Air 2022. What's more, since it's powered with the M1 chip, it may be able to get the upcoming features that may not be available to the A14-powered iPad.
Which iPad will you buy? Let me know in the comments!
Read more:
Rachel loves anything Apple —from iPhones, to Apple Watches, to MacBooks. She is also a medical writer and a ghostwriter for various publications.