Apple unveiled the M1 iPad Air 2022 at the Peek performance event. The newest iPad Air is powered by the same chipset as iPad Pro 2021. This beckons why buy a more expensive iPad Pro when you can get similar performance with iPad Air. Let us take a deep dive and compare the iPad Air 2022 with the flagship iPad Pro.
Note: iPad Pro is available with either an 11-inch or 12.9-inch display. But in the interest of fairness, we are sticking to 11-inch iPad Pro.
Design and display
iPad Air 2022
iPad Pro 2021
Display
10.9-inch Liquid Retina
11-inch Liquid Retina
Resolution
2360 x 1640 resolution
264 PPI
2388 x 1668 resolution
264 PPI
Peak brightness (max)
500 nits
600 nits
Weight (grams)
461
466
iPad Pro 2021 boasts Liquid Retina XDR mini-LED displays supporting HDR content, which comes in handy while streaming HDR content on streaming services. Talking numbers, iPad Pro offers 2388 x 1668 resolution and an impressive 600 nits of brightness.
The iPad Air 2022 comes equipped with a 10.9-inch Liquid Retina display. You get a peak resolution of 2360 x 1640 and 500 nits of brightness. Going by the spec sheet, the iPad Air 2022 display performance could be in the same league as iPad Pro. However, we can only confirm this after testing iPad Air 2022.
Moreover, iPad Air is a good mid-range option with the perfect, handy size. Besides, iPad Air is known for its compact form factor. It would be interesting to see which one is more portable.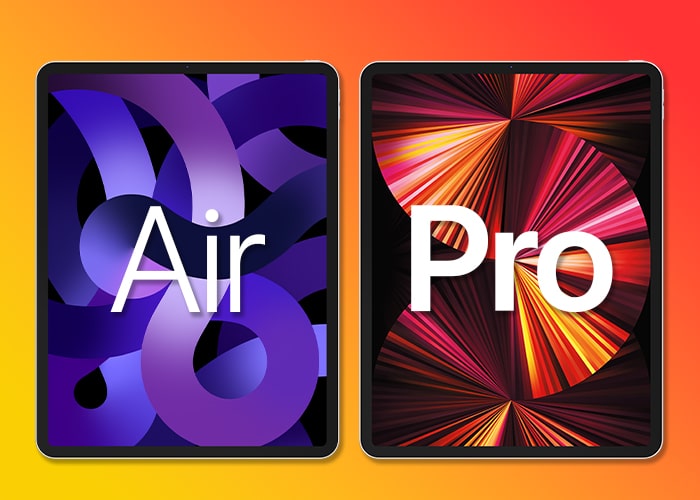 Recently, Apple has transformed the iPad with slimmer bezels and a sleeker design. Unfortunately, the iPad Pro and iPad Air look very similar. Besides, many have complained that iPad Pro colors look drab in the flesh. But iPad Air has the upper hand in this.
iPad Pro is available in Grey and Silver, while iPad Air 2022 is available in Space Grey, Starlight, Purple, Pink, and Blue.
Hardware: CPU, GPU, RAM, speaker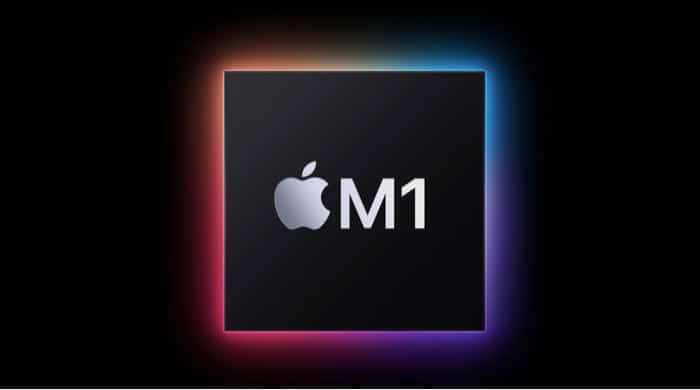 The iPad Pro 2021 is powered by an M1 chip, the same chipset that powers the latest MacBook Air. The M1 chipset consists of an 8-core CPU with 4 power cores. On the GPU front, you get 8 cores. The iPad Pro 2021 has proved its mettle on GeekBench benchmark and real-life usage.
Meanwhile, we don't know much about iPad Air's performance. Apple chose to compare it with its predecessor but not the iPad Pro. The iPad Air 2022 offers 60% better performance than iPad Air 4.
Furthermore, iPad Air equips 2-speaker audio with landscape mode, which is 2x in iPad Pro. It boasts 4-speaker audio.
RAM and storage
This is where it gets interesting! The iPad Pro gets 8GB RAM with up to 512GB storage. Moreover, the storage option starts at 128GB. However, the 1/2TB storage option is reserved for the iPad Pro 16GB variant.
On the other hand, iPad Air 2022 misses out on the 16GB RAM option. Instead, you get 8GB RAM with an option to choose between 64GB and 256GB of storage. There's no 128GB option, which is a disappointment considering how 64GB is too low, and 256GB might be too much for some users.
In such a case, iPad Pro's 128GB variant makes for a good option!
Camera
M1 iPad Air 2022
M1 iPad Pro 2021
Front camera
12MP
12MP
Rear camera
12MP
12MP
10MP ultra-wide camera
LiDAR Sensor
No
Yes
iPad is the best device for video conferencing, given its camera specifications. Initially, this crown was heralded by iPad Pro, but iPad Air 5 seamlessly follows suit!
Both the iPads feature a 12MP front-facing ultra-wide camera. The Centre Stage ensures the speaker is in focus during FaceTime calls. The viewfinder will zoom out whenever a new person joins the video call. Furthermore, the Portrait Mode will help focus on the essentials while cutting out the background.
Furthermore, iPad Air 5 comes equipped with a 12-megapixel ultra-wide camera, whereas iPad Pro 2021 boasts an additional 10MP ultra-wide camera with a LiDAR sensor. Hence, if you at all plan to click pictures with the iPad, iPad Pro should be the go-to choice!
Connectivity and port
Whether you are going for Wi-Fi only or the Cellular and Wi-Fi model, both iPad Air 2022 and iPad Pro 2021 offer 5G support. Hence, both are future-proof in terms of connectivity.
Further, iPad Air 5 has USB-C, 2x faster than iPad Air 4, but it lacks the advancement that iPad Pro has. It boasts Thunderbolt/USB 4 port.
Video: iPad Air 5 vs iPad Pro 2021 vs iPad Mini 6
iPad Air 2022: Is it the iPad Pro killer?
At the outset, iPad Air 2022 offers 5G and is cheaper by $299. In the US, iPad Air 2022 starts at $599. On the other hand, 11-inch iPad Pro starts at $799. Yes, both the tablets could match pace when it comes to performance.
Moreover, iPad Pro zooms ahead when it comes to the storage option. Go for iPad Pro 2021 only if you want more than 8GB RAM or 256GB storage (or 128GB storage for that matter). Until and unless you need that kind of storage, the iPad Air 2022 is a better choice.
Which iPad are you planning to buy? Share in the comments below.
Read more:
Readers like you help support iGeeksBlog. When you make a purchase using links on our site, we may earn an affiliate commission. Read Disclaimer.