What do you do when Apple gives you two powerhouses such as M1 Pro and M1 Max. We compare them thoroughly, scrutinize their power, performance, features, and most importantly, consider the use case vs. budget. And that is precisely what I do in this article; if you are interested, keep reading.
By default, the 14″ and 16″ MacBook Pro models come with an M1 Pro chip. You can upgrade to M1 Pro or M1 Max, but it will cost you an extra $$s. Obviously, each has its perks, but which one will fit your heart and wallet? Let's find out!
M1 Pro vs M1 Max architect: How are they different
M1 Pro and M1 Max boast a similar underlying architecture as the M1, 5-nanometer process technology and 16-core Neural Engine. The SoCs (systems-on-chips) bring the CPU and GPU on one grid and power them via a unified RAM.
So, how are they different from M1 or each other? Check the below table.
| | Apple M1 | Apple M1 Pro | Apple M1 Max |
| --- | --- | --- | --- |
| CPU cores | 8 | 8 or 10 | 10 |
| Performance cores | 4 | 6 or 8 | 8 |
| Efficiency cores | 4 | 2 | 2 |
| GPU cores | 7 or 8 | 14 or 16 | 24 or 32 |
| Neural engine cores | 16 | 16 | 16 |
| Unified memory | 16GB | 16 or 32GB | 32 or 64GB |
| Peak memory bandwidth | n/a | 200 Gbps | 400 Gbps |
| ProRes accelerators | None | 1 | 2 |
The two new chips have better numbers than M1. From CPU and GPU cores to memory bandwidth, everything unlocks an industry-leading performance per watt and incredible power efficiency.
But how exactly do these numbers reflect in terms of performance? It's time to check it out.
M1 Pro vs M1 Max: Battle of CPU cores
The CPU in the new chips delivers up to 70 percent faster CPU performance than M1, paving the path for faster and smoother processes.
M1 Pro
With 33.7 billion transistors in its 5nm structure, the M1 Pro claims 2x more transistors than M1. Plus, an 8-core and 10-core CPU version with 6 or 8 high-performance cores and 2 high-efficient cores.
Compared with the latest 8-core PC laptop chip, M1 Pro delivers up to 1.7x more CPU performance at the same power level and achieves the PC chip's peak performance using up to 70 percent less power.

– Apple's Press Release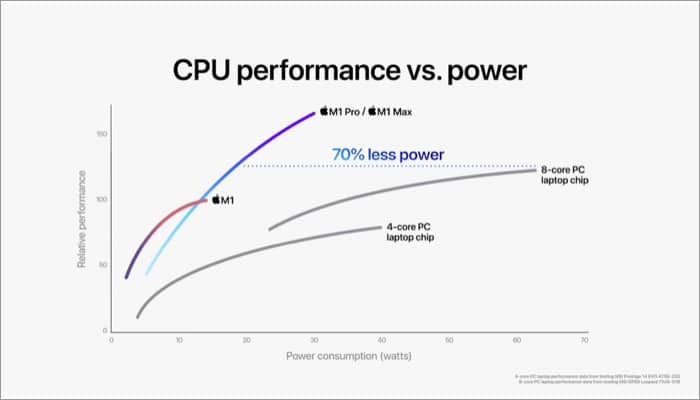 M1 Max
M1 Max also incorporates a 10-core CPU and features over 3.5x more transistors than M1 and 70 percent more than M1 Pro, i.e., 57 billion. It is the largest chip ever built by Apple.
While doubling up on the performance cores obviously increases performance level, Apple has managed to tweak that equation a bit. With a whole new performance cluster with its L2, it's not just additional cores that help but also everything surrounding them.
Overall, the ball is knocked outside Apple park; and that's not all.
GPU cores: An all ace game
Apple has beefed up the integrated GPU with all its might, making the new MacBook Pro a dream machine for gamers, developers, video editors, and more.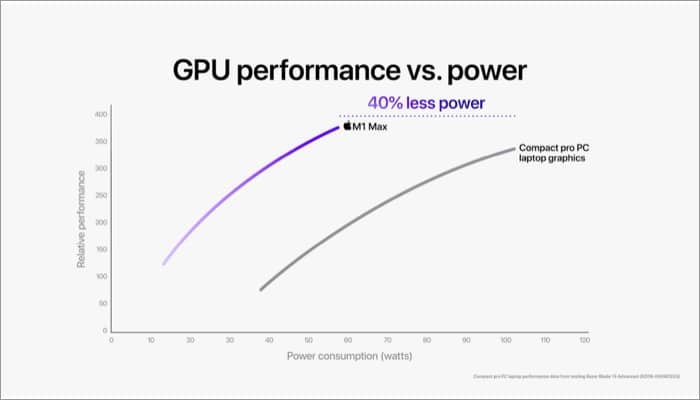 M1 Pro
M1 Pro offers up to 16-core GPU, making it 2x faster than M1 and approximately 7x faster than the latest 8-core integrated graphics laptop chip (as stated by Apple).
M1 Max
Now, Apple has kicked the ball outside the California region with this one. The M1 Max is available with up to 32-core GPU, making it 4x faster than M1. In the wise words of Apple,
The GPU delivers performance comparable to a high-end GPU in a compact pro PC laptop while consuming up to 40 percent less power, and performance similar to that of the highest-end GPU in the largest PC laptops while using up to 100 watts less power.
If you don't know what that means, the MacBook Pro with M1 Max will generate less heat and deliver better battery life than ever. And this will stand true even in most GPU-draining workflows.
A complex timeline rendering in Final Cut Pro will be around 13x faster than the previous-gen 13″ MacBook Pro. Indeed an unprecedented graphical processing power for a mobile chip.
M1 Pro vs M1 Max: The memory game
The idea behind Apple's unified memory architecture is that both CPU and GPU share it, allowing quicker data sharing between the two and faster processing of every kind of task. Although, one critical flaw in the M1 Chips is that they support a maximum of 16GB unified memory.
It maxes out when a CPU- and GPU-demanding task such as complex 3D simulations is thrown in. Apple has understood the assignment and brought in up to 32GB unified memory in M1 Pro, whereas M1 Max gets up to 62GB.
Memory Bandwidth
In addition to doubling and quadrupling the unified memory, Apple has also re-designed the chip fabric with an increased memory interface width and faster DRAM. Thanks to it, M1 Pro can deliver up to 200GB/s memory bandwidth, 3x more than the M1 chip.
As for M1 Max, with up to 400 GB/s, it has roughly 6x more memory bandwidth than M1.
Sweet lord, that's a lot of 2xs and 3xs into the mix, and while it only means performance and speed bump for the layman, it means so much more for the pro users.
Performance: Who's better M1 Pro or M1 Max?
Apple has loaded the new chips with advanced custom technologies such as
Powerful display engine
Earlier, the M1 chip was limited to one external display via one of the Thunderbolt ports. Thanks to the new display engine, the M1 Pro and M1 Max chips have extended support to multiple external displays.
The M1 Pro can drive up to two external displays and that too two 6K ProDisplay XDRs. As for M1 Max, you can hook four external monitors or three ProDisplay XDRs and a 4K TV simultaneously.
ProRes accelerators
Both the M1 Pro and M1 Max houses Apple-designed encode and decode media engines designed to quicken video processing while minimizing battery consumption. However, M1 Pro has just one of each, and M1 Max has two encode engines and one decode engine.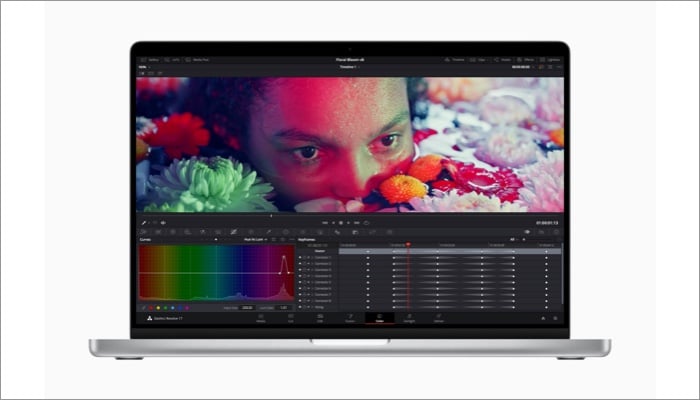 M1 Pro also has dedicated acceleration for the ProRes professional video codec to support multiple high-quality 4K and 8K ProRes video streams with very little power. M1 Max further enhances the situation with two ProRes accelerators that deliver up to 2x faster video encoding than M1 Pro.
Apple did put a number to it, M1 Pro can run up to 20 streams of 4K ProRes video playback, and M1 Max delivers up to 7 streams of 8K ProRes video playback.
M1 Pro vs. M1 Max Geekbench results
In terms of peak performance, M1 Max certainly takes the lead, at least on paper. But what about real-time performance? Let's compare their Geekbench 5 benchmarks to see who has the upper hand.
MacWorld conducted these tests and used a 14-inch MacBook Pro M1 Max 10-core CPU and 32-core GPU, and a 14-inch MacBook Pro M1 Pro 10-core CPU and 16-core GPU.
| | M1 Max 10-core | M1 Pro 10-core |
| --- | --- | --- |
| Multi CPU | 12590 | 12544 |
| Single CPU | 1774 | 1778 |
| Compute benchmarks | | |
| Metal | 68534 | 42862 |
| Open CL | 59774 | 37330 |
There's not a lot of difference in the CPU performance. However, M1 Max sweeps the field when it comes to GPU performance.
The website also conducted media encoding and decoding tests on both chips. And while M1 Pro has impressive results, M1 Max surpassed that test as well.
Is M1 Pro or M1 Max gaming worthy?
The above GPU results indeed indicate that Apple's new chip will perform flawlessly in games. However, the relationship between gaming and MacBook is quite rocky, majorly because not many titles are available on macOS and Apple doesn't support streaming via significant platforms.
While things are improving, it will take some time before MacBook can justify the title of a gaming device. However, M1 Pro and M1 Max seem like steps in the right direction, as the PCMag's game testing results suggest.
While the chips couldn't beat RTX 3070/Core i7 Razer Blade 15 Advanced, they stood tall in front of it. Here's an example.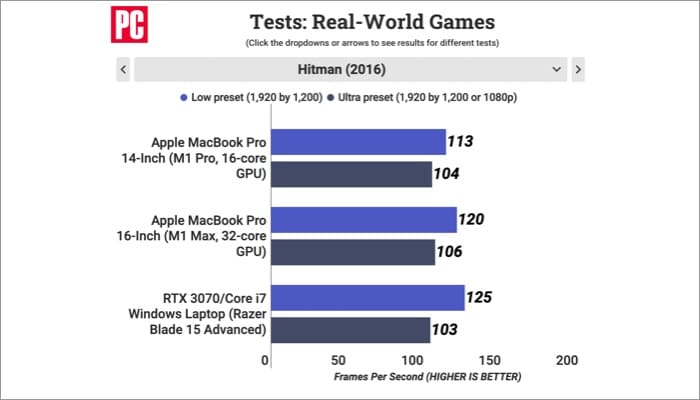 Pricing vs. features
M1 Pro and M1 Max are available in varied permutations and combinations. How many CPU or GPU cores do you want and how much unified memory? Though not endless, there are enough choices. And as expected, the relation between price and features is directly proportional.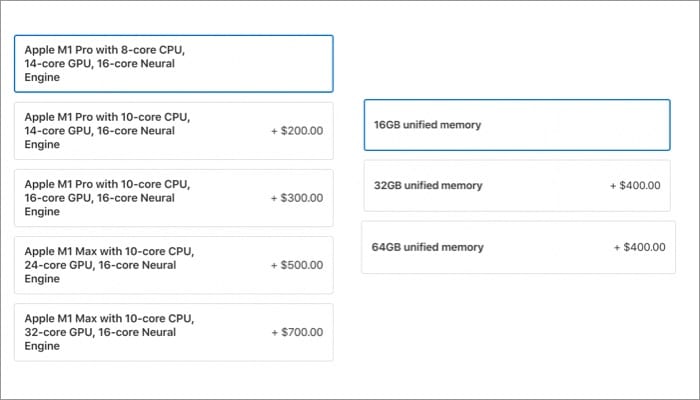 The entry-level 14-inch MacBook Pro with M1 Pro costs $1,999 and boasts an 8-core CPU, 14-core GPU, 16-core Neural Engine. And as you select a better config, the price keeps on pilling up.
To put things in perspective, the difference between an entry-level 14-inch MacBook Pro with M1 Pro and the cheapest model with an M1 Max chip is about $900. And the approximate difference between M1 Max and M1 Pro chip is around $600 to $900.
Which M1 chip should you invest in?
While Apple's M1 chip was a revolution that shook the PC industry, its successors M1 Pro and M1 Max, take things several notches higher. According to some stats, it could beat the best desktop systems out there. However, I am holding my verdict till Intel's Alder Lake CPUs are out and about.
Whether you should choose an M1 Pro or M1 Max for your new MacBook Pro will highly depend on your use case. M1 Max looks flawless on paper, but M1 Pro is more practical for most professional workflows.
The power, performance, and price of M1 Pro are pretty decent for app developers, content creators, students, etc. And M1 Max is more suited for demanding GPU workflow, graphic designers, 3D modeling, game developers, videographers.
Although, if money is not a concern, M1 Max might be a more future-proof chip. With such advancing technology, who knows, MacBook finally becomes a gaming device or gets AR apps that are absolutely necessary.
Thinking of buying the new MacBook Pro? Then don't skip these articles.
Readers like you help support iGeeksBlog. When you make a purchase using links on our site, we may earn an affiliate commission. Read more.
A self-professed Geek who loves to explore all things Apple. I thoroughly enjoy discovering new hacks, troubleshooting issues, and finding and reviewing the best products and apps currently available. My expertise also includes curating opinionated and honest editorials. If not this, you might find me surfing the web or listening to audiobooks.