About a year ago, Apple caused a stir in the computing world by introducing Apple Silicon M1 chips for its MacBook lineup. It announced a 2-year plan to transition away from Intel chips, and it's following through with the latest M1 Pro and M1 Max chips.
These groundbreaking chips were revealed at the Unleashed event and boast up to a 10-core CPU, 32-core GPU, 64GB of unified memory, ProRes acceleration, and industry-leading power efficiency. What does all this mean in practicality, and what's the difference between M1 Pro and M1 Max? Keep reading for all the details about Apple's M1 lineup.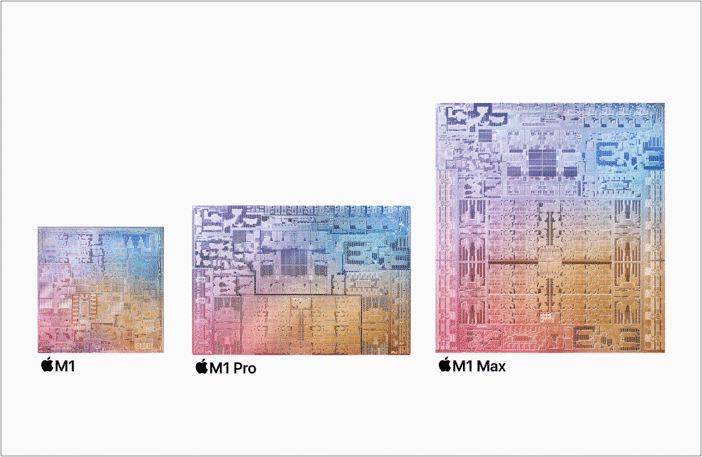 What is the M1 Pro chip?
The successor of the M1 chip, the M1 Pro, is based on a 5nm architecture with 22.7 billion transistors, more than double the amount on M1. It features up to 10 CPU cores, including eight high-performance cores, for 70% faster performance than M1.
Further, M1 Pro has a GPU with up to 16 cores, eight more than M1, for 2x faster graphics. Coupled with a 16-core Neural Engine, a ProRes accelerator, and a powerful media engine, it lets you edit multiple instances of both 4K and 8K videos.
You can configure M1 Pro with up to 32GB of unified RAM, with up to 200GB/s of memory bandwidth, which is a 2x of M1 chip. M1 Pro supports up to two external displays.
What is the M1 Max chip?
To complete the M1 family, the M1 Max is Apple's largest chip yet, with 57 billion transistors and the same 10-core CPU and 16-core Neural Engine as the M1 Pro. The GPU can feature up to 32 cores.
It also has an enhanced media engine and two ProRes accelerators, making it the ideal chip for anyone working with high-definition video.
Lastly, it offers up to 64GB of integrated RAM and doubles the memory interface of the M1 Pro with a bandwidth of up to 400 Gb/s. It also supports up to four external displays, so it is the ultimate choice for professionals working with games and graphics.
M1 Pro and M1 Max vs. M1 chip: What's the difference?
The ARM-based M1 was Apple's first custom chip for Macs. It proved faster than both Intel and AMD's x86 processors while drawing far less power. Following that revolutionary move, Apple is taking a two-pronged approach with M1 Pro and M1 Max, the latest chips powering the new 14- and 16-inch MacBook Pros.
M1 tops out at 16GB of RAM, which is not enough for many pro users. The M1 Pro and Max support up to 64GB of RAM, making them the ideal choice for pro users. The table below shows an overall comparison of M1 vs. M1 Pro vs. M1 Max.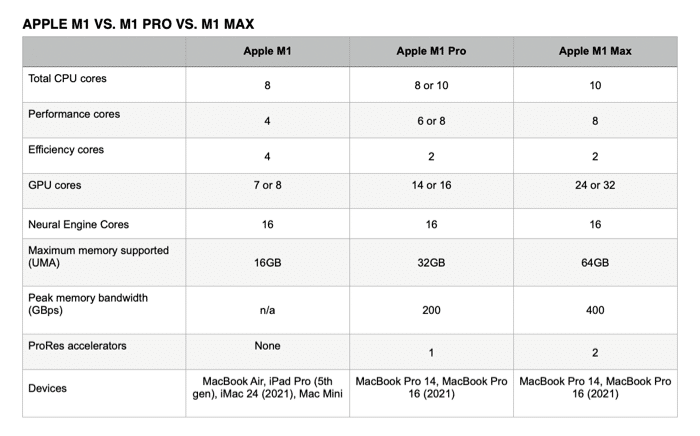 What are the benefits of Apple's M1 Pro and M1 Max chips?
It'll be fascinating to see how these processors will perform in the real world, but it's evident that they're setting a new precedent. Here are some of the main advancements that the M1 chips bring to Macs.
CPU performance
The M1 Pro and M1 Max's new 10-core CPU with eight high-performance cores and two high-efficiency cores delivers stunning performance. Apple has shared that compared to the latest 8-core PC laptop chip, M1 Pro and M1 Max deliver up to 1.7x more CPU performance at the same power level.
Moreover, they match the PC chip's peak performance using up to 70 percent less power. This means that even the most demanding tasks, like high-resolution graphics and video editing, are a breeze.
The graph below visually captures this blazing-fast performance.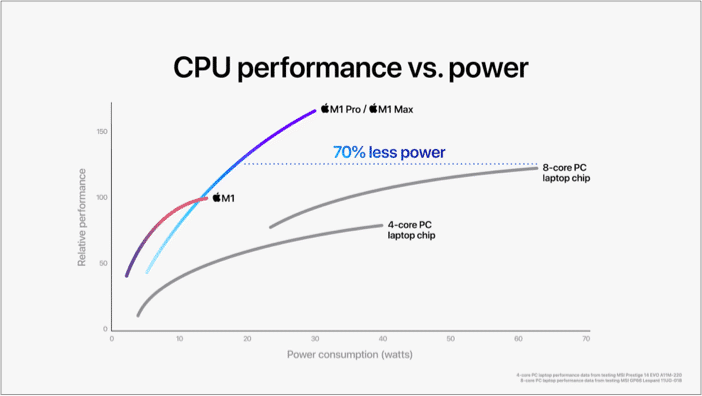 GPU performance
M1 Pro's GPU can be configured up to 16-core and is up to 2x faster than M1. It's also 7x faster than the integrated graphics on the latest 8-core PC laptop chip.
Further, M1 Pro achieves greater performance while consuming up to 70 percent less power than a powerful discrete GPU for PC notebooks. At the same time, the M1 Pro can be configured with up to 32GB of fast unified memory, with up to 200GB/s of memory bandwidth, enabling creatives like 3D artists and game developers to do more on the go than ever before.
M1 Max takes this even further with a massive 32-core GPU for up to four times faster graphics performance than M1. The GPU delivers a similar performance to a high-end GPU in a compact pro PC laptop while consuming up to 40 percent less power. This means less heat is generated, the fans run quietly, and battery life is enhanced.
Apple has shared the graph below to indicate M1 Max GPU performance.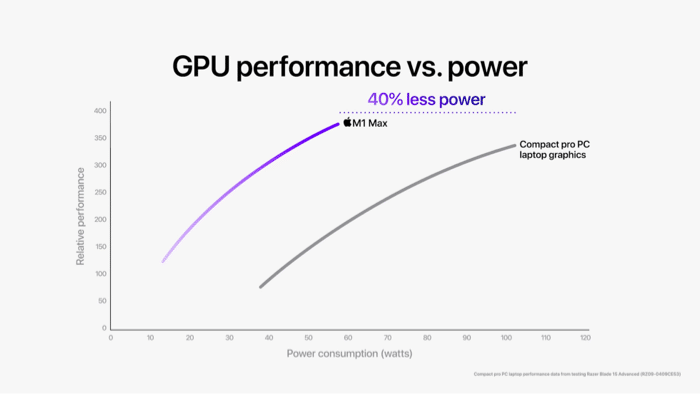 Media Engine with ProRes
The M1 Pro and M1 Max boast an advanced media engine that accelerates video processing while maximizing battery life.
Moreover, it has dedicated acceleration for the ProRes professional video codec. This allows playback of multiple streams of 4K and 8K ProRes video while using very little power.
M1 Max takes it further with up to 2x faster video encoding than M1 Pro and two ProRes accelerators. Powered by this technology, the new MacBook Pro can transcode ProRes video in Compressor up to 10x faster than the previous-generation 16-inch MacBook Pro. That's a fantastic step-up for video creators.
Other features
Apart from the impressive performance enhancements, the M1 Pro and M1 Max boast several other features that can take pro workflows to the next level:
The custom image signal processor and the Neural Engine use computational video to enhance image quality for sharper video and more natural-looking photos in the built-in camera.
Ability to support multiple external displays
Additional integrated Thunderbolt 4 controllers for even more I/O bandwidth.
Best-in-class security
The 2021 MacBook Pro with M1 Pro and M1 Max chips
The latest M1 Pro and M1 Max chips currently come exclusively on Apple's all-new 2021 MacBook Pro. This beast of a device offers 14- and 16-inch display options with a new design that brings back many of the most-loved external features of earlier MacBook Pros with the mega internal power of the M1 Pro and M1 Max system-on-a-chip architectures.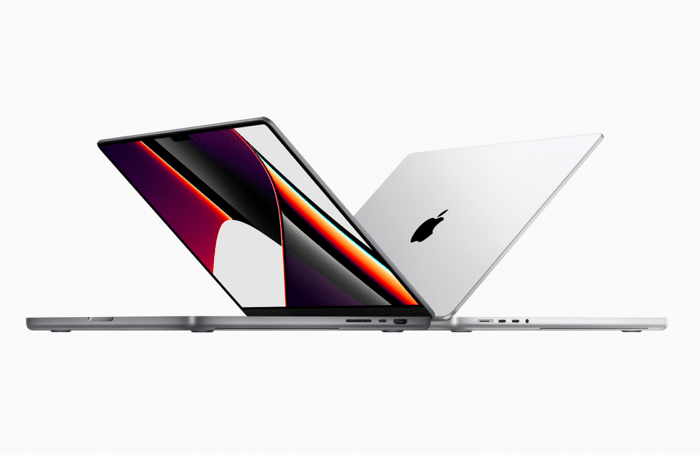 Apple has parted ways with the Touch Bar in favor of the more user-friendly physical function buttons. It's also brought back the SDXC card slot and an HDMI port that will keep graphics and video professionals happy.
On the battery life front, Apple says the 14-inch MacBook Pro (2021) is rated to deliver up to 17 hours of video playback on a single charge, while its 16-inch counterpart delivers up to 21 hours of video playback.
You can charge the new MacBook Pro with a MagSafe charging cable with MagSafe 3, unlike the existing MacBook Pro models that offer charging via USB-C. However, you can still use Thunderbolt 4 for charging using a USB Type-C cable.
Moreover, the display features a notch housing a 1080p webcam. This design change helps reduce bezels and increase screen real estate.
As for audio, there's a powerhouse six-speaker sound system with two tweeters and four force-canceling woofers for audio. There is also Dolby Atmos and spatial audio support for a superior surround sound experience.
Overall, it's one of the most significant updates to the Mac lineup in recent years. It's the best device for power users in creative fields like filmmaking or game development.
M1 Pro and M1 Max: Frequently asked questions
Q. Which devices run Apple's M1 Pro and M1 Max chips?

Currently, only the latest 2021 MacBook Pro 14-inch and 16-inch are available with Apple's M1 Pro and M1 Max chips.
Q. Should I buy a MacBook Pro with M1, M1 Pro, or M1 Max chip?

It depends entirely on your usage. The 2021 MacBook Pro is a high-end device that will be most useful for power users, such as those working with graphics, high-definition video, etc. The average user can go with the earlier M1 MacBook Air or MacBook Pro, which are more affordable.
Q. Are Apple's M1 chips better than Intel?

Apple has claimed that its M1 chips outperform equivalent Intel processors, and this has been proved in benchmark tests of the first M1 chip. It remains to be seen how well the M1 Pro and M1 Max will perform in practicality, but there's no arguing that they are some of the most powerful processors for pro users.
That wraps up the most significant things you should know about the latest M1 chips. Do you have more questions? Drop them in the comments below. I'll be happy to get back to you.
You might also like to read:
Readers like you help support iGeeksBlog. When you make a purchase using links on our site, we may earn an affiliate commission. Read Disclaimer.