Apple's introduction of the M1 chip in 2020 initiated Mac's transitioning from Intel processors into Apple Silicon. There's a new level to this transition, with the M2 chip debuting at the June 2022 WWDC event, displacing the M1 engine with some advanced specs.
Apple says the M2 chip gives the new 13-inch MacBook Pro 2022 and MacBook Air 2022 superiority over the much-talked-about M1-powered Mac series released in 2020. Undeniably, the M1 chip has exceptional features. But the M2 chip is even crispier and more advanced!
While they share some similarities, notable details are worth differentiating. However, to stay on track, you might want to see everything you need to know about the M1 chip before proceeding.
So Apple's M1 vs. M2 chip. How are they different? Keep reading to learn more.
Apple's M1 and M2 by numbers
There's no justice to the duo's power without considering some figures and specs. The table below summarizes the notable differences between Apple's M1 and M2 chips.
Specs
M1 chip
M2 Chip
Memory controller
68GB/s unified memory bandwidth
100GB/s unified memory bandwidth
Process
5-nanometer node
Second-generation 5-nanometer node
Capacity
16GB unified memory
LPDDR4X
24GB unified memory
LPDDR5
GPU cores
8 cores
10 cores
CPU configuration
Hybrid configuration:

4 high-performance cores
12MB shared L2

4 energy-efficient cores
4MB shared L2
Hybrid configuration:

4 high-performance cores
16MB shared L2

4 energy-efficient cores
4MB shared L2
CPU cores
8/10
7/8
Transistors
16 billion
20 billion
Neural Engine
16-core (11 TOPS)
16-core (15.8 TOPS)

M1 vs. M2 chip: Price differences
The 2020 M1-powered MacBook Air starts pricing at $999, which significantly costs less than the 2022 M2-powered MacBook Air, set to hit the market in July 2022 at a starting price of $1,199.
The M1-powered MacBooks have variants, though, with the M1 MacBook Pro selling for as high as $1,299. The 16-inch MacBook Pro with an M1 Max chip will even reduce your savings by $2,499.
Undoubtedly, the M2 generation will also have its variants, and you can only expect that the price of the highest spec will nearly cut your budget scale. In addition to the 2022 MacBook Air, Apple also features the M2 chip in the MacBook Pro (2022). The Pro version will start selling for $1,299 when released in July 2022.
As with M1 MacBooks, you can expect to see more of the M2 variants unveiled in more MacBooks as time rolls.
M1 vs. M2 chip: Neural engine and secure enclave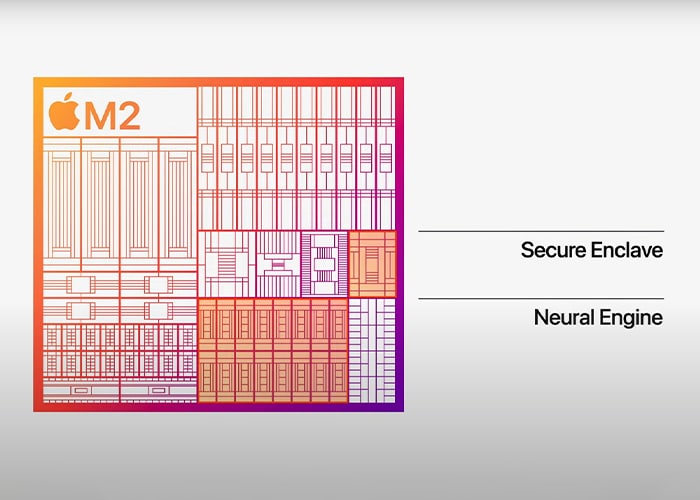 Apple's new M2 chip combines the power of the next-generation neural engine with the secure enclave to amass an efficiency that brings it to a 40 percent better performance than the M1. The secure enclave is typical of all Apple's SoCs and is the primary encrypting unit in the M series. This hasn't changed in the M2 chip either.
Most people will admit the M1's ability to peak at 11 trillion total operations per second (TOPs) is enough to achieve complex computing tasks. However, seeing that M2 chip neural engine can process up to 15.8 trillion TOPs is quite impressive. Such a difference in performance and speed will be too obvious to go unnoticed while operating an M1 and M2-powered MacBook simultaneously.
GPU cores comparison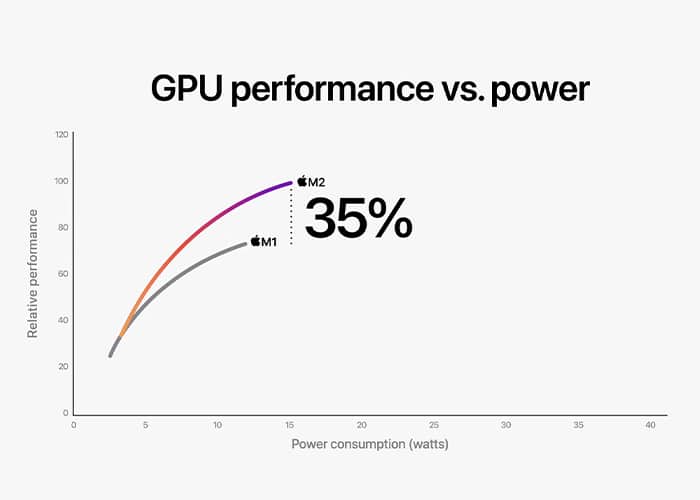 Apple says the M2 chip graphic performance is higher than that of M1 by 25 percent and could peak as high as 35 percent. Well, not without expending more power. But that's a significant improvement.
The GPU in the M2 chip has ten cores, which is now two more than the M1 GPU. Indeed, it's safe to claim that M2's GPU is superior to the M1's. Further, as opposed to the M1's 2.6 teraflops, the M2 chip delivers 3.6 teraflops at a texture filter rate of 111 gigatexels per second and features a transmission rate of 55 gigapixels per second. All these further bring the M2 chip to the MacBook performance forefront.
M1 vs. M2 chip: CPU cores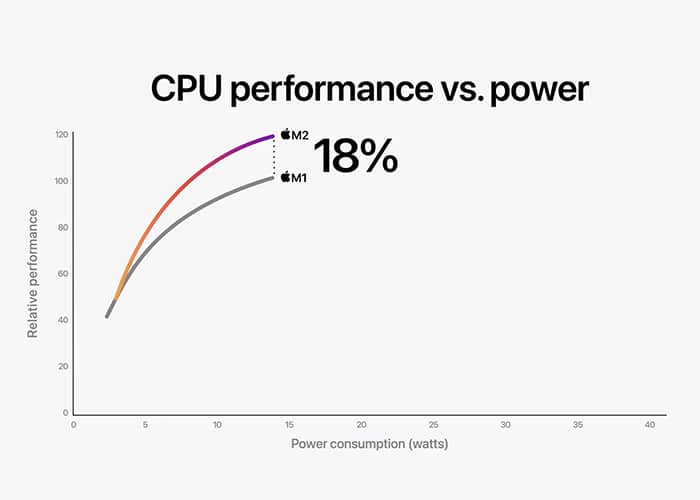 The M1 has a 4+4 CPU core configuration. This hasn't changed in the M2 chip, and the instruction and data caches on either configuration patch remain the same. But the M2 chip tips its high-performance cores with an expanded shared caching capacity of 16MB as opposed to the M1's 12MB.
They both have spectacular CPU cores, averagely holding 8 CPU cores, which is higher than what most CPUs could deliver. Even a dual-core CPU is enough to handle most complex tasks.
However, while the M1 chip features 16 billion transistors, the M2 chip extends to 20 billion transistors, handing it more capability to expand to 10 cores. Undeniably, the M1 core blazes in its current form, but the M2 performs 18 percent faster at the same power consumption rate; this is an appreciable improvement.
Unified memory strength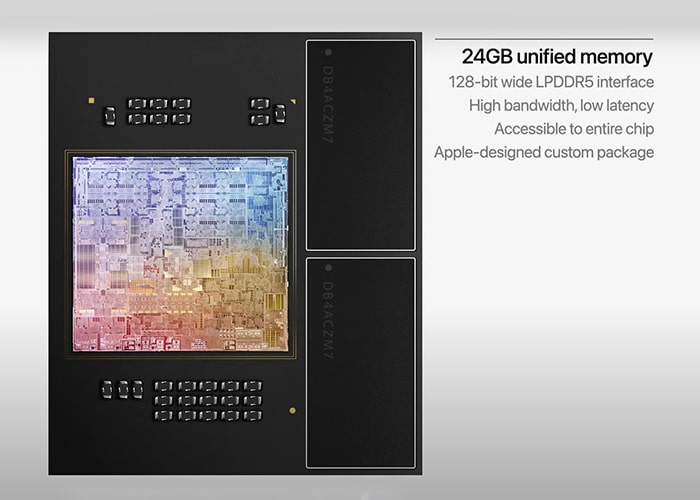 As opposed to the M1 chip, which delivers 68GBps memory bandwidth, the M2 processing unit can read and write data at the rate of 100GBps. A memory bandwidth almost 50% faster than the M1's is worth showing off in a gadget.
Although the M2 chip has two variants currently, you can look forward to more from Apple, considering the firm's track record of continuous unit upgrades. You're looking at a possible M1 Ultra-like variant in the M2 chip once Apple starts rolling out M2 versions. And undoubtedly, this will offer far higher bandwidth than the M1 Ultra, which runs at 128GBps.
Although the M1 chip already delivers a 16GB unified memory capacity based on LPDDR4x, which is enough for most arduous tasks, the M2 takes this further to 24GB on an LPDDR5 memory interface. This takes latency further down significantly and reduces power consumption, a typical attribute of LPDDR5.
M1 vs. M2 chip: Power consumption
Considering the specs of the GPU and CPU altogether, both the M1 and M2 chips have improved performance and speed, but, of course, not at the expense of power consumption.
Besides, maximized performance with minimal power consumption isn't an attribute of many processing units. The M2 chip performs better than the M1 chip in many areas at the same power consumption rate.
Overall, there's no significant difference in the power consumption rate between M1 and M2. But it's great to see that the M2 chip maintains the M series power conservation legacy despite all the improvements.
Apple's M1 or M2 chip: Which is best for you?
Deciding what's best for you between an M1 and M2 chip depends on some factors. However, I must mention that while the M2 chip is significantly more performant than the M1, an M1 MacBook isn't out of the game, as it will answer the call on complex computing tasks.
MacBooks wielding either chip are also almost similarly expensive. More importantly, consider your purse before going for either chip. I'd say an M1 MacBook is still ideal if you want to experience the power of the Apple Silicon. But I wouldn't advise you to hesitate if you like to take this further with the newer and improved technology of the M2 chip.
No matter how fast a system is, its speed should ideally corroborate its performance. Indeed, the M1 chip has laid the blueprint for high speed and improved performance in the M series chips with its specs. The M2 chip takes it even further, considering its superiority over the M1 chip.
Go any questions or comments? Let me know in the comments section below.
Read More:
Idowu is an avid tech writer and a software surfer who loves covering knowledge gaps in consumer software, including anything related to iPhones. Well, when he's not reading and learning new things, you'll find Idowu losing gallantly on a solid chessboard or virtually on Lichess.