Apple revolutionized the custom silicon market with the introduction of its M1 SoC. It then introduced M1 Pro and M1 Max SoC, targeting power users, especially creators. However, Apple did not stop there! It has now released the godfather of all these SoC's, M1 Ultra, the last chip of the M1 lineup.
M1 Ultra is the latest and greatest addition to the M1 lineup, and boasting two M1 Max chips, it stands true to its name! But should you really spend on an M1 Ultra-powered device, or would M1 Max (still powerful enough to get you by) suffice? Let's dive deeper into understanding the differences between M1 Max and M1 Ultra.
M1 Max vs. M1 Ultra: The specs sheet
Since these are SoC's (System on Chip), the CPU, GPU, and Memory (RAM) are set up on one chip. Here're all the specifications you need for a better comparison.
M1 Ultra
M1 Max
CPU
20 Cores
(16 Performance + 4 efficiency)
10 Cores
(8 Performance + 2 efficiency)
GPU
48 Cores
24 Cores
Neural Engine
32 Cores
16 Cores
Memory bandwidth
800GB/s
400GB/s
RAM (Unified Memory)
64GB, 128GB
32GB, 64GB
Storage
1TB, 2TB, 4TB, or 8TB
512GB, 1TB, 2TB, 4TB, or 8TB
Configurable up to
20-core CPU
64-core GPU
32-core Neural Engine
10-core CPU
32-core GPU
16-core Neural Engine
We already established that M1 Ultra is two M1 Maxes connected. While this is not usually preferred amongst chip manufacturers as it increases latency, Apple made this possible, and the interprocessor bandwidth is 2.5TB/s, and I doubt there's any noticeable latency.
All the M1 SoC's are based on a 5nm architecture. While the M1 consists of 16 billion transistors, the M1 Max houses 57 billion of these transistors, and the M1 Ultra has 114 billion transistors, all thanks to Apple's UltraFusion Technology.
The difference in the single-core CPU performance of all the M1 chips is negligible. The difference starts showing up with the multi-core performance of these chips. Have a look at the benchmark score below.
Does the M1 Ultra consume ultra power?
CPU and GPU performance with power consumption
The USP of M1 chips has been their power to performance ratio. These SoC's consume less power even when compared to their PC counterparts. M1 Max CPU consumes 65% less power when compared to the Intel i5-12600K while delivering similar performance.
The CPU of the M1 Ultra competes directly with the Intel i9-12900K processor and delivers 90% higher performance while consuming the same amount of power.
The GPUs on both these SoC's are incredibly power efficient too. The M1 Max offers similar performance to the RTX 3060Ti while consuming 1/3rd power. The M1 Ultra consumes 200 watts less power than the RTX 3090 while performing similarly. Considering the size of the Mac Studio, this is an impressive feat of design and engineering.
Price and availability
While the M1 Max is available with the 16-inch MacBook Pro and newly launched Mac Studio, the M1 Ultra is exclusive to Mac Studio. And it makes sense as fitting the M1 Ultra SoC within a MacBook does not seem feasible.
Again, as the M1 Ultra is literally two M1 Maxes put together, the price point it comes in at seems appropriate. The Mac Studio with M1 Max begins at $1,999, while the M1 Ultra Mac Studio begins at $3,999.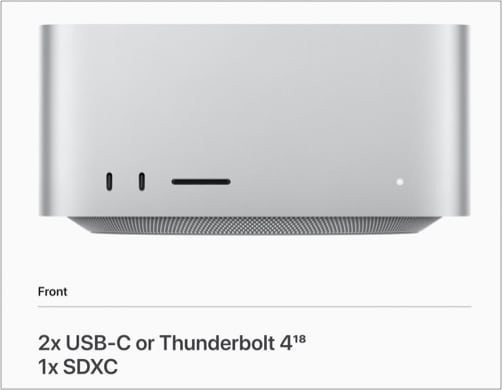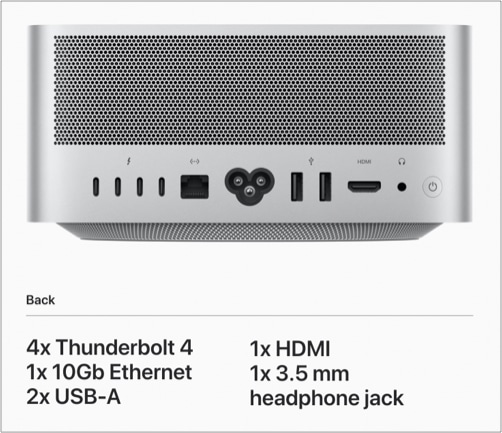 Moreover, Mac Studio comes with a plethora of ports. Both the M1 Max and M1 Ultra Mac Studios come with 4 Thunderbolt 4 ports at the back with support for:
Thunderbolt 4 (up to 40Gb/s)
DisplayPort
USB 4 (up to 40Gb/s)
USB 3.1 Gen 2 (up to 10Gb/s)
Two USB-A ports (up to 5Gb/s)
HDMI port
10Gb Ethernet
3.5 mm headphone jack
At the front of the Mac Studio with M1 Ultra has,
Two Thunderbolt 4 ports (up to 40Gb/s)
SDXC card slot (UHS-II)
And the Mac Studio with M1 Max has,
Two USB-C ports (up to 10Gb/s)
SDXC card slot (UHS-II)
You can pre-order these right now from the Apple Store, and they'll be available from 18 March. Do note that shipping will take anywhere between 6-8 weeks.
Should you get M1 Max or M1 Ultra?
The million-dollar question, oh wait!, the $2,000 question here is which Mac Studio should you get? Is the $1,999 Mac Studio with M1 Max SoC sufficient for your needs? Or, do you need to put down another $2,000 and get the $3,999 M1 Ultra Mac Studio? It is a question only you can answer.
If your work revolves around extremely heavy tasks and running multiple 4K displays, M1 Ultra seems like the better choice. However, M1 Max Mac Studio cannot be underestimated. Consider what your use case is and make an informed decision.
The M1 chips have disrupted the custom silicon market, and the M1 Ultra continues to follow suit. While there is a lot of power to tap into with the M1 Ultra, it seems overkill for the general consumer.
If you have been eyeing an upgrade, make sure you list your needs and upgrade accordingly. The M1 chip itself is powerful and efficient for day-to-day tasks, and I'm talking from personal experience. How do you feel about M1 Ultra? Share in the comments below.
Read more:
Readers like you help support iGeeksBlog. When you make a purchase using links on our site, we may earn an affiliate commission. Read Disclaimer.