Apple just launched the iPhone SE 3, and thanks to the A15 chip and 5G, it is faster, smarter, and better than ever. But is it good enough to become your primary device? Is the power enough to forgo the old-school, Home button form factor? Let's discuss and see whether iPhone SE 3 is worth it or not?
The conundrum🤔
iPhone SE 3 is the most affordable iPhone with 5G
iPhone SE 3 is the most affordable iPhone with an A15 chip
So, why are we asking if it is worth it?
Because the iPhone SE 2022 still carries the iPhone 8's form factor with the Home button, Touch ID, same battery size, and almost the same hardware. And despite that, the 2022 iPhone SE boasts a $30 price bump over its predecessor.
Overall, we are trying to figure out whether these little changes can make a mile of a difference or they are just a hoax? And whether $429 price tag really justified or is Apple charging brand premium.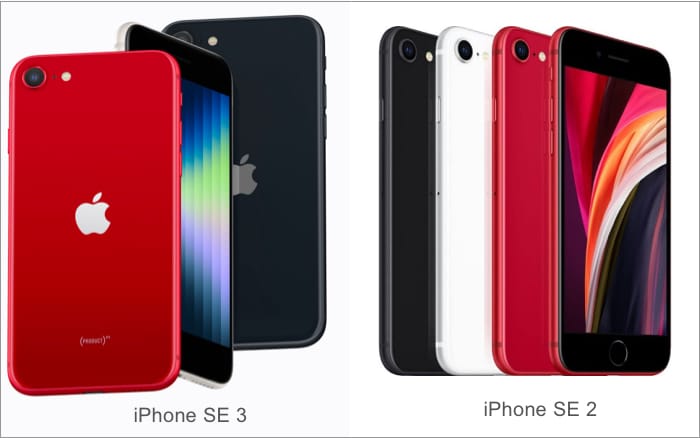 iPhone SE 2022 basic specs
Display
Size
4.7-inch
Type
LCD Multi-touch
Chip
A15 Bionic chip
CPU
6-core
2 performance
4 efficiency
GPU
4-core
Neural Engine
16-core
Storage
64GB
128GB
256GB
Camera
Front
7MP camera
ƒ/1.8 aperture
Rear
12MP Wide camera
ƒ/2.2 aperture
Battery
Video playback
Up to 15 hours
Audio playback
Up to 50 hours
Fast charge
Up to 50% charge in 30 minutes
Wireless charging
Qi-compatibility
Power and performance that'll make you fall in love
Apple's tagline for the iPhone SE 2022 is Love the Power, Love the price. The tech giant is trying to sell 'power' and 'price point' as the phone's USP.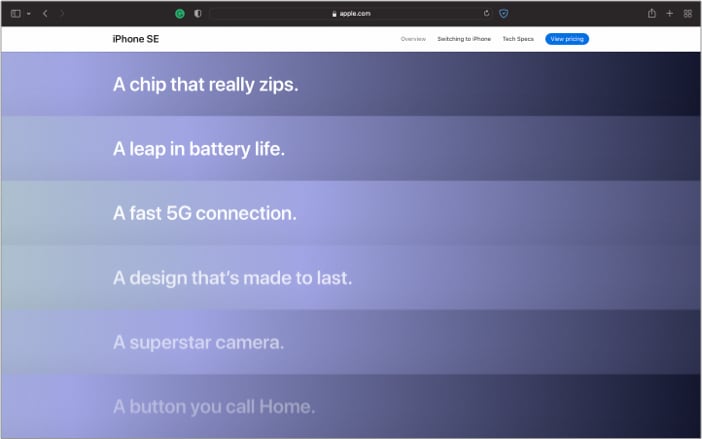 Interestingly, if you'll note in the above screenshot, Apple has also added a 'Switching to iPhone' tab in the top menu. This indicates that Apple targets the iPhone SE 2022 as an entry-level device for people to enter the Apple ecosystem.
And now that we have established the selling point and target market let's dig a bit deeper into the device's features.
A15 Chip
What can I say about the power of the A15 Bionic chip that hasn't been said or proven by benchmarks? It is currently the most powerful iPhone chip (until the launch of A16, probably in September). Thanks to it, iPhone SE 3:
Loads apps quicker.
Offers smooth graphics performance – up to 1.2x faster graphics performance than iPhone SE 2.
Even powers advanced photography (more on this in the next section).
Camera
Apple hasn't made any special hardware changes to the rear or front camera, not even the sensors. However, the iPhone SE 2022 harnesses the neural engine and machine learning of A15 and iOS 15 to drastically improve the camera quality.
You can now avail:
Smart HDR 4 – Auto refines contrast, lighting, and skin tones of up to four people.
Deep Fusion – Studies multiple exposures to capture the subtlest details, textures, and patterns.
Photographic Styles – Choose between warm, cool, vibrant, or more to maintain natural skin and sky tones.
Portrait Lighting – Six creative effects to click studio-like portrait shot.
Low-light videography – Capture videos with incredible details, sharper contours, shadows, and highlights even in low light.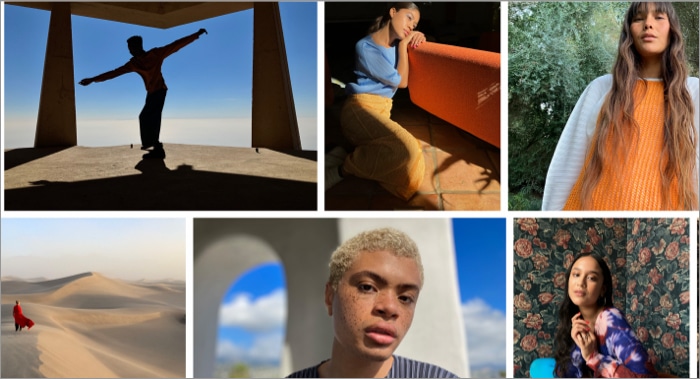 5G
Even the iPhone 11 doesn't have a 5G, but the humble iPhone SE 3 does. It will facilitate faster download speed, streaming, gaming, lesser lag, and more. Moreover, the device is fitted with a Smart Data mode that'll preserve the battery life when you don't need to have high-speed requirements.
The inclusion of 5G is a very strategic move by Apple. iPhone SE is presumed to be targeted at the international market, specifically South Asia. Notably, manufacturers like Samsung, One Plus, Oppo, etc. are selling 5G supported devices at a similar or lower price range.
OS
One of the perks of owning an iPhone is availing software and security patches for at least 4 to 5 years. And the combination of A15 Bionic and a fast 5G connection ensures you're at the forefront of upcoming features. Something that will not be available on iPhone 11 (A13), iPhone 12 (A14) to such an extent.
Battery
Again Apple hasn't changed the battery size per se. Although, Apple promises a better battery performance, thanks to the highly efficient A15 chip. Compared to iPhone SE 2, the 2022 version offers up to 2 hours more video playback.
Furthermore, the iPhone SE 2022 version also supports Qi-charging and fast charging up to 50% in 30 minutes when connected to a 20W or higher adapter.
We're loving the power but what about the design?
Let me get this off my chest before I start comparing. While I have no personal problems with the Home button for factor, I can't get over it because it is a 6-year-old design. Maybe some people still want to hang on to the Home button, but I am not one of them.
So, yes, I have complaints with the iPhone SE 3's form factor. Although that's not the only problem, my key issue is Apple's lack of motivation to spruce things up. Apart from A15 and 5G, what else is new?
Same old display
Of course, I am not expecting Apple to bring in ProMotion in iPhone SE 3; after all, it is only reserved for iPhone 13 Pro and 13 Pro Max. However, I am not convinced with the LCD Multi‑touch display with IPS technology; why can't we get a Super Retina XDR display like the iPhone 12.
On top of it all, we are not even getting a full-screen to view. The thick bezels and Home Button takes away a major stake, wouldn't it be nicer to have a notch and bigger screen?
Another very odd thing is Apple's coy way of not mentioning Ceramic Shield. The website states that iPhone SE 3 has 'the toughest glass in a smartphone,' but the exact terminology is mentioned nowhere in the device overview or tech specs.
Still no TrueDepth Camera
I know it requires special 3D mapping sensors and notch to get this feature, so that might be too big an ask. But common, no change in the camera setup, whether front or rear. Is it difficult to bring a smarter, better sensor into the mix?
Imagine the magic an extra sensor and A15 chip could have created. Maybe mind-blowing nighttime photography improvements or something else; I mean, Apple is the dream weaver; I am just a mere tech lover who wants more.
Boring old colors
While this is too minuscule a complaint but when Apple emphasizes iPhone colors, why is iPhone SE 3 ignored? The tech giant launched special colors for iPhone 12 and 13 in the spring event for the past two years. Was there no other color option for iPhone SE 3?
Why oh why? We have the same old iPhone SE 2 color options, Starlight, Midnight, and Starlight. Some new and unique color options would have perked users more, wouldn't you think?
Is the battery really better?
On the one hand, Apple claims A15 has improved the battery life. And on the other hand, it has added 5G, which is known to drain the battery quicker. Yes, I don't think that Apple's 2-hour extra claim is false, but we can't tell for sure unless the real stats are out. So, I reserve my decision after the battery test results are out.
Do we really love the price?
Apple has introduced and priced the iPhone SE 2022 as an entry-level device. However, Apple has also bumped up the price to $429 from the previous $399. Agreed, $30 is not too much, but it surely makes us question the reason behind the decision.
There are only two major changes in the iPhone SE 3, so, I am billing the extra on A15 and 5G. However, the new iPad Air 5 is blessed with an M1 chip and Apple did not increase its price So, it is probably 5G that is making all the difference.
As explained earlier, 5G was almost a necessary inclusion to make iPhone SE stand at par with its competitors. But the competitors also offer more modern-looking devices with some remarkable features, so will the iPhone SE really stand ahead of them?
Who will be willing to buy an iPhone SE 3?
And looking into its feature, it will suit first-time users on a budget, introductory device for kids and young adults, and elderlies who have limited phone usage.
And while the adults who still prefer Touch ID and don't want to spend a bomb, might love iPhone SE 3; I doubt an image-conscious, social-media addict teenager would like to sport an old-school form factor such as iPhone SE 2022.
Yes, iPhones are statement-makers, but what statement a 6-year old design is making? Especially while the competitors are offering 'modern-looking' seamless designs at a cheaper or similar price point. All of this is really making me question Apple's decision of the price hike, while just making two-big changes and maintaining the same form
Conclusion
I am not questioning the power and capabilities of the iPhone SE 3. However, I wish it adorns a fancier form factor, maybe the XR or something. Maybe that is my opinion, and some users might still want and love the Home button and Touch ID design.
But in the era of the in-screen fingerprint sensor, 6.7″ full-screen viewing does the 4.7″ screen stand a chance. Those who want a compact iPhone can opt for iPhone 12 mini and 13 mini, and if someone waits for the right discount, they won't even be that expensive.
And while it seems like a rant about the form factor, I am really angry/ frustrated about missed opportunities. I would not have complained if real improvements like a smarter camera sensor, bigger/better screen, MagSafe, or something made this device stand out from the crowd.
I don't think just adding a smarter, faster chip and connectivity solution will cut it. Well, at least that's what I think. And I would love to know your views on the matter?
Do you think iPhone SE 3 is worth noticing, or should we just forget it altogether and look ahead for the iPhone 14 release?
You may want to take a peek at:
A self-professed Geek who loves to explore all things Apple. I thoroughly enjoy discovering new hacks, troubleshooting issues, and finding and reviewing the best products and apps currently available. My expertise also includes curating opinionated and honest editorials. If not this, you might find me surfing the web or listening to audiobooks.