Things you need to know:
M2 chip is built on a 5nm process.
The CPU inside M2 has an 18% increase in multi-thread performance compared to M1.
The GPU of M2 comes with 2 additional cores, making it a 10-core GPU.
Apple took the industry by storm with the M1 chip back in November 2020. Since then, each member of the M1 family has been raising the benchmarks for personal computer chips. The M1 series concluded with the launch of the M1 Ultra, and the fans have been excited about the launch of the M2 chip.
The wait finally ended with WWDC 2022, where Apple announced the M2 chip. Let's look at all things Apple has packed inside this beast and what improvements it has made.
5nm build as M1, but better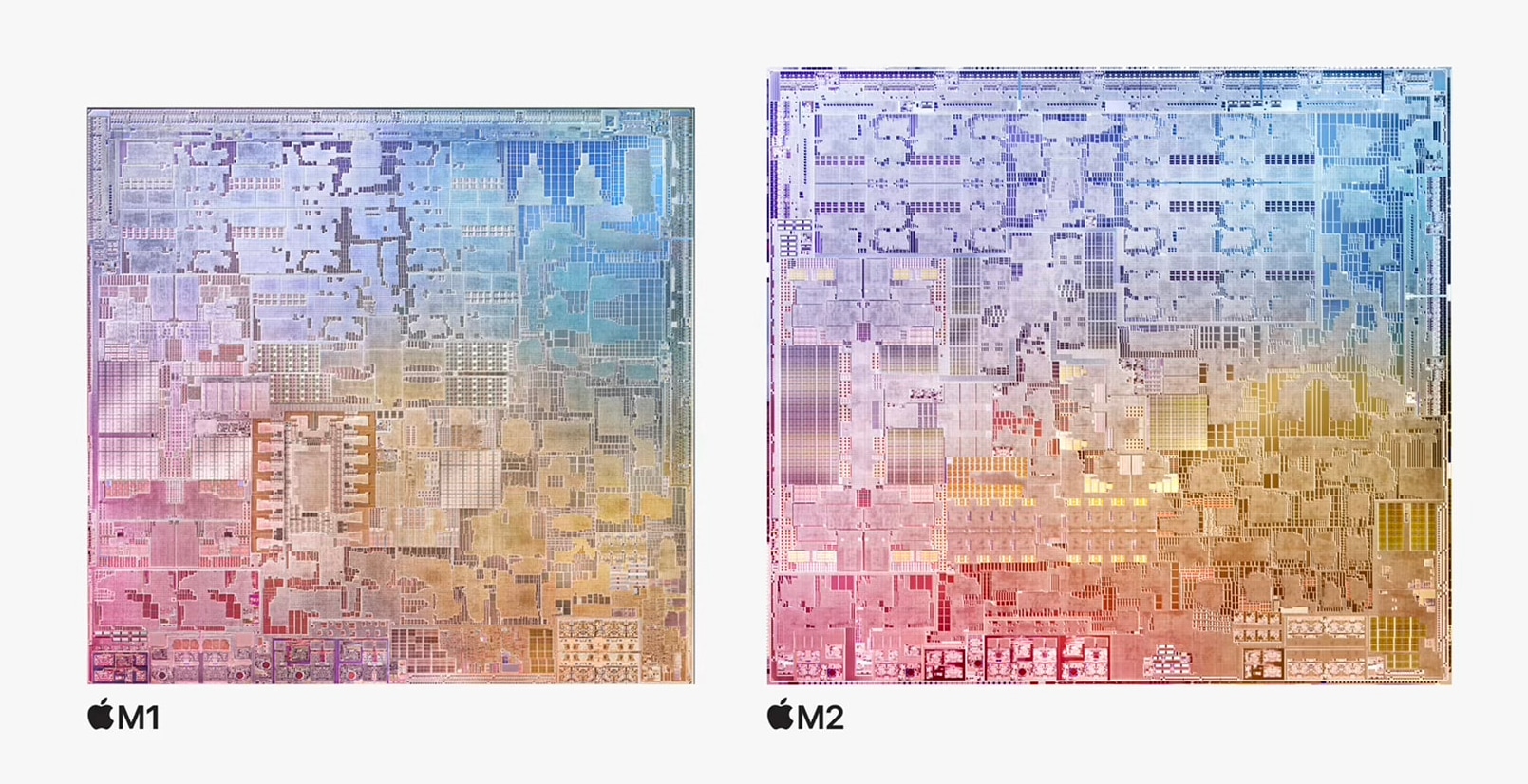 While many were excited for the M2 primarily because it was rumored to come in a 3nm fabrication process, here's some disappointing news: M2 is fabricated in a 5nm process, similar to M1.
However, it's much more powerful because Apple has made the M2 on an enhanced second-generation 5-nanometer technology. It packs a total of 20 billion transistors, a 25 percent increase over M1. Thanks to the increased number of transistors, M2 has better efficiency than M1.
The M2 can now deliver a 100GB/s of unified memory bandwidth, which is a 50 percent increase over M1. The M2 also gets support for up to 24GB of fast unified memory, thus promising to handle even larger and more complex workloads effortlessly.
M2 CPU improvements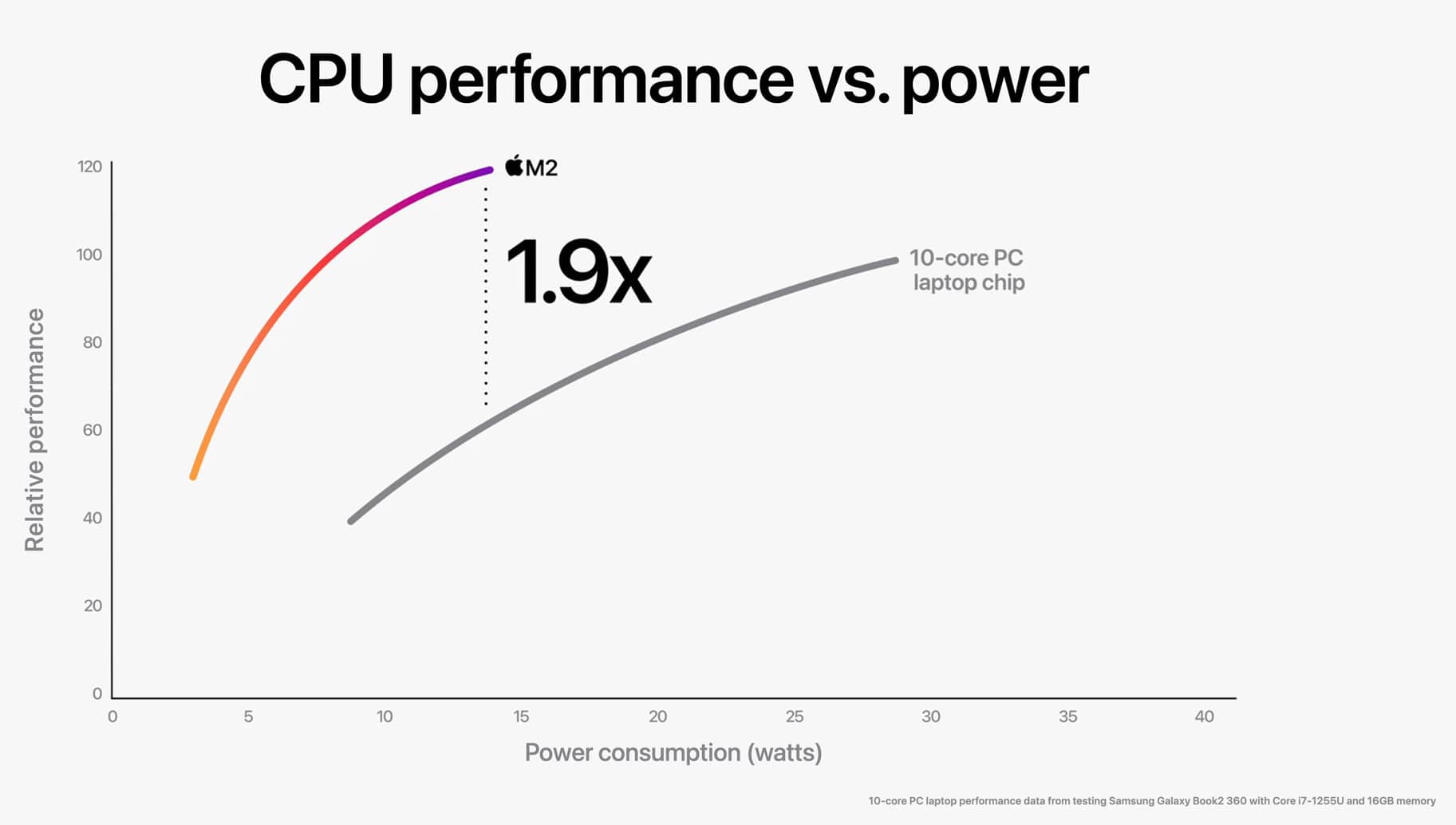 While M2 still retains 8 cores as its predecessor, the 4 performance cores offer better performance and have been coupled with a larger cache. For those who don't know, more cache space coupled with good performance cores results in faster loading and process of tasks.
The other 4 cores are efficient cores and have also been revised for less power consumption, resulting in better battery life than its predecessor.
The CPU is promised to deliver 18 percent greater multi-threaded performance over M1. Compared to the competition's 10-core laptop chip, the M2 can deliver twice the performance at the same power level.
Additionally, the M2 can come close to the performance of the 12-core laptop chip of the competition and can match 90 percent of the peak performance of the 12-core chip by just consuming one-fourth of the power.
M2 GPU improvements
While the number of cores remained the same in the CPU of M2, the GPU received 2 more cores than its successor and thus, has a 10-core GPU. It also has a larger cache and higher memory bandwidth and is said to output 25 percent higher graphics performance than M1 at the same power level.
When you push it to its max, the M2 can output 35 percent better performance than the M1. Compared to the competition's 10-core chip, the M2 is promised to perform 2.3x faster at the same power level. It can also reach the peak performance of the competitor chip while only using a fifth of the power.
All this lets the M2-powered Macs have exceptional battery life and run cool and quietly, even while you push it with graphics-intensive games or while editing massive RAW images.
Other new features
Besides the improvements in CPU and GPU, the M2 chip has a Neural Engine that can process up to 15.8 trillion operations per second, a 40 percent improvement over M1. The M2 also has a media engine with a higher-bandwidth video decoder and supports 8K H.264 and HEVC videos.
As for those who love streaming videos, you will be happy to know that the M2 can stream both 4K and 8K videos simultaneously. There is also an improved image signal processor (ISP) for better image noise reduction.
M2 chip release date and configurations
So after going through all these features, you may wonder which all devices come with the latest M series chip. Currently, only the MacBook Air and 13-inch MacBook Pro come with the M2 chip, costing $1,199 and $1,299, respectively. Both the devices will be available starting July 2022.
But I'm sure we will see future iPad Air and Pro models and other Mac lineups equipped with the M2 chip.
That's it!
M2 chip comes with pretty good improvements over its predecessor. Since you have gone through the specs and improvements of M2, do you consider M2 a true successor to M1? Let me know in the comments below.
Read more:
Readers like you help support iGeeksBlog. When you make a purchase using links on our site, we may earn an affiliate commission. Read more.
Anoop loves to find solutions for all your doubts on Tech. When he's not on his quest, you can find him on Twitter talking about what's in his mind.