When you buy a MacBook Pro, you have to treat it as an investment. Just like any other investment, you have to ensure that your MacBook is protected. In this case, you can use laptop sleeves or screen protectors to give it a certain amount of protection. However, I've found that bags and backpacks are the best way to protect your MacBook Pro from scratches and spills. This is why I've curated a list of the best bags for MacBook Pro.
Let's have a look at these bags now, shall we?
1. Matein travel MacBook Pro backpack – Editor's choice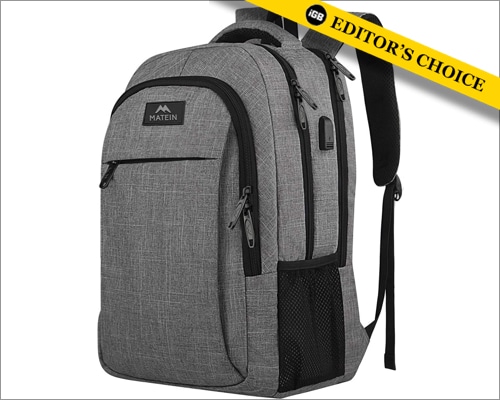 Whether you're a college student or a businessperson, the things you look for in a backpack for MacBook Air are simple. You look for durability, timeless design, anti-theft features, water resistance, and USB charging cables.
Thankfully, you get all of these in Matein's bag for MacBook Pro. It can hold laptops of up to 15.6-inch screen sizes. Moreover, there are charging cables inside the bag and a charger built outside of it to ensure that you never run out of power. If you've got valuables to store, you can store them in the anti-theft pocket to keep them out of reach.
It's got a timeless design and can fit anywhere, whether college, casual, or business casual. If you're into traveling often, you can take this bag for MacBook Pro as it has multiple compartments and large storage spaces. Overall, it provides everything you'd want in a backpack for MacBook.
The only issue that I have with this bag for MacBook Pro is that it doesn't have protective padding at the bottom for your laptop.
Pros
Large carrying capacity
Built-in USB port for charging
Anti-theft pocket
Perfect for most scenarios
Cons
No protective padding at the bottom
2. MOSISO Mac sleeve – Stylish design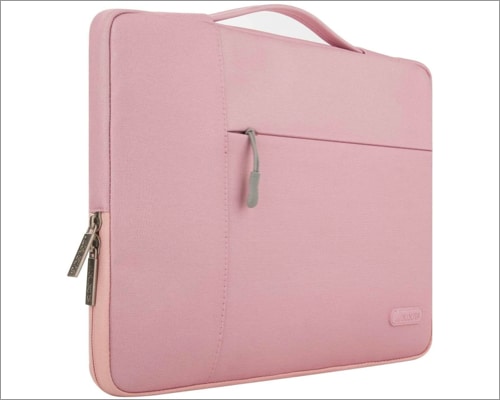 We move from durable backpacks to a laptop bag with a beautiful and elegant design factor. This offering from MOSISO comes with polyester material and a range of solid colors that would blend into any environment.
Apart from the design, the inside of the bag is protected with a padded layer that's made of bubble foam. The padding is resistant to shocks, thereby protecting your laptop from falls on a low to medium height. You can also alter the way you want to carry it. Whether you want a laptop sleeve bag or a laptop handbag, that's completely up to you.
While it also comes in multiple sizes, it doesn't provide a snug fit. If that's what you're looking for, you shouldn't go for this bag.
Pros
Great design and aesthetics
Bubble foam padding to protect laptops
Carrying form factor can be changed
3. MANCIO business bag – Slim, and lightweight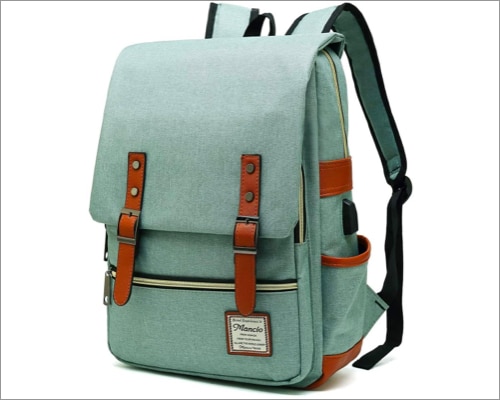 This bag for MacBook Pro from MANCIO is a trendy bag with a slim and lightweight factor. This bag is a perfect fit for those who don't like to carry anything bulky. The bag has a trendy design with multiple pockets and padded shoulder straps to alleviate the pressure on your shoulders. Moreover, there are five compartments to store your laptop and varied accessories.
Finally, there's a USB port design available for charging your phone on the go. Say goodbye to low battery days! Unfortunately, the side compartments are too small and tight to fit larger water bottles.
Pros
Slim form factor
Decent design
Padded shoulder straps and multiple pockets
USB port design
Cons
Side compartments are far too small
4. Smatree backpack for MacBook – Strictly for business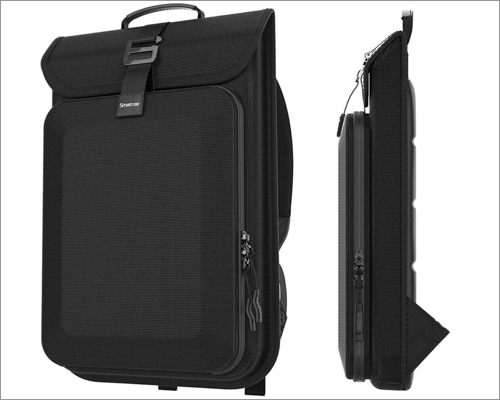 You look at some backpacks and think they are strictly meant for business and formal occasions. The Smatree bag for MacBook Pro will evoke the same feelings when you look at it for the first time.
The bag has a unique design whose patent is pending. The inner compartment can hold laptops of all sizes, while the outer compartment is perfect for bundling in your accessories. This uses the available space optimally for the best weight distribution.
Moreover, there's a hard case on the bag's outer layer to protect your valuables from drops and scratches. In addition, the zips are from the reputed YKK brand, ensuring durability for years to come.
However, one issue with the bag is that the shoulder straps haven't been padded properly. If you carry too many things or carry the backpack for too long, you may face shoulder pains.
Pros
Unique design
Business-specific design
Good weight distribution
Hard outer case to protect laptops
Cons
Shoulder straps aren't padded properly
5. NIDOO shoulder bag – Maximum versatility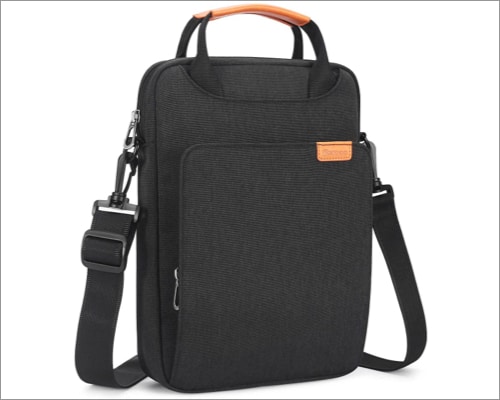 Sometimes, certain products come along that perform so many functions that you're not sure what niche they'd belong to. This bag for MacBook Pro is one of those products.
Apart from the slim form factor and efficient looks, parts of the bag can be advjusted to your liking. If you want a messenger shoulder bag, you've got it. Want a crossbody or briefcase bag? This bag can be adjusted for those scenarios as well. There's almost no limit to what you can do with this bag.
In addition, the bag is splashproof and has multiple large compartments. You don't have to worry about the inner compartments, as they're lined with fluff and foam padding to protect your gadgets from drops and shocks.
However, I'd recommend you not use the bag for too many gadgets or accessories as it can get quite uncomfortable to carry with the extra weight.
Pros
Slim form factor
It can be adjusted in multiple ways
Large compartments which offer protection
Splashproof
Cons
Can't handle too much weight
6. BOPAI anti-theft Mac backpack – Feature-rich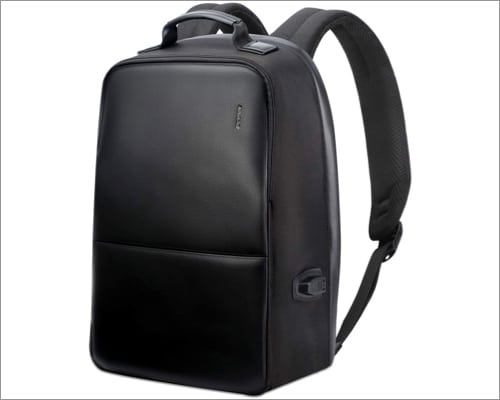 This backpack for MacBook Air has plenty of features to make your commute easier. Moreover, it looks great too. Essentially, the bag is made of microfiber leather and ballistic nylon material, making the bag water-resistant and splashproof. Who wouldn't like the sleek, black faux leather finish?
Coming to the features, there's an invisible anti-theft design on the bag. It consists of a concealed double zipper design that even you might miss if you're not watching closely!
The only issue with this bag is that it's quite expensive. In addition, the USB charging port design makes it convenient when your phone needs power, and power source access isn't an option. It also has an invisible card holding pocket on the shoulder straps for easy access.
Pros
Plenty of nifty features
Decent build quality
Anti-theft design
USB charging port added
7. MAXTOP storage laptop backpack – Best for college students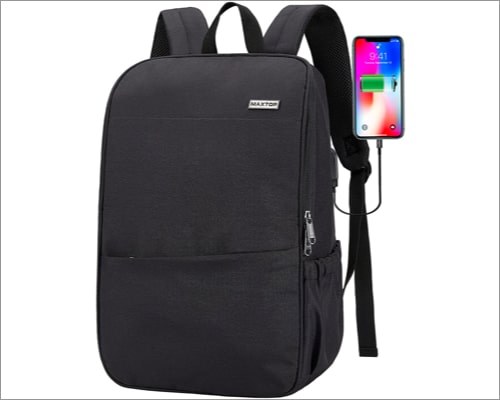 With college students, the essentials tend to be the same. You need a bag for MacBook Pro that can hold all your gadgets, provide enough space for accessories, looks cool, and can charge your phone.
With this bag from MAXTOP, you get each of these features. There's the main, roomy compartment for holding your laptop and all the accessories. On the side, you get two other compartments for your water bottles and pencil cases.
The USB port and cable provided do a good job of charging the phone. The port placement makes it easier for students to access their phones.
I'd recommend that prospective buyers limit the amount of luggage they carry inside the bag. Its weight distribution isn't perfect, especially when there's more to carry.
Pros
Perfect for college students
Provides all the essentials
Cons
Not designed to carry too much weight
8. Muzee waterproof bag – Elegant design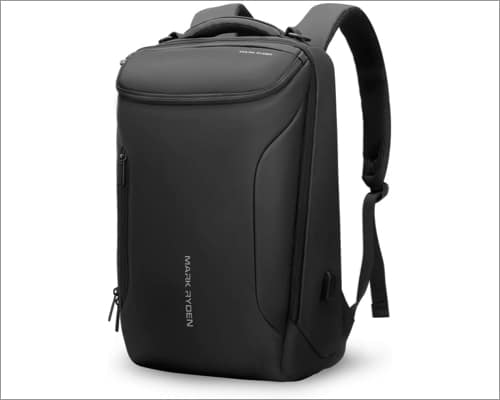 For businesspersons and minimalists, this bag for MacBook Pro is an excellent choice. It offers a minimalistic yet elegant design that many will love instantly. The bag isn't just about looks either. From USB charging ports to highly durable zippers to emergency whistles, there are a lot of features about this bag that you shouldn't overlook.
It's also got padded air cushions at the back to make it a more comfortable carry. Ultimately, the bag looks great and has a handful of nifty features that can be utilized well.
I'm not a big fan of the price, though. This bag is quite expensive for the features that it brings.
Pros
Minimalist design aesthetics
Emergency whistle
Durable zippers
Padded air cushions
9. FINPAC briefcase shoulder bag for MacBook Pro – Going with the trends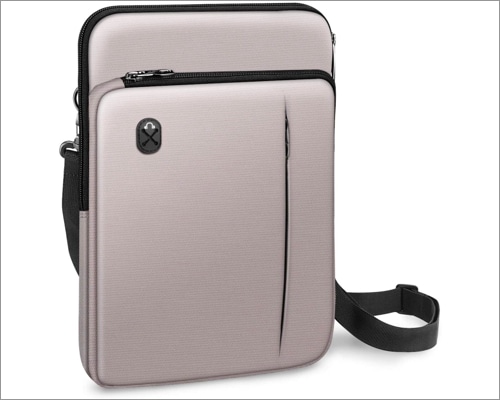 Trends are something that doesn't tend to last for a long time. However, some trends come with some good changes as well. The design is very useful with this trendy backpack for MacBook Air from FINPAC.
The first thing you should know about the bag is that it comes with excellent quality material. The bag is made out of 900D water-repellent material. This material also makes the bag wear-resistant. In addition, the insides of the bag are padded to ensure that your valuable MacBook and accessories don't suffer from drop damage.
Another nifty feature of the bag is the headphone hole. Even though wired headphones have gone out of fashion, if you're someone who prefers wired headphones, you can use the headphone hole for easy access and storage. Lastly, the shoulder straps can be removed, and the handle retracted if you want a more comfortable carrying experience.
Unfortunately, the bag can only carry smaller laptops with 13-inch screens.
Pros
Trendy design
Excellent build quality
Water and wear-resistant
Padded compartments for drop protection
Can be adjusted for a different form factor
Cons
Only good for smaller laptops
Wrapping up
These are our top picks for the best bags for MacBook Pro. What kind of bags do you prefer to use? Have you used any of the products mentioned here? If yes, how was your personal experience? Post all your thoughts and opinions in the comment section!
Read More:
Readers like you help support iGeeksBlog. When you make a purchase using links on our site, we may earn an affiliate commission. Read Disclaimer.