A docking station is a convenient way to charge, store and access your iPhone. However, with the introduction of wireless and MagSafe chargers, lightning docks' charm has faded. But don't be sad, because we have got you covered.
Here are some amazing wireless and old-school iPhone docking stations you can check out.
1. Anker PowerWave: Editor's choice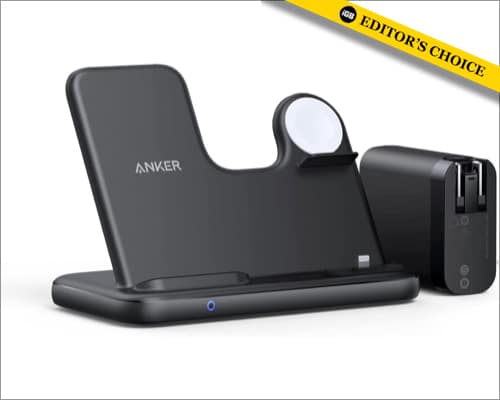 Along with 2 wireless fast charging pads for Phone and Apple Watch, Anker PowerWave 4-in-1 docking station incorporates a Lightning connector dock for AirPods and a USB-C connector.
It's indeed an all-rounder charger. However, it doesn't have MagSafe compatibility, so you will only get 7.5W charging for iPhone. The MFi certifications guarantee strong magnetic alignment and stable charging for your Apple Watch.
Besides, Anker's exclusive MultiProtect technology offers temperature regulation, short-circuit avoidance, and other features. Although, do note that it doesn't support thick cases and only supports plastic, polycarbonate, rubber cases, etc. So, make sure you have the right one.
Pros
Charge 4 devices simultaneously
MFi certified
MultiProtect technology
Cons
Doesn't support cases over 5mm
Check out on: Amazon | Best Buy | Anker
2. Mophie 3-in-1 docking station for iPhone: Supports fast charging
As the name suggests, you get to charge 3 devices simultaneously. This docking station boats a 15W quick wireless charging stand, Apple Watch magnetic charger, and a charging pad for AirPods. So, you can juice all your Apple devices together quickly and safely.
Also, you can set your Apple Watch in Nightstand Mode to use it as an alarm. I find it very convenient because you can charge your iPhone in both portrait and landscape orientations.
Furthermore, the specially designed tray for charging AirPods ensures that it charges properly and doesn't interfere with other devices. But I faced issues with the LED indicator and thick cases, so consider that before hitting that buy now button.
Pros
iPhone-optimized fast charging
Compact design suits well even in small spaces
Stylish gloss finish
Check out on: Amazon | Best Buy
3. Native Union Snap: Super compact design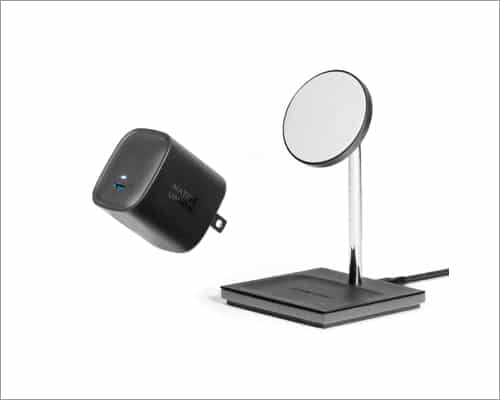 Native Union iPhone docking station combines a wireless charging stand and a multi-port PD charger. It can comfortably charge your iPhone, AirPods, and iPad. The best part is a compact design saves space on your desk and a magnetic ball.
Moreover, thanks to a socket-style joint, you can use the iPhone in both vertical and horizontal modes. With the incorporated MagSafe, you will get powerful magnet alignment and strength for wireless charging iPhone 12/13 up to 7.5W.
As for other Qi-compatible gadgets, they'll juice with 5W wireless charging. Besides, the docking station features a solid weighted base and a wireless charging pad for your other Qi-enabled devices like AirPods.
An interesting feature is the one-hand, hassle-free attachment and removal experience (just grab it and go!). The quality weighted base with a silicone strip ensures a non-slip hold on your desk.
There's more, you can choose between a Smart Hub PD45W or GaN Charger PD 30W while purchasing the product. Everything was quite impressive until I tried to charge my older iPhone. It was charging slowly, but the phone was heating up.
Pros
One-hand operation for convenience
Additional fast charging PD charger
2 meters of USB-C to USB-C cable included
Cons
Only for iPhone 12/13 models
Check out on: Amazon | Native Union
4. Lamicall docking station for iPhone: Simple, effective, and budgeted
Lamicall charging stand is universal for all iPhones between 4 and 8 inches in size, along with phone cases. It is durable and scratch-resistant because of the aluminum build and a good polish.
Additionally, the anti-slip rubbers hold and guard your phone case while maintaining its stability on the desk. The ergonomic design gives you a favorable viewing angle, so you never miss any calls or notifications, even when the phone is silent.
You can also charge your iPhone using the Lightning cable through the rear hole. It also has a beveled outside edge that won't cut into your cord, making it the ideal dock for your phone.
The best part is that it is less than $12! Therefore, I would say it's the most affordable desktop phone holder to have a hands-free experience anywhere.
Pros
Affordable
Fits thick cases
Metalic anti-slip design
Lifetime warranty
Cons
No cable or adapter included
No wireless charging experience
Check out on: Amazon
5. Intoval 3-in-1 charger: Ultra safe docking station
Intoval has taken the docking station module to the next level by improving modern engineering for convenience and integrating chips. It guarantees quick and secure wireless charging for your iPhone up to 7.5W and any Qi-enabled devices like Apple Watch and Airpods.
You may place your iPhone vertically for video conferences or horizontally to watch videos while charging. The smart battery safety technology regulates the fast charging current to safeguard your device's battery.
Besides, it offers temperature control, surge protection, short-circuits avoidance, and other features. I will suggest using the included 18W QC 3.0 adapters and avoiding heavy protective cases for a better experience.
Also, you need to set your device in the middle of the charging area for a quicker and more reliable charge.
Pros
Looks pretty smooth
Smart battery safety technology
Light ring indicator
Cons
Compatible with included adapter and cable only
Stops charging randomly
Check out on: Amazon | Intoval
6. WAITIEE smart docking station: With smart light indications
Another amazing 3-in-1 wireless docking station to juice your iPhone, Apple Watch, and AirPods. But you need a 12V/2A or 9V/2.7A converter to charge the phone, earbuds, and watch simultaneously. Also, it only has the USB-A interface for the watch cable.
The magnetic charging pad enables 7.5W charging for iPhone. Also, it disconnects charging to safeguard the battery from overcharging. Plus, you'll be stress-free as it has over-current, -voltage, and -temperature protection and identifies external objects.
To guarantee your iPhone is charging safely, the dock base has a venting hole and an anti-slip silicone layer so it won't slide or fall off. You can precisely set the Watch cord in the back of the station. Besides, the tilt angle design enables easier viewing of the display.
The ring light indicator shows when your iPhone is charging or in standby mode. You can also turn it off using the touch sensor. The light will flash green when in standby mode using a standard 5V adaptor.
Pros
Touch-sensitive key
Breathing blue light indicator
Better cable management
Cons
Need 12V/2A or 9V/2.7A adapter to charge 3 devices together
Doesn't support Apple Watch Series 7
Check out on: Amazon | WAITIEE
7. GEEKERA wireless charging stand: Unique sleek design
GEEKERA has developed a unique "U" shaped 3-in-1 iPhone docking station. It is just 0.47 inches thick and can fit in your pocket. The product definitely stands out for its user-friendly design.
Especially the additional silicone coatings feel premium, making it scratch-free and electrostatic-proof. While other wireless docks' bright LED indicators may hamper your sleep, it would not.
The green light will flash for 3 seconds if a power supply is present. When you place your iPhone properly, it will indicate for 20 seconds. The LED indicator will remain on while in charging mode and turn off when fully charged.
I loved that they included three fast wireless charging pads with non-slip thread so that you can put your iPhone in any charging position you want. Additionally, multi-protective technologies such as temperature regulation, over-current, and over-voltage protection ensure 360 safety for your iDevices.
Pros
True wireless charging for AirPods
Cooling holes
Built-in Apple Watch charger
WPC Official Authorization
Cons
Otterbox Commuter cases are incompatible
Check out on: Amazon | GEEKERA
8. AOSJIM iPhone docking station: Value for money
Do you also travel often and get tired of carrying several chargers for your Apple devices? Then the days of your struggle have ended. AOSJIM provides a 3-in-1 foldable and portable charging station that is easy to take in a bag.
It has one wireless charging station for the Apple Watch, one phone charging stand, and one AirPods charging dock. You may use your phone without taking off the stand by adjusting the phone stand's tilt (from 0 to 90 degrees).
Smart cable management conceals all the cords into the stands, keeping you clutter-free. It is the only iPhone docking station I have ever used that supports thick phone and AirPods cases.
Pros
Foldable and portable design
Adjustable phone stand
Compatible with thick cases
Cons
Wireless charging missing
Check out on: Amazon
9. YoFeW MagSafe docking station: Good build quality
If you are looking for a durable docking station for your iPhone, YoFeW will be the right choice for you. This 3-in-1 charging station is made of high-quality aluminum alloy. Besides its sturdy and long-lasting build, the product has MagSafe compatibility as a bonus.
Strong magnets will set and hold your iPhone with the charging perfectly. Also, the stand is stable thanks to the adjustable non-slip silicone bottom bezel. You may view videos while charging by rotating the phone 360 degrees.
The Multiple Safety technology protects against overvoltage, overcurrent, short circuits, abnormal noise, etc., thanks to the smart chip. Along with that, the CE, FCC, and Qi certifications provide quick and secure charging.
With a maximum output of 10W, this magnetic wireless charger can fully charge your iPhone in three to four hours. You don't need to remove your Mag-Safe casing.
Pros
Aluminum alloy build
Integrated smart chip
Cons
Only compatible with MagSafe cases
Check out on: Amazon
10. Pezin & Hulin wooden docking station: Charge multiple devices together
This is much more than a docking station for individuals with many Apple devices. You can fit three iPhones, two iPads, an AirPods, and an Apple Watch in it, even with cases.
The thoughtful multi-built-in holes that include a space for the charging cord and a specific holder for the Apple Watch are the icing on the cake! A 4-port or 6-port charger makes it simple to simultaneously charge every one of your gadgets.
This docking station does not include a charger but has 5 charging cords. You may put up and set the charging station anywhere with ease, thanks to the magnetic base. Additionally, you can conceal all the wires within the charging station itself with the roomy compartment at the bottom.
It is an environmentally beneficial product since it is made of natural bamboo. This docking station is great for people who struggle to manage many gadgets and want a space free of clutter at their workplace or home.
Pros
Eco-friendly
Charge 8 devices together
Good cable management
Cons
Bulky
Traditional wired charging
Check out on: Amazon
11. HomTime all-in-one docking station: Speaker + clock + radio
Homtime is not only a docking station but also offers a digital clock and a wireless speaker. So, it successfully meets various demands and has a practical design.
The dock, in the first place, enables you to set your smartphone in both portrait and landscape positions. As a result, you will have a smoother hands-free experience, whether using video calling or viewing videos.
It contains a few USB connections for charging, so you can power up your gadgets. Because of the integrated surge protection, it fends against typical dangers.
The wireless speaker is more than capable of bringing your music to life. Homtime is a useful asset due to its wireless BlueTooth speaker, FM radio, and alarm features.
Pros
Built-in surge protection
Additional FM radio and alarm feature
Cons
Need electricity to function
Too loud
Check out on: Amazon
12. iHome iBTW20 Timebase: With Alarm clock and microphone
iHome docking station for iPhone has a Qi charging pad and USB port to charge your phone both wired and wirelessly. The wireless charger provides 10W changing for your phone.
You can set your morning alarm using four built-in alarm tones and wirelessly stream audio from Bluetooth-enabled devices.
I actually loved that you can receive calls using the speaker with the built-in microphone and digital voice echo cancellation.
Besides, there are answer/end buttons. The iHome iBTW20 digital alarm clock is a perfect addition to your bedroom, workplace, and kitchen, thanks to its small size.
Pros
Multi-purpose device
Receive calls
Cons
No support for quick charging
Check out on: Amazon
So, that's all, folks!
Most people now are switching to MagSafe wireless chargers. However, the iPhone docking station is still very convenient for keeping your worktop clutter-free and charging all your Apple devices. Which one has attracted your eyes? Let me know in the comment section.
Read more:
Readers like you help support iGeeksBlog. When you make a purchase using links on our site, we may earn an affiliate commission. Read Disclaimer.