M1 and M2-powered MacBooks provide the best battery life out of all the laptops available in the market right now. I am yet to come across laptops with a similar form factor and longer battery life than M1/M2 MacBooks. Nonetheless, like any other gadget powered by batteries, MacBooks do tend to run out of charge.
If you travel frequently and are looking for a power bank to recharge your MacBook Pro or Air and other devices alongside it, here is our list of the best power banks for your MacBook that you can buy right now.
1. Anker PowerCore+ charger – Editor's choice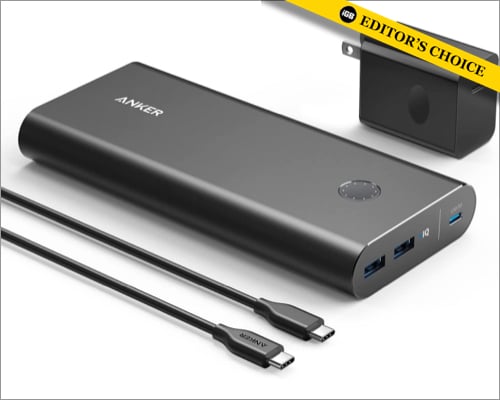 Anker is one of America's leading USB charging brands. They make great quality products at affordable prices. The PowerCore+ is a 26,800mAh power bank. The dimensions are 7.68 x 3.54 x 2.36 inches, and the weight is 1.6 pounds.
The Anker PowerCore+ supports 45W PD (power delivery) charging and can fully charge 13-inch MacBooks within 2 hours. It features 2 USB-A ports that can give an output of 15W and a USB-C port that offers 45W PD charging support. Also, it comes with built-in trickle charging support to charge low-power devices like TWS, Bluetooth speakers, etc.
The power bank supports 60W power input while charging and can go from 0-100 within 3 hours and 30 minutes. The icing on the cake is the 60W USB-C power adaptor is included in the box alongside a USB-C to USB-C power cable and a travel pouch. You also get 18 months of free warranty.
Pros
Sleek and Minimal design
45W PD Charging
Bundled 60W charging brick and USB-C to USB-C charging cable
Cons
On the heavier side, at 1.6 pounds
2. Omni 20c+ with wireless charging – Multipurpose charger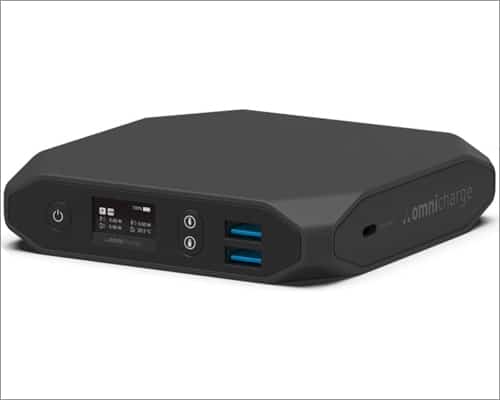 The Omni 20c+ is a 20,000mAh power bank. Despite its huge capacity, it is compact with dimensions of 5 x 4.8 x 1.1 inches. It weighs just a little over a pound. It boasts a unique design with an OLED screen to provide smart power readings and looks like a product from some sci-fi movie.
Also, it isn't all style and no substance; in fact, it is one of those products that have more substance than style. It features a pair of USB-C ports that can give an output of 60W power when being used simultaneously. The left USB-C port can output 100W speed when being used alone. There are a pair of USB-A ports that support QC 3.0.
Moreover, the top panel doubles as a 10W wireless charger. And it supports passthrough charging while being recharged too, and takes up to 3 hours to completely charge using a 45W adaptor. That's not all; the Omni 20c+ also functions as a USB Hub for file transfers. And the company has a patented power protection system in place to ensure both the power bank and your device remain safe during charging.
Pros
Eye-catchy design
Wide-range of ports
Excellent speeds
Passthrough charging
Cons
Some users complained of longevity issues
3. AOHI 30,000mAh power bank – 100W PD charging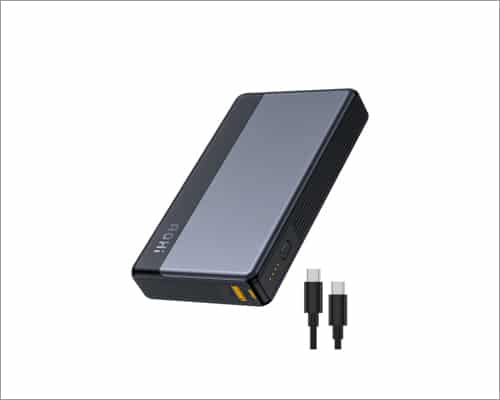 AOHI products never fail to impress. I've reviewed a couple of AOHI chargers and can assure you the features they provide are on par with other offerings in the market. The 30,000mAh power bank by AOHI is yet another remarkable product, as it offers 100W PD charging through USB-C and only weighs 1.17 pounds. Its dimensions are 6.02 x 3.46 x 0.98 inches, which means the product is not very bulky.
Moreover, AOHI always has a very peculiar design (in a good way), and I love the yellow accent within the ports. It features just 2 ports: a USB Type-C and a USB Type-A. It might not be enough for all, but it is certainly enough to charge your MacBook through the USB-C port at 65W and your iPhone through the USB-A port at 20W. All of this was made possible due to extensive support for PD protocols, all the way from PD 20W to PD 65W.
It can out 83W of total power while being connected to two devices. How long does the power bank take to charge, you ask? Well, the 30,000mAh power bank can go from 0-100 in around 2 hours. However, you will need to charge it through a 100W USB Type-C PD charger.
Pros
Lightweight
65W PD charging support alongside other PD Protocols
100W power input
USB-C to USB-C charging cable included in the box
4. mophie power station XXL – Minimal design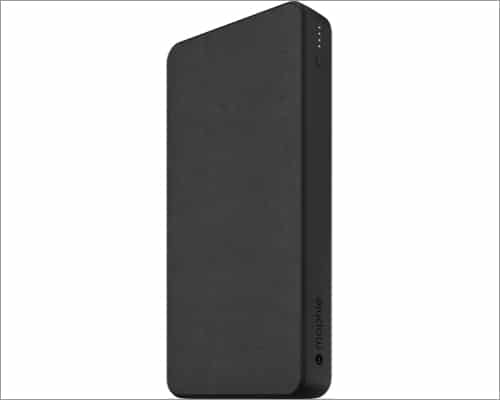 The mophie Powerstation XXL is a 20,000mAh power bank. This is the perfect choice for you if you consider yourself a minimalist. It comes in a fabric finish that prevents scuffs and scratches. Also, remember that it just feels like fabric but is nothing other than textured TPU.
However, at just 0.96 pounds, it is one of the lightest power banks I have come across. Moreover, the dimensions are 3.05 x 6.26 x 0.98 inches, which is amazing for a 20,000 mah power bank. I feel if you're someone who values great design and can sacrifice some utility, this is what you should opt for.
Because the power bank features 3 ports, it isn't bad by any means. However, it provides the highest power output through the USB Type-C port at 18W. This means that while it can charge your iPhone from 0-50% within 30 minutes, it will charge your MacBook slower than most of the other products on this list. The other two ports are a pair of USB Type-A ports.
Pros
Classy Fabric Finish
Lightest among all other power banks on the list
Multiple USB Ports
5. HALO Bolt Wireless – Can jump start your car
Very few would believe that a power bank could house enough power to jump-start a car. The HALO Bolt can jump-start a standard car 50 times, an SUV 35 times, or a riding lawn mower 94 times. All of this is made possible through its massive 44,400mAh capacity. It weighs 1.7 pounds and has a dimension of 7 x 3.7 x 1.5 inches.
Yes, it can easily recharge your MacBook multiple times. But there is a tiny hiccup. You will need to use a Type-A to Type-C or MagSafe cable, as the HALO Bolt only features 2 USB-A ports. That might be a deal breaker for many. Apart from these ports, the power bank also features AC output, a port to insert the car jump starter cables.
Also, it is a TSA (Transport Security Administration) compliant charger, so you need not worry about facing any issues when traveling with it. Lastly, it also supports wireless charging and can simultaneously charge 4 devices.
Pros
Wireless charging
Massive capacity
Can Jump Start your Car
TSA compliant
Never run out of power
Pick any of these power banks based on your needs, and never worry about your MacBook running out of power whenever you are out and about. There are very few power banks with higher battery capacities available these days, simply because the battery life of iPhones and MacBooks is getting better and better with every single generation.
However, there are times when there is an unexpected power cut or if you have to travel when these power banks come in handy. If you have any other recommendations, leave them in the comments below, and we'll ensure to add them to our list.
Read more:
Readers like you help support iGeeksBlog. When you make a purchase using links on our site, we may earn an affiliate commission. Read Disclaimer.