With a surge in the popularity of tablets, top brands like Samsung and Apple are giving their best to take the leader's crown. Samsung recently unveiled its Galaxy Tab S9 Ultra, and it stands neck-to-neck with Apple iPad Pro 2022 in terms of looks, features, and of course, price. So, which premium tablet should you invest in? The ultimate comparison – Samsung Galaxy S9 Ultra vs. iPad Pro – is here to help decide the suitable flagship device for you!
Note: The M2 iPad Pro is available in two variants – 11″ and 12.9″. The differences between these two models lie primarily in their display sizes, screen types, and weight. Therefore, this comparison holds true for both variants to a significant extent.
Galaxy Tab S9 Ultra vs. iPad Pro – Pricing
| | | |
| --- | --- | --- |
| | Galaxy Tab S9 Ultra | iPad Pro 12.9″ |
| Price | $1199.99 | $1099 |
| Colors | Gray and Beige | Silver and Space Gray |
| Available at | Samsung Store and Amazon | Apple Store and Amazon |
The Galaxy Tab S9 Ultra is available for pre-order at $1199.99 on Samsung. You can place your early orders on the official Samsung and Amazon website. In addition, you can choose between two color variants, gray and beige.
To buy iPad Pro, you must invest $1099. The tablet is available on the official Apple Store and leading e-commerce platforms like Amazon. Feel free to pick your iPad Pro 12.9-inch in silver or space gray variants. Also, if you plan to add the Apple Pencil (2nd generation) to your iPad Pro, you must spend an additional $129.
And it goes without saying the price of both tablets increases as you go for higher-end models with better storage capacity and multidirectional connectivity.
Galaxy Tab S9 Ultra vs. iPad Pro – Design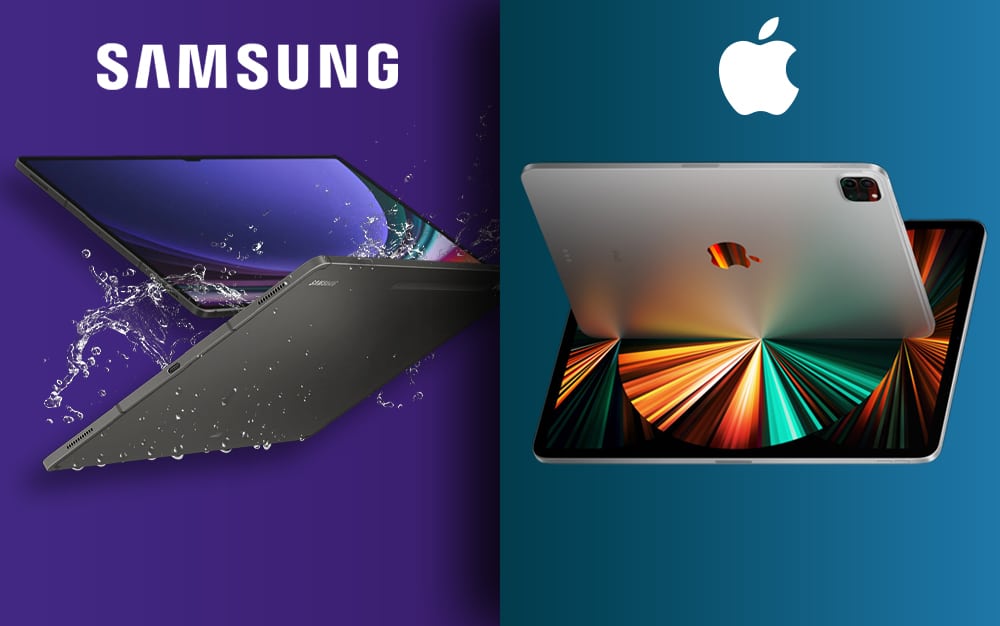 | | | |
| --- | --- | --- |
| | Galaxy Tab S9 Ultra | iPad Pro 12.9″ |
| Dimensions | 12.85 x 8.21 x 0.22 inches | 11.04 x 8.46 x 0.25 inches |
| Weight | 1.6 pounds | 1.5 pounds |
| Stylus | S-Pen included | Apple Pencil not included |
Coming to the design details, the slate comes with Gorilla Glass Victus, and the Armor aluminum build gives this premium tablet a robust and durable lifespan. Moreover, it has a full IP68 rating, giving it complete water and dust resistance. In addition, the tablet's right side houses the volume and power buttons along with a microSD card slot at the bottom.
The backside of the tablet features two rear-facing lenses for the perfect clicks. You will also get a magnetic strip to hold the S pen included with the tablet right below the cameras and flash. Moreover, the powerful quad speakers and a single USB-C port are aligned on the sides of the Galaxy Tab S9 Ultra. The lack of a headphone jack might disappoint some owners.
Like the Galaxy Tab S9 Ultra, the iPad Pro M2 2022 indistinguishably resembles its previous version. It has a robust aluminum body paired with scratch-resistant glass. Apple doesn't claim the tablet offers water resistance like Samsung's Tab S9 Ultra.
The volume buttons find their space on the right, whereas the single Thunderbolt 4/USB-C port is on the bottom. Once again, like Galaxy Tab S9 Ultra, iPad Pro 12.9″ has quad speakers aligned on the tablet's sides. Also, don't forget to check this guide for some cool cases to pair with your iPad Pro.
If you are looking for something unique, then sorry to burst your bubble, but neither of the tablets mentioned above offers that. However, their sleek and stylish look will never disappoint you.
Galaxy Tab S9 Ultra vs. iPad Pro – Display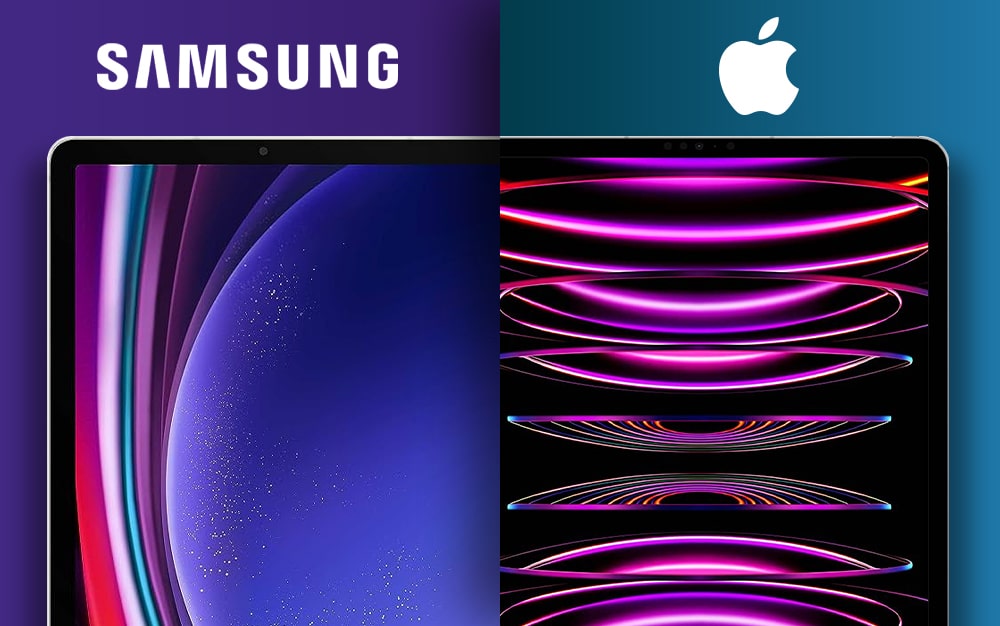 | | | |
| --- | --- | --- |
| | Galaxy Tab S9 Ultra | iPad Pro 12.9″ |
| Display Screen | 14.6-inch OLED | 12.9-inch Liquid Retina XDR |
| Pixel resolution | 1848 x 2960-pixel resolution | 2732×2048-pixel resolution at 264 PPI |
| Refresh rate | 60Hz to 100Hz | 120Hz |
A gorgeous 14.6-inch OLED display awaits you on Galaxy Tab S9 Ultra. The big screen lets you work on multiple apps side-by-side without having you squish them on the display. Not to forget that the 16:10 wider aspect ratio this tablet offers will add some extra stars to your movies and video streaming.
The Super AMOLED 2X display supports an 1848 x 2960-pixel resolution offering bold colors and stark contrast. Further, the tablet has a dynamic refresh rate that keeps switching between 60Hz and 100Hz automatically, depending on the task you are using it for.
On the other hand, iPad Pro has a slightly smaller display measuring 12.9 inches, without compromising view quality. The mini-LED screen comes packed with Apple's Liquid Retina XDR technology paired with a 120Hz variable refresh rate offered by the inclusion of Apple ProMotion.
Further, the tablet provides deep contrast, bright colors, anti-reflective coating, and brightness ranging between 1,000 nits or 1,600 nits for HDR content. The iPad Pro also offers 2732×2048-pixel resolution at 264 PPI for a crisp display.
With iPad Pro, Apple added another stunning display feature called Apple Pencil hover. This gives the display the power to sense the 2nd generation Apple Pencil even 12mm above the screen. The feature offers better accuracy when taking notes, doodling, or simply interacting with apps.
Galaxy Tab S9 Ultra vs. iPad Pro – Performance
You can never expect a mediocre performance from a Samsung or Apple tablet. For years, these global brands have been leading the niche with high-performing tablets that never compromise -performing tablets that never compromise on quality or style.
Regarding performance, Tab S9 Ultra runs on Android 13 and houses a Qualcomm Snapdragon 8 Gen 2 processor. FYI, the same processor configuration is found in Galaxy S23 Ultra, and luckily the smartphone has been a people's favorite since its launch. So, you can keep your fingers crossed for Tab S9 Ultra to do well.
The Apple iPad Pro is powered by M2 chipset, the performance supplier in Apple MacBook Air and 13-inch MacBook Pro. Here, you get an 8-core CPU with four efficiency and four performance cores. The powerful iPadOS 16 enhances the work experience on the iPad Pro.
With a 10-core GPU support and a 100GB/s memory bandwidth, iPad Pro opens and runs apps at fast speed, edit multiple files simultaneously, seamlessly play 4K videos, indulge in high-power games, and more.
Apart from the chip upgrade, iPad Pro also had added support for Wi-Fi 6E for easy connectivity, flawless streams, and superfast speeds. Regarding storage, iPad Pro offers 8GB RAM for the 128GB, 256GB, and 512GB models. Similarly, 16GB RAM is limited to the 1TB and 2TB versions of the tablet.
Galaxy Tab S9 Ultra vs. iPad Pro – Camera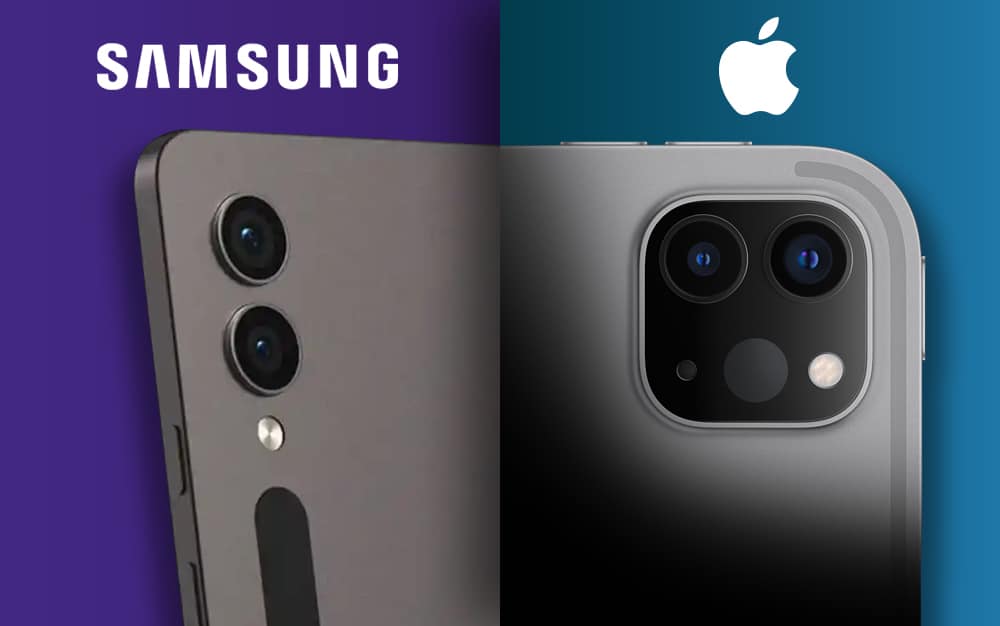 | | | |
| --- | --- | --- |
| | Galaxy Tab S9 Ultra | iPad Pro 12.9″ |
| Front camera | 12MP + 12MP | 12MP |
| Rear camera | 13MP + 8MP | 10MP + 12MP |
| Video | 4K@60FPS | 4K@30FPS |
Tablets are notoriously infamous for their mediocre cameras. But Samsung and Apple have somehow managed to break this taboo with their slates.
The Galaxy Tab S9 Ultra boasts a stunning camera stack, both at the front and back. If you are someone who loves taking selfies, then congrats! Your S9 Ultra offers you two 12MP cameras capable of capturing regular and ultra-wide snaps with full precision.
In addition, you get 13MP and 8MP cameras on the back. Regarding videos, all the cameras can shoot videos at up to 4K@60FPS resolution. No blurry records, for sure!
Contrarily, Apple's iPad Pro houses a 10MP and 12 MP camera setup on the rear side for capturing moments in total clarity. The model also supports ProRes video recording up to 4K@30FPS. Developed by Apple, ProRes is a superior-quality video compression format that enables multi-stream, real-time editing support without compromising image quality.
While auto-focus is available on both tablets, you might find a big difference in their rear camera setups. This is because iPad Pro houses the LiDAR Scanner through which you can scan your surroundings and create 3D maps. A treasure for interior designers and related professionals.
iPad Pro vs. Galaxy Tab S9 Ultra – App compatibility
With iPad Pro, you get seamless connectivity with the entire Apple ecosystem. The tablet features a stunning collection of optimized apps like Final Cut Pro that can make you manage multiple tasks simultaneously.
The Galaxy Tab S9 Ultra also supports multitasking with Samsung's native software platform Samsung DeX. In addition to their exclusive features, both tablets offer highly-responsive navigation, a multitude of advanced apps, and a clean, user-friendly interface in a similar way.
Galaxy Tab S9 Ultra vs. iPad Pro – Audio quality
According to Samsung, the Galaxy Tab S9 Ultra has 20% bigger speakers than its previous models. This lets you enjoy a louder audio experience and improved bass. The tablet is a perfect companion for streaming movies, playing music, or watching videos.
With iPad Pro, you get a decent audio setup with impressive speakers placed on both the shorter sides of the device. You get a good stereo sound experience here that immerses you in your content quickly. The audio is loud, while the quality is enough to let you hum your favorite music even without headphones. However, the tablet does not give its best with heavy bass.
Galaxy Tab S9 Ultra vs. iPad Pro – Battery life, charging, and storage
| | | |
| --- | --- | --- |
| | Galaxy Tab S9 Ultra | iPad Pro 12.9″ |
| Battery | 11,200mAh | 40.88-watt-hour |
| Storage | upto 1TB | upto 2TB |
| Screen-on time | 16 hours | 10 hours |
The Galaxy Tab S9 Ultra resembles its predecessor in multiple parameters, including battery. Here also, you get an 11,200 mAh battery with enhanced battery efficiency backed by the M2 chip. This hints toward a slightly longer battery run of nearly 16 hours with a single charge.
Furthermore, the new Galaxy Tab S9 Ultra has 45W speedy charging support. However, you won't find a charger in the box. Despite its hefty price, the tablet does not come with a charger- indeed, a big bummer from a brand as big as Samsung.
On the other hand, Apple's iPad Pro, with its 40.88-watt-hour rechargeable battery, promises to deliver 10 hours of uninterrupted battery support with a single charge. Surprisingly, iPad Pro has failed to impress its audience with its mediocre battery support. However, the battery span heavily depends on the use you put your iPad Pro to.
Regarding storage, iPad Pro 12.9-inch tablet provides onboard storage of up to 2TB. That's a lot of space for keeping all your files, data, pictures, movies, documents, etc., safe and accessible. On the other hand, Tab S9 Ultra comes with a microSD slot to help you expand storage up to 1TB. Feel free to add or remove it as per your needs.
Galaxy Tab S9 Ultra vs. iPad Pro – Accessories
Samsung Galaxy Tab S9 Ultra and iPad Pro are complete package deals. However, by pairing them with some efficient peripheral devices like Samsung S Pen and Apple Pencil, respectively, you can enhance their efficiency.
Like other Samsung tablets, the Tab S9 Ultra also comes with an S Pen without making you spend any extra penny. The upgraded stylus has a latency rate of 2.8ms, and its pressure-sensitive button is now moved up. With a perfect thickness and sturdy grip, you use this highly responsive tool for notetaking, drawing, doodling, etc.
Further, to charge the S Pen, you only need to place it on the magnetic strip attached to your tablet's back. Moreover, just like the tablet, S Pen features IP68 waterproof support. And per Samsung, you can use the tablet and S Pen in up to three feet of water for up to 30 minutes.
You can pair your iPad Pro with Apple Pencil 2 or Apple Magic Keyboard based on your requirements. Though neither of the accessories comes with your tablet, you must spend extra bucks to make them yours. The Magic Keyboard lets you use your iPad Pro like a laptop for typing lengthy documents, whereas the Apple Pencil 2 helps you quickly write or draw.
While the Apple Pencil 2 boasts a sturdy design for a strong grip, you can still enhance the holding experience by checking out this guide featuring the best grip holders for Apple Pencil 2.
Galaxy Tab S9 Ultra vs. iPad Pro – Final verdict
Picking a side in Samsung Galaxy Tab S9 Ultra vs. Apple iPad Pro battle generally boils down to your current ecosystem. If you use iPhone or Mac, iPad Pro will grab your attention quickly. Similarly, if Android is your cup of tea, you will effortlessly lean toward the Galaxy Tab S9 Ultra.
As flagship tablets, Galaxy Tab S9 Ultra and iPad Pro M2 boast stunning features, a stylish look, and easy handling. It is hard to find a significant difference in either of the tablets, especially in their price range which is merely a gap of $100. Indeed, it would be best not to miss that the Samsung Galaxy Tab S9 Ultra comes with S Pen, while Apple iPad Pro requires you to spend some extra bucks to buy the Apple Pencil.
No matter which tablet you choose, you will get a premium product with a powerful software configuration and swift responsiveness. Properly analyzing your requirements and the comparison covered in this article will help you make the right decision quickly.
Do let us know in the comments section about your favorite!
Read more:
Srishti is an avid writer who loves exploring new things and letting the world know about them through her words. With a curious mind, she will let you move through the nooks and corners of the Apple ecosystem. When not writing, you can find her gushing over BTS like a true BTS Army would.