The 10th generation iPad is finally here. This means that this is another 10.9-inch premium product that requires a healthy amount of protection from drops or falls. If you're looking for the best cases for the 10.9-inch iPad, you're in luck. I've curated some of the best 10.9-inch iPad 10th generation cases you can find on the market right now.
1. Apple Smart Folio Case – Editor's choice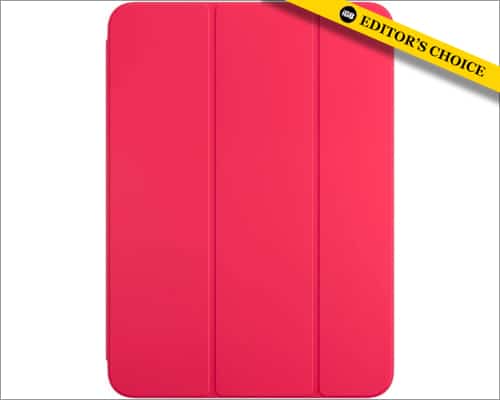 If you're the proud owner of a 10th-generation iPad, which better case to use for it than Apple's own Folio case? This Smart Folio case is designed to fit the iPad 10th generation perfectly, resulting in a snug fit. Additionally, the case wakes the iPad when opened and puts it to sleep when it's closed. Not only does this save your iPad's battery, but it adds a touch of flair as well.
Furthermore, the Smart Folio case is attached magnetically to the iPad. The two grooves on the case allow you to fold the case and orient the iPad according to your needs. You can easily change the case's orientation for FaceTime calls, reading, typing, or texting.
In the end, the only issue with the Apple Smart Folio Case is similar to every other Apple product. The case is quite expensive when compared to the competition. While you get the quality and guarantee of Apple with this case, you'll have to pay a premium for it.
Pros
Auto Wake/Sleep feature
Decent protection
Can change orientation on iPad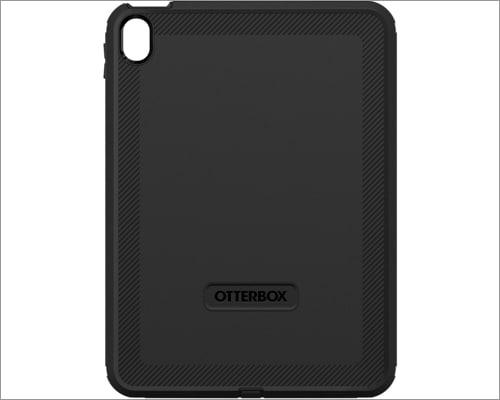 OtterBox is known for producing some of the best cases for Apple products. With this OtterBox Defender Series iPad 10th generation case, you're getting a highly shockproof and drop-proof guard for your new iPad. The case comes with a multi-layer defense that combines a solid inner shell with a resilient outer slipcover. Moreover, there are port covers to ensure that you don't get any dust or lint into the ports of your iPad.
According to the company, the case has also been tested to survive four times as many drops as the protection offered by Military Standard cases. Additionally, the raised camera and screen edges also ensure that your iPad's camera and screen don't face the brunt of the drop.
You also get a holster (in the form of a belt clip) with this cover. OtterBox has also ensured that the product maintains sustainability standards, as the case is made from 50 percent recycled plastic. Lastly, Otterbox has provided a lifetime guarantee with the case.
However, all the excellent features aside, the case adds quite a bit of heft to the entire ensemble. This could be a dealbreaker for consumers.
Pros
Multi-layer defense for shock and drop protection
Comes with a holster
Made from 50 percent recycled plastic
Check out on: Amazon | OtterBox
3. ESR pencil case – Highly versatile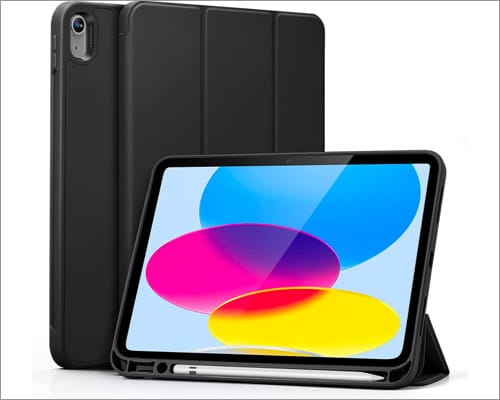 Considering the versatility of the 10.9-inch iPad 10th generation, it only makes sense for the best iPad 10th generation cases to be versatile as well. Moreover, if you use an Apple Pencil, this ESR Pencil Case might be exactly what you're looking for.
For Apple Pencil users, the case has a built-in Pencil slot to ensure comfort, portability, and protection while traveling. Coming to the case itself, the back is made from flexible polymer, adding durability and protection from drops and falls. Your iPad's screen is safe with this case as well, due to the smooth front cover that prevents any scratches on the iPad screen.
The folio form factor of the case also enables you to change the front cover stand in a couple of ways. You can then orient the iPad based on your reading or typing needs. Finally, the Smart Folio cover ensures that your iPad's battery life is maximized. While the case is pretty functional, the build quality could have been much better.
Pros
Highly versatile with plenty of extra functions
Built-in Apple Pencil slot
Provides a good amount of protection
Cons
Build quality could have been better
4. Ztotop case – Elegant finish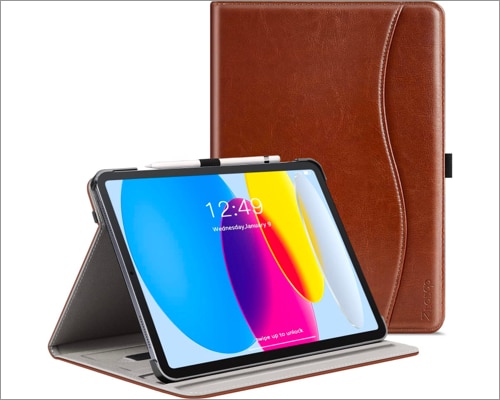 With the iPad 10th generation sporting such an elegant build, using any random case on it could ruin the iPad's aesthetics. If a premium and elegant finish is what you want for your 10.9-inch iPad 10th generation case, the Ztotop case should be a perfect pick for you.
The case comes with a premium PU leather exterior and an anti-slip interior lining. This means that not only does the case give a beautiful leather exterior to your iPad, but it also provides ample protection from shocks, drops, and falls.
Ztotop has also added compartments in the case to hold your notes, cash, and cards, adding plenty of functionality to the cover. Moreover, there's an external elastic band which further enhances the security offered by the magnetic enclosure. Once again, this cover also has auto sleep and wake features, based on the opening and closing of the cover.
Additionally, multiple slots on the inner side of the front cover help you place your iPad in the degree tilt that you prefer. However, the exterior leather cover is prone to marks and scratches with extended usage.
Pros
Beautiful and elegant leather finish
Comes with anti-slip interior lining for protection
Has compartments to hold notes and cash
Cons
Leather exterior is prone to marks and scratches
Check out on: Amazon
5. Bokeer case – Exceptionally lightweight
You'll find plenty of iPad 10th generation cases that provide good protection but increase the weight of the iPad ensemble by a significant amount. With this case from Boke5er, that problem is solved to a great extent.
The case weighs just over 220 grams and is pretty thin at 0.05 inches. Don't be fooled by these numbers, though. The case offers plenty of functionality and protection despite the lightweight build. It has a hard matte frosted polycarbonate back, replete with Anti-Scratch and Anti-Fingerprint coatings. At the front, there's a PU leather cover for screen protection.
The tri-fold front cover also grants you multiple viewing angles. Apart from this, there's a Pencil holder and support for Touch ID as well. Overall, this is an excellent lightweight case for the 10th-generation iPad.
Unfortunately, the lightweight frame comes at a cost. The frame itself doesn't feel like it is built for facing multiple drops or falls from big heights. So, you'll have to be slightly wary when using the case.
Pros
Very lightweight at just 221 grams
Has anti-scratch and anti-fingerprint coatings
Front leather cover for screen protection
Comes with an Apple Pencil holder
Check out on: Amazon
6. Grifobes case – Perfect for kids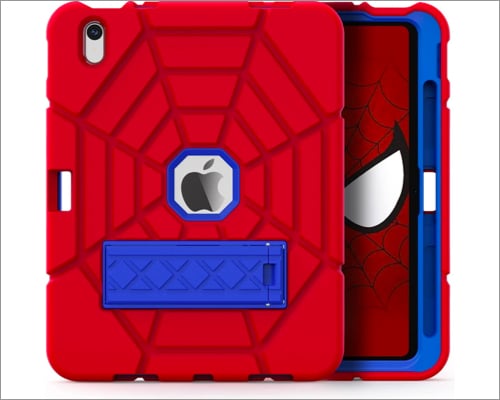 Nowadays, using a laptop or iPad for educational purposes has become the norm. This means that more kids are using these gadgets for their learning purposes. If your kids have an iPad or use a spare iPad, this case from Grifobes is perfect for them.
This case's design is inspired by an all-time favorite comic book character, Spider-Man. So, using this case in a professional setting isn't recommended. However, the manufacturers have managed to keep the design authentic to the superhero's design, adding a lot of flair to the overall look.
Coming to the case itself, it's made from flexible silicone and durable polycarbonate to provide Military Grade protection to the iPad. There's also a built-in kickstand that provides you with two positions that can be used for either viewing or typing based on your requirements. Multiple port cutouts, button cutouts, and Touch ID support are also provided by the case.
Pros
Decent, fancy design
Polycarbonate provides a good amount of protection
Check out on: Amazon
7. EasyAcc case – Budget pick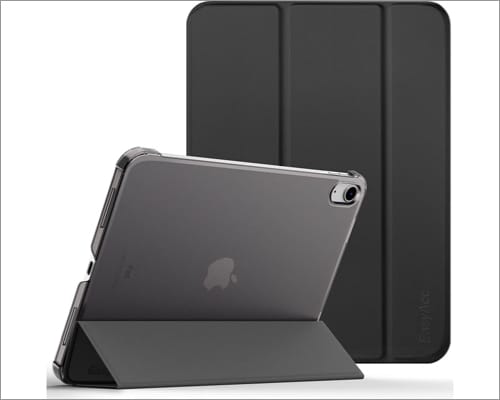 Sometimes, we don't have a large budget to pick the absolute best 10.9-inch iPad 10th generation cases. So, we tend to look for value picks or budget picks to ensure that there's some level of protection for the iPad. If you relate to this and are looking for a budget case for iPad 10th generation, this case from EasyAcc should be a viable contender.
The case itself is made of PU leather and comes with a hard shell back cover that provides decent protection against falls, bumps, and scratches. Moreover, the front cover has a tri-fold system that allows you to change the iPad's orientation based on your needs.
It doesn't add too much weight to the case either, thanks to the slim and lightweight build. Additionally, precise cutouts have been provided for the ports, camera system, and buttons on the iPad.
Of course, at this budget, the case only provides standard protection for your iPad. While it's good enough as a low-budget or spare case, I would recommend you go for a higher-priced alternative if you're looking for better protection.
Pros
Aggressive pricing
Slim and lightweight build
PU leather front cover and hard shell back cover for protection on both sides
Cons
Protection level is standard at best
Check out on: Amazon
8. DTTO clear case – Anti-yellowing
Clear cases for 10.9-inch iPad 10th generation are usually pretty decent, as they provide good protection and don't change the elegant design of the iPad. If you're looking for a clear case for your iPad, check out this case by DTTO.
Most clear cases have an issue of yellowing, thanks to prolonged exposure to dirt and atmospheric conditions. However, this case by DTTO comes with an Anti-UV material that keeps away stains and prevents the cover from imbibing the dreaded yellow color.
Additionally, the four corners of the cover are air-cushioned to provide extra protection from falls and drops. Thanks to these, you don't have to worry about your iPad incurring heavy damage when falling on its sides or at the corners. Furthermore, the soft TPU material and the back-only design don't add bulk to your iPad.
My only gripe with this case is that it doesn't offer too much screen protection. At the most, you'll only find raised screen edges to mitigate any damage.
Pros
Anti-UV material for yellowing resistance
Easy to clean
Reinforced air-cushioned corners for drop protection
Cons
Only provides basic screen protection
Check out on: Amazon
Final thoughts
So, with these entries, we come to the end of my list of the best 10.9-inch iPad 10th generation cases. I've attempted to add products based on multiple budgets and requirements and to suit specific tastes. What do you think of the list, though? Do you think I've missed out on your favorite iPad 10th generation case? If yes, let me know more about them in the comments below. I'll be sure to check them out!
Read more:
Anirban is a literature post-grad who delves in philosophy and postmodern novels when not writing on tech and gaming. His love for research is only trumped by his love for chai and heavy metal.