The all-new 12.9-inch iPad Pro 2022 got some much-need improvements in performance and utility. But before you lay a finger on its brilliant Liquid Retina XDR display, it is advised to get a screen protector to avoid scratches and smudges. And to make your search easier, I have browsed the world wide web and brought you a list of the best screen protectors for 12.9-inch iPad Pro M2.
1. QHOHQ tempered glass – Editor's choice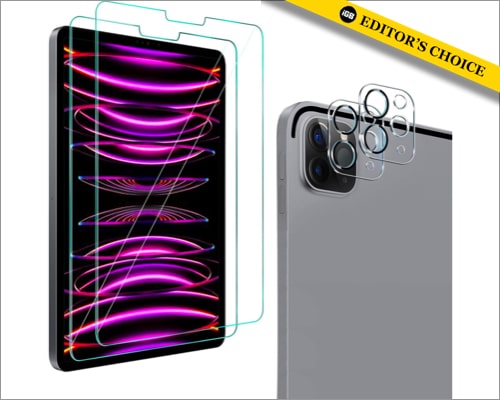 While most screen guards promise to provide safety and smoothness, very few can deliver. Well, that's not the case with the QHOHQ screen guard for your 12.9-inch iPad Pro. With an oleophobic screen covering, it avoids fingerprints and smudges. Thanks to its high transparency, this screen protector also enables you to efficiently use the new and brilliant hover feature of the iPad Pro M2.
Unlike other screen protectors, this one has curved-edged, diamond-grade tempered glass for a precise fit and added impact protection. The back camera lens cover is an added bonus that protects your camera and influences your purchase decision.
Pros
Diamond-grade hardness
Camera protection
Olephobic coating
2. ESR screen protector – Easy installation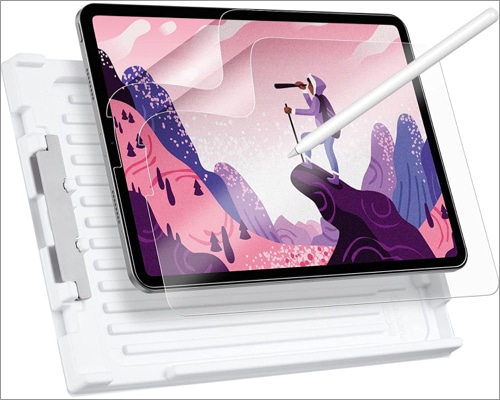 ESR's Paper-Feel is undoubtedly one of the best screen protectors for the 12.9-inch iPad Pro M2. It is ideal for those who prefer sketching or taking notes using Apple Pencil. The super-thin PET guard may appear slender but is incredibly rigid and durable, allowing it to withstand scuffs and scratches.

When it comes to clarity, the film meets industry standards and does not affect the picture quality you've invested in. The product also comes with an application tray for simple, bubble-free installation. More importantly, it is a perfect fit with all ESR cases for the iPad Pro M2.
Pros
Application tray
Strong protection
Ultra-thin
3. Spigen tempered glass – Auto-alignment
The power of the M2 chip deserves some solidity in terms of screen protection. And who better than Spigen to provide that? Their crystal clear tempered glass comes with an oleophobic coating, and its 9H hardness acts as a defensive shield against scratches. The protector allows for unobstructed viewing and stands out due to its innovative design.
A unique auto-alignment tool is included with the protective film to provide a swift and fail-proof installation. The protective film flawlessly fits Spigen's case, making it one of the best screen protectors for your 12.9-inch iPad Pro.
Pros
Fingerprint resistance
Auto-alignment tool
9H hardness
Cons
Sometimes small bubbles appear after a week or two
4. JETech screen protector – Shockproof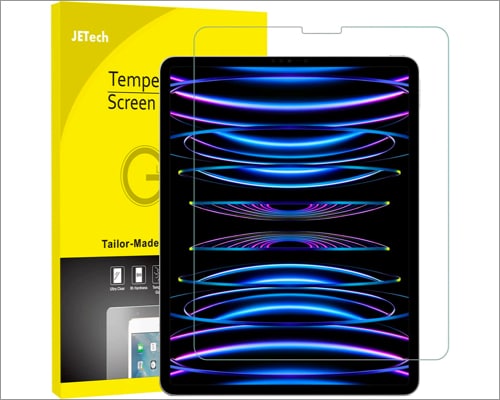 Equipped with a shockproof design, the JETech screen protector promises to be a long-lasting companion to the iPad Pro M2. The 0.3mm thickness of the guard, coupled with the 9H hardness, strengthens it to withstand impact while maintaining touch sensitivity.
The ability to prevent smudges and sweat plays a vital role in keeping the clarity intact. The bubble-free, ultra-easy installation distinguishes it as one of the finest screen protectors for iPad Pro.
Pros
Edge-to-edge coverage
Perspiration resistant
Shockproof
5. Supershieldz – Strong display film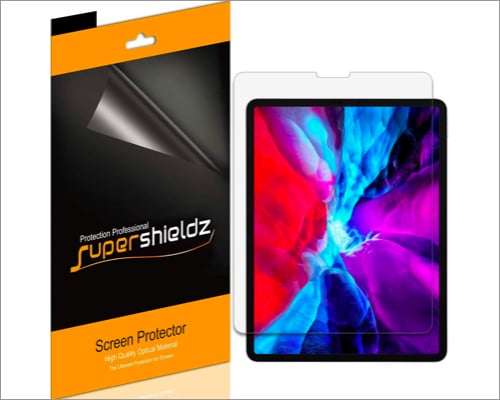 Supershieldz has developed a savior for your all-new 12.9-inch iPad Pro. It has developed a matte-finished film that offers a reliable anti-glare screen while retaining the smooth scrolling experience. The protector also acts against fingerprints and smudges.
The protector is made of Japanese PET film and provides protection against everyday scratches, scrapes, and dust. Another add-on is that this coating comes in a set of three. So, if you are on a tight budget, you know this is the one for you.
Pros
Value for money
Anti-glare
6. KCT Paperfeel protector – Matte finish
When it comes to transparency, the KCT screen guard is unrivaled. The screen protector is extremely thin (just 0.17mm thick), allowing it to provide enhanced clarity. However, don't be fooled by its thin form factor. The screen shield is sturdy enough to absorb shock.
The screen protector is resistant to moisture and dust thanks to its hydrophobic and oleophobic coating. Because of its great responsiveness, it works well with Apple Pencil, allowing you to create images and take notes without latency.
Cons
No application tray
No guide
7. amFilm glass protector – Combo pack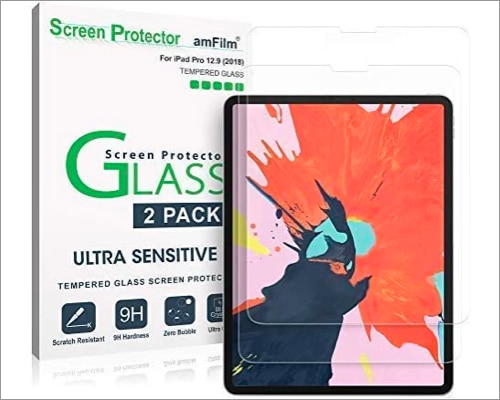 amFilm's screen protector retains the iPad Pro's touch sensitivity for a better user experience. The addition of oleophobic coating is critical in providing high responsiveness. Another advantage it has over typical screen protectors is its industry-standard scratch resistance.
The coating's tough build allows it to withstand bumps easily. The amFilm screen protection leaves no residue when removed because it is bubble-free and comes with top-quality adhesive. On top of everything, the manufacturer sells it in a two-pack, making it one of the cheapest tempered glass screen protector options for a 12.9-inch iPad Pro M2.
Pros
24×7 customer support
Value for money
Wrapping up…
The screen is the face of any smart gadget, and if it gets shattered, your device becomes unappealing. High-quality screen protectors are important accessories for your stunning 12.9-inch iPad Pro M2. So, which screen protector will you get for your iPad Pro M2? Do let me know in the comments.
Read more:
Readers like you help support iGeeksBlog. When you make a purchase using links on our site, we may earn an affiliate commission. Read Disclaimer.