With the recent advancements to the iPad Pro, gaming on iPads is now highly accessible. You can play a selection of games, aided by your trusty controller. However, considering the extensive choices in game controllers, you might need some added assistance. So, I've curated some of the best game controllers for iPad Pro that you can use!
1. GameSir T4 Pro – Editor's choice
When you're looking at the best overall game controller for iPad Pro, you want it to be highly compatible with modern features, and it shouldn't burn a hole in your wallet. The GameSir T4 Pro covers all these areas with consummate ease.
The T4 Pro's design is definitely eye-catching. It sports a semi-transparent design backed by RGB lighting. The design is slightly unconventional, but the controller manages to pull it off. It's got a great battery life, too, with a 600mAh battery enough for multiple play sessions.
Additionally, all the buttons on the controller are customizable. So, you can change the settings and controller configuration for multiple games based on your needs. This is complemented by the asymmetric vibration motor, providing 5 speed levels for total in-game immersion.
Finally, the controller offers Bluetooth 4.0 connectivity that works up to 32 feet. So you don't have to strain your eyes. Just lay back, connect the controller, and enjoy your game from a healthy distance! However, the build quality seems slightly lacking.
Pros
Unique design
Decent battery life
Provides customizable keymapping
Bluetooth 4.0 connectivity
Cons
Build quality could've been better
Check out on: Amazon | GameSir
2. SteelSeries Nimbus+ – Exceptional battery life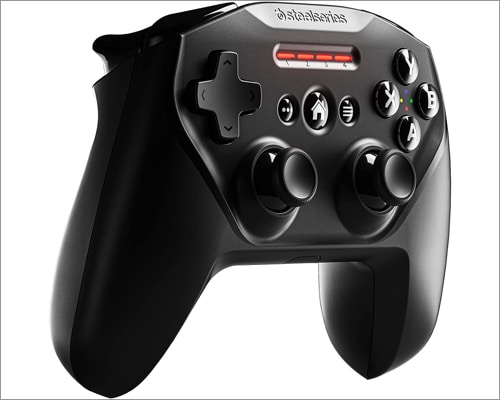 The SteelSeries Nimbus+ is a definitive upgrade over its predecessor, bringing in better battery life and build quality. Moreover, it's perfect for iPad owners.
This iPad game controller features a sleek and minimalist aesthetic, which bodes well if you want to pair it with any Apple device. The entire setup feels complete with the Nimbus+. Moreover, you get up to 4 months of Apple Arcade subscription, offering various games across genres.
Coming to the battery life, the SteelSeries Nimbus+ features a battery life virtually unheard of in terms of game controllers. It offers up to 50 hours of intense gaming on a single charge. Say goodbye to the days of charging the controller after a few hours of usage.
The center buttons don't have the best tactile feedback, however. It can be awkward pressing them.
Pros
Over 50 hours of battery life on a single charge
Decent design philosophy
4-month Apple Arcade subscription
Cons
Center buttons don't provide good feedback
Check out on: Amazon | Best Buy
3. PXN Speedy – Highly versatile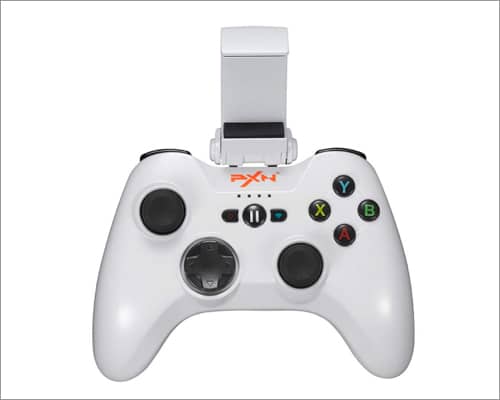 The PXN Speedy is one of the best gaming controllers, for iPad Pro as well as other Apple devices. The controller is compatible with all the latest Apple devices, including iPhone, iPad, and iPod Touch.
This is because the controller is Apple MFi-certified, making it perfect for Dead Trigger 2, NBA 2K, Call of Duty, Fortnite, and other similar games. Moreover, you don't need to reconfigure the keys, as the controller's keymapping is specifically designed for these games.
Further, the controller offers over 20 hours of battery life, thanks to the 550mAh battery capacity. If you want to use it for iPhones, you can attach the phone to the provided mount as well.
However, the R3 and L3 buttons aren't functional. Pushing them yields no result in the games. This can be an issue if you want a controller with maximum key utilization.
Pros
Compatible with many Apple devices
MFi-certified
Good battery life
Cons
R3 and L3 buttons don't work, reducing control options in a few games
Check out on: Amazon
4. Xbox Core Controller – For Xbox games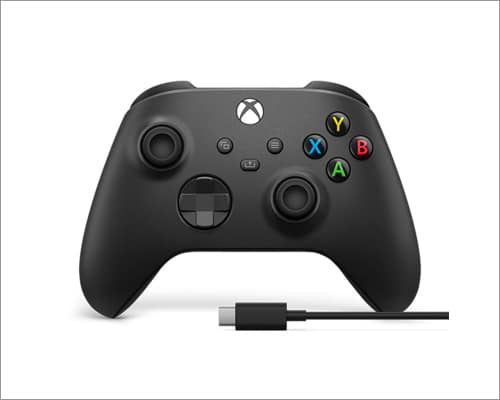 Thanks to recent technological advancements, you can now play Xbox games on your iPad Pro, courtesy of cloud services. If you're intent on playing Xbox-based games, the Xbox Controller is for you.
There can be no doubt about the quality of the Xbox controller. It has one of the best build quality. Additionally, the controller comes with a 3.5mm headphone jack to plug in your earphones for lag-free audio while gaming.
The controller is highly ergonomic, too, with a textured grip to ensure that the controller feels great in hand. The only caveat with this controller is the placement of the Share button. It can often feel counterintuitive.
Pros
Perfect for Xbox games
Excellent build quality
Ergonomic
Cons
Share button placement is awkward
Check out on: Amazon | Best Buy
5. DualSense Controller – For PlayStation games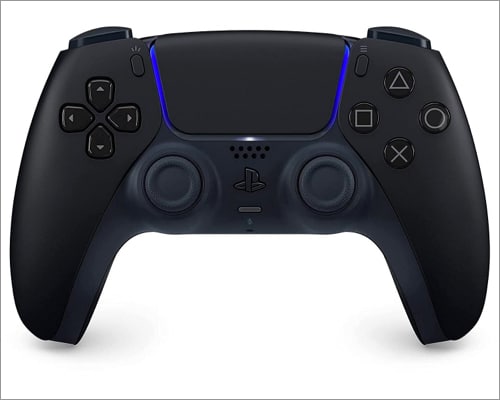 The DualSense controller is one of the few official game controllers for Apple devices, including the iPad Pro. Without a doubt, the PlayStation controller is one of the best controllers that's ever been made.
In fact, the DualSense controller has been revolutionary in gaming on the PlayStation 5. While the DualSense controller's haptic feedback features can't be implemented completely on the iPad, you still get to enjoy most of the controller's features. It also boasts a built-in mic for constant in-game communication between you and your fellow players.
My major issue with the DualSense controller is the battery life. Compared to the other controllers on the market, the battery life could've been much better.
Pros
Plenty of features
Built-in microphone for constant communication
Unparalleled haptic feedback
Cons
Battery life is average at best
Check out on: Amazon | Best Buy
6. Rotor Riot – Compatible with many games
Rotor Riot's biggest draw is the sheer number of games that the controller is compatible with. The controller-specific app, Ludu Mapp, provides support for over 1000 games!
The controller is also the only MFi-certified game controller on the market providing L3 and R3 button compatibility. This increases the versatility of the controller in specific games. Moreover, while playing games on the iPad, the controller's pass-through charging feature will also charge your iPad simultaneously.
Unfortunately, the build quality, especially the analog sticks, could've been much better.
Pros
The companion app provides access to over 1000 games
MFi-certified
Pass-through charging for iPad Pro
Check out on: Amazon | Best Buy | Apple
7. EMISH six-finger game joystick handle – Perfect for shooters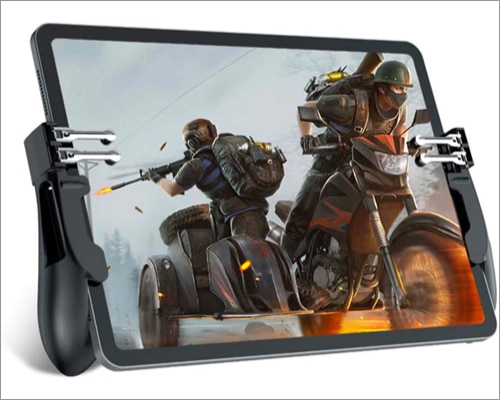 We're in the golden age of shooting games, with multiple battle royale games coming up frequently. Therefore, it only makes sense to go for a game controller meant for such intense gaming sessions.
Thankfully, with EMISH, you get a game controller meant specifically for iPads. It even features the L1R1 shooting buttons, paired with the aim key. The controller is perfect for the latest battle royale games, especially with the 6-finger control scheme.
Another nifty feature of the controller is that it can be used as a tablet stand. So, you can place your tablet steadily on the table for reading and watching movies. Lastly, the game controller comes with an 18-month warranty!
Unfortunately, the controller's build quality isn't the best. The feel of the plastic can be off-putting.
Pros
Made specifically for shooting games
6-finger control scheme
Can also function as a tablet stand
18-month warranty included
Cons
Build quality is substandard
Check out on: Amazon
8. Gamevice – For Nintendo Switch games
Now that you can access numerous Nintendo Switch games on your iPad Pro, it's important to use a game controller specifically designed for the games. Bearing this in mind, the Gamevice game controller is exactly what you need!
The controller comes in a form-fitting structure, accommodating the iPad Pro's shape nicely. It also features full-size analog sticks, triggers, and a 3.5mm headphone jack for high-quality audio. Since the game controller uses a Lightning port, it allows you to charge the iPad Pro through pass-through charging technology.
From accessing Apple Arcade games to games on the Xbox Game Pass, the controller provides ample games to play through. In fact, it offers a month's worth of access to Xbox Game Pass for absolutely free!
However, some users have complained that the right analog stick's placement isn't intuitive. This seems to be an issue with personal preference, so you might have to purchase the product to decide for yourself.
Pros
Made for Nintendo Switch games
Excellent form factor
One month of Xbox Game Pass access and Apple Arcade games
Pass-through charging technology
Cons
Right analog stick placement is counterintuitive
Check out on: Gamevice
FAQs
Q. Why won't my Xbox controller connect to my iPad?
This might be an issue with controller pairing. You might have to unpair the controller from your iPad and pair it again. Furthermore, try not to connect to more than one Bluetooth device simultaneously.
Q. What is an MFi controller?
MFi stands for Made For iPhone/iPad. As the term states, an MFi controller is certified for use with Apple products such as iPhones and iPads. The software used by controllers is compatible with the coding present in Apple devices.
Summing up
So, these were my picks of the best iPad Pro game controllers. While there were many controllers, I chose these considering personal preferences and different price segments. Hopefully, it'll help you make a better purchase decision when you need a game controller for iPad Pro.
Read more:
Readers like you help support iGeeksBlog. When you make a purchase using links on our site, we may earn an affiliate commission. Read Disclaimer.