With the lack of 3.5mm headphone jacks in the latest iPhones, people must look towards other means for listening to music or charging their phones. Not everyone wants to go wireless, thanks to the attached costs. So, I've curated a few of the best Lightning to 3.5mm headphone adapters for iPhone for your convenience.
Let's take a look at them!
1. Apple adapter – Editor's choice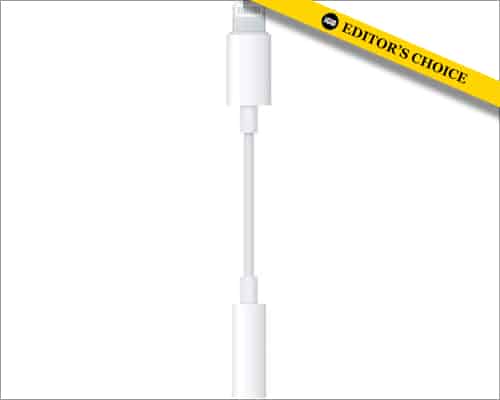 Of course, an Apple product would be best for your iPhone. With this Apple adapter, you'll be able to connect any device with a 3.5mm port without hassle.
It's a simple yet elegant device, and Apple has kept the design simple to match the ecosystem. It's also compatible with the older iPhones, running iOS 10 or newer. Moreover, if you've got other Apple devices, such as the iPod touch and iPad, this iPhone headphone adapter works with those too!
It can't play the highest quality audio files, though.
Pros
Compatible with a range of iPhones
Good build quality
Simple design
Cons
Can't play audio of the highest quality
2. Belkin RockStar – Best alternative to Apple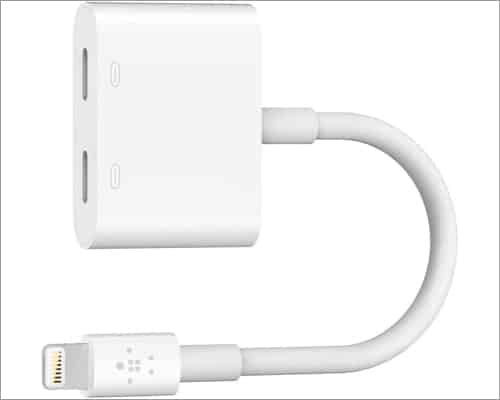 If you want a headphone adapter for iPhone that also provides a few extra functions, check out this product by Belkin. It comes in two versions, one with two Lightning ports. The other version has a Lightning port and a 3.5mm port. I'd recommend the second version for some added versatility.
Further, the product provides satisfactory sound quality and allows you to fast-charge your device with up to 12W of power output. While this isn't as fast as USB-C to Lightning, it's still quite fast.
The build quality is pretty good too, and it can handle a little wear and tear. However, you have to pay for the features you're getting here.
Pros
Two variants
Pass-through charging up to 12W
Decent build quality
Cons
Pretty expensive for the features
3. Paise adapter – Two for the price of one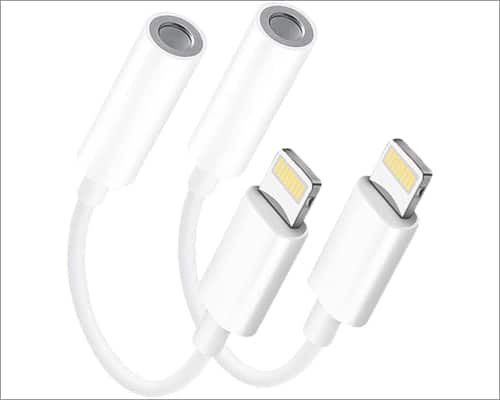 This product by Paise is great if you want to save some money or have a tendency to lose smaller objects. This headphone adapter for iPhone is of pretty good quality too!
The adapter is compatible with most iPhones and has advanced noise reduction technology. It also supports up to 24-bit 48kHz lossless output, ensuring you can listen to your music at the highest quality. Another excellent reason to go for this iPhone headphone jack adapter is that it's MFi-certified!
Lastly, this product comes with a 36-month warranty. Unfortunately, the build quality isn't the best.
Pros
Comes in a pack of two
Apple MFi-certified
Satisfactory sound transmission
36-month warranty
Check out on: Amazon
4. UGREEN – Beautiful design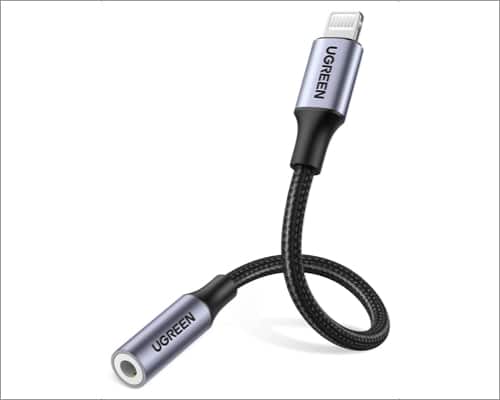 This iPhone headphone jack adapter from UGREEN is one of the gorgeous adapters you can find on the market today. Don't worry, though; it also backs up its elegant design with a horde of features.
First and foremost, the headphone adapter is MFi-certified. So, you won't have any issues using this with your Apple products. It's also compatible with many iPhones, including the most recent models such as iPhone 13. The audio quality is also pretty good, with support for up to 26-bit audio at 48kHz.
Lastly, in terms of the design, the combination of the nylon braided cable and the aluminum alloy brings elegance and durability to the headphone adapter. Unfortunately, this adapter is a bit longer in length.
Pros
Elegant design
MFi-certified
Compatible with the latest phones
Durable
Cons
The cable is longer than expected
Check out on: Amazon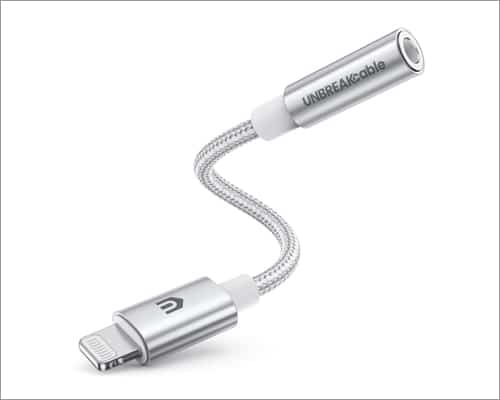 This iPhone headphone adapter comes with both durability and functionality. Moreover, it's Apple MFi-certified to ensure you can use it with multiple Apple products.
The adapter comes with the Hi-Fi DAC chip to provide the best possible audio quality at 26-bit and 48kHz. Additionally, the C101 chip present onboard will ensure that you get the maximum functionality out of this adapter. In terms of durability, this adapter is close to unbreakable (as the name suggests) and can bear up to 30N of force.
The 3.5mm end of the adapter needs a bit of improvement, though. It always feels like it hasn't been snapped on securely.
Pros
Hi-Fi DAC chip to provide good audio quality
MFi certified
Very durable design
Cons
3.5mm end's build quality feels lacking
Check out on: Amazon
6. zoyuzan – Lightning to double Lightning adapter
This product is different than others on the list. With this adapter, you basically get a 2-way iPhone splitter. Thanks to this, it can perform four functions – call, charge, listen to music, and transfer data, making it versatile.
There aren't any extra cables at risk of tangling either. Additionally, it's compatible with a wide range of iPhones, from iPhone 7 onwards. In terms of audio, you get a decent 24-bit, 48kHz transmission quality. Lastly, the product comes with a 12-month warranty!
The build quality should've been a bit better, however. It doesn't seem very durable.
Pros
Multiple functionalities
Compatible with a wide range of iPhones
12-month warranty
Cons
Build quality should've been better
Check out on: Amazon
7. Syncwire – Superior build quality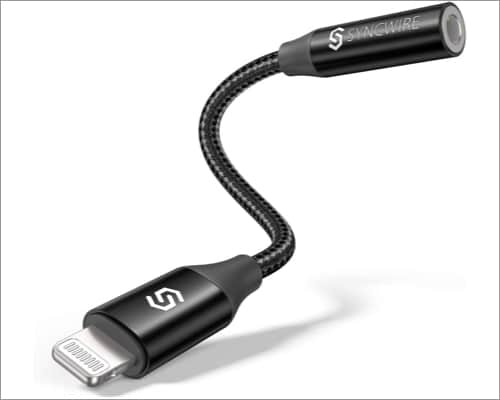 We're well aware of how many low-quality products are available online. However, with this iPhone headphone jack adapter from Syncwire, you get exceptional build quality that will last you a considerable amount of time.
The adapter comes in an aluminum alloy case with a nylon braided cable, PVC jacket, and enabled copper. This ensures not only superior quality but also minimal quality loss when transmitting audio. The adapter is also Apple MFi-certified and works with the latest iPhone models.
Finally, you get 36 months of warranty with the product. However, the cable is short, so you'll have to adjust slightly with the length.
Pros
Best build quality in its segment
Apple MFi-certified
36-month warranty
Cons
The cable length is too short
Check out on: Amazon
8. Rosyclo – 2-in-1 splitter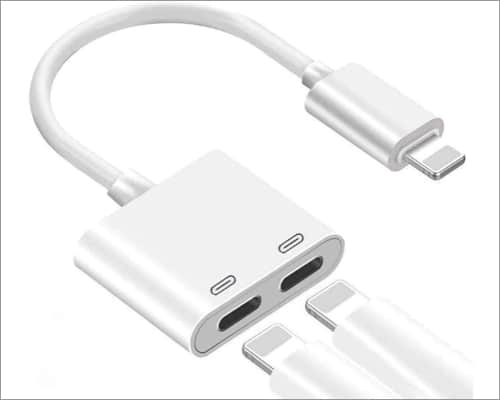 This headphone adapter for iPhone by Rosyclo performs multiple functions. This is thanks to the double output port provided with the paired splitter.
This splitter provides access and functionality for a host of audio accessories. Additionally, it also supports functions such as calling, charging, data transfer, and remote or microphones. It's also Apple MFi-certified, ensuring compatibility with many Apple products.
Unfortunately, there's no way to use the charging and headphone port simultaneously.
Pros
Double output ports
Apple MFi-certified
Can help in charging and data transfer as well
Cons
Charging and headphone ports can't be used together
Check out on: Amazon
FAQs
Q. Why did Apple remove the headphone jack?
Although Apple had specified that their reason for removing the headphone jack was based on innovation, there were other reasons. Most importantly, Apple wanted to promote the sales of the AirPods, which wouldn't have been possible without removing the headphone jack.
Q. Is there a Lightning to 3.5 mm adapter?
Yes. You can buy it online through the Apple store. Other third-party adapters are available through online retailers as well.
Q. How to use a headphone adapter for iPhone?
To use the headphone adapter for iPhone, you need to plug the adapter into the iPhone through the Lightning port. At the other end of the adapter, you can plug your 3.5mm accessories.
Summing up
So, these were my picks for the best headphone adapters for iPhone. Hopefully, you've got a better idea about the kind of adapters you can go for and their functionality.
Which types of earphones do you prefer? I feel the wired earphones and headphones provided the best audio quality that wireless can never match. Share your take in the comments below.
Read more:
Anirban is a literature post-grad who delves in philosophy and postmodern novels when not writing on tech and gaming. His love for research is only trumped by his love for chai and heavy metal.