Finally, we have got the new iPad 10th generation, which brings a larger display of 10.9-inch and many more features. But all of these additions result in a price tag of $449, so you must take special care and opt for extra protection. Clear cases are a great choice for minimalists, as they provide good protection and don't change the elegant design of the iPad. I have curated a list of the best clear cases for the 10.9-inch iPad 10th generation.
1. ESR Classic Hybrid Back case – Editor's choice
We have already featured the ESR Pencil case in our best cases for the 10.9-inch iPad list. How about getting an iPad 10.9 clear case with it? ESR clear case has a hard acrylic back that is scratch-proof and yellowing-resistant. So it prevents bending and maintains clarity for longer.
Also, a super-slim design with a flexible polymer frame guarantees a tight fit and excellent grip. Besides, the 0.9mm camera guard, 1.5mm raised screen edges, and shock-absorbing Air-Guard corners offer 360-degree screen and body protection. I must mention its hybrid protection design that's super easy to put on.
Pros
Get two cases for the price of one
Slim and lightweight
Air-Guard corners
Cons
Build quality could have been better
2. DTTO clear case – Best yellowing resistance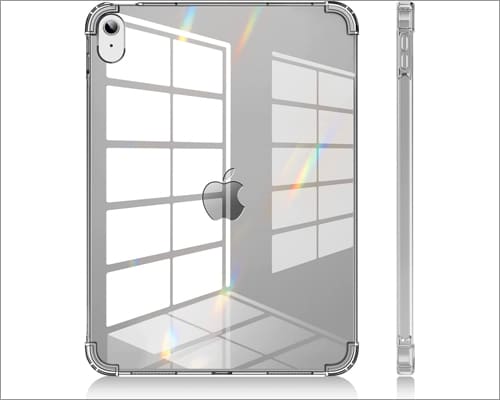 Most clear cases have an issue of yellowing because of prolonged exposure to dirt and atmospheric conditions. However, this case by DTTO comes with an Anti-UV material that keeps away stains and prevents the cover from imbibing the dreaded yellow color. Besides, it fits snugly, and the raised screen edge ensures the iPad doesn't slip out.
Additionally, the four corners of the cover are air-cushioned to provide extra protection from falls and drops. Thanks to these, you don't have to worry about your iPad incurring heavy damage when falling on its sides or at the corners. Furthermore, the soft TPU material and the back-only design don't add bulk to your iPad.
Pros
Anti-UV material for yellowing resistance
Easy to clean
Reinforced air-cushioned corners for drop protection
Cons
The softcover exterior gets scratched
Check out on: Amazon
3. ProCase Trifold case – With Pencil holder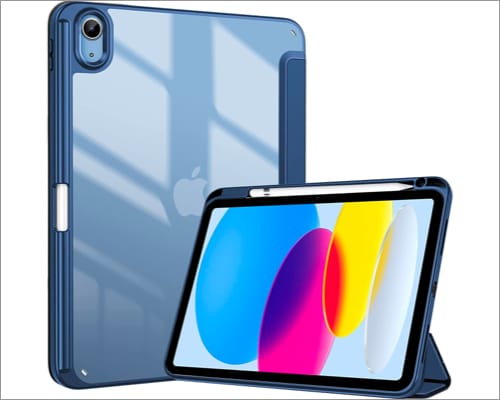 The ProCase iPad (10th generation) clear case has a polycarbonate hard back shell with a folio cover. So, you can show off your iPad's true color and protect its screen. Besides, the flexible soft TPU frame bumper cushions drop and damage. Additionally, the front cover is made of smooth PU leather and has a soft microfiber lining on the inside.
Therefore, you will get a premium hand feeling and a good grip. Also, the tri-fold design with two standing positions accommodates your viewing and typing requirements. The magnetic case closure supports the auto Sleep/Wake function. Also, the integrated pencil holder keeps your Apple Pencil safe and secure.
Pros
Magnetic closure
Flexible TPU frame
Soft microfiber lining
Cons
The flexible pencil holder might get loose
Check out on: Amazon
4. Fintie slim case – Anti-scratch folio cover
Fintie is another well-known name in the list of transparent cases for the 10.9-inch iPad (10th generation). It offers a tri-fold folio case with a hard clear back shell made of tough polycarbonate. So you won't have to worry about it breaking. Besides, the flexible TPU bumper keeps your iPad drop-proof, and a soft microfiber interior front minimizes scratches on display.
This one-piece cover will perfectly fit your new iPad. It has a simple clip-on application. So, when the lid is opened and closed, the built-in magnets automatically wake or snooze your device. Besides, the cover has a flip feature to easily convert it into a viewing or keyboard stand. You can access the camera and speakers thanks to precise cutouts.
Pros
Anti-scratch
Easy clip-on usage
Raised bumpers
Cons
The stand is not rigid to hold
Check out on: Amazon
5. TiMOVO TPU frame case – Extra protection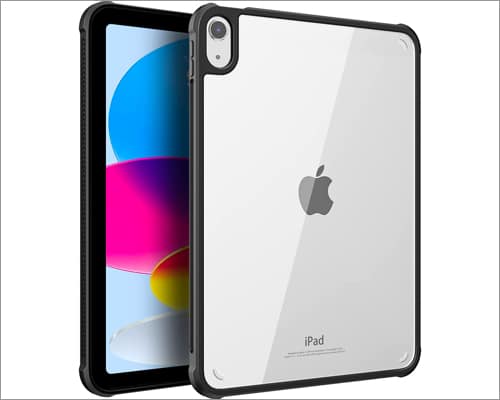 If you are trying to find clear cases for a 10.9-inch iPad without a folio cover, then this is the one. TiMoVo has molded a flexible TPU frame and sturdy PC back shell together. Besides, each corner is safeguarded with raised shockproof bumpers. So, your iPad is effectively protected from drop damage and surface scratches.
I liked its minimalist design with a non-slip texture that accentuates the elegance of your iPad while giving a comfortable hand grip. Also, you can put it on easily as the case is sleek and lightweight. It boasts precise cutouts that allow easy access to the camera, speaker, Touch ID, port, and buttons.
Pros
Non-slip texture at sides
Thickened corner edge
Quick access to Touch ID
Cons
Gets fingerprints and smudges easily
Check out on: Amazon
6. MoKo clear case – For minimalists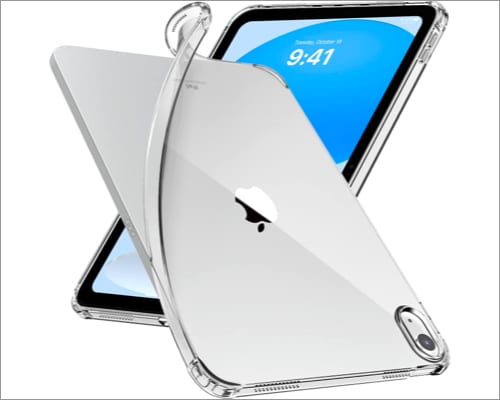 MoVo offers flexible soft cases for iPad 10th generation. It's crystal clear, sleek, and lightweight. Also, the shockproof TPU bumper and air-cushion corners give improved protection against drops and shocks. The back panel is claimed to be non-yellowing.
Besides, there are no raised screen edges, allowing for clear gesture swipes. The case snugly fits and guards your iPad's back and sides from bumping and scratches. Also, accurate cutouts allow easy access to all buttons, ports, sensors, speakers, and cameras.
Pros
One-piece TPU protector
Rigid edges with softer rear
Bouncy and reinforced corners
Cons
Compresses the speaker's sound
Check out on: Amazon
7. INFILAND leather cover – Crystal clear back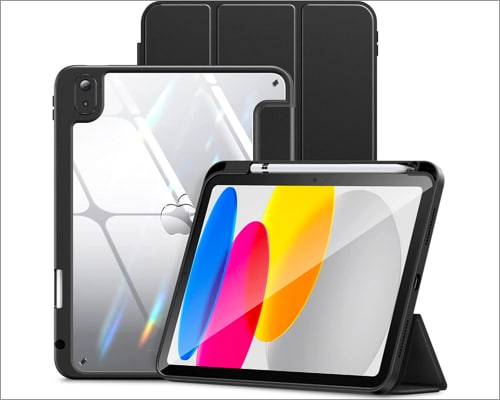 INFILAND iPad (10th generation) transparent case is an all-rounder as it has PU leather folio covers and a built-in Apple Pencil holder. Its front cover incorporates a newly developed solvent-free silicone substance. Besides, the hard back shell is made of reactive epoxy resin and premium German Bayer materials. The best part is it has patented anti-yellowing technology.
So, this transparent case is stain-resistant and will be clear for longer. When you leave pen markings, oil stains, or other smudges on it, just wipe them away. You will get more durability and protection thanks to ion-forming technology. Additionally, the pencil holder on the right side can securely hold the Apple Pencil, and the cutout design allows easy access.
Pros
Premium built quality
Anti-bent certified
Patented yellowing resistance
Cons
No added bumpers in corners
Check out on: Amazon
So, that's all, folks!
I love my iPad's trifold case as it adds more functionality. Which one among these clear cases for the 10.9-inch iPad caught your eye? Let me know in the comments below. Meanwhile, check out more accessories for your new iPad.
Explore more…
Ava is an enthusiastic consumer tech writer coming from a technical background. She loves to explore and research new Apple products & accessories and help readers easily decode the tech. Along with studying, her weekend plan includes binge-watching anime.